My 1987 Craftsman GT6000's choke cable froze up this past weekend. The temperature was in the teens (15º maybe), and I was testing out our newly fixed GT6000, so when I tried the pull the choke to start it, all I got was about a centimeter of movement in the line, and I know for a fact that isn't right. So I tried to start it anyway, but of course it wouldn't start without a full choke in those conditions. I had to remove the line from the choke tab so I could manually adjust the choke. Any ideas on how to fix this? I'd like to keep everything as original as possible, I would like to just repair the line, but I don't know what the problem is. I think it's happening right where the choke cable is bolted to the dashboard.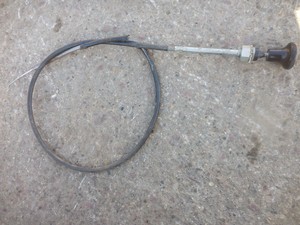 See where the part that you pull has that bolt and silver tube behind it, that's where it's freezing up. Can anyone help me!!!???? No water got in it, so that couldn't be a cause.
Edited by [email protected], January 16, 2016 - 08:49 AM.