So besides playing with GT's, I also have the bug for aquatic things. Since my first goldfish when I was 5, I've always had some type of fish tank going, this now includes a small outdoor garden pond.
My pond is a pre-form, only about 100-120 gals and I've never had a good filter system on it, but thankfully with my lillies and plants, I gotten away with it staying fairly balanced and minimal algae growth.
I did some reseach and decided to built a good home made drum filter so I would actually get some good filtration going besides my pump just being in a small box with a few fiter pads. So many people don't understand the need for good filtration of a pond, even a small one, I was one of them.
So after watching a ton of youtube videos, I decided on a design I thought was best. I obtained a small 30 gal pickle drum I guess it was and then bought some bulkhead fittings from evilbay, but my holes and started putting in pipe. My filter would consist of water coming into the top, flow over a couple floor buffing pad, then on down through a bunch of lava rock, then I had an exit pipe that extend to the bottom and elbow out the top. I was questioning something so i went back the the internet and found my design wasn't the best so I changed it all up.
I found a forum called "garden pond forum" and they had a design called the "skippy filter" which basically you pump water into the bottom, create a vortex in which solid material would settle out in the middle. The water then seeps up through whatever media you install and good bacteria slowly grow on it for biological filtering, then out the exit pipe. Many people on the forum used a bunch of just cut pieces of pvc pipe, some used cut up pieces of coarse filter foam from furnaces, scrubber pads, etc just anything with a lot of surface area for the bacteria to grow on. One guy used deer netting which I just happened to have a tons of I got free.
Also, a bottom dump valve and pipe should be installed to be able to open and flush filter, just the force of the water usually will suck it all out.
Soooo, after you just read all my ramblings, I will get to the point.
I used a 30 gal pickle barrel with removeable lid. A larger pond would required larger drum ,when you get up in the 500 plus gal ponds, 2 or 3 different barrels maybe needed.
I bought 1" bulk heads off a evilbay, I made a big mistake in thinking the intake and outlet could be same size. You have to have outlet 1 1/2 to 2 times larger than intake or it will overflow unless you throttle pump down, but then you lose fitlering. I also found instead of buying bulkheads, you can buying the gray PVC male/female threaded pipe connectors, drill you hole, then loaed them with non- algae control silicone, 3M makes a great marine silicone that works, some people like a gutter/roof sealant also.
Here is my lower piping. I have 1" PVC coming in form pump, 90* into bottom, then T'd and out to 2-90* elbows. They are suspended about 4-5" off bottom ( bigger pump/bigger drum requires more height) and create the vortex for the sedimanet filtration. I put on 1" to 3/4 elbows thinking it would create more vortex of water, but I need to bump back up to 1" elbows to slow water down as it sitrs water too much and I was getting particles back up the outlet, they weren't settling out.
The grid work is plastic grid work used in overhead tube lighting, it was $12 per 2x4' sheet at Home Dropout. It was used to hold layer of lava rock.
The other pipe going out the side is my drain, not where I wanted it, but I had already installed from my previous design, still wordk though.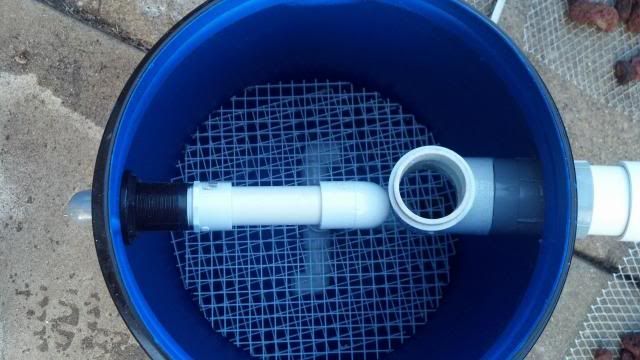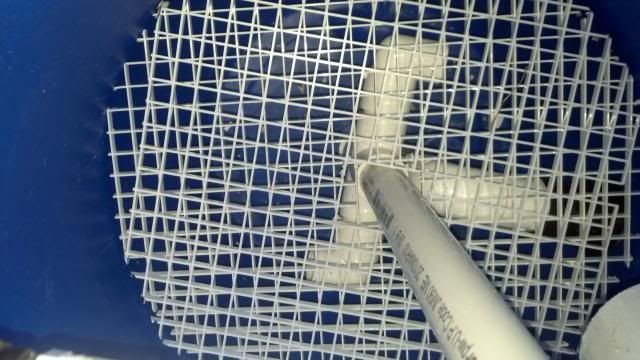 I put in a layer of lava rock which I happen to have. Being so porous, the lave rock provides a lot of little spaces for the bacteria to grown and do their job.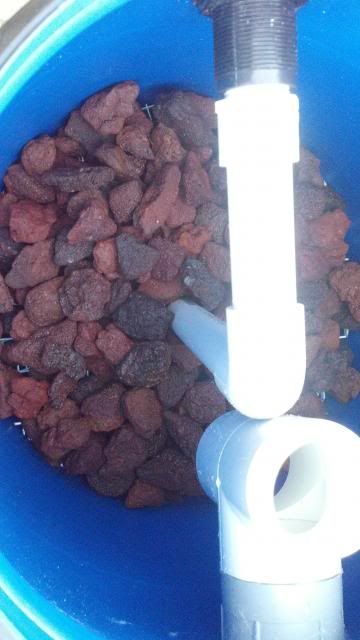 I then cut me strips of the deer netting and put it in. This pic was just a trial, I need to cut up more and really pack it in there.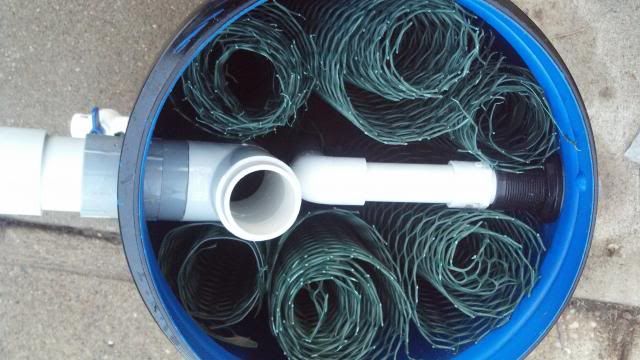 Here it is with water flowing. I used 2" fittings/pipe as outlet. The 1" and 2" are a little larger pipe than I needed for this smaller drum, but i was experimenting to see if i could get it to work. I cut a short piece on the top also as overflow. If my media ever gets clogged to the point it starts filling, the overflow should tkae care of it.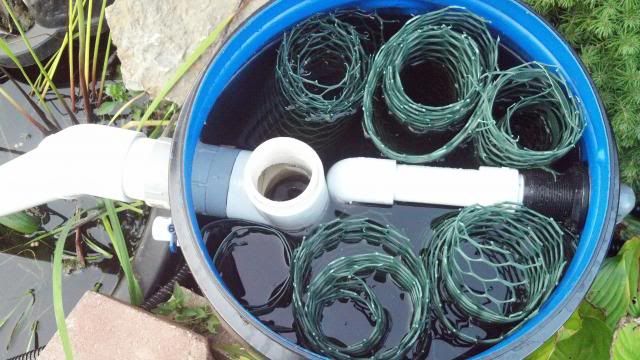 Here is my pond. I have never really finished it as I could never decide on my outer rock and I hate the preformed water fall. We will most likely be moving next spring/summer so I won't be doing anymore, I plan to take the pond with me and filing hole before we sell.
I took a piece of 2" pipe and heat end with heat gun and then flattened it to give water a wide outlet coming out. I really wanted to make it flow into water fall, but works for now just dumping back into pond. All the pipe will eventually get painted black to blend it, it's still in the trial phase. once it gets too cold, we wil bring it in and attach to our indoor turtle pond.