been a quiet week in Lake Wob....wait wrong channel.
430 this morning my eyes popped open and I told hem no no and went back to sleep. 558 they popped open again. Alarm was set for 6 so I got up. Wife made some kind of grunting noise, rolled over, and went back to snoring.
After my morning routine ( yeah you know it – coffee, clothes, email, GTT) I called my slave and woke him up at 630 I called my slave and told him to drag his miserable self out of bed. 645 I told Steph it was time to get up, perched my hat on my head, went out the door, and settled into the drivers seat of Christine.
25 minutes later I was in Gastonia and picked up slave #1. Slave #2 was supposed to be on his way to my house at 8. We made a stop to buy him cigarettes and a drink and headed to the house.
745 I was back home and put slave #1 to work cleaning up the mess in the yard. I stepped in the house to tell Steph something ( a guy I used to hire is running from the law for outstanding warrants – he turned a 2 year probation into a 3 year jail visit if he is caught ) and slave #2 arrived.
After starting one of them on sorting out the aluminum from the car parts I picked up yesterday, and the other unloading all the fire extinguishers on the trailer into a drum, I set about pouring the multitude of jugs full of fuel oil into a 55 gallon drum we had picked up. Once the transfer was complete I checked on the slaves and they were doing fine.
We unloaded the Barrel of antifreeze from the trailer then loaded up all the steel, had it strapped down, and saddled up for the drive to the scrap yard by 930. By the time we reached the end of the road Steph called and said that the washing machine wouldn't spin. I told her we would swap machines when we got back.
They made short work of unloading at the yard.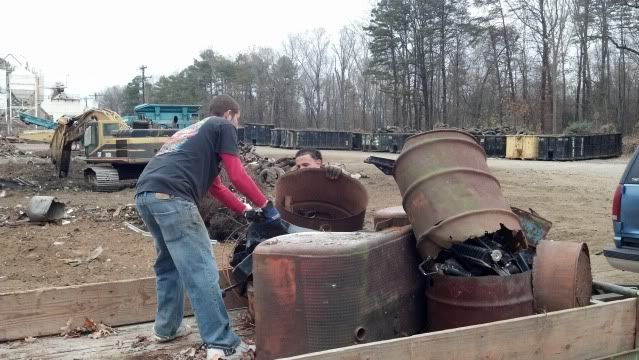 I picked up my check and then we hit the diner for breakfast. One didn't want to eat. I told him it was going to be a long day. He ordered a chicken sandwich and was glad he did later on.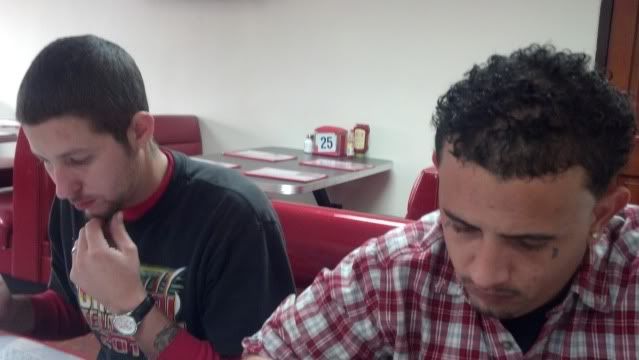 $25 later and we were on the road by 1030. I stopped to cash my check, and then headed to pick up my Christmas present to myself.
At 1215 we pulled in the driveway at a house in Concord and I handed the guy $500. My slaves quickly loaded up the 12x20 carport I bought and we headed home. ON the way back we encountered this fun little gathering at an intersection.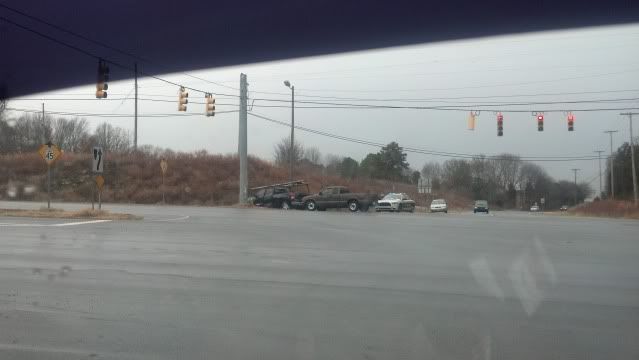 The entire front passengers side was caved in on the S10.
About 230 we backed up behind my shop and they unloaded the carport while I turned the dogs loose to rampage around the property.
Once the carport was unloaded I had them clean up everything that was out of place, re-stack all the pallets that had been unstacked for one reason or another, move a stack of plywood and a bunch of other stuff.
While they were engaged in moving a neighbor came by to see if I had a hoist he could borrow. After exploring several options he said he would go take a look at which one would work best and would come back later.
The dogs were worn out by now so they went back in the pen and the chickens got to roam the yard. When the guys picked up a piece of plywood that was on the ground there were bugs-a-plenty and a feeding frenzy commenced. One of the guys had never seen chickens before and was amazed that they ate bugs.
A short time later Steph came back from her shopping trip and Christine got recruited to go down the hill and get the spare washer. A quick change over and she is back to laundry washing. First up was a load of diapers. Glad we had a spare.
Finally at 500 I ran out of things for them to do so I herded them back into the truck and took them home.
I returned to the aroma of tacos, a cold beer, and some acetaminophen. My back is killing me.