Warning: this thread may contain things that are politically, ideologically , religiously, financially, physically, grammatically and optically incorrect. This thread should not be taken internally, externally, orally, rectally or seriously. NO specific or generic warranty are expressed, implied, or desired.
READ AT YOUR OWN RISK
Rather than make 400 posts of pointless drivel of stuff that happens to me I thought I would just do this. Since my wife works with me, and we are usually together 24 hours a day, I cant tell her about my day so - I will torture you - the good, long suffering members of GTT. That way I can remember if I told a story or not. And you all know which post to avoid.
My first post:
Long day today. Got up a couple of hours before the sun. Hit the end of the driveway at about 730. We started to the scrap yard and realized I had left the address I needed for a job at home. So I called my wife who was following me in her truck and told her to turn around and get it and meet me at the yard. Well she got a little over excited turning around and popped one of the tires on the heavily loaded small trailer off the rim. SO I turned around and changed the tire and sent her on her way. Got unloaded at about 9 and went to a little diner for breakfast.
Drove to Ingles and left her truck because there was no sense in taking with with us - I thought. Went to the bank to cash our checks from the scrap yard and they were putting in a new ATM and had most of the parking lot tied up. SO I pulled in with the Suburban and a 22 foot trailer and it got exciting fast. The side I pulled in on there was no way to see the mess in the parking lot.
Finally got untangled from that mess and headed up to Statesville to JR Cigar - my favorite store on earth. Since my humidor was empty I bought a fresh supply of stogies and a new hat - old one had a hole in it - and then headed up to a closed MF dealership in Odin, NC. By the time we got there it was 80 degrees outside. The guy who is leasing the building has the Dept of Natural Resources breathing down his neck for stuff that was there when the place closed 10 years ago.
HE had about 50 55 gallon drums,2 large fuel oil tanks, and a bunch of other stuff. Fortunately he also had a FEL.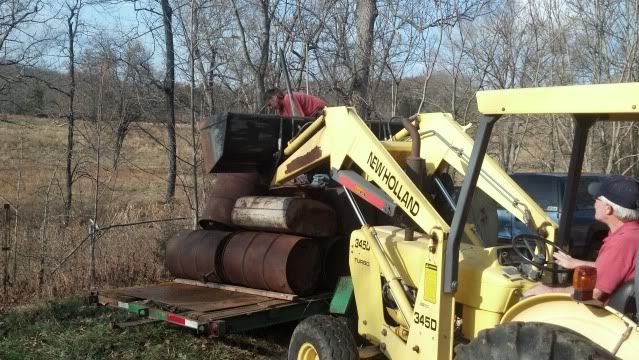 We got it all loaded up including one tank that he said had about 20 gallons of kerosene in it. Since I didn't lift it I took his word for it. I was going to drain it into clean drums when I got home so we put it on the very back of the trailer.
Had I taken the other truck it would have come home filled with all kinds of misc scrap metal, but there is that 20/20 hindsight.
Heath had a ball. He was sitting in his stroller out of the way of the tractor enjoying every minute. HE was yelling and screaming and laughing at the tractor while sitting in a very strange position in the stroller.
We started home and I quickly realized that there was much more in the tank than he said. It is a 300 gallon tank and appears to be half full. You can imagine how exciting that was driving home. At 33 MPH the tank started sloshing and the trailer started controlling the truck. So a 1 hour drive on the interstate became a 2 1/2 hour drive on back roads.
SO tomorrow when the rooster crows I am out the door to drain the kerosene. knock holes in 50+ drums and then go to the scrap yard and take the wife back to her truck.
ANd for those who wonder: my cut stayed closed, my new boots are comfortable, my cigars are good, and my new hat is just slightly less new now. Heath is filthy and happy and chasing the cat around the room. I think Stephanie may have passed out in the living room floor but I am too tired to go look. The dogs will keep an eye on her. All in all it was a good day.
I am just not supposed to sweat in December.
Edited by olcowhand, December 06, 2012 - 02:59 PM.