Disclaimer: This project is not for everyone, and I want that to be clear. It is something most will not understand or find logic in, but that's OK. The good news, for you anyway, is that this project is designed to be a "reversible bolt-on endeavor" meaning the original parts (a wheel set in this case) will be retained and can be swapped back on at anytime like nothing ever happened.
Now that due-diligence is out of the way we can get into some details ....otherwise if this quite understandably isn't your cup of tea, you know where to find the back arrow. :)
___________________________________________
Briefing:


If you by chance saw my teaser a few weeks back, you'll remember that I had been working on a custom wheel project and was nearing completion. Here's the link: http://gardentractor...er/#entry749120

Mounting: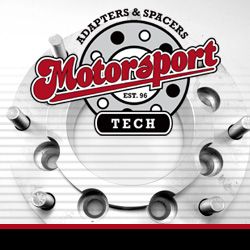 This project wouldn't have been possible without Lenny, the owner of Motorsport Tech, who I have build all my wheel adapters & spacers for my projects. The adapters are made in the USA, have a lifetime warranty, anodized, are hub centric with no cost spared in quality. These things aren't cheap.




The rears:


The rear wheels are where it gets fun and all the magic happens. While I've had a lot of spacers made in the past, I've never actually gone from one bolt pattern to another so I got to learn about a new type of adapter. In this case where going to call them spacer-adapters.



The spacer-adapters themselves are 2-piece- (apparently a design created by them as Lenny explained) because we're going from one bolt pattern to another- 6 lug to 8 lug so it would be impossible to have a one-piece design in order to access the lug nuts on the hub side- (it makes more sense if you see this in person).



(The slight discoloring you see is simply some smeared anti-seize)


I love this shot! :)



The way it works is you bolt one half to the hub the wheel hub, and then the second half of the adapter slides on via two dowel pins and then is bolted on via 8 included allen bolts. The total thickness of the rear spacer-adapters are 1.5" and are the thinnest possible Lenny could make them in this configuration. I could've purchased these same rims in a 6-lug design but they still would not have been the 6x6 lug pattern and rather 6 5.5" lug pattern requiring the same type of spacer-adapter. I chose the 8-lug pattern for extra uniqueness and also to coincide for fun with one of my other hobbies, diesel trucks.

The Fronts:


The fronts are pretty simple as the new rims share the same lug pattern and size as the originals. They however have less backspacing than the factory rims so due the bigger tires, they needed to be spaced out more to prevent rubbing. The front spacers are 3".

Impressions:
It certainly has different vibe to it for sure. The 29's which are closer to 30" than 29" are a big jump up from the 26s's that measured closer to 24.5" that were on before; they really filled up the large gap between the fender and tires. So far it seems to work fine and still be as functional for what I use it for which was the goal despite it being a little wider which has its advantages & disadvantages. I had the front spacers made to a spec to not allow rubbing on the front and little things like that I think made the difference in order for it to work. Will I keep this setup forever? Who knows, I might even switch it up something different in the future. At least there is the original wheel set to go back to that can be bolted back up easily.

Stock Dimensions: (The dimensions were taken from the top of the hood in the front, below tail light in the rear and the outside wheel widths. This doesn't really matter though as it's the actual differences which do for a simple comparison sake here.)
Front Height: 41"
Rear Height: 22.6"
Front width: 43"
Rear: 46"

Current Dimensions:
Front Height: 42.5" (1.5" increase)
Rear height: 26.25" (3.65" increase)
Front Width: 47" (4" increase)
Rear Width: 49.5" (3.25" increase)

What is it like to drive?
Well, to be honest, not really much different. If I were blindfolded and asked which wheel setup it had, it wouldn't be as apparent as you might think. The thing I notice most is that it's a little speedier. In comparison before, it felt like it was always in "granny gear" while now it feels like it's in 1st. Basically it takes less pedal travel to go faster is the best way I'd describe it. The difference is subtle but I'd say you have to be a little more mindful with your foot when maneuvering around tight areas because less pedal travel does more work so to speak. You would assume the steering wheel would be night and day heavier with the spacers and bigger font tires, right, but it is not much different.

I guess the other thing I'd add is that it has a firmer ride. The 26" Tru Powers on it before were 4" ply and had a lot more give to them; in fact it was basically like riding on big cushy marshmallows as they were always squished down and would even develop flat spots after a while if you let the tractor sit for a while. The 29's are firmer and a lot more stout in that regard. I could see this potentially being a detriment, but time will only tell. The good news is that there is even more weight in the back (the rears took 20 gallons each of RimGuard compared to the 11 gallons in the 26s and should equal out to about what they did with the weights too given the significant increase in fluid) and the Tru Powers themselves are a soft compound. The tractor seems to have quite a bit less rolling resistance because of it. The parking brake has to be used more. You could not push the tractor in neutral simply because it was like pushing with flat tires in the rear; now you can. Just observations that you can take as you please.



Alright, enough about wheel spacers, let's back this little beast out of the trailer and have a photoshoot!


Edited by Austen, March 20, 2017 - 12:31 AM.