Over Memorial Day weekend I took a camping trip with my 1986 KTM MX 500 and thought I'd share a little report!

Logistics
I realize most are not located on the west coast so this won't mean much, but the plan was to go riding where my dad and I have gone trail riding a lot back in the day near Lake Chelan. More specifically, over Cooper Mountain. It's about 4-1/2 hour drive from home. I was going to camp where we usually did too.



The plan was to drive to the camp site and stage there. It turns out our old super secretive camp site is now tent city. Definitely un-appealing in many regards. So, I decided I'd find another spot to camp while exploring on the bike so I staged temporarily elsewhere for the interim.



It didn't take long to realize that something had to be done to the tire pressure as traction was just not there, at all. This bike is like riding something that's on nitrous and has 1000HP underneath you. Giving it 1/4 throttle has the same effect as cracking the throttle wide open on a 'normal' bike only without having any lag, RPM build, up whatsoever. The power is just there instantly at any given point. I sound like a broken record here, but you really do almost ride this bike more off the gas than you do on the gas. Anytime you're on the gas you're basically in a full on drift, back tire squirling side-to-side while you're trying to counter steer the heck out of it. I ended up lowering the tire pressures down to single digits where the tires where almost spongy-balloon like; thank God for rim locks. It helped maybe 15-20%.




There were a few of these trails we used to ride that were now either overgrown or had a lot of downed trees. I had already crossed three smaller ones before I had gotten to this point and decided to turn around. The trail was increasingly getting narrower and narrower and I didn't feel like putting a ton of new pinstripes on the plastics and number plates.



This is more like it.



This is what I call the "burnt forest." It was quite an interesting sight. All of a sudden you just enter it. There was another person there taking photos too when I was passing through.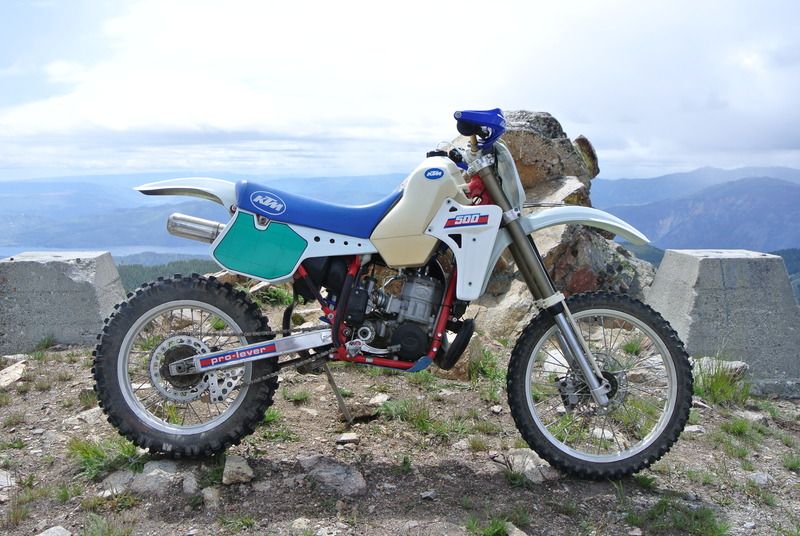 The 'look out.' I had officially made it to Cooper mountain at this point. It was only 13 miles on the odometer but figured it'd be a good time to do a fuel check. I was almost dismayed to see that I was nearly at half a tank already! WHAT!?? If I had been on any of my former 4 stroke dual sports at I would have still had a full tank at this point.

I had a realization that because of the level of performance this thing pumps out, it's really not hard to understand why it goes through fuel so fast and I shouldn't complain about it either. You can't get both. This thing is not a dual sport, but that's not what I was hoping or wanting it to be either. I had kind of always thought it was my imagination when I'd notice a change in the fuel level after a short time running it a bit at home. I wasn't- it just goes through fuel that fast. These bikes came with an even small tank designed for MX tracks. This one has the large 3.1 but still has a limited range. I estimated it gets between 13-15 MPG.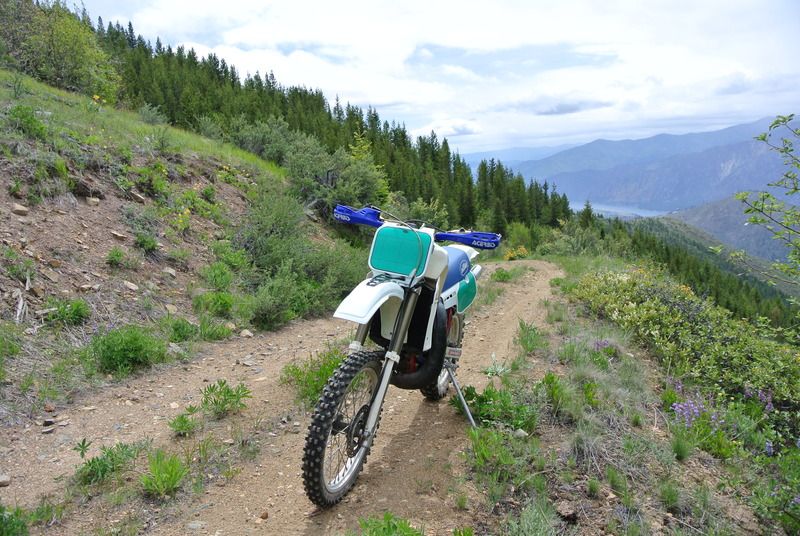 I was feeling hungry and this seemed like a nice spot to stop. It is sure different that riding a four stroke going down hill because there's zero engine braking. I don't like coasting for long distances on 2 strokes without applying any throttle so it was a balance between using lots of brake input with little inputs of the throttle periodically at the same time.



Obligatory food pic.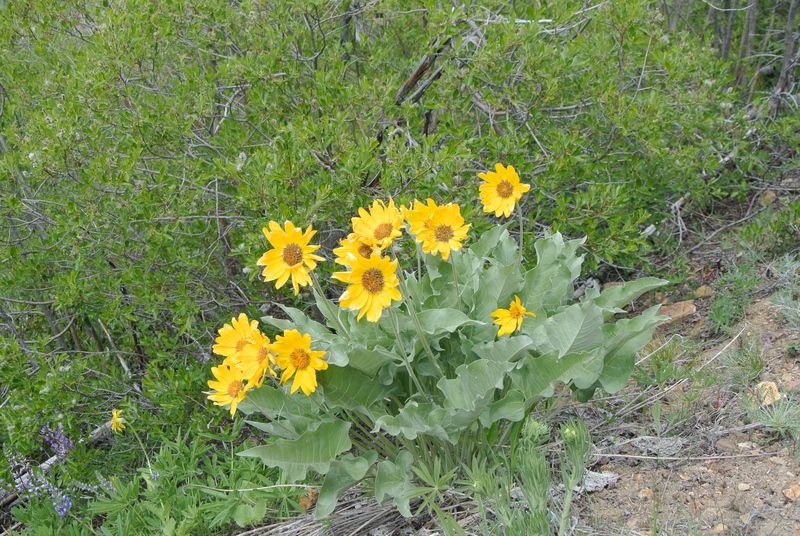 Some pretty wildflowers.



Helmet hair! Helmet hair!! Nobody gets worse helmet hair then I do. If there was a product that lessened it, I would be the first in line.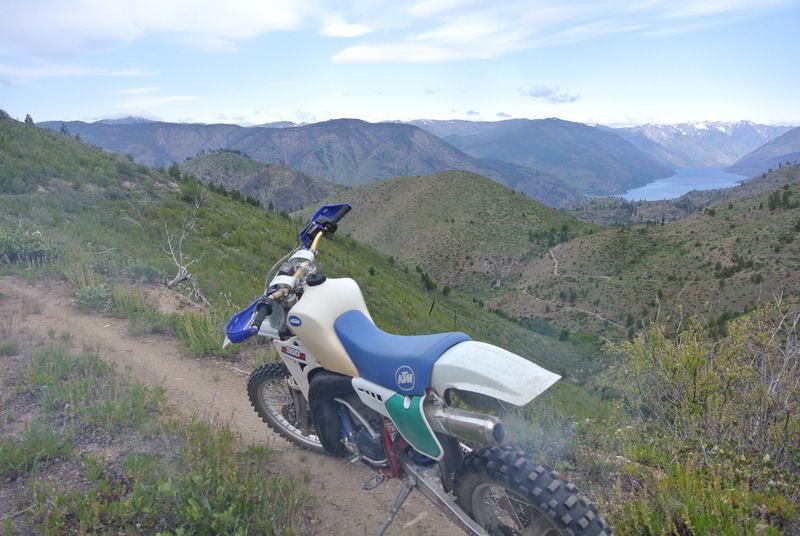 Lake Chelan in the distance. The next goal was to find a new camping spot.



I eventually found a good camping spot so I decided to head down into Chelan to the "Lakeview Drive-in" to grab a burger for dinner. It was like spring break in Cancun, the beaches were filled college kids.



Time to head back into the mountains to setup camp. The new camp site was several miles further up a narrow and rough road where I had to go slow with the trailer.



The camp site.



Watched the sun go down.

I Didn't encounter any wildlife. There was a noisy owl that I heard at night and there was wind that came through the trees that made a lot of noise. The spookiest part were three different cars that drove past at odd hours of the night. As my dad has always said, you sometimes have to watch out for the people you come across more when you're out here vs. the wildlife.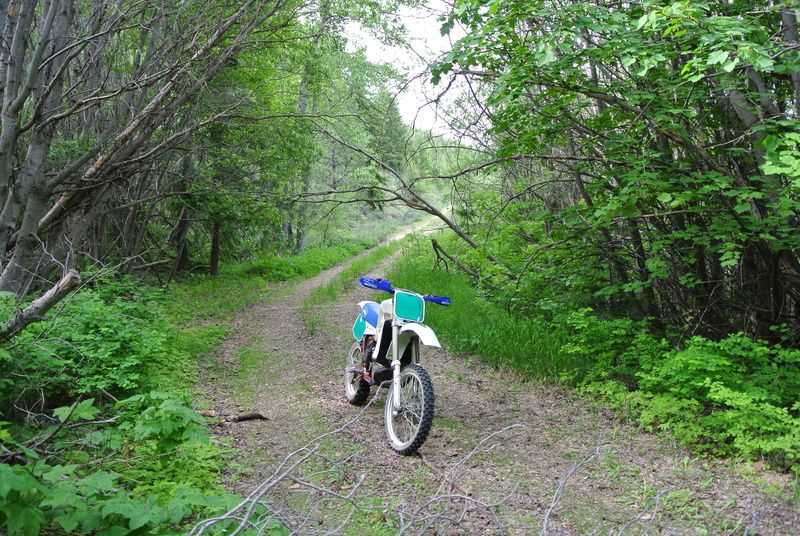 The next morning I went for a short ride before I packed up and left. I found another trail I had never been on before and this one offered some long stretches that I could open it up a little.

Overall, a great trip! I have another one planned with my dad in Oregon in September. I'm sure in the meantime I'll post some more updates to the bike and maybe another ride report if I do another weekend trip with it.
Edited by Austen, June 02, 2016 - 04:33 PM.