#16
ONLINE
Posted December 14, 2015 - 09:57 PM
dont to forget to floss, those hulls get down in your gums and tear shlt up.
---
#17
OFFLINE
Posted December 14, 2015 - 10:00 PM
I was at the local small engine shop getting a carb kit, they give out bags of hot pop corn lol. Got a few in my teeth
---
#18
OFFLINE
Posted December 14, 2015 - 10:01 PM
This will be a slow build for sure, I HOPE to have it done and functional by spring. At the same time I am going to be restoring my Ford 100, piecing together a B10, Working on the Struck, and I have a big motorcycle build going on. I need more money lol
rustyoldjunk, Alc and TomLGT195 have said thanks
---
#19
OFFLINE
Posted December 15, 2015 - 05:20 PM
You need more time!
rustyoldjunk said thank you
---
#20
ONLINE
Posted December 15, 2015 - 09:44 PM
You need more time!
We need more popcorn!!!!!!!!
rustyoldjunk, KennyP and TomLGT195 have said thanks
---
#21
OFFLINE
Posted December 16, 2015 - 01:24 AM
I bought some from the boyscouts near me, still haven't gotten the stuff yet...
I hope to get started on getting the 195 torn apart after I test fire the rough K532. Should run, but will smoke and needs new cylinder heads. Going to throw in a Helicoil to repair the spark plug threads and after that I will give it a shot. Worst case it doesn't work. I hope to get the carb I need for the Kubota soon as well, found one new for $160, not too bad
rustyoldjunk, Texas Deere and Horse and KennyP have said thanks
---
#22
OFFLINE
Posted December 18, 2015 - 10:56 PM
I will hopefully be dragging my rough jacobsen into the garage tomorrow and starting the teardown of it. Going to pull the motor and spare parts I need but I also want the frame to start the mock up process for mounting the kubota. Where to cut, where to add motor mounts drive shaft locations, etc.
I need to order a carb, belt and alternator for the engine, may need to modify the thermostat housing as well due to the crank being lower than the Kohler and the kubota sitting very high in the engine bay. Otherwise overall size is very similar. With some creative machining I think the front PTO should be able to be mounted on a custom front shaft. I am hoping to see if the PTO assemply from the other tractor could be mounted on this one with the swap. Going to be a tight fit and lots of machining once again but to havea fully decked out machine will be sweet! Not to forget but the Kubota engine seems a LOT lighter than the K532.
Also found a decent radiator in my parts bin from a Kawasaki motorcycle that i thick should work pretty good, otherwise I saw a 12" rad in a different threat that I may use.
Slow build but will be a good one I promise!
I'll also be starting on the motor swap in the 53500 jacobsen once the rusty one is ripped apart.
Alc, KennyP and TomLGT195 have said thanks
---
#23
OFFLINE
Posted December 19, 2015 - 11:30 AM
I have a D600 Kubota diesel in my LGT 165 and it fit like a dream, even uses the stock driveshaft. Only thing I needed to do was make an adapter shaft for the pto and a mounting plate for the pto clutch body that normally mounts to the engine block. Also mounted the mule drive 1.5" forward to get everything to line up nicely.
olcowhand, rustyoldjunk, Bmerf and 2 others have said thanks
---
#24
OFFLINE
Posted December 19, 2015 - 06:50 PM
I love that machine (skyrydr2)
Really want mine to turn out this nice... someday.
rustyoldjunk, skyrydr2 and MarksA-C have said thanks
---
#25
OFFLINE
Posted December 21, 2015 - 12:07 AM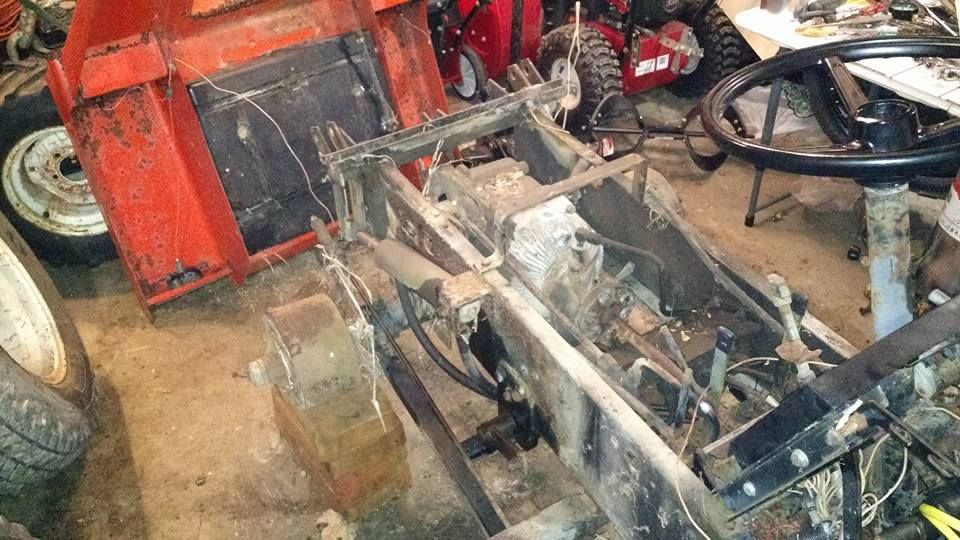 I started the partout of my other 53500. Very crusty, in very poor condition but has the parts I need to fix up my other 2 machines. Will also be using the front section of the frame to mock up the Kobuta engine. Going to measure where the driveshaft is, where the PTO is, etc. GOing to have to get a few things machined but the plan is to have it full functioning WITH the rear PTO unit I have as well. With the water cooling it will end up being a very reliable workhorse as well!
olcowhand, rustyoldjunk, KennyP and 3 others have said thanks
---
#26
OFFLINE
Posted January 16, 2016 - 09:33 PM
I have the other 53500 torn down and I am about to start cutting the frame smaller so I can just work on the mockup of the engine mounting. I have a connection now to get the kubota parts I'm missing too.
Skyrydr2, thats a LOT to fit under the hood! I never thought to mount the radiator there either! I was hoping to mount the reat PTO assembly I have on this tractor so I may have to move the radiator to the grill, but I may not then have the front PTO. It MAY work if I can fit the radiator and electric fan into the grill assembly itself.
A lot of mockups to come...
rustyoldjunk and TomLGT195 have said thanks
---
#27
OFFLINE
Posted January 17, 2016 - 06:35 AM
Mark , you should be able to easily mount the radiator where Idid and still run the rear pto, i added a second pulley to the crank and ran a pump off it, i have since scrapped the pump and installed the correct one on the engine block. But there is room there more than the front, i mounted the battery up front. I would love to get my hands on a 195.. But they are very scarce out here...

Alc and MarksA-C have said thanks
---
#28
OFFLINE
Posted January 18, 2016 - 04:45 PM
If you have any extra parts, I'm looking for a few things for my 195. A good dash and lower panel as well as maybe a set of rear brakes. I'm not in a hurry, so when you're done and decide you have spares let me know.

rustyoldjunk and MarksA-C have said thanks
---
#29
OFFLINE
Posted February 07, 2016 - 09:36 PM
Not a ton of progress. Got a LOT of builds going on and this one is more backburner right now. I will be going a K532 swap in the 53500 soon, plus working on the struck. Also building another AR-15...
I did at least get the donor frame cut up and only have a few more bits to do then I can start mocking up the engine mounts and have garage space back.
rustyoldjunk, Alc, Bmerf and 1 other said thanks
---
#30
OFFLINE
Posted June 04, 2016 - 10:37 AM
Plans changed on this machine. The Kubota engine needs mroe work than I really want to do plus I have a NOS K532 sitting under the bench. So I'll just put in the new engine and build it up as a nice machine.
Have a few opther big projects in line but I hope to be getting to this one shortly. I'll be doing a motor swap in the Jacobsen 53500 and also removing the rear PTO unit so I can put it on the Ford.
rustyoldjunk and KennyP have said thanks
---
---
Also tagged with one or more of these keywords: ford, lgt, 195, tractor
Trash and Treasures

→

For Sale / Trade / Wanted

→

Parts

→


Started by dealtx ,

Dec 12, 2017

for free

,

tractor

,

briggs

and 6 more...

For Sale

Trash and Treasures

→

For Sale / Trade / Wanted

→

Tractors

→


Started by IowaIronGirl ,

Dec 09, 2017

red-e

,

walk-behind

,

tractor

and 1 more...

For Sale

Trash and Treasures

→

For Sale / Trade / Wanted

→

Attachments

→


Started by IowaIronGirl ,

Dec 09, 2017

sears

,

craftsman

,

garden

,

tractor

and 3 more...

For Sale

Trash and Treasures

→

For Sale / Trade / Wanted

→

Attachments

→


Started by IowaIronGirl ,

Dec 08, 2017

sears

,

garden

,

tractor

,

deck

For Sale

Trash and Treasures

→

For Sale / Trade / Wanted

→

Tractors

→


Started by IowaIronGirl ,

Dec 07, 2017

case

,

tractor

,

garden