Massey Ferguson 8 hp
Started by
Sugarmaker
,
Oct 20, 2015 07:44 PM
132 replies to this topic
#61
OFFLINE
Posted June 23, 2016 - 10:35 PM
Just a couple more weeks to Pioneer.
Good luck, hope the reassembly goes well

---
#62
OFFLINE
Posted June 24, 2016 - 08:54 PM
Alan,
I may need some help to pull this off. Will definitively have to spend some quality time with the little Massey if it's going to make a debut at the Sagertown show.
I took the frame out and soaked it down with purple power and then pressure washed it several times. Have started to wire brush sand and fill some of the areas that will show the most.
Regards,
Chris
limebuzz and MH81 have said thanks
---
#63
OFFLINE
Posted June 25, 2016 - 06:18 AM
I would say to call me next weekend, but I have to both work and shuttle Mom and all her stuff to Ashtabula.

---
#64
OFFLINE
Posted June 25, 2016 - 02:53 PM
Alan,
Well you could at least stop on the way by and give me some moral support!:)
Regards,
Chris
---
#65
ONLINE
Posted June 25, 2016 - 04:05 PM
Greasy6020 said thank you
---
#66
OFFLINE
Posted June 26, 2016 - 09:08 PM
Folks,
Thanks for checking in on me. I may need some help on the electrical hook ups for this tractor!
I did get to play with the Massey 8 today. Couple set backs and some forward motion too.
I tried to remove the lever for raising the deck. Wasn't paying attention as to how it worked and got the thumb button rod jammed up. I removed the handle assembly for the time being and will go back to that later. Not sure this will ever be a mower anyway so that may be a non issue.
Cleaned up the chassis and primed it. Well my Harbor Frieght guns nozzle got plugged or I had too much air pressure and the primer went on a little dry. Scuffed that smooth and prepared to spray the Flint Metallic gray. When I opened the can it looked silver metal flake. Thought maybe the old mans eyesight was slipping a little so proceeded to spray the entire frame. After I was done I stepped back and it sure looked a lot more like silver than gray. I took a old panel and matched it up and it wasn't even close. Went and got the silver grill painted with Rustoleum silver metallic and bingo it was the same color! So either I got the numbers mixed up or the paint store goofed?
Anyway I grabbed the TSC Massey gray and sprayed a test panel. Doesn't have much metallic but is at least gray not silver! So that is what the frame and all the gray parts will be, right or wrong!
I liked the way the Tractor Supply paint sprayed and had a pretty good shine for rattle cans.Sure looks better with some color!
Should get the chassis back on four wheels tomorrow. Some assembly can begin as I clean and paint the remaining components.
May pick up some stainless hardware for some of the visible fasteners to add some bling!
Regards,
Chris
DMAX, limebuzz and MH81 have said thanks
---
#67
OFFLINE
Posted June 28, 2016 - 08:40 PM
Folks,
This tractor is going to be a clean up and paint project. Not even close to a restoration! Last evening and this morning I cleaned and sanded parts, primed and top coated about 90% of the sheet metal parts. So we move forward slowly! I ordered the decals from Maple Hunter. I forgot to order some extra decals for the possible build of a milk can display seat.
So I have a low back two piece seat that was on the MF7 parts tractor. Also I have a replacement seat. Which one would you put on?
Chassis is rolling again and looks better.
Regards,
Chris
---
#68
OFFLINE
Posted June 29, 2016 - 08:39 PM
Folks,
Update on the little Massey 8.
Painted the hood, fenders, cowl plastic, and hood nose plastic (red) today. That should be it for the red on the tractor. I used TSC MF red rattle cans. Came out pretty good.
Took the low back seat apart and the metal frame is in the E-tank overnight. Then it will go to the fab shop for welding and clean up. The back cushion will need new foam rubber installed.
Does the seat bolt directly to the fender pan? I have a pair of strap springs that I could install for some added height?
Took a bunch of pictures of painted parts, just need to get them loaded.
Looking for a rubber cone shaped grommet for the steering column to dash. Also a plastic knob with the 1/4 20 thread for the hood release.
Regards,
Chris
---
#69
OFFLINE
Posted June 29, 2016 - 11:21 PM
Holy smoke Chris, you been busy.
Should be fine with the colors you used, as you said, it's not a full blown resto.
I know your attention to detail, and it likely bothers you to no end, but sometimes, it is what it is.
Good talking with you today, and thanks for the shoulder my friend.
Hope you get everything together for the show, if not, it's not.
---
#70
ONLINE
Posted June 30, 2016 - 09:11 AM
Looking forward to seeing the progress, I have one of those grommets for the steering shaft but it's in pretty rough shape. The ring is about half tore off and the rubber has some cracks. I'm planning on heading up to the show in saegerstown this year with my buddy kbuzz ( a fellow member on here) as long as the weather is good. I can bring it with me if you want it. I'll add some pics to show you its condition. I got it from a guy who sold me a 12 in pieces and had some parts from a 8 laying around. If I didn't take those parts he was going to scrap them and even though I don't have an 8 I still didn't want to see those pieces get scraped!

limebuzz and KBuzz have said thanks
---
#71
OFFLINE
Posted June 30, 2016 - 09:43 PM
DMAX,
Thanks but I have two in the same condition that you have.
Hope to see you at the show too.
Todd,
I am getting over the paint issue. It will be OK. Looking forward to seeing pictures of your latest project tractor too.
Folks,
I and nearing the home stretch on cleaning and painting Massey parts (I think).
Here are some pictures:
Popped out the knock out panels for the lights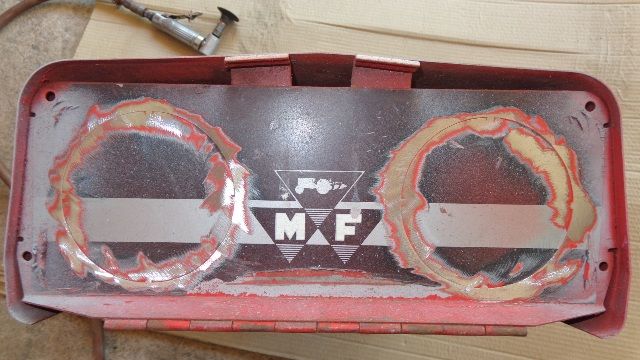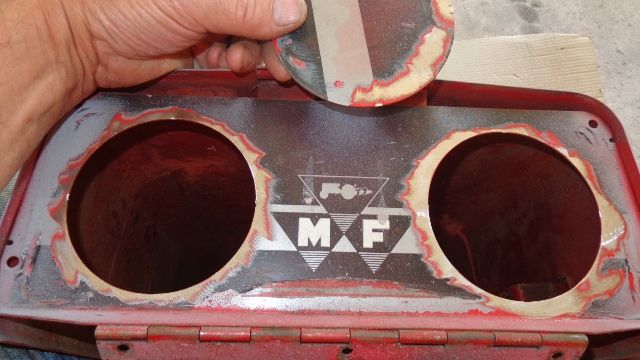 Chassis: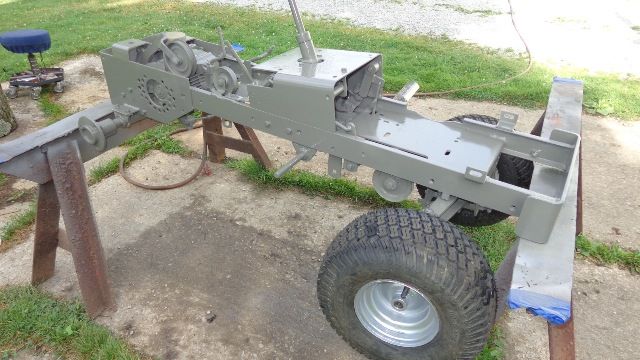 Rolling again: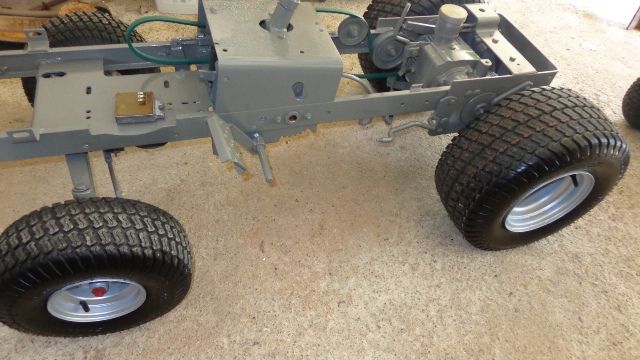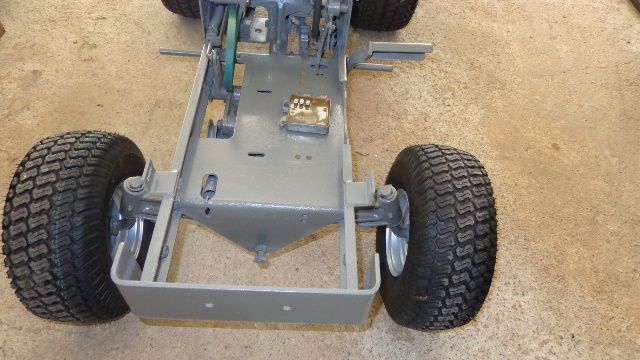 Pieces and parts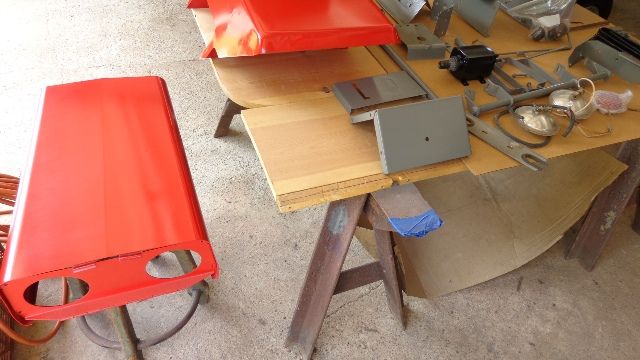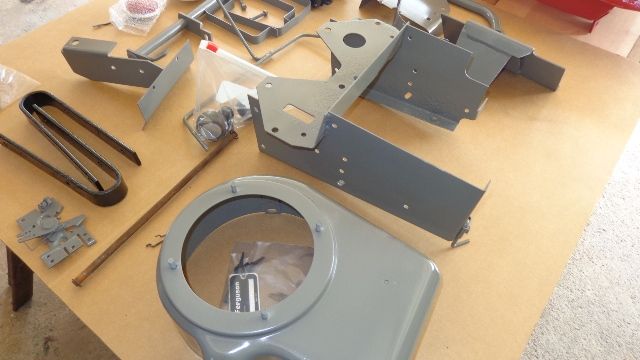 Repaired several places on the dash with super glue: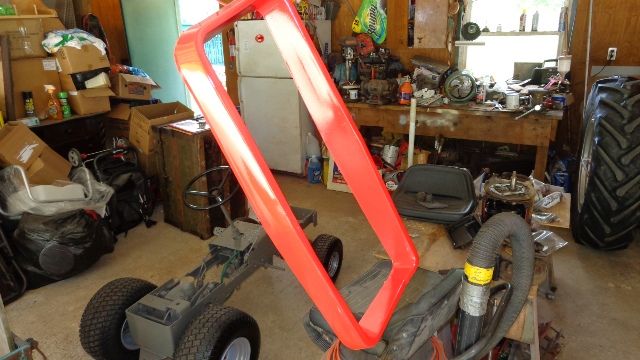 Put a new piece of foam in the seat back. Re welded the seat pan corners and painted it gloss black.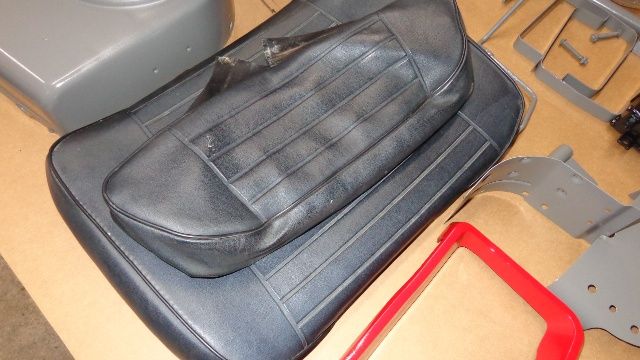 Hood plastic and dash came from the parts tractor.
Dash so I can remember how the decals are placed:
have to add a light switch and wiring
Fender deck:
8 hp Tech engine to be cleaned.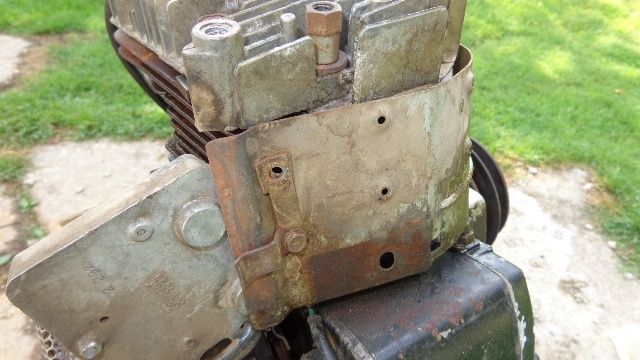 removed starter:
Removed Electrical box: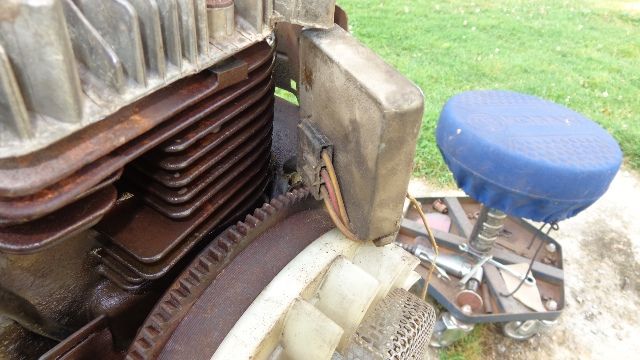 Cleaned and painted:
Thanks for checking in on me. Lots of assembly work needs to happen in the next week!
Question on the gas line running behind the flywheel cover? Is there any special tubing that needs to be used? I got some small O.D. poly tubing for gas from TSC. Just nt sure about the heat?
Regards,
Chris
Edited by Sugarmaker, June 30, 2016 - 09:47 PM.
---
#72
OFFLINE
Posted June 30, 2016 - 10:59 PM
I tell you Chris, looks good from over here.
NOW, the fun begins, assembly, scratch, dab paint, scratch, dab paint, repeat as needed.
---
#73
OFFLINE
Posted July 01, 2016 - 09:31 PM
Todd, Folks
That is the voice of experience talking! Started assembly and already found some areas that need touched up. Hardest part for me is hardware clean up! Were getting there! Just might make the show July 15th.
Regards,
Chris
---
#74
OFFLINE
Posted July 03, 2016 - 07:33 AM
Folks,
Attended a local tractor show and picked up a MF 8 operators manual. Here is where i need some help!
The engine that is in this tractor has a starter and a pull start feature. Both work! There is a electronic module type box (thin aluminum) with three wires going to it from inside the fly wheel. This module is mounted under the flywheel cover. There are two wires coming out of the flywheel cover that went some where. I need help understanding if I need to add the large aluminum resistor block on the inside right lower dash area. (that resistor block has three wire plug in also). I am sure I will have other questions. The book I just got has the diagrams for electric start and manual but not both!:) Just want to try to do this right the first time.
BTW I did get my decals from Maple Hunter. Going to check and see what they have for single decals for my seats that I and building. I picked up a small aluminum milk can at the flea market yesterday and I will try to get that painted and a seat attached too!
Have a safe and enjoyable 4th of July holiday.
****** I still need a good rubber steering wheel grommet (cone) if any one has one for this Massey 8 lawn tractor?? *******
Regards,
Chris
---
#75
ONLINE
Posted July 03, 2016 - 08:31 PM
Everything's looking really good! Can't wait to see it in a couple weeks. George Bradish has a nice selection of Massey decals. I've bought some a couple months ago and the quality is great. Prices are reasonable too. You may want to check them out for the extra decals you need. georgebradishtractorparts.com

MH81, Sugarmaker and KBuzz have said thanks
---
---