Just got the 1254 running!
Started by
gardentractornut
,
Apr 03, 2015 10:54 AM
#31
OFFLINE
Posted April 15, 2015 - 07:01 PM
Nice looking garden, and i agree the tractor did well too

gardentractornut said thank you
---
#32
OFFLINE
Posted April 15, 2015 - 07:02 PM
---
#33
OFFLINE
Posted April 15, 2015 - 07:33 PM
Nice Job,
I really need to get myself one of the heavy duty tillers to try for myself, been using Round back's my whole life
---
#34
OFFLINE
Posted April 15, 2015 - 07:36 PM
I am blown away by it. All my life I have been using a Snapper Groundbreaker rear tine tiller. What I like about that one is the tines rotate backwards. When i saw a video of a 1250 tilling and the tines were rotating forward, I was skeptical. Being as heavy as it is, when I turn the PTO on it just sucks itself down.
---
#35
OFFLINE
Posted April 17, 2015 - 11:07 AM
Wow! shipping was MUCH faster than it said! Just got it in the mail, about to go put it on. I'll let you guys know how it works.
---
#36
OFFLINE
Posted April 17, 2015 - 12:34 PM
She works great! I made a pass in the garden and the RPM's stayed constant all the way through. Man that thing really helps...
The tool for bending the cable is really nice to, made a nice looking "L". Thanks again Brian!
Bolens 1000 said thank you
---
#37
OFFLINE
Posted April 24, 2015 - 05:31 PM
An update for today, got the tiller shaft looked at and she's nice and straight. I'll dig into the tiller when I'm all done with spring tilling.
I brought the carb to my small engines class and he (the teacher) put an O-ring in the main jet so that it stays put (FINALLY!!), the leak has also stopped. I'm really happy about that!
So, putting it on today it took a while to start it, but I did it. The mixture was all off from setting them at the class. When I got it started, I took it for a ride and opened 'er up in 3rd gear. Man these things can cruise!! I get back to the shop and push the throttle in, it slows down, but not nearly enough. The rpm's were still at a good working speed. I went out later and adjusted the governor. That thing was waay out of whack! Now she purrs like a kitten!
So, my next project with this is work up some cash to get some V61's for the front, it really needs it bad. Next is the drive bearings and belts. After that, AG'S!!
It'll be a while. All this work DOES have a deadline--the first week of August which is our local County Fair. They're featuring GT's there and I want to pull with this.
WrenchinOnIt and 29 Chev have said thanks
---
#38
OFFLINE
Posted April 29, 2015 - 07:42 AM
V61's are on their way! Ordered them from Miller yesterday
---
#39
OFFLINE
Posted May 01, 2015 - 05:03 PM
WOW!! Ordered on Tuesday I believe, and they came today! Gotta love Miller for their super fast shipping. I'll hopefully get them put on tomorrow. Do the stock tires have tubes in them?
---
#40
OFFLINE
Posted May 02, 2015 - 05:25 PM
Whaddya think guys?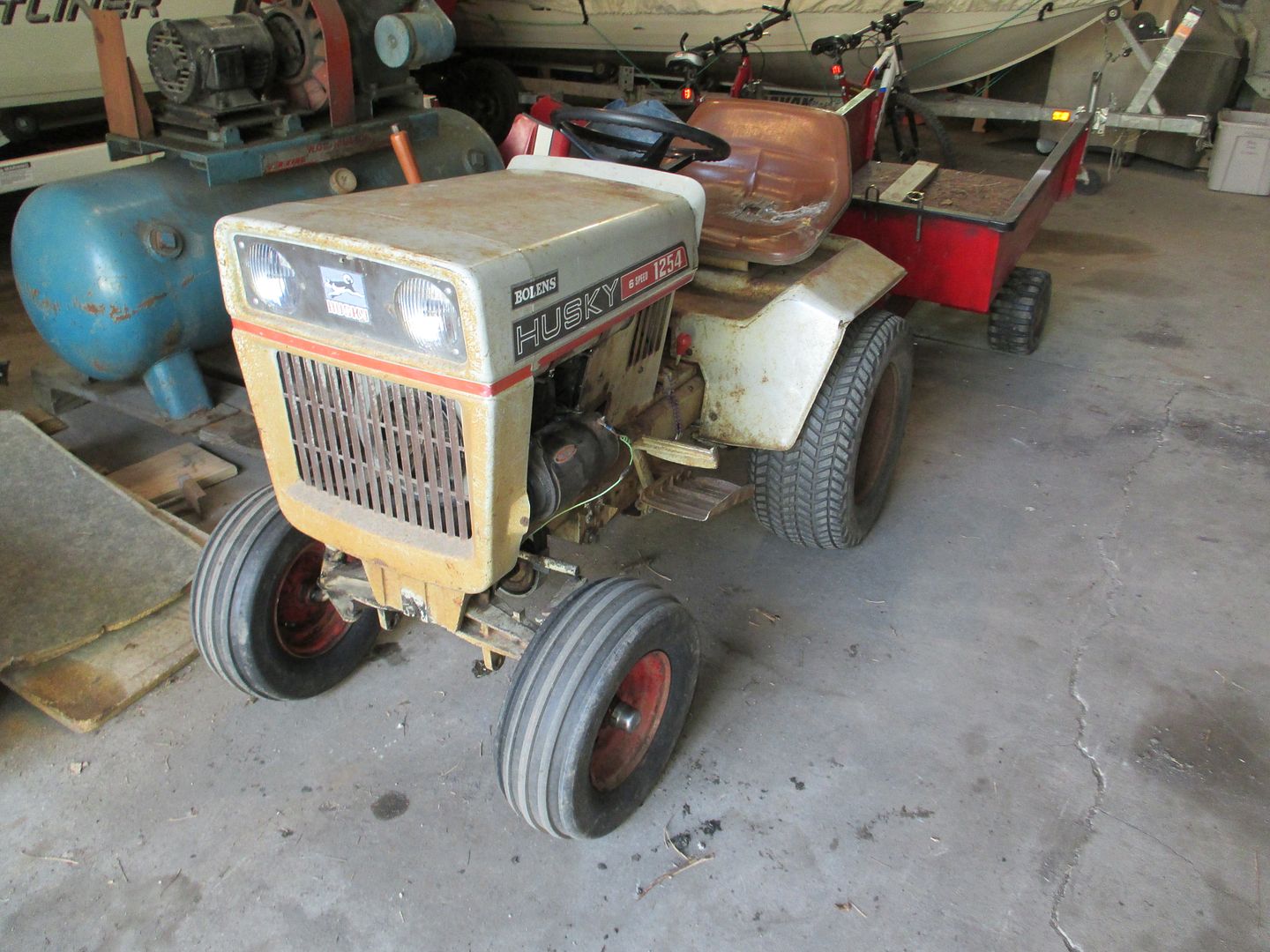 WrenchinOnIt said thank you
---
#41
OFFLINE
Posted May 04, 2015 - 06:10 PM
Got a video of it running today. Nothing special, just thought you might want to hear it after the carb got tuned. Also, I have learned to start it on 1 pull! Give it choke, pull the throttle out until I see the valve open just a tad. find the compression stroke and give 'er a pull! Works every time.
---
#42
OFFLINE
Posted May 04, 2015 - 06:14 PM
Also, note the new coil position. As opposed to having it wired where the old one was
When I do get a battery hooked up (which might be soon, using just a LT battery for now with push button ignition) Where should I put the coil?
---
#43
OFFLINE
Posted June 06, 2015 - 10:18 PM
I haven't been working on the 1254 much, but rather making MORE work. I hit a bump too hard and busted the S/G mounting bolts right off
I do hope to get the electric start working soon. Once the Snapper is outta the shop this one gets some attention. I will replace the driveshaft bearings and belts. After that is done the tiller gets some money poured onto it. Woohoo.
Sooo, I gotta drill them out and put some new bolts in. I didn't get a pic of that, but I did get some pics of my new toy for the toy!
Don't know why this one is rotated, I think it's my camera though.
I went to parts city and bought some grade 8's and a pin right away too.
Thanks to brucepts I was able to get this nice sleeve hitch! Thanks again Bruce!
Now I need some attachments for it
If anybody can sell me a low-priced Brinly cultivator shoot me a PM.
Edited by gardentractornut, June 06, 2015 - 10:24 PM.
---
#44
OFFLINE
Posted August 18, 2015 - 03:35 PM
Well I haven't done a ton of updating on here I guess! I got the electric start rigged up by just using a push button from a Farmall tractor and bolted it right to the S/G. Looks pretty crappy, but it'll work for now. You probably have seen my threads on here but if not I have been busy getting attachments for it. I bought a 10" Brinly at a swap meet and then I got a free one from a friend. I then picked up a push blade for $50 not too far from my house. So now I've got a nice assortment of attachments
Yesterday I thought I would try to rig up some wheel weights for the front wheels and lo and behold, the rear weights off of my Snapper actually fit the front wheels and they look awesome! Let me know what you think.
---
#45
OFFLINE
Posted August 18, 2015 - 03:41 PM
Also, the starter belt slips. Is there a certain kind of belt that I should be using?
---
---