Okay, so my Sears 16/6 with the Tecumseh OH160 has decided not to charge as of late.
I have an Onan 20 amp regulator, fairly new and I've tested the stator output at about 38-40 while running at about 2000rpm so I am charging up to regulator-2 black swires in pic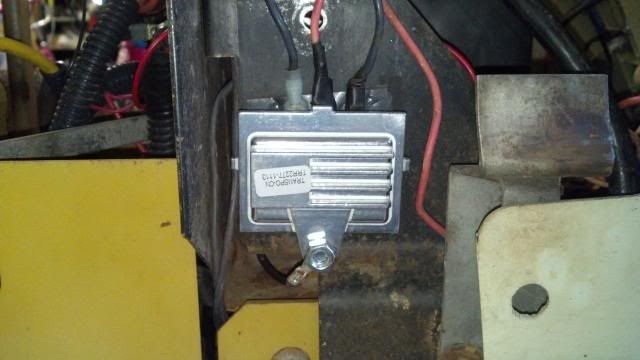 My question is what will the output of the B+ terminal on the regulator with no load(red wire)?
If I pull the B+ wire off, red to terminal, black to ground I only get between 1-2 volts DC output. I'm thinking I should be getting 12-14, but then I have no load on it. Normally my amp gauge will show almost 0 when fully charged system, tractor just running. If I turn on lights, amps will jump to up around 10 then drop down some. If I use the winch, the gauge jumps to about 15 amps, this tells me I am pulling on battery and charging system is putting out juice.
Now, I get 10 amp discharge when I turn on my lights, gauge doesn't move like before when using winch.
I also had to swap out ignition switch to a generic one, I am wondering since the B+ wire feeds through it then out to amp gauge if switch is the culprit.
Not sure which to blame, the regulator or the switch.
Can I run charge directly from B+ to amp gauge for testing purposes to bypass switch? It currently goes B+ on regulator to the IGN side, then out BAT side to amp gauge, then amp gauge down to solenoid then up to battery.