Blade Or Blower ?
Started by
thom
,
Oct 08, 2014 02:52 PM
#16
OFFLINE
Posted October 09, 2014 - 07:27 AM
Just go and get another gt and then you won't have to worry about changing attachments all the time.

---
#17
OFFLINE
Posted October 09, 2014 - 07:37 AM
I enjoy using both, and prefer the clean surface a blade leaves behind. I have never cared much for blowing snow...just not as enjoyable for me, but it is highly effective under the right circumstances. If given the choice of only using one or the other...it would be tough. I'd opt for the blade, but about that time, we would get a big snow and I would run out of room to push it. Might have to vote blower. Depends on how much snow you get. We get boat loads.
I used good single stage blowers my whole life, and this past winter I picked up a 2 stage. Night and day...a single cannot beat a 2 stage under any conditions. None. A single is a hassle in average, light snowfalls. It is more easily overwhlemed in heavy wet snow, and frozen crusty snow feels a bit like boring into crushed concrete...sometimes you simply cannot move forward without getting out a shovel to break things up. My 2 stage did things I didn't even know was possible in snow removal, and did it with ease. I put nearly 100 hours on it last winter, often helping folks by moving 2 month old snowbanks I could not see over.
PGHsteelworker and propane1 have said thanks
---
#18
ONLINE
Posted October 09, 2014 - 11:41 AM
---
#19
OFFLINE
Posted October 09, 2014 - 11:51 AM
When I tried to use the blower on my old horse lots of clogs and I wore more snow than I moved. It was because the wind was crazy and there was ice about an inch on top
Now I have a cab and no blower. I hate looking like a novice out there. This one I can have a rear blade and a blower on the front. Ready to try this again
Tim
Edited by Tim Bergfeld, October 09, 2014 - 11:55 AM.
---
#20
OFFLINE
Posted October 09, 2014 - 03:48 PM
Superspeedex that thing is a beast way cool I must not know what I was doing when I was using mine I guess it is all in the design and the operator
Tim
Edited by Tim Bergfeld, October 09, 2014 - 03:53 PM.
---
#21
ONLINE
Posted October 09, 2014 - 06:50 PM
If it were me and had the dilemma of what this thread is titled, get another tractor and set it up so you have one of each!
grnspot110, GTTinkerer, propane1 and 1 other said thanks
---
#22
OFFLINE
Posted October 10, 2014 - 08:36 AM
I have both a blade and blower for my 1050. I didn't use the blade at all last year. I don't have much room to push snow, and the blower makes life easy in that regard. Mine is a single stage, but it will move both light fluffy stuff, and wet heavy stuff, as long as you are feeding it the right amount. It takes a little bit of experimenting to figure out how much to feed it.
Last year I had a second tractor that I had planned on putting the blade on, and using it when I couldn't use the blower. I never did end up using it, the blower worked for all of the snowfalls we got.
The only thing I really dislike about blowing snow is it blowing back in my face. No matter what direction the wind is from, at some point the wind will end up blowing it back.
---
#23
OFFLINE
Posted October 10, 2014 - 12:17 PM
Some of the worst conditions I ever remember. Wet underneath, ice in the middle, fluffy on top.
We decided to see what Ryan's and the (at that time) new ST16 was capable of.
Ryan's 10 did it, but it was slow. It was a lot of snow to move and it was miserable stuff.


The 16 was a massive improvement due to Hp. In both cases, a little attention was all that was necessary.
(Ffwd to 2:30, before that, you'll get vertigo.)


I have had more snow, and blown it further... But these were extreme conditions. A place that most people would say a single stage shouldn't work well. They did OK.

PGHsteelworker said thank you
---
#24
OFFLINE
Posted October 10, 2014 - 02:33 PM
It looks like a cab on the tractor, with a blower, would almost be a must. That cost would have to be factored in also. Nice job of moving the snow out of the way though.
---
#25
OFFLINE
Posted October 10, 2014 - 02:36 PM
Amen brother!

Folks can sing the praises of the two stage blower all they want, but when it comes to moving massive amounts of snow the single stage flat out rules.

What most folks don't understand is that a single stage needs a LOT of snow to really work efficiently.

I would opt for a snowblower for the heavy snow and a blade for the lighter stuff.
I must disagree with this statement for a couple of reasons.
1) Neither type of snow mover will work effectively without adequate horsepower backing it up, hence the large LT/GT engines used today compared to years gone by. Horsepower rules.
2) It is rare to find a single stage thrower in use when large quantities of snow are involved. eg. Municipal street snowbank removal and airport runways. The main exception is the single stage rotary plow used by railroads for clearing seriously deep snow in a single pass. It not only uses huge amounts of horsepower, but has even more horsepower pushing it.
3) Single stage residential snowthrowers have rotating elements made from lighter metal than the equivalent 2-stage blowers. They will not take the abuse of chunks of ice left by a grader cutting down the snowpack on city streets without suffering at least some damage.
LT/GT snowblowers typically apply 3 - 6 hp per foot of width. Commercial equipment applies 4 - 20 hp per inch of width. Their blowers are rated for tons per hour of snow removal.
My weapons of choice are a FEL and a backblade. It takes a lot of snow to prevent it from opening a trail, the snow ends up where I want it without risk of bouncing chunks of ice off of cars or aluminum siding, and the driveway is smooth and flat when I'm done.
PGHsteelworker said thank you
---
#26
ONLINE
Posted October 10, 2014 - 04:50 PM
I have a blade and wish for a blower. I think that for most of our snows, a blade will work best for me. 4-8 inches is an average snowstorm and at that depth, I can run a blade across the driveways fairly quick. But then last winter we had numerous storms over that and I ran out of room to pile it. A blower could put it all up top.
---
#27
ONLINE
Posted October 10, 2014 - 07:24 PM
I for one am a two-stage man now, don't get me wrong I love the old single throwers but after running the "newer" (I use that lightly as they are 15 to 20 years old now). And there is no snow that has clogged them yet.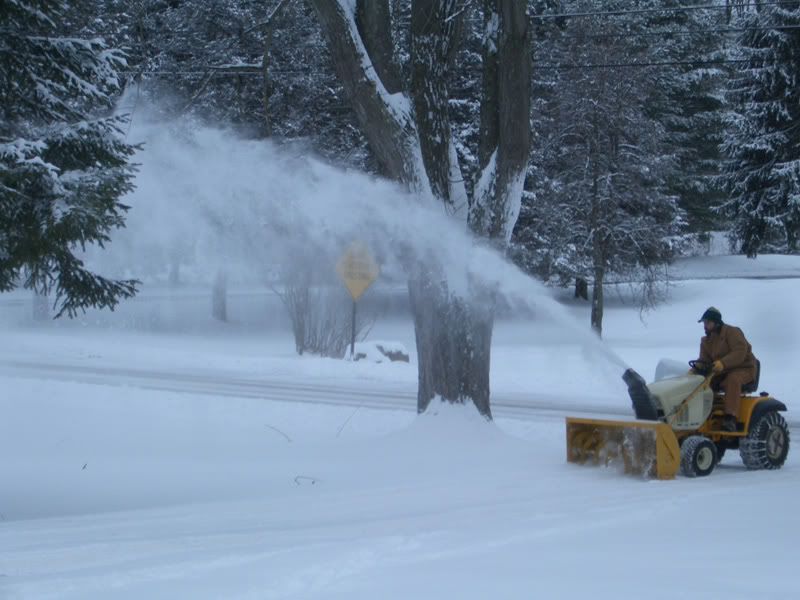 PGHsteelworker said thank you
---
#28
OFFLINE
Posted October 11, 2014 - 02:06 AM
I use a 1974 Jacobson TurfCat C18G three wheel tractor with a pto driven 50" two stage snowblower on the front of it. The C18G model came with an 18 horsepower Onan engine that was junk when I bought the machine and replaced the Onan engine with a Kubota 16.5 horsepower three cylinder diesel from a Jacobson TriKing mower and have never looked back. I live on US131, a major north-south highway jammed with flatlanders 10 months of the year and clear about 75' of salt and sand based slush most of the winter along the road along with about 40' of yard and driveway to pile up the snow.
I used a Sears GTII for a year or so with a sinngle stage blower for a couple of years and spent way too much time digging the slush out of the rotator and chute.
PGHsteelworker said thank you
---
#29
OFFLINE
Posted October 17, 2014 - 06:57 PM
---
---