Deer season 1995 I took a stand in the oak woods of the UP deer camp. One evening I was watching a whole passel of squirrels working the area for acorns. They were busy little critters then as dusk came about they started going hither and yon to their night's home. One big old oak tree had a knot hole about 3 to 4 inches in diameter about 20 feet up. I watched 6 squirrels go in that hole and heard the ruckus in side that hole as they settled in for the night. I made a note in my mind that there sure were a lot of squirrels in that woods and would be a good place to have a squirrel hunt. I went back to work at the end of deer season to a job I was tired of doing, I had been doing it for 10 years at that time. I resigned as of January first and took a long week vacation before I started on at my new position January 1st 1996. I took my Rugar 77-22 and headed to the UP deer camp. It was a very cold week there, so cold I couldn't get the pull start gen set to start so running the furnace wouldn't work all night. I hooked the truck up to the travel trailer and let it idle a couple hours every night while the furnace ran and disturbed heat thru out and charged the battery enough to run the furnace till about 2:00 AM. At 2:00 AM I would get cold and light the oven on the range and open the door to allow heat. It got down to a negative 18F the first night and it was the warmest of the 7 days I spent there. I would get up fix a hot breakfast fill my thermos with hot coffee dress grab the 22 and go fire up the ATV for the ride to the woods I had planed on hunting for the day. Leave the ATV on the edge and sneak in to a likely looking spot and sit. Usually took about an hour for things to get back to normal and the squirrels would move around. I would hear the ice on the bay expand with a loud pop then like a semi running down a wet HI way. Kept doing that all day long. Finally the squirrels were running about . I would pick off a couple then collect them and find a different spot to sit and wait again for them to get busy. At lunch time I had a few nice ones so returned to the ATV for the ride back to the trailer. I would start the truck to renew it's battery and the trailers and get heat moving around in there. Once that was done I would clean the squirrels and put them in freezer bags. I only had to leave them in the shed to freeze up. I would fix a hot lunch and drink coffee to warm up before going out in the afternoon. What I got in the afternoon I usually would clean and cook for my supper that night. I even slow cooked them during the day while I was out and deboned them and put them over rice and biskets. By the time I was ready to come back home and go back to work I was pretty much tired of eating squirrel, I had squirrel for supper dinner and even breakfast. A negative 18F was the warmest day the coldest was a negative 22F.
As soon as I got back home on a 30F day the gen set fired right up to get set up to be put away till we lost power or next deer season. I made up my mind I was going to get a electric start gen set as soon as I could afford one but ended up waiting 5 years.. Also decided I need to start getting ready to build a cabin and get out of that travel trailer which took another 4 years.
Here at home I need to do a hunt for squirrels to thin them out some I figured 2011. Then last fall 2012 they planted wheat next door to my woods. Sighting a squirrel became some thing harder to do than to see deer.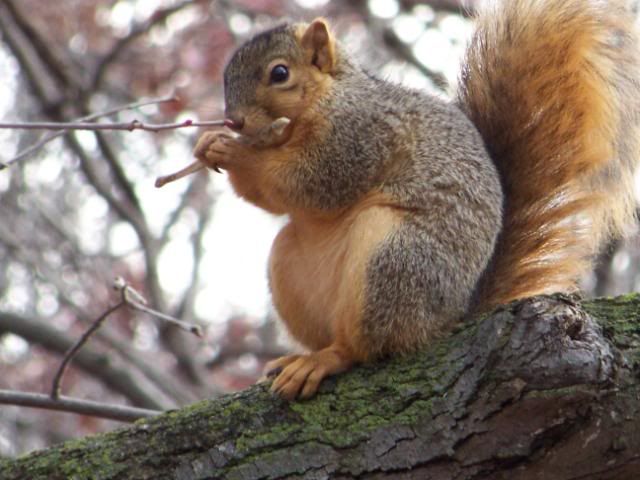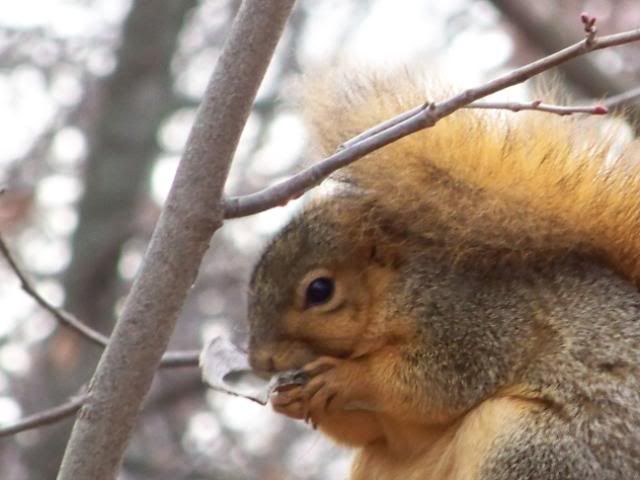 Al