Johnson
Started by
smithviewfarm
,
Aug 25, 2014 02:35 AM
#1
OFFLINE
Posted August 25, 2014 - 02:35 AM
Anyone know anything about a Johnson? One is for sale on Allentown Pa Craigs List. I never heard of it.
---
#2
OFFLINE
Posted August 25, 2014 - 05:53 AM
Found this on tractordata.com under Farm Tractor. It is the only listing for Johnson Manufacturing New Deal. http://www.tractorda...g-new-deal.html
There was a link to this web site: http://www.newdealtractor.com/ :
New-Deal tractors were built by Wilber and Vernon Johnson at their snow fence factory located in Wyoming Minnesota. The brothers built many tractors to use in the manufacture of snow fence, their primary commodity. During the depression Franklin D. Roosevelt passed several agricultural relief programs as part of his New Deal in 1933. The Johnson's took advantage of their tractor designing skill and received a grant to help with the agriculture reform and relief effort. The Johnson's used their tractor building skills to produce an affordable agriculture tractor to appeal to the unfortunate farmers of the depression.
Wilbur and Vernon hired the Martin-Bush Mfg. Co. in Anoka Minnesota to cast the large front axle and rear drive gear reductions. They then purchased used Ford Model T's to rebuild and modify into tractors. It is unknown as to how many tractors were built, as no company records are known to exist. It's been said that the Johnson's experimented with a few Model A tractors too. To this date eleven New-Deal tractors have been found. Ten of which reside in the local Minnesota area.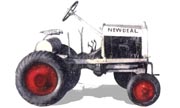 ---
#3
OFFLINE
Posted August 25, 2014 - 06:05 AM
The one you are talking about doesn't look much like the one on tractordata.com though. Too bad cause it would have been a great deal on a very rare tractor, and maybe the one you are looking at is also pretty rare.
---
#4
OFFLINE
Posted August 25, 2014 - 06:27 AM
smithviewfarm said thank you
---
#5
OFFLINE
Posted August 25, 2014 - 07:25 AM
Wife or Secretary that didn't know what he had wrote up the ad and put it on. Was thinking of "Big Johnson" when she was doing it! Heee! Heeee!
GTTinkerer said thank you
---
#6
OFFLINE
Posted August 25, 2014 - 04:23 PM
That is the one too bad it wasnt the other one. Jacobsen, looks like a nice restoration though. But the pictures always look better.
---
---