Lily is a pound pup we got in August 2013. She has had a hard time of it trying to replace the last of my latest 4. She is also a hard headed Shir pei mix.
She has grown to 43 pounds at her one year visit to the vets. Has for what ever reason stopped wanting to eat all the deer poo in the woods field and yard. Keeping her away from that has been a chore to the point I was just about ready to just not allow her out of the yard much.
All last Fall I would pick her up and carry her across this bridge till about Nov when she decided I was not going to carry her across. She was fine if we were going south to get on the bridge cross it and wait for me to reach the other side and attack me. Going north she would rather wade the creek than walk on the bridge for some reason.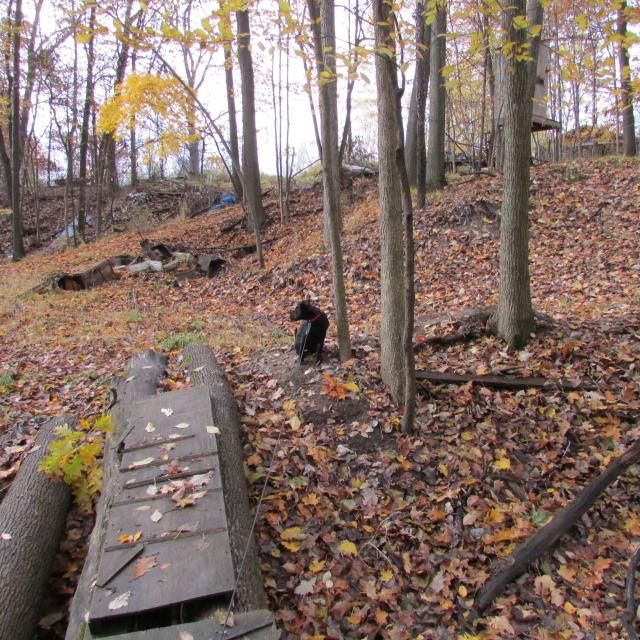 All winter we both just walked on the ice. But once the ice melted she found out quickly the water was real cold and started using the bridge
to go both way. In fact she would walk a log to cross the creek in the back I had been using with my other pups.
She seemed to like winter although she could no longer pick up a acorn to chew on as she really liked them.
But with her out standing nose the mice under the snow drift didn't stand a chance.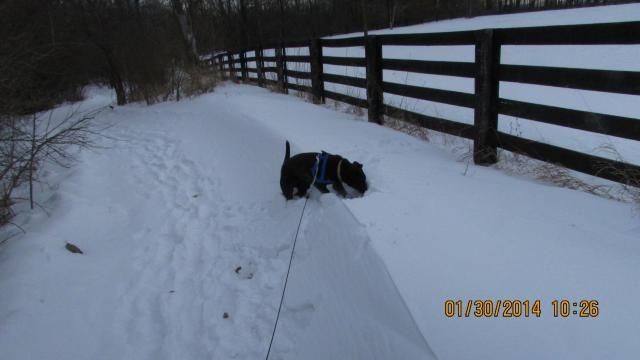 She has learned deer are some thing to look at but not chase most of the times although every so often for some reason she wants to chase. She doesn't pay any attention to the cars and trucks that go by when we are at the mail box. A snapping turtle is some thing to stay away from she seemed to know. She doesn't like snakes at all but unlike my Visula she won't kill them.
She would make a good rabbit hunting dog if I were to take the time to train her a little. She will see one while we are on our walks and will smell track them till I check her. Yes I still keep her on a check cord when we are out of her pen as she is still in training and the cord reinforces what she can and can't do and where she can go and where she can't
She even sticks her tongue out at me when I won't let her have her way.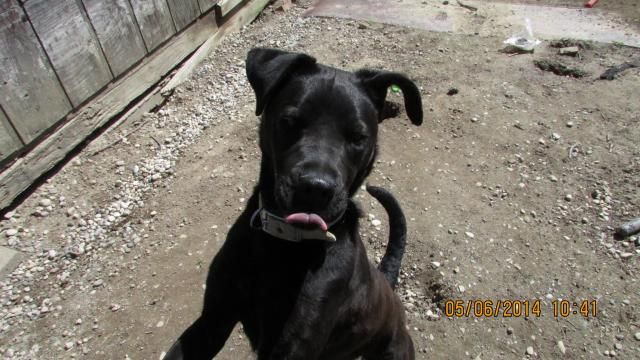 Al