I'm looking for a new regulator for my grandpa's power king. His looks like this but seem harder to find on ebay.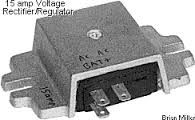 Mine looks like this:
These seem plentiful and I can find real good deals on them. My questions are:
Is one better than the other?
Are the mounting holes spaced the same?
Other than having to cut the harness made the fit the first and having to crimp connectors to make it fit the second, any other downsides to switching?
He is not worried about getting a used one (these seem to hold up pretty well). Thanks for any help.
Edited by willy1094, May 24, 2014 - 06:35 AM.