The project has begun! May be a year or even 2 before she's completely finished, new paint & all, but I got a start today. I will be putting a 3 cylinder Kubota D1005 diesel into this 1969 Bush Hog JBI tractor. It came factory with a 14hp Briggs cast iron single gas engine. The chassis of this tractor has been chopped & abused with a bad welder, but all can be corrected as I go. Here's another stock JBI I own to show a completely stock unit.




This is the Kubota diesel that will get transplanted into my other JBI.




Here is a short video clip of the diesel running. (Oops...video doesn't work)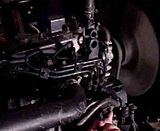 I decided to use the Kubota's bell housing, but it is too wide for the frame. So today I took the housing off so I could use my plasma cutter to remove most of the lower half. The top half will fit snug to the frame rails on the lower edges, and the rear of it will bolt to the firewall of the dash tower on the tractor.




Here is where the motor will go. I had to notch the front of the rails to allow for the radiator support. The cutout in the frame rail is the work of the previous owner. Some people shouldn't be allowed to work on tractors! :rofl2:I will be welding the piece back in.




Tomorrow I "might" get to place the engine into the frame, but several chores on the farm need doing tomorrow as well.