Suggestions Raising Turkeys?
Started by
TAHOE
,
Mar 09, 2014 07:14 AM
#16
ONLINE
Posted March 17, 2014 - 02:51 PM
any updates? post up some pictures!
---
#17
ONLINE
Posted March 17, 2014 - 05:25 PM
Have you dressed them out yet?
They can be a BIG pain!!!!!!!
---
#18
ONLINE
Posted March 18, 2014 - 12:03 PM
any updates? post up some pictures!
I'll try to see if I can somehow get pics from my wife or daughter.....broke my brand new phone AGAIN that I just got fixed....piece of junk!
you can see the size change already and can feel they are putting on weight. Wing feathers are popping out and they are starting to eat and drink like mad little birds. Quart of water doesn't last 3-4 days, maybe getting 24-30 hours out of one now. I will be having to double the waterers or jump up to a gallon one soon.
Have you dressed them out yet? They can be a BIG pain!!!!!!!
I won't be doing anay dressing out, that's what the local Amish place is for that dresses chickens, turkeys and rabbits.
---
#19
ONLINE
Posted March 19, 2014 - 08:25 AM
9 days old. One in my hand is going to be the "pet" it looks like until August
. Comes to you when you open cage and loves to be held.
Wing feathers are growing and chick "down" is becoming bristley, not the soft little chicks they were on day 1.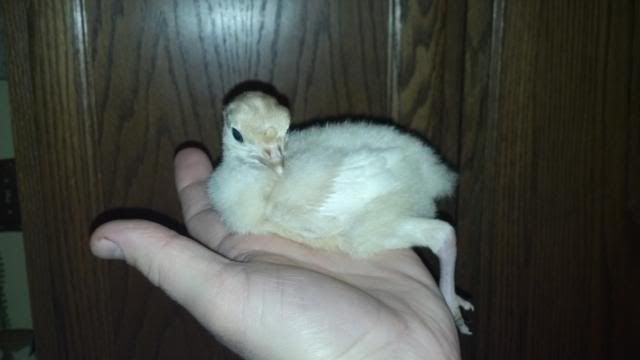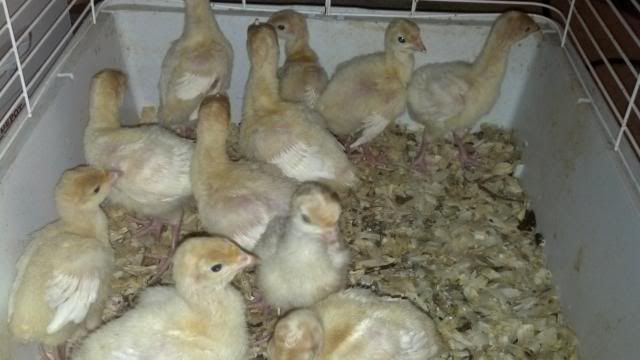 twostep and oldedeeres have said thanks
---
#20
ONLINE
Posted March 21, 2014 - 08:27 AM
Had a couple last night with swollen back sides, not sure what is going on. I've been reading it's mostly constipation or a clogged vent. We separated the hurtin' ones into an other box as the others were pecking their red behinds. I put some antibiotic in the water, plan to soak the sick ones in some warm water to induce pooping and clean them and then coat with some hemmoriod cream to reduce swelling. I also read where one person mixed up some blue food coloring in some water, then used a Qtip to coat the sick birds backside. The blue died the skin darker blue and stopped the others from pecking at the bright red.
---
#21
ONLINE
Posted March 22, 2014 - 01:26 AM
One theory is to use a red heat bulb, not a clear one, so the birds don't notice the inflamed looking butts. Separating them out is a very good idea--- they are cannibalistic little birds and will even pick at themselves to the point of disembowelling themselves. A bigger pen can help, along with giving them something else to pick at. You could try a short branch with the bark on, or a dog toy hung on a string, just to give them something to do.
---
#22
OFFLINE
Posted March 23, 2014 - 10:44 AM
I have a good friend that has raised turkeys all his life, and he always says: "There is only 1 thing dumber than a turkey, and that is a turkey farmer". I say ," But Dave....." and he says, "I rest my case"
---
#23
ONLINE
Posted March 23, 2014 - 08:20 PM
Soaked the two babies in some warm water and clean their rears. The one that would not shut up the last couple days almost exploded, I could see the problem. Poor little thing was so constipated, I could actually feel it's belly shrink up once it expelled it's contents. Since the cleaning, little booger has been quiet and theirs rears are getting back to normal. Still little case of the runs, but looking normal.
---
#24
ONLINE
Posted March 23, 2014 - 11:57 PM
Glad to hear they are feeling better. Any idea what caused the problem in the first place? Another thing we ( Olde Deere#2 actually) thought of, is we make what we call alfalfa soup--- alfalfa pellets soaked in water to make a mush, and give it to them along with their turkey starter, but in a separate little dish. It's messy but they pick away at it and seem to enjoy the greens.
---
#25
ONLINE
Posted March 24, 2014 - 08:52 AM
I'm not sure. It appears to be a diarrhea issue casuing them to get swollen rears and then the others picked at them. I've noticed a couple in the other pen have some runny poop too. The only thing I can think of is that I started them on pheasant food and then mixed with the turkey starter once my feed store finally got me some. We got some plain yogart I am going to give them, I read it's a good probiotics and helps restore good flora in their digestive system.
We got one little guy who loves to be held, but anytime we put our hand in the cage, he fluffs his feather, drops his wings and does his dance at us. Then he does this wierd grabbing at our hand with his beak, I think it's a domination act. Funny how they act like big boys and aren't even 2 weeks old.
oldedeeres said thank you
---
#26
ONLINE
Posted August 16, 2014 - 07:22 PM
Final update on my turkey raising experiment.
We bought 12 turkeys, ended up losing 4 to predators, 1 just died from something. 7 left, we took 3 to county fair. Placed 3rd, 4th, 7th out of 17 brids. Went to market sale, $125, 150, 175 for the 3, they got to come back home. Scheduled slaughter time for yesterday the 15th at Amish processors in Greenville. Before getting there, we lost 2 more turkeys 2 weeks ago due to coyotes I think.
So, that made 5 turkeys left for slaughter. We had them split all the turkeys, we had 2 that weighed 19.8 & 19.9#'s....we probably had some 50# "on the hoof" turkeys, big boys for sure! The hens were about 10-11# for a half so they were both about 20# dressed.
Not sure if we do them again next year, if so probably only 6 and I will make processing date right after fair, it was almost 3 weeks out when I called this year.
We also had 14 chickens processed, the ranged from 6-8# dressed weight, Can't wait till the crock pot comes out!
---
#27
OFFLINE
Posted August 16, 2014 - 09:28 PM
Sound successful. Would've been better without the losses to predators.

---
#28
ONLINE
Posted August 17, 2014 - 07:06 AM
Sound successful. Would've been better without the losses to predators.
Yea, Coyotes are getting bold. just got a new batch of .22 LR's
I kind of hope they get in with my big boer doe with the long pointed horns and a bad attitude.
---
---