Each fall I jot down that 'wish list' of projects I hope to accomplish, and with all the snow we've had, I have had a blast doing anything EXCEPT my projects! So, with a break in the constant snows, I jumped into this one, and knocked it out.
I had collected components (obital valve, cyliner, mounts, lines, etc) to install what the Simplicity guys call 'late' power steering. There was an 'early' power assist offered in the early '80's that was later superceded by a fully hydraulic power steering setup, used until the company retired the Sovereign platform. This project is a replication of the later version. The 7790 has been a blast to work with, and it deserved some appreciation. It's one of the cleanest I've laid eyes on, and came from a good friend...I'm obliged to take care of her!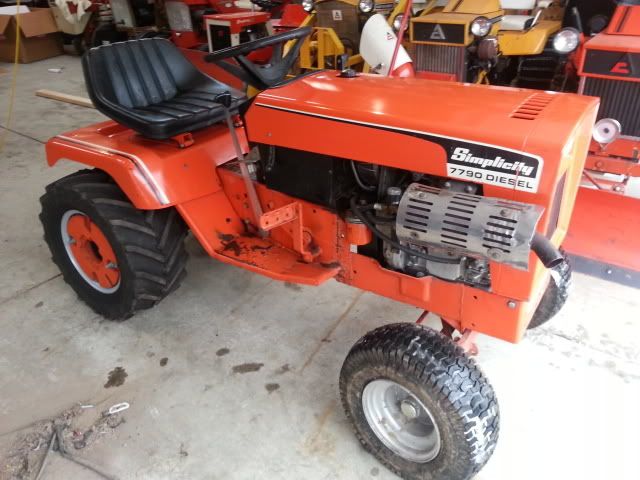 Factory parts are still available to do what I have done...certianly not any sort of creativity going on, but since having a late model Sovereign with power steering, I HAD to have the options added to my diesel. The Lombardini is about 100# heavier than the KT's, Traid or Command engines used in the later Sovereign tractors, and while not terribly heavy steering, it is noticable. I collected PS components from a burned up Simplicity Sunstar (Saving around $1900 vs dealer cost), and my good friend also fabricated a few of the rather costly cylinder brackets (saving another $150 or so). He also used existing lines to have a set of hydro lines made up for me...probably $50 cheaper than I could have done. I did buy a new, splined sttering wheel & dash cover (steering is slightly offset for PS on these).
It begins...
Old dash
Swapping things over...
Wiring mess
Getting lines routed and figured out was a bit of a head scratcher
It's in!
The belly of the beast! Not a lot of room to work...
Mounting the cylinder...the OEM replica rear mount needed to be notched for the diesel engine mount. This kit was not offered for the diesels originally.
Comin together!
Checked for leaks, and ran her a bit so I could top the fluid off for the Sunstrand hydro, and took a drive on a nice sunny, 3 degree morning! That Lombardini didn't even need to use the glow plug...fired right up!
So, my favorite machine, just got 10X better! It works so slick, and looks great, IMO.