I had to plow my mom's drive last night so I snapped a couple quick pics. nothing spectacular, but I know you all are picture hounds!
Man, it was only 11* when I got in the house, my feet are frozen. -6* this morning, I hate winter!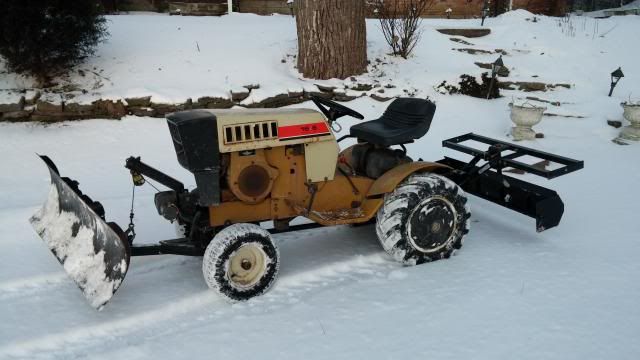 Let me tell you, this driveway sucks to plow, steep hill on a 90* turn, can't help but dig out the gravel, but I am finally learning the best technique, back blade is wonderful for this terrain. This is first winter I have actually had to really plow in last 2-3 yrs, I always used the Troybilt tiller with a blade, but much quicker with Sears.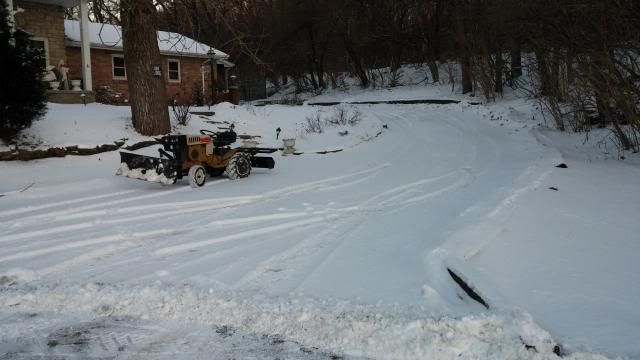 Okay, now for the needed advice.
My winch setup works pretty well, but I do have an issue with the cable and upper pulley. Two pics below show my setup, sorry for no closeup.
First pic is original pulley, that one was light duty and when I added the dump bucket, it promptly disengrated. When I got the new pulley, the plates actually are bolted toegther, I could take apart as outer plates are bolted, not riveted like cheap one so I got rid of the links and just put a large eye bolt in upper arm and then bolted pulley to it.
Works okay, but the issue now is if I let winch "down" too far, cable gets slacked and on rare occassions it slips to the side of pulley. The pulley rides on a longer spacer so it can float in between plates, there is just enough room that if it floats to one the cable can slip down besides it.....like last night after only 3 passes on the drive
Of course, if I don't know, I lift winch and SNAP!!! Sucks trying to repair cable in the cold and snow.
So, not sure what to do to make this more durable, it is definitely the weak link in my setup.
I need a new pulley as this one is getting nicked and going to damage cable more.
Is there better pulleys for cable?
Can I make some type of complete cage that prevents cable from slipping next to pulley?
Or maybe just install one or two smaller bolts in plates above pulley to use a "keepers" to keep cable riding in pulley groove.
Shoot me any "idears"
Original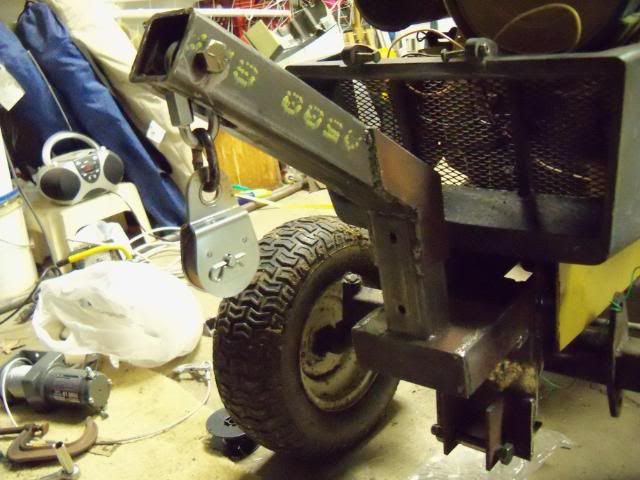 Current