Adventures And Tales
Started by
Sal Mcc
,
Dec 25, 2013 12:57 PM
106 replies to this topic
#76
OFFLINE
Posted January 26, 2014 - 01:48 PM
You've been busy! That's a lot of fun though

---
#77
OFFLINE
Posted January 30, 2014 - 08:31 PM
The last few days has been interesting.
The little Troybilt is now running. I have another Huskee a guy called me about. It needs a battery and a drive belt. it's just not the best time of the year but hey.
At work, there have been a few changes lately. A few people that are in management (I am a supervisor myself), are retiring, a couple have left on bad terms so to speak, and different reasons. Along with this, there is a big push for customer service and employee engagement yadayadayada. With all this happening, it makes people sometimes try so hard (for ego reasons or whatever), things get interesting even sometimes entertaining. For now, I will leave out details of some of these stories. I know this much. I may die of exhaustion or mental insanity, but never of boredom. Okay, one small short story. Today in a meeting, there was some discussion about some missing inventory of product and it equals to a LOT of money. Right during while the issue was being discussed, a fellow coworker just got up and stated i will go suit up on a machine and look for it. And the person just bolted right out of the meeting while it was still being discussed. Everyone else just sat there and looked at each other puzzled. A few people wanted to laugh but everyone knew better. i have laughed about it all day long . LOL. I am not fussing at all, as a matter of fact, it may even open some doors for myself. Maybe more news on that later.
Tomorrow the plan is to go look at a big Huskee mower. And then on Saturday morning, going to Dad's to work on the White tractor. Tomorrow it is supposed to be above freezing temperatures for the first time in what seems like 155,000 years. LOL.
I think folks are beginning to get a little bit of cabin fever because it's been so cold for the last week or so. Watching American idol and drinking some hot coffee now. Good stuff.
---
#78
OFFLINE
Posted February 05, 2014 - 10:55 PM
Well, I haven"t had a chance to log on in a few days.
Had several things shaking last few days. I had a cleanout deal on friday night, did some trading on Saturday morning, unloaded the small trailer at the dump, and took the Troybilt mower to a guy that was buying it. Then drove to dad's place and helped him get his security video system up and running.
The i went out to the barn and started on checking on the motor for the White tractor. I realized there was an issue with the starter that was going to require removing the motor or at least getting it loose. So, after just a few minutes of getting started, my phone rang. It was a buddy from work that had a deal on a big Huskee mower. So, i put up the tools quickly and drove to meet him and go the house where it was located.
So, i loaded it up and took it to the house and went and got a battery. I have spent the last few days going over it and getting it ready to go. I am pretty close on finishing it up and actually may have a guy coming to look at it tomorrow evening. We will see.
The plan is to take off from work on Friday and get back on the White tractor. Just getting to hear it run will be great.
oldedeeres said thank you
---
#79
OFFLINE
Posted February 07, 2014 - 11:57 PM
Today, i took the day from the main job to work on the White tractor.
I had a steaming hot shower so that i can breathe again and oatmeal and coffee about 7 am. Then I went to the garage to start the Huskee mower and put a for sale sign on it at the street. To make it just right, it could use a couple more little tweaks but i have already spent a few days working on it. So i am already for it to have another owner.
After all that and chatting with Jean the neighbor for a minute, I ran a few errands in town and struck out to Dad's to work on the White tractor. Once again, it was close to lunch before getting there.
After a bit of work getting the donor engine from the Craftsman mower, i began to check for fitment of the engine on the White. (the original motor was a Briggs 18 HP Vanguard V-twin. The replacement engine is a Briggs 18 HP (i think) opposed twin. After having to clean the rust from the inside of the shaft and finding which holes lined up, the motor was in place. After a while of swapping coils and checking compression etc., i tried to start. Nothing happened. After checking compression again, fire , and pouring gas in the carb., it did finally popped once, backfired, and I had a small fire on hand. Trying to stay calm and access the situation and options, having quick access to an extinguisher did not seem to be on the list for the moment. I was able to determine the only viable option at the moment was my work coat. As i began to throw my beloved work coat onto the flames, I began to slightly worry about the final outcome of this situation. Luckily, after a minute or three, the flames were extinguished.
After a few minutes of debating stopping for the day, i thought I want to try to start it once more. So after a few more minutes, The thing did start and I was able to verify the rearend did pull and the lift did work. So, i called it a day and went inside and finished drinking hot chocalate.
Today was a good day.
MH81 and oldedeeres have said thanks
---
#80
OFFLINE
Posted February 08, 2014 - 12:06 AM
Good to have a productive day from time to time.

---
#81
OFFLINE
Posted February 08, 2014 - 11:13 AM
Good to have a productive day from time to time.
Yes, because it seems that today a lot is not getting done. The weather has got everyone trapped inside, and i think everyone is starting to go bonkers. It is snowing here today (again) and the first of the week is supposed to be cold still and I already found out that I have to work next Saturday. Maybe after that, some things like the weather will be a little more cooperative.
There is supposed to be a guy coming to look at the Huskee today. Maybe he will take it with him. Then i can get a few other things moved around and organized in the garage.
I am wanting to buy a new pair of boots. I have been looking at the Wolverine Durashock adn some of the Ariat. Many decisions.
And Yesterday i stopped at Tractor Supply. They now are carrying some WeatherGuard truck tool boxes. HMM. I have to stay away from that place for a little bit.
sacsr and oldedeeres have said thanks
---
#82
OFFLINE
Posted February 08, 2014 - 11:21 AM
Sounds like you need to ad a fire extinguisher and a new coat to that shopping list.
---
#83
OFFLINE
Posted February 10, 2014 - 10:02 PM
Today i got to work at 615, and we are still busy through the beginning of next week. This is a two edged sword. I am not complaining at all about being busy at work. My challenge is between work and the Polar Vortex that is causing the freezing, snowing, sleeting, wind blowing, salt on the road, etc etc climate that has surrounded our area, it is making the GT work a little challenge.
My Murray GT needs spring servicing and a drive belt replaced. It's gonna have to wait at least a week or so.
A guy called me today and wanted to meet to buy the Huskee mower. So, its a long story but after some wasted time, fuel, phone calls, the guy didnt show. Kinda bummed about it, buy hey, move on.
I think after Wednesday, we are supposed to start getting a break in the weather. By that, i mean above freezing. LOL. Then by next week, maybe into the fifties. Heat wave. JK. Fifties sounds good right now.
---
#84
OFFLINE
Posted February 10, 2014 - 11:11 PM
Fifties does sound good. Sorry the guy never showed.

---
#85
OFFLINE
Posted February 11, 2014 - 09:29 PM
Fifties does sound good. Sorry the guy never showed.
Yeah, its no biggie. Cant let a small deal like that get under the skin. I got another call today from a guy that wants me to bring it to him for a little extra. Gonna try to ask to see if he can come to me. We will see. i would like to get it gone to clear the way , cause if the weather improves, there should be some deals come along this weekend.
I actually missed one last night , and i passed on another Craftsman that i could have gotten for scrap price but the motor was locked up tight and the deck was shot so that wasn't happening.
Also got a call from dad tonight. A family member has two mowers for sale, it seems to be an okay deal, Nothing special. We will see how that goes too.
---
#86
OFFLINE
Posted February 16, 2014 - 10:44 PM
Well, i had a fairly long post typed up to post about this weekend's stories but i must have done something incorrect and it is now gone into cyber space somewhere. Basically I did a barn clean out on Saturday and got a few goodies. It is bedtime now. Yawn.
---
#87
OFFLINE
Posted February 23, 2014 - 08:58 PM
Good evening fellow members. I just have spent the last 3 or 4 days working on the White tractor. It is a GT-1855 that i bought very cheap because the motor was blown and dissembled and it had been sitting outside for a long time.
The short term goal was just to get the thing operational and access if it was the kind of machine i thought. So far, so good. It has been a lot of work just to get it running. It sit our side for a long time and all the bolts are rusted, tires flat, etc. etc.
Just this evening i got it the point that i can start it, move it around and use the lift. the deck is going to need some more work this week. And actually, the whole tractor is basically going to need everything re-checked, fluids changed some rewiring and definitely paint work. It's been a lot of work (I know there are some guys on here doing a lot more than on restoration jobs) but I am seeing some light at end of tunnel. Right now, i am going to check on the deck belt tension pulley (it is soaking with penetration oil) and check the battery charging.
I have started a thread for it here : http://gardentractor...-white-gt-1855/
Here is a picture of it:
MH81 and oldedeeres have said thanks
---
#88
OFFLINE
Posted February 23, 2014 - 09:35 PM
Always good to have a plan. Tractor looks good.
---
#89
OFFLINE
Posted February 25, 2014 - 10:57 PM
Thanks Willie. It will be a long project. I have been working on the brakes and deck spindles this week.
Yesterday, i was checking over the wife's Camry and am discovering it is needing many dineros spent on it. The issue has been like most other people, it's just not been there to spend. Eh, things are looking better after this week and we are either going to be doing some of the repairs for a temporary fix and maybe do some trading around. The car is about at the point of the repairs will be more than the car is worth. LOL. We cant complain , because we have got our money's worth from it.
Over the weekend i was at tractor supply again. I wished i had a pocket full of money. It would probably all be spent in one trip. They are now carrying Weather guard truck tool boxes and they are having a sale on the medium sized one. I really have my eye on it. Anyone wanting to donate to the Sal truck tool box fund, it would be appreciated. LOL.
Well, i have to get up in about 7 hours and go to work so, it is bedtime for today.
---
#90
OFFLINE
Posted March 04, 2014 - 10:08 PM
It has been real busy for the last week or so at work. And the weather has been still bad, so a lot is not getting done.
I did do a clean out on a place for someone and this picture was in there. Kind of ugly but anyway: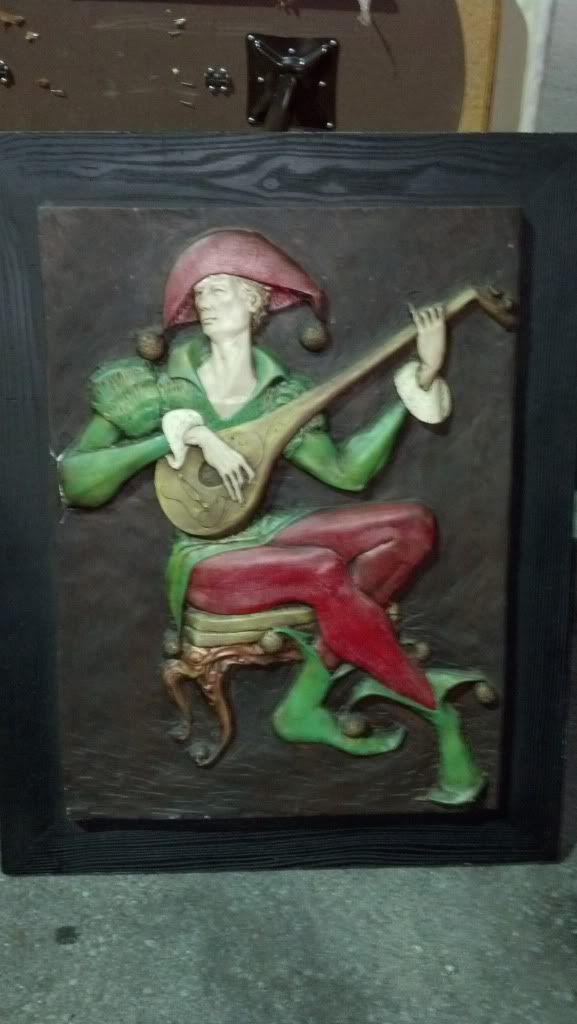 So, i got a few other pieces i will post later. I also bought a Craftsman 48" mower with a 25 hp Kohler motor. The guy said it had an electrical problem and it wouldn't start. I noticed the seat was gone and seat switch was unhooked. I jumped the switch and out a battery in it and poured gas in the carb. It started. Crazy.
I also bought a Weatherguard toolbox for my truck. The story of going to get it was a story in itself. Ice, snow, salt, wind , trailer jack stuck, trailer ball lock frozen to truck. Fun stuff. It took about twenty minutes, two hammers and a landscape timber to unhook the trailer. Not fun. For the guys, that live up north, I don't know know how you all do it.
Tomorrow, I am going to wash the tool box and attempt to change it over.
---
---