My Dad had owned a tire service business, and he was 99% mobile and would go to you. He had no shop, only a warehouse for the tires. It was either 2000 or 2001 that he replaced the older F350 box truck he had for the business, with a 1999 F450 the dealer had left over. He used the truck as a work truck, and a daily driver. The truck has 242,000 miles on it, but most are highway miles from the business. It was built in February of 1999 so the factory put a 1998 7.3 Power stroke diesel in it. It has only towed a trailer a handful of times, and they where never heavy enough to be a challenge for the truck; however, it was used to plow snow for about 5 years. Between the snow plowing, and a recall... it is on its 3rd tranny. Other then that, it has been pretty good mechanically.
Two and a half years ago the engine started to act up. Rebuilt injectors, new glow plugs, some new/cleaned fuel parts, and it ran fine again. Then shortly after more problems came. I am not 100% sure what happened, but I know that my Dad had changed the IPR (injector pressure regulator) valve and it hasn't ran since. After he did this it would not start, but would fire on starting fluid, after letting the glow plugs cool of course. Before doing anything else he passed away, and the truck sat for about a year. Then, Harry had said he would fix it; he brought it to Ed's house so that they could work on it.
Well, a month ago I found out from Ed that Harry had never done much of anything with it, so I decided that I would bring it back to my house and see what I could do with it. Either I was busy, Ed was busy, or whether we never had a chance to get it home before I went to Florida two weeks ago. On Wednesday, I got a call from Ed saying that he and Harry had just dropped it off for me. I got back from Florida at 3:30 this morning, and today was the first day I had to do anything with it. First thing I did was wash it, it was filthy! After 2 1/2 years of sitting it really needed a bath. Once it was clean, I put new batteries in it and made sure it would turn over. I still have the original IPR valve, so I put that back in and hoped it would start. I did not expect it to start, and it didn't. I did not mess with it much more since it was raining. The next thing I have to do is put fresh fuel in it, as what is in it has sat through 2 NY winters and needs to be changed.
Now for pictures! Here are a few from a month ago when it was sitting at Ed's house.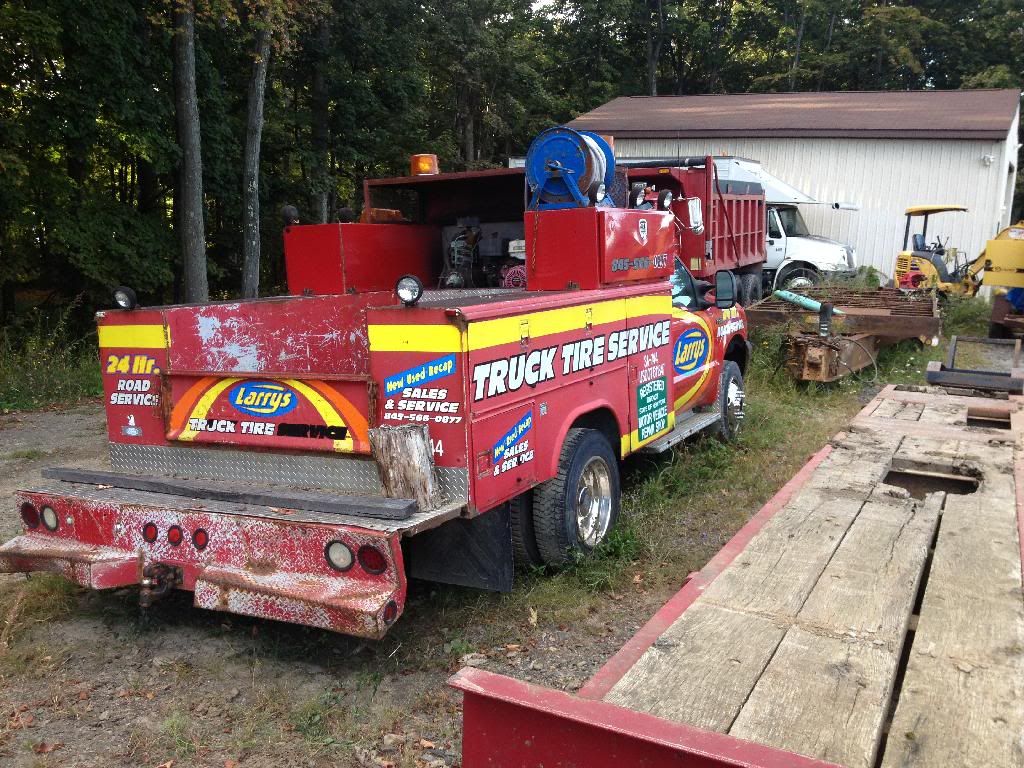 Remember I said it needed a bath? Yuck!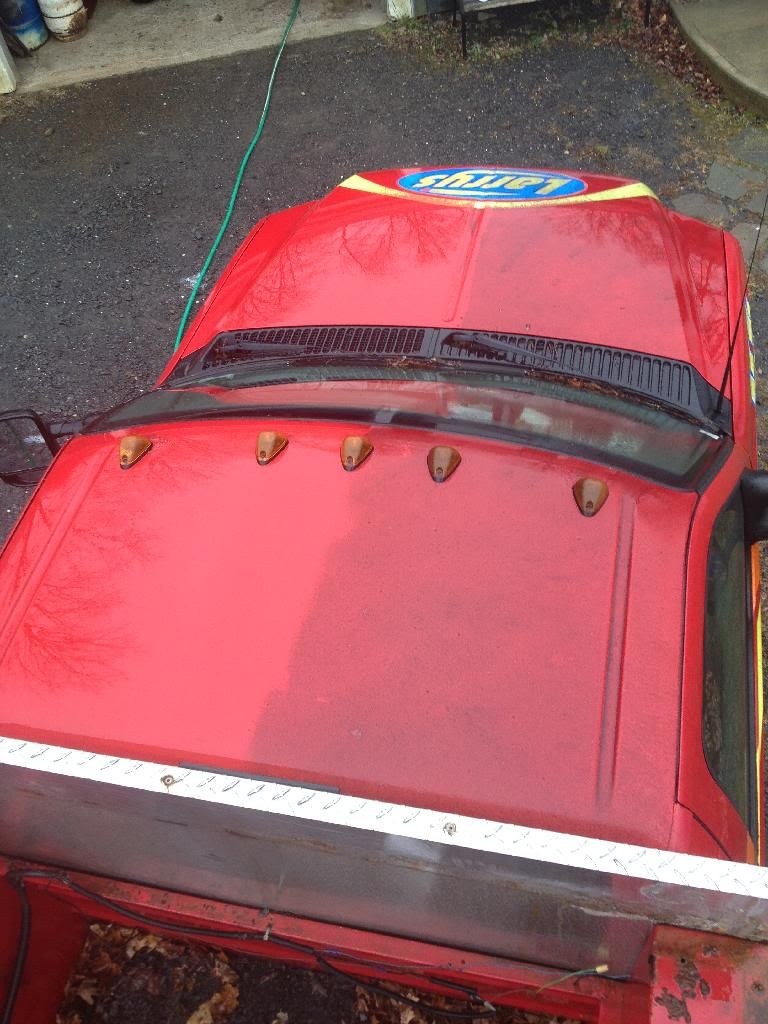 After its washing. You can see that the very top part of the box is missing; that was the cover for the compressor. Ed had bought the compressor from me, and the easiest way to get it out was to lift it up with one of the several pieces of equipment you can see in the pictures from when it was at his house. To lift it out we had to take the cover off, which was easy because the bolts where small and rotted enough we just used a pneumatic chisel to pop the bolt heads off.
The S10 I am driving now is falling apart as we speak, rotted out, head gaskets blown, burns oil,rear end gears skipping, door doesn't close, no heat, and not to mention that ugly golden bow tie on the front. That truck gets 11 mpg, and after doing the math I figured that cost the same as about 12.5 mpg on diesel. The F450 gets 14 mpg, it is bigger, stronger, can pull anything I will ever need to, 8 1/2 foot snow plow, and it is a Ford. Back when I planned on driving the F250, I was going to set up a mobile welding trailer to pull around for side jobs; due to more problems with that truck then I wanted to deal with I sold it... so that plan went out the window. When I first decided to get the F450 going I wanted to put a flatbed on it, but I have now decided that I am going to leave the utility body on it and set it up to be a welding truck.
A couple of my friends joked that I am going to go from the biggest POS at school, to the biggest and strongest truck! Lol!