Ok, I have pieces of railing, they would make good ramps with a little modding. They are 4' so I need to put two of them together so I have enough length where in comes my questions.
My Sears weighs in at probably 900-1000 with my butt in seat and I would like to be able to use to load my MF 1855 which will end up with loaded tires and 75# wheel weights.
I thought of just butting them end to end, use plates to bolt together and cut the ends on angles or even just lying them on top of 2x8 and bolting together, but man they would be heavy.
Another option is to somehow make a hinge so I can have longer ramps, but fold them so they can be stored easily. This would maybe let me have longer ramps also. Longer the better when I have my mowing deck on as it drags trailer bed when loading if angle is short.
Here's the sections .
This would be folding in on themselves. This would be easiest, but I would have to make some type of strong attachment/pin system or they would collapse when loading and I don't think they would be as strong.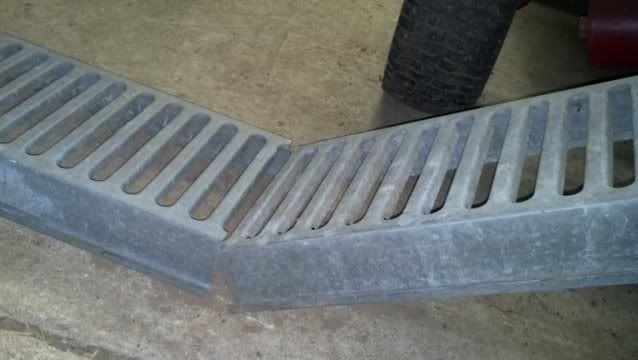 This would be my desire, for them to fold backwards. When opened, they would rest against themselves and would be stronger overall. I know I can't just make hinge as there has to be some pivot area, but I cannot picture how to do this.
Any ideas?