Ertl - Welcome To The "farm Toy Capital Of The World".
Started by
jd.rasentrac
,
Nov 08, 2013 12:54 PM
#1
OFFLINE
Posted November 08, 2013 - 12:54 PM
Edited by jd.rasentrac, November 08, 2013 - 12:56 PM.
daytime dave, limebuzz, Texas Deere and Horse and 6 others have said thanks
---
#2
ONLINE
Posted November 08, 2013 - 01:24 PM
That was very interesting, thank you for sharing it.
hamman, jd.rasentrac, JRJ and 1 other said thanks
---
#3
OFFLINE
Posted November 08, 2013 - 05:20 PM
Nice video ...thanks for sharing .
John Deere has always been way ahead of the other tractor companys as far as promoting there products thru models.
I find it really disappointing trying to find models In International Farmall , although its a little easier than it used to be .
But still Deere is way ahead of Case/IH in promoting there lines though models , hats , clothing , etc .
jd.rasentrac and GlenPettit have said thanks
---
#4
ONLINE
Posted November 08, 2013 - 06:19 PM
At the National FFA Convention Career last week CaseIH, New Holland, and Deere had booths in the "mall" section. CaseIH and New Holland were selling all of their hats for $5 each while Deere's cheapest was around $15. A WHOLE lot of kids were wearing red and blue. They finally figured something out. Deere dropped the ball on that one.
jd.rasentrac said thank you
---
#5
OFFLINE
Posted November 10, 2013 - 10:07 AM
ERTL also makes small Garden Tractors & Lawn Mowers:
Here's a couple of my Lawn Mowers. That Wheel Horse on the left is really a Snapper/Simplicity that someone just replaced the decals on. There are about six other companies that have made "Garden Tractor-Lawn Mowers", but nowhere near the Ertl metal quality.
Of these 'other' Lawn Tractor models, Ertl usually made only up to about a 2,500 run, but they made a whole lot more of the John Deere lawn mowers, sometimes 20,000 models, farmers are really into the Green toys, there are many national collector shows devoted to just to these Ertl toys.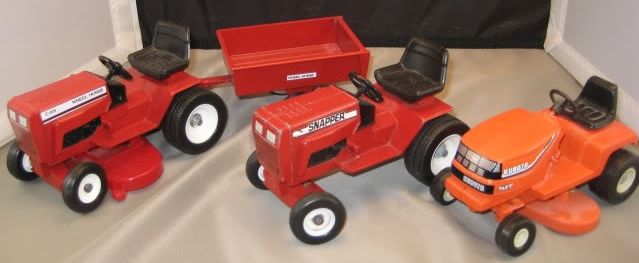 Glen
Ertl never made a Wheel Horse nor a Craftsman Garden Tractor (probably royality problems or suspected weak sales potential ?).
There was a 1961 Plastic Wheel Horse (model 551, 1961) made in Red/Yellow to go with the Nylint Ford Truck set in '61, I don't have one but did borrow one and make a rough silicone mold of it, this Winter I'll try and duplicate it (my other hobby, casting plastic tractor parts). Today the Ertl tractors are made in China (drawings are made here, but dies made, cast & assembled over there), they cost more ($40-50) but are much more detailed and accurate. I'm only into Wheel Horses in real tractors, and into these 1:16 garden tractors, primarily anything but the Green JD's. A mid-70's 1:16 Cub Cadet model sold for nearly $900 last year, more than the restored full-size same Cub would sell for. Sometimes at Auctions or sales, these Lawn Tractors may sell for just a couple of dollars, because the farmers and regular tractor collectors don't want them. There are always a few for sale on eBay (Toy Garden Tractors), usually for $10-30, they have most models & brands over time.
Edited by GlenPettit, November 10, 2013 - 07:11 PM.
olcowhand, KennyP and WH1055 have said thanks
---
#6
ONLINE
Posted November 10, 2013 - 06:42 PM
Nice collection you have there, Glen!
GlenPettit said thank you
---
---