My Future Home/project Log
Started by
TAHOE
,
Oct 23, 2013 07:59 PM
#61
ONLINE
Posted March 28, 2014 - 05:49 PM
Barns are red. White trimmings would be nice tho.
I think red barn with white trim also.
---
#62
ONLINE
Posted March 28, 2014 - 06:08 PM
I think red barn with white trim also.
Sounds real good to me!
---
#63
ONLINE
Posted March 28, 2014 - 06:59 PM
---
#64
ONLINE
Posted March 29, 2014 - 08:45 PM
---
#65
OFFLINE
Posted March 29, 2014 - 09:24 PM
Got the leak fixed, the threads were rotted from the inside where water and junk laid for all those years. When I removed it, found another fitting the same way just about to rust through. I'll try to post a pic tomorrow, didn't have my phone on me. I ended up removing 2 good new fitting's but I used heat gun to separate a pipe from another fitting so I could reuse it and not have to cut/splice the whole works. I know it's probably not correct in a drain line, but added one of those union joints with a seal in between that you screw together since it was all tight and glued together. I had no room to properly glue without using union.
Got everything inside bathroom taped/bedded last night, fixed the plumbing today and also set the door and got it trimmed around on outside in dining room. Little bit each day and getting there!
Okay, I get the picture...pink, striped, red.
---
#66
ONLINE
Posted March 30, 2014 - 08:25 AM
e03e85f0a13a8c793c5fa06863298d6b.jpg
Man, I bet the stallion that lives there has a real complex.
---
#67
OFFLINE
Posted March 31, 2014 - 08:22 AM



Man, I bet the stallion that lives there has a real complex.
I've got a gay cat so maybe that stallion picked the color....just sayin'!
Here is the pipe, notice the lack of thread on both ends
I know it lasted at least 42 yrs, maybe even longer.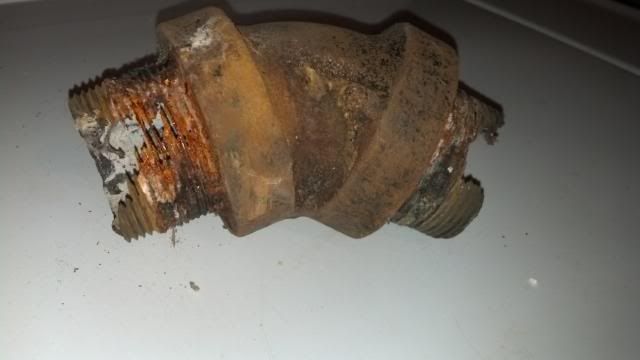 Random pics of drywall, now it's all bedded/taped in with first mudding.
When you only have 5'x6' floor space, hard to get full room pics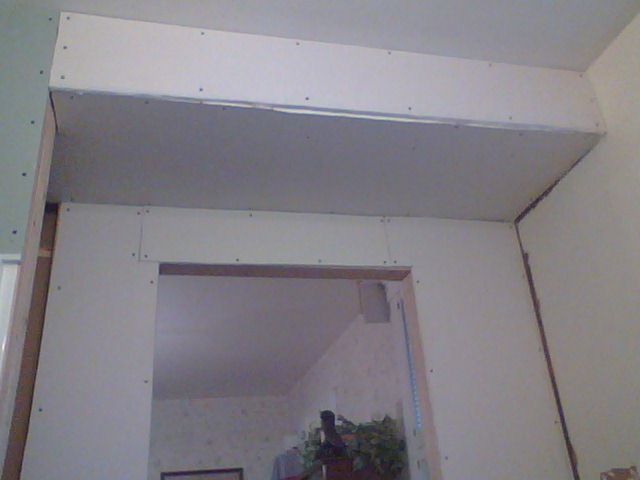 Pics of door/dining room. I finished the baseboard last night, using stock dimensions versus matching the old thick stuff will work fine. Tonight plans are to drywall that DR wall.
Hard to get a good wide pic, the DR table is there and loaded with stuff from mom/sister's cleaning/sorting closets.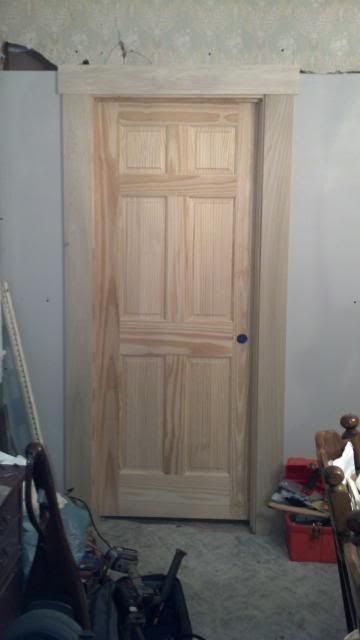 ---
#68
OFFLINE
Posted April 15, 2014 - 09:17 AM
UPDATE, I have been doing something the last few weeks, the nice weather is making it hard
Got all the drywall up in Dining Room, baseboards, door trim on and walls mudded and ready to go....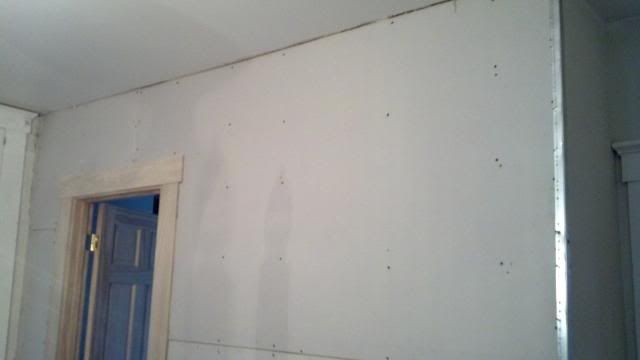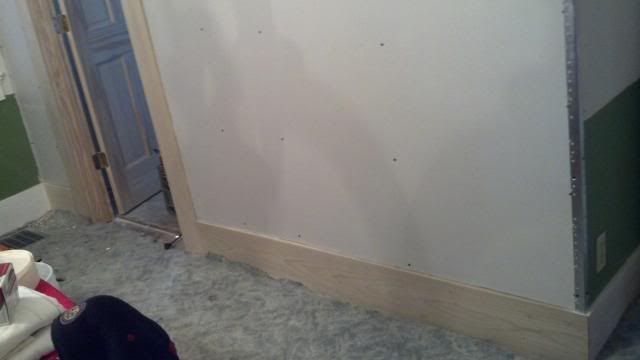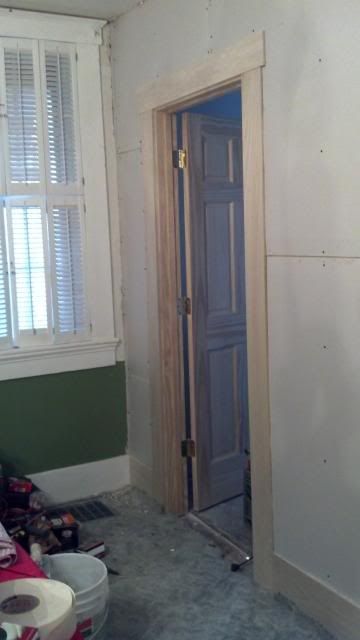 I primed everything last night with PVA primer. DR is temporarily done until we get to the stripping wall paper and painting that room, needs a chair rail alos on new walls to match others. I think that room will be a light gray maybe, I dunno, I just open the can and paint whatever the wife buys.
Hated painting that nice wood door, but the rest of the house doors and trim are all white.
Tonight I plan to put up wainscoting on the window and sink walls.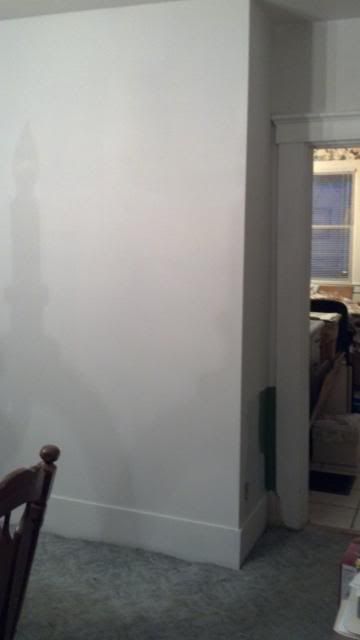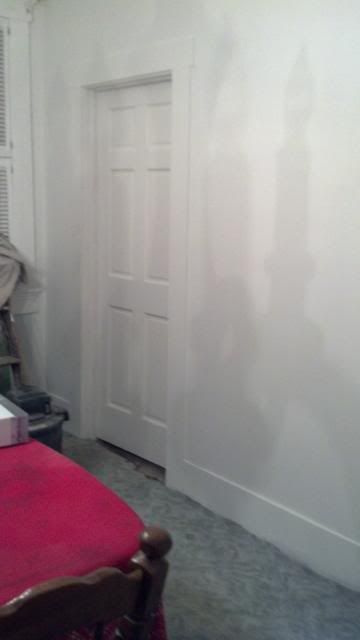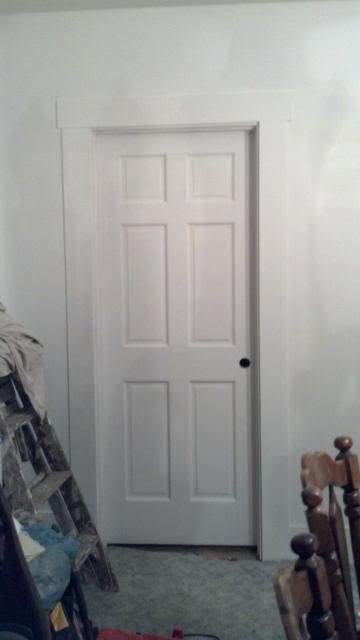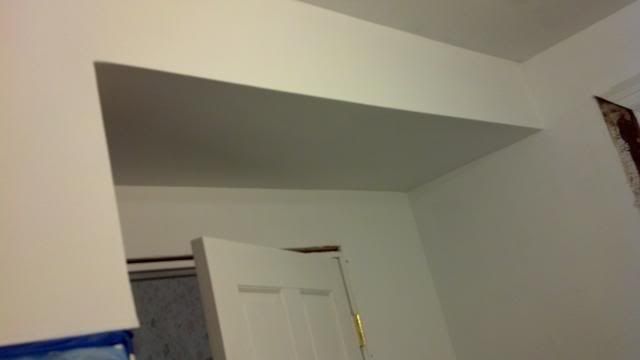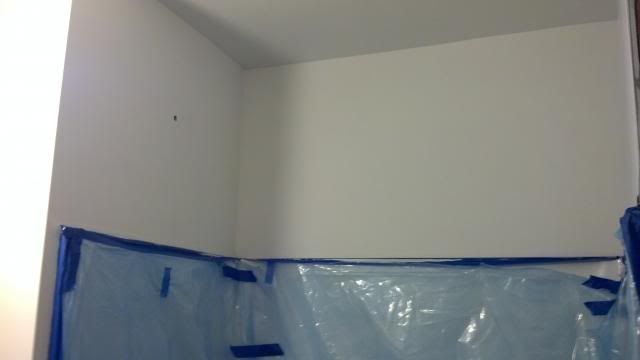 The dramatic, Before and after.....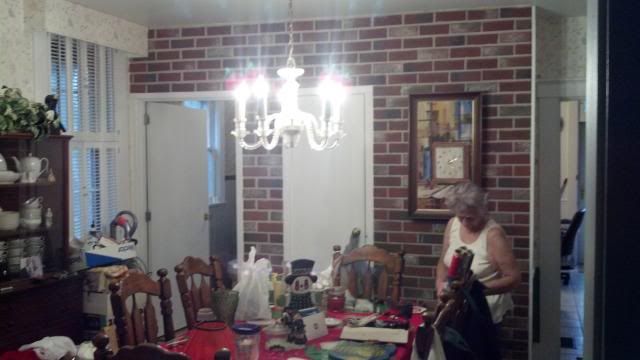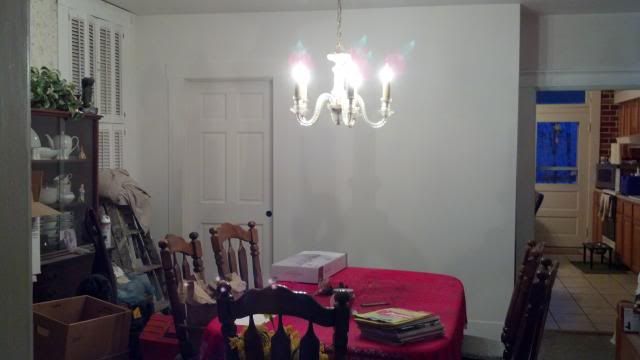 olcowhand, MH81 and KennyP have said thanks
---
#69
ONLINE
Posted April 15, 2014 - 11:25 AM
Looking very nice Marty!
---
#70
OFFLINE
Posted April 16, 2014 - 09:46 AM
I should've just fed the animals and went home last night
Starting putting up rail for the wainscoting, first 2 pices cut, perfect. Measure out my 3rd one, mark board then I realize I read tape wrong, re-measured, remarked, okay good. Cut board..... Right after I cut it, saw the correct mark I was supposed to use, I cut too short..... measure twice, mark twice, cut once....go to the hardware store to buy another piece of trim
Decided to start on wainscoting, we bought the cheaper rough cut style since we have plan to paint anyway. I opened the first pack of 6 - 8' boards, I could only use 3 pieces cut to 4' out of the pack. We knew there would be small knot holes and such, but there were big ole empty knot holes holes in all of them we couldn't see in shrink wrapped pack. They would look fine in a cabin in the woods with all rough natural wood, but not for this bathroom. Told wife I'm buying the higher end nicer stuff and going to use this for another project I have in mind.
I got nothing done last night.
---
#71
ONLINE
Posted April 16, 2014 - 12:30 PM
---
#72
ONLINE
Posted April 16, 2014 - 04:32 PM
Been there, as soon as the little one get a little older, I will be doing it again. 5 people in my little slice of heaven is taking its toll
Looking good so far Marty, tell me... How booked up are you for remodel jobs?
---
#73
OFFLINE
Posted April 17, 2014 - 08:34 AM
Looking good so far Marty, tell me... How booked up are you for remodel jobs?
What a comedian you are Alan HAHA.
I will still be doing this one for he next year. Oh and I have to fix my current house up to sell after we move. Wife and sister have decided we ( as in ME) are now going to sand and refinish the LR and DR wood floors BEFORE we move in, oh joy! Mark one thing off my list, they had 2 more!
I know for a fact, I will not be doing any drywall jobs for anyone else other than me in the future, I hate this stuff. It's kin to doing exhaust on a car!
---
#74
ONLINE
Posted April 17, 2014 - 10:26 PM
Looking good Marty. Are you using the individual boards that are tongue & groove. If so paint them first so when they start moving around you won't see raw wood on the tongue side. I like the old style door trim you used. Drywall is next to painting...I hate both.

---
#75
OFFLINE
Posted April 18, 2014 - 06:03 PM
I wasn't going to paint the tongue and groove, but maybe I should at least prime as I install to prevent the issue you stated.
All the trim in the house is just the big wide boards, just trying to match. They over head door trim has some type of half round with a inside corner bead, but I have to try to find this half round as it has the half moon then like 3/4-1" thickness.
---
---