So I haven't updated this thread in a while, but I have been doing some work, not much picture worth stuff, alot of adding 2x4's, tearing out this, etc. Between the Tahoe keeps breaking down, having to plow snow every 7 days and getting sick, I got side tracked a little. My sister is staying there too while mom is in Florida for a month, I would rather not work there while she is around so that took some my work enthusiasm away too, she can work a last good nerve pretty hard.
So anyway, I did remove the old ceiling light and scounces on the wall, ran all new electric for plugs/lights. The ceiling light was tied into a section of knob and tube that is still functioning. I sooo wish I could swap all that out, but it disappears up through the floors joyces to second floor and off to who knows where.
I got all my plumbing supplies and most of it replaced and updated. Working on running lines to remodel bathroom, rest of the house is hooked back up and has water. I left the copper lines going to the kitchen and back bathroom, those will get updated when they get re-done after we move in and get settled.
I'm telling you, this PEX stuff is wonderful. I basically replumbed the the whole house including ripping out old stuff in about 8 hours. No solder joints and not one leak, I would've had a sprinkler system with soldering.
I'm hoping to finish my plumbing rough in for bathroom this week, then I need to get shower permantly attached, then move floor register, then start drywalling.
I found I created a heat channel by opening up the walls, with all this cold and ice, I had water coming in and running down the wall where the kitchen/bathroom attaches to main house and also where the main stack goes through roof. Now that it has warmed up an I shoved some insulation between the studs, it has dried up. I will look at roof once it warms up, but I think insulating and closing walls back up will prevent future ice dams up there.
Hole cut in ceiling for wiring and new light/fan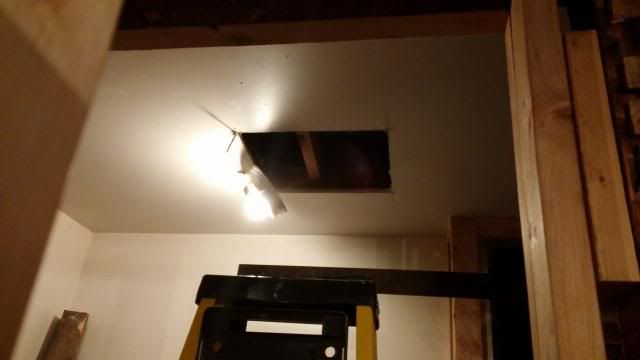 This is what it will look like. Had to get new sink though, when my mom bought the other pedestal sink years ago, they gave her a cabinet sink with a pedestal, dad never opened box so they didn't know. We also had to scrap the scounce light idea and move light over cabinet due to the short shower wall and cabinet sticking out, no room for a light ebtween the two. Oh well, good thing I laid it out before I ran electric.
Old plumbing , hot water heater and piping for washer and tub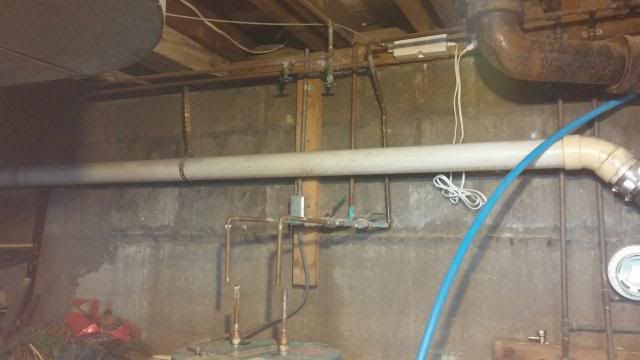 All cleaned up and tore out. I got a nice pile of copper to go to scrap!
New lines off the pump reserve tank. The copper strap/cothes hanger is temporary. My new water softener systems will be going to the left where you can see the top of the freezer, I will make everything permanent then.
Man, I hate to think about remove that big old freezer, been down there since 1975 and still works.
New manifold system with hot and cold. I put every faucet/toilet, etc on a separate valve on the manifold with also shutoffs at sink/toilet....wonderful!
From what I have read, the manifold system really helps in pressure loss in say the shower when the toilet is flushed, unlike running pipes in a series with just T's.
I hate having the electric line there next to water line for Hot water heater. I used some wood blocks to keep water lines off electric pipe. not sure what else I could do for now and I had to get water back on. Down the road I may move electric line so it runs more under and away from water lines or even just bring it out and do a straight drop with PVC or pipe to electric connection on top of HWH, completely get it off the wall, that's the way mine is at my house.
Notice the nice wet seam on the concrete wall under main sewer pipe....yea, I don't ever remember water seeping through at that point, been a rough winter!!!!
The wall at that copper strap is wet too, that's where it's running down from upstairs roof due to my heat channel I caused, all dry now.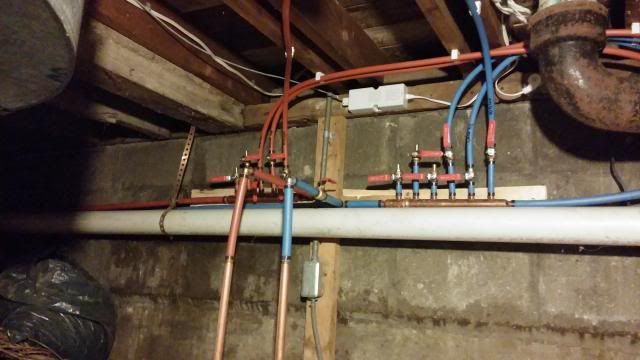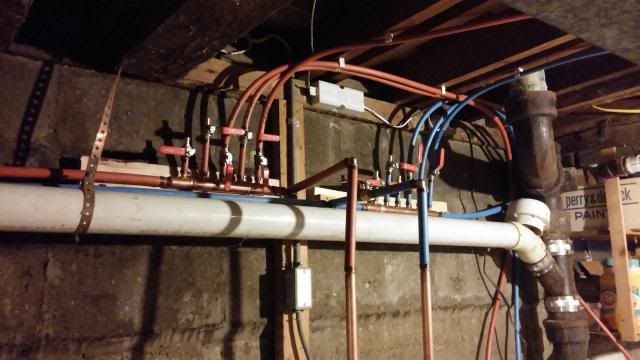 Edited by TAHOE, February 19, 2014 - 09:53 AM.