Early this morning, my kids helped me move our meat chickens to the outdoor pen. We only did 40 this year, we have done 125 at a time previously. We have never raised meat chickens in the fall, usually we get them in March and butcher in May or June.
Our pen has no bottom, the birds can get grit, bugs, and plants. They usually eat the broadleaf weeds and white clover first, but they eat some grass. The pen is moved daily, so manure never builds up much in one spot. I also think the movement messes with the predators. We have never lost birds in the pen to predators, and it is not built very tough.
After the birds were situated, I finished the home garden for the year. I picked a few tomatoes from the dead vines to save from seed. I picked the last peppers, crookneck squash, and cucumbers. I dug up the last row of carrots. I pulled all the stakes, trellises, landscape cloth, and soaker hose. Then I mowed the weeds, fennel, and last few green onions with the Cub Cadet 147.
I will not garden at home next year. I hope to move to the farm by spring. So I smoothed out the garden with the spring tooth harrow and the Cub Cadet 72, then seeded grass. I left the fence up to keep the laying hens out until the grass is started.
After gardening, I put together the pieces for my 48" deck and installed it on the 147, and moved the 38" deck back to the 72. Then I mowed a little with each tractor.
This evening I went archery hunting for the first time this season, then got some work done on a gun stock I am refinishing. I have so many hobbies, I don't have time to work!
Here are some pics of meat chickens from other years.
And some young Rhode Island Reds (Layers) in the pasture pen.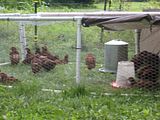 Here are some mixed layer chicks doing their thing. I spend a lot of time just watching chickens. They are fun.