Wanted to share a few pics of the most recent find. It is a mid '50's, Kalamazoo Expediter Model 301, built by Kalamazoo manufacturing, about 25 minutes down the road from home here. I had been watching for anything from Kzoo, to have a local piece for restoration and show, and a buddy gave me a shout when he found this...and brought it home with him from a swap meet for me to drool on, and eventually barter for.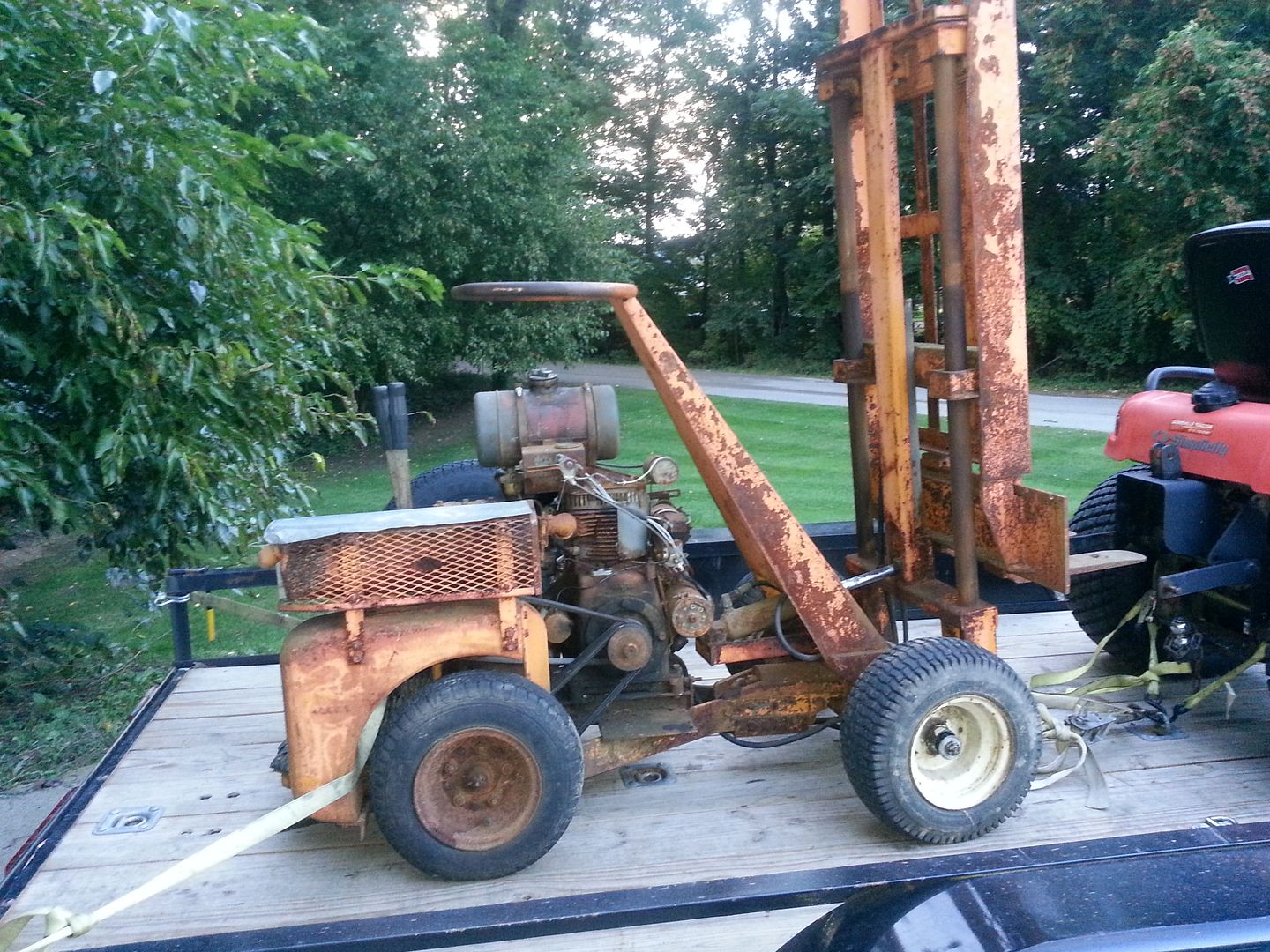 Best I can tell, it's no older than 1953, and sounds like it may only have been produced when ordered by a customer. I have not seen or heard tell of another, and in talking with a few collectors of Kalamazoo Speed Trucks, neither have they. The company was founded in 1883, and primarily survived by building rail service vehicles, and eventually 'Speed Trucks' for use in manufacturing facilities, etc. as maintenance and service cars.
The Xpediter seems to be a purpose built material mover, rather than a HiLo, which would lift and store. It does not lift very high...maybe 2 feet, and has stubby forks, with the tall mast or material support frame. The frame leans all the way back, nearly resting on the steering column. The machine atriculates (manual), and is completely hydraulic, with foot hydrostat control. It's a pretty slick machine, and is fully functional and seems to work and drive well (minus the 'spare' tire up front, which was scabbed on after I punctured the original).
http://www.kalamazoo...acturingco.net/
Specs from this catalog show weight for the 301 at 1022#. This machine also has the optional counterweights, and I have no clue how heavy they are. I can tell you, this machine is HEAVY. I slightly caved my 2500# ramps when loading/unloading it. By the book, she runs 7mph fwd, and 5mph rev, and I beleive it. It's pretty darn quick! I beleive it is Wisconsin powered.
http://www.kalamazoo.../expediter3.jpg
http://www.kalamazoo.../expediter4.jpg