Ok, so things are shaping up that my family will be moving in with my mom next year in her old farmhouse. She has the master bedroom/bath, etc on the side addition, there is 2 1/2 rooms upstairs for us and two kids, we really need a full 3 rooms. Below is a couple pics of the house as it is now and then other pics with my "expert" MS paint skills again
showing my 2 ideas of how I invision enlarging room.
I will say, I currently have no idea the underlying structure to build on and won't be able to tear into thing to inspect until my packrat/hoarding mom gets rid of some stuff....she kills me sometimes with the stuff she saves, but we lve her!
I know we have some carpenters/contractors on here soooo..... opinion away!!!
Feel free to copy pics and do your own photoshopping with it, may help me invision better!
The current room is similar to a cape cod upstairs room, but the highest part is maybe 7' where the roof meets house, starts on upper wall then slants into nothing. Inside the room, the widest part is maybe 7 feet where a short wall is built and there is a cubby hole storage behind it. If I raise roof and open it up, I may get a 12' or so deep room which would be considerable.You can see the one window on the side of the house that is to that room, one on both sides.
Side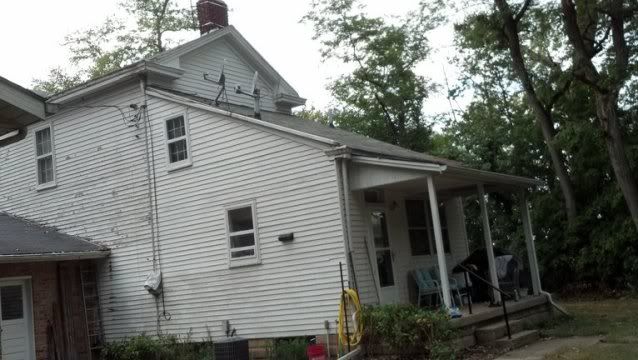 Back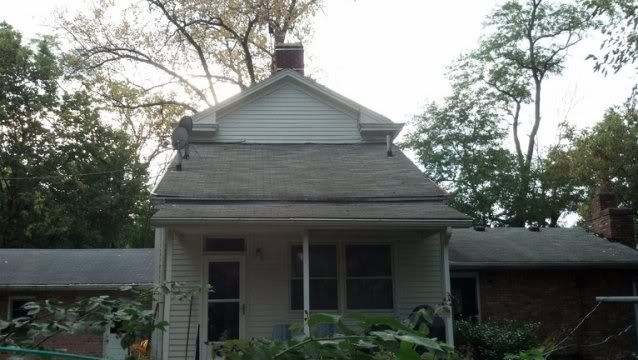 Here is one idea.... To make dormer style raise and just put a flat roof on it. The drawback I see to this is the roof would have a flat pitch and I don't like that, but may be easier to buld. The front porch is very flat and we have fought leaks for years.
side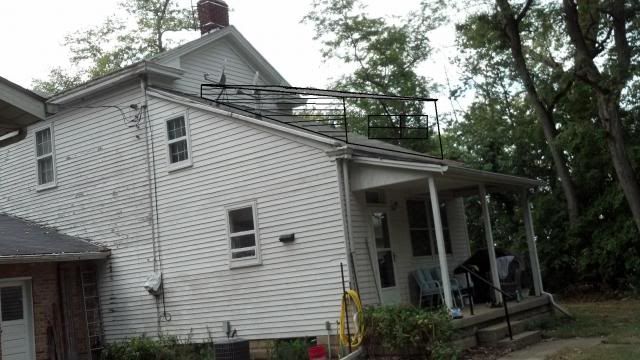 back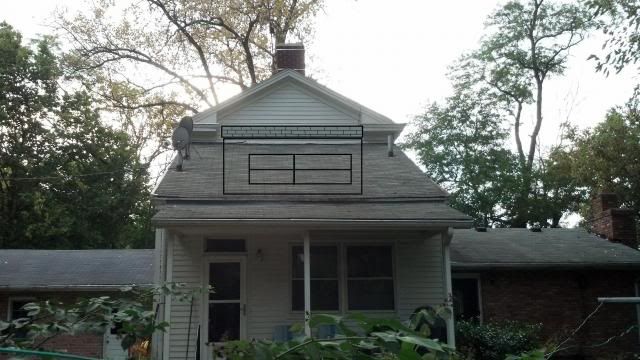 Here's is my other idea. I like this idea better even though it will require more structural work, but I think it will look better and I can actually make interior have a cathedral type roof to make space feel bigger.
I just showed my coworker and he suggest to even go higher and meet the existing hip roof line and extend out, but I would rather not bother all that and not sure if it would look right and I don't need the 9' ceilings the current upstairs rooms have.
....and I know my great skills show it angled, but it would be level roof hahaha
side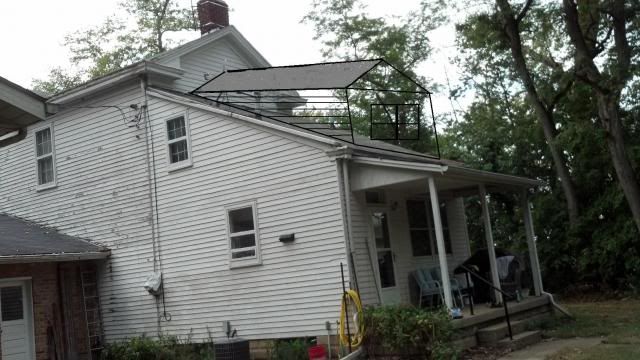 back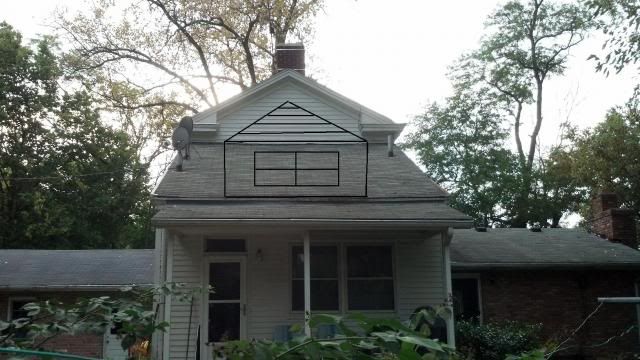 My concerns are mainly structural. I figured I will probalby have to get plans drawn up and have submitted since these are structural changes even though building by the seat of my pants would be great
. I know I would have to do some interior tear out to see what I am dealing with as supporting structure. I know this house is made with true 2x4's and 2x6's, house was built in 1906.
My biggest structure concern, and maybe you all can help me out, is where the side walls of the new "dormer" I will call is meets the roof line. I know the existing side roofs will still have their rafters, but what about the new vertical sidewalls? There wil be no supporting structure underneath as that will be middle of the room. I understand my ridge board will be main support for roof being help up by end wall, but will those existing roof rafters be enough to support the new short upper wall and the outside of the roof? Adding extra or larger rafters undeneath for support?
Also, I cannot go to the outside edges of the existing roof, this has to be more of a large dormer effect. I have old cast vent pipes you can see going up inside walls. Also, I do not want to mess with existing box gutter or structure on top part of house. I just want to add dormer in the middle to get extra room.
Sorry I can't get interior pics, mom has so much junk up there, it wouldn't help to see what I got.