Since we don't have trailer section, I guess I will put here since it's a restore section.
I'm calling this the "redneck edition" as renecks use whatever they have available to build stuff. This is the uptown redneck style though as I am actually trying to do it as right as I can and not just throw it together. Mine will be actually bolted together and painted, not just a couple boards and some duct tape!
Here's my 16" flat bed I got in 2007 through some horse trading...literally. I got a free horse I really didn't want, my cousin had 3 trailers, didn't need all three and he wanted the horse. Done deal!
This was shortly after I got it. Old trailer has had many cars/vans on it, tractors, gravel/dirt/mulch, furnature and finally needs to some work done.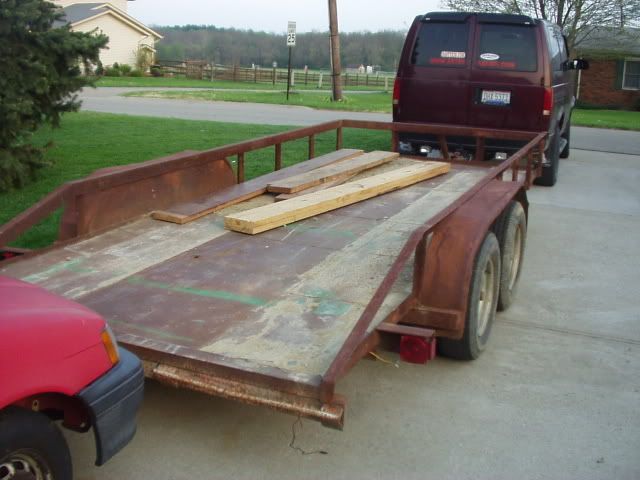 My cousin used to pour footers for houses, he used this trailer for his boards and he had two large metal boxes bolted to the metal floor that kepts all his stakes/pins/etc. Well, we all know what two pieces of metal do when next to each other and exposed to alot of water and oxygen!
I put it off for a long time, but the front sections has gotten so bad I have to repair before I go through the floor.
Here is the front section, I've already inadvertantly attempted to check the metal strength. There are also a ton of small dime size holes that are hard to see.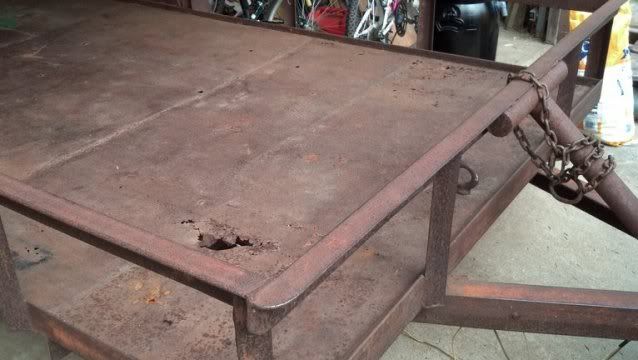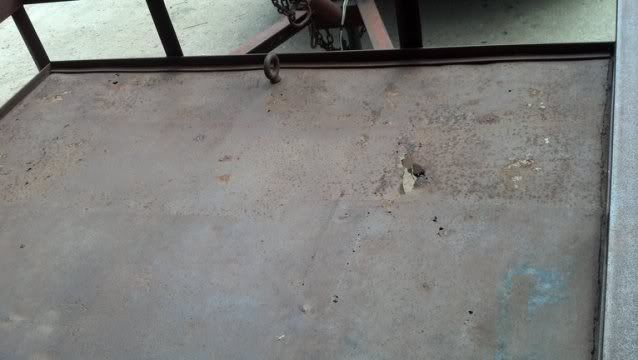 So my plan is, clean up the floor and paint with some Rustoleum heavy rusted metal primer ( redneck....I have a gallon on the shelf). I will then bolt down some used 5/4 decking boards ( another redneck item) right on top of the metal. I know the proper way would be to remove all metal, clean up underneath and replace with new heavy gauge metal or 1 1/2" planks as wood on top of the existing metal will eventually rust....remember the word "redneck"
I'm hoping to get another 3-4 yrs before total replacement.
Primer down. Cleaned up the tongue some too while I was at it. He has already had a new hitch welded on and jack replaced.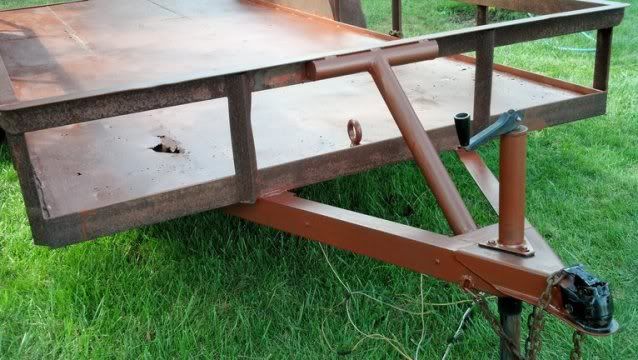 The whole trailer will be painted red ( couple cans on shelf) . Leaving the bed just in primer, but decided to paint edges before boards go down, hit the tongue too.
If you are going to spill the paint, good place to do it where it won't be seen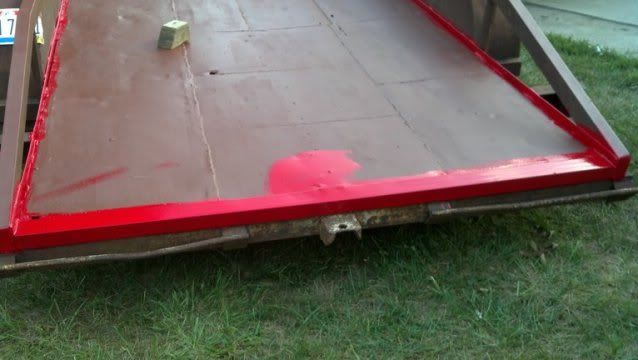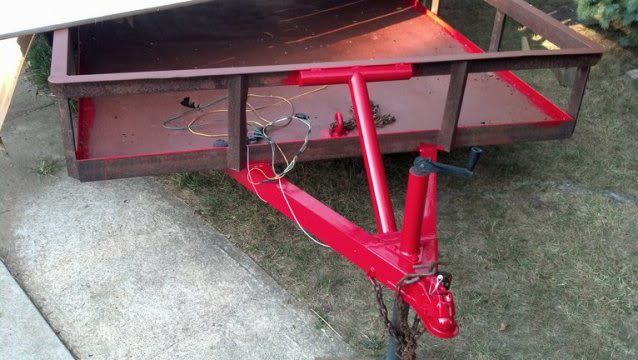 The boards I got free are mostly 14 1/2" long which is going to be short. plan is to cut them all at same length, then cut short pieces on end to make length of trailer. I have some 2" flat stock I will bolt over boards and down through bed to hold boards in place.
Lousy pics of painted board. I painted the bottoms with some old exterior paint, ended up being white and tan since I ran out of white. Hopefully that will seal the wood some and on bottom and color won't matter. Not sure how I will seal tops after install.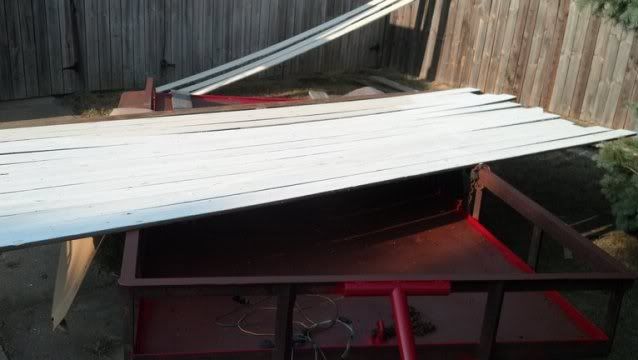 I had plans to update lighting, add a couple clearance lights, make new brackets and move tail lights up higher, but that was later. Well, my 7 month old Boxer decided I needed to update now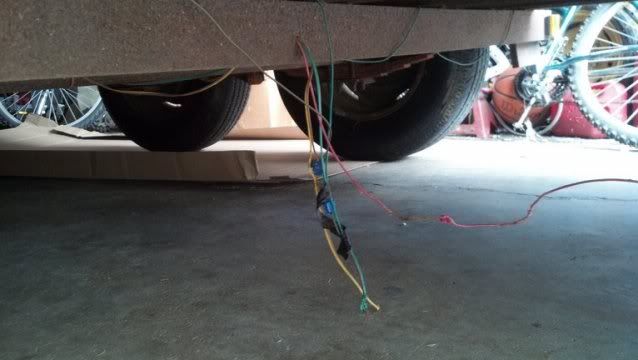 Well, that's my update up to now. Future plans are finish mounting boards, new lighting brackets in rear/re-wire, pound out fender dents, make some extra fender supports, weld on some mouting hooks down side, remove heavy rust, prime and paint entire trailer, replace all spring bolts/bushings and build some decent ramps for my tractors. This is just what you can see restore although underneath needs it also someday.
I may add a few pieces of duct tape just to keep it a true redneck restore!!!