#16
ONLINE
Posted August 31, 2013 - 09:26 AM
Congratulations on all your recent scores. They are all great looking. You must have done something right.
---
#17
OFFLINE
Posted September 01, 2013 - 04:20 PM
Brake drums & hood were painted, I sat the hood on to see how it looked.
I figured if it had not been run for over 25 years, it needed some run time, on the jack stands.
Sams sells a battery with 3 year free replacement and 7 or 8 year warranty for $72.
I think it will be perfect, if I ever need to jump anything!!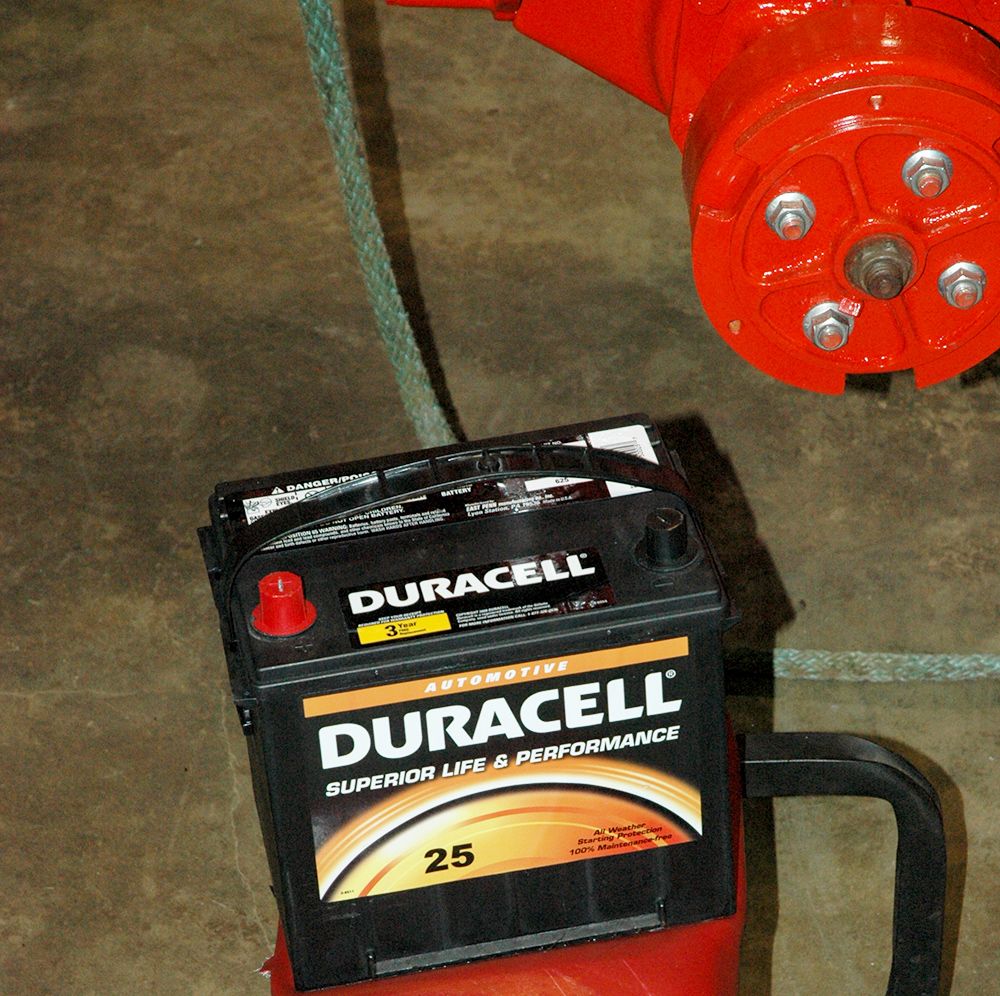 775 cranking amps ought to turn over a 12HP Kohler.
Some threaded rod and round stock from TSC made a $4 battery hold down.
Edited by CADplans, September 01, 2013 - 04:21 PM.
Newpaws493 said thank you
---
#18
OFFLINE
Posted September 01, 2013 - 04:25 PM
That was a great deal! Being that it is getting a new paint job, with that many hours it is basically brand new!
---
#19
OFFLINE
Posted September 03, 2013 - 11:21 AM
Awesome find!! Good for you!! You are a nice guy who deserves this catch!! C.V. Just stumbled on this forum and it seems like a nice forum!
---
#20
OFFLINE
Posted September 10, 2013 - 10:15 PM
I ain't saying the 25+ years this machine sat out was hard on the tires, but, today one of the bars fell off of a tire!!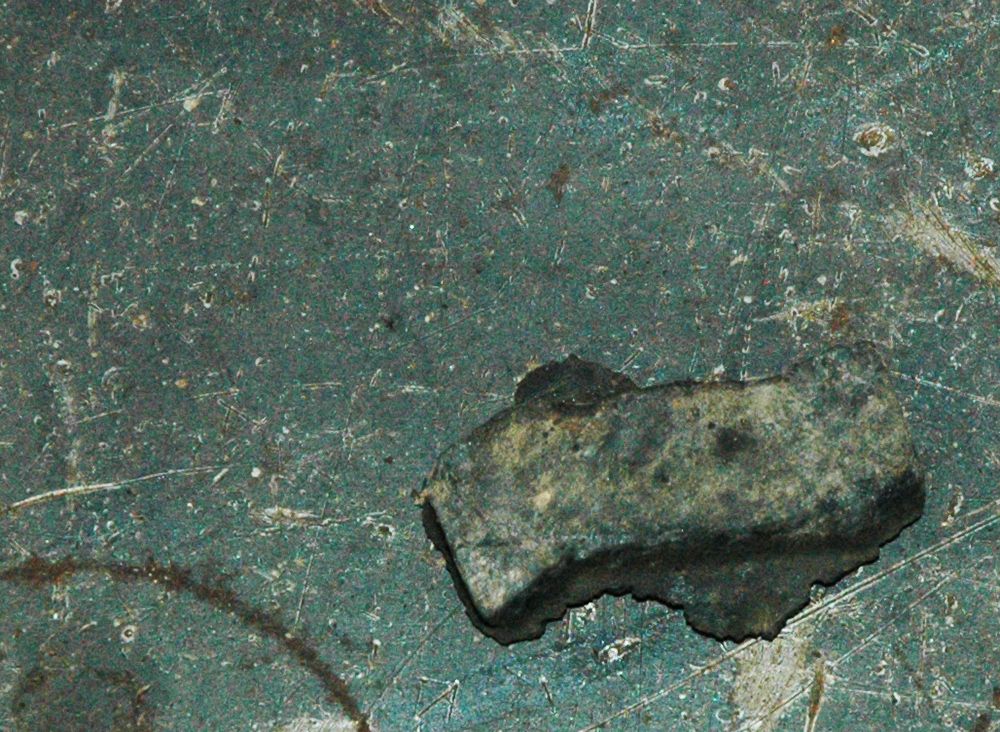 Luckily, my home made woodsplitter is built as a press too.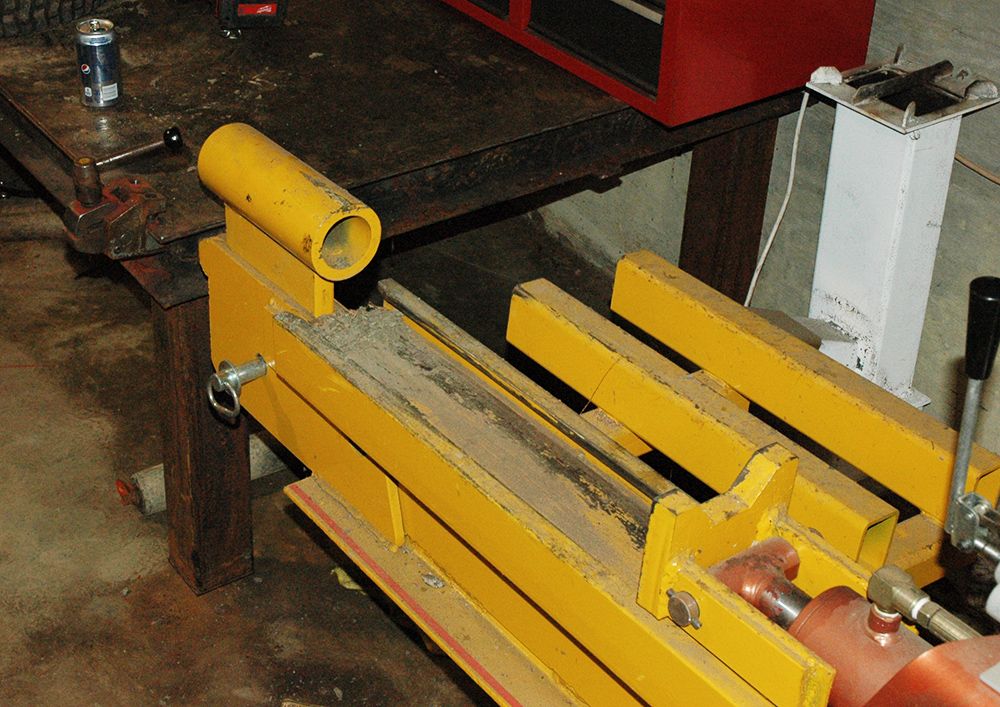 So, I used it to break the tire bead
Several hours in the electrolysis tank, and the paint/rust fell off.
Here is the rim, before I scotch padded it, and primed it.
Tires come tomorrow from Summit Racing!!
KennyP and Newpaws493 have said thanks
---
---
Also tagged with one or more of these keywords: gravely, 5665, steering brakes, sulky, sulkey, kohler, 12hp kohler
Barn

→

Lawn & Garden Tractors by Make

→

Gravely Tractor Forum

→


Started by jpats13 ,

Apr 30, 2018

gravely

,

oil pressure

,

starter

and 1 more...

Barn

→

Lawn & Garden Tractors by Make

→

Cub Cadet Tractor Forum

→


Started by Mark 149 J. ,

Apr 10, 2018

kohler

,

cub

Barn

→

Craigslist / Ebay / Kijiji Finds

→


Started by Trav1s ,

Mar 27, 2018

kohler

,

vtwin

,

craftsman

Barn

→

Craigslist / Ebay / Kijiji Finds

→


Started by Trav1s ,

Mar 27, 2018

ariens

,

kohler

Barn

→

Lawn & Garden Tractors by Make

→

Cub Cadet Tractor Forum

→


Started by Mark 149 J. ,

Feb 23, 2018

341

,

301

,

321

,

kohler

,

k series