Ok, little background first. Some of you on MTF may remember this one, I bought a MF1855 last fall. Short story, replied to CL ad, guy called me back even though I was about #10 email. I got lucky, he recgonised my name, he went to school with a cousin, my other cousin installed his septic tank years back so he chose me, YEEAA!!!! Anyway, made "good" deal for a 1977 MF1855 running tractor with 54" MMM, not working to known bad PTO switch, 3 pt and a 5' rear blade. Overall good shape, really dirty, known bad switch, hydros all worked, and had rpm surge, nothing too bad at the time. Picked it up on July 26 for $400.
On third time starting at home, starter kicked out, just whhrrrrrrr....crap, now what. Checked, starter was falling out. Well for any Onan owners, you know the drill.....motor has to come out. So pulled motor in Sept, find then belts are shot, front driveshaft carrier bearing- shot. Driveshaft Ujoint-locked up which required new ujoints welded on since NLA. Got that done at new years. Going over tractor, find every safety switch is bypassed, hydro fittings leaking, not sure if deck or PTO even works, wiring hacked up, mounting bolts missing, etc. Tried the rear PTO when I got it, never engaged, then looking over parts diagram I realised problem.....PTO drivehaft off motor is missing. So, my great deal is becoming a headache.
So fast forward to last night, motor needed major cleaning and I have to remove tins to get to starter so cleanup began.
Motor not filthy at all!! no way
......Silty oily grime all over everything. The PO said he used it just to grade drive, must've used to clean out horse stalls too from the biscuits I found on top of deck.
The full dust pan is just from scrappings off motor.
So, anyone see a problem with this pic? First person to guess gets...well, nothing HAHA
Okay, times up, see the one shorter bolt? The upper starter bolt is broke off in block. Of course, it's the one behind the flywheel.
Oh, notice the little block lying there. Took me a minute, but that is what the PO was using somehow to keep starter tight. It fell out when I removed starter.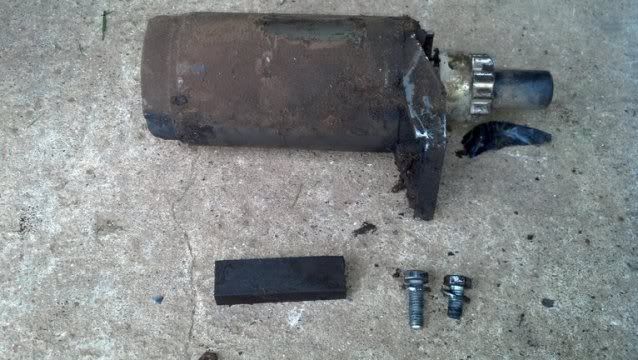 So.....how do I get this flywheel off without breaking something?
Also, maybe question for Massey/snapper guys. I have to remove front PTO setup to replace from crank seal, any good tips for removing this puppy?