.
Well, I was a bit late getting my tractor ready for winter this year. Of course, this is also my first winter with my Bolens 850 tractor! I had kept the mower deck on it well into December in the hopes of getting a few last minute lawn and leaf cleanups since we had such a mild start to winter this year. It was in the 40's for most of November and early December! But, I went home to Rochester for Christmas and left the mower deck on my Bolens. Of course, the day after Christmas, the weatherman was calling for Winter Storm Euclid to dump tons of snow on us! So, I had to leave Rochester early Wednesday morning to head back to Albany to get geared up for the white stuff!
Here is a photo of how my tractor was when I left for Christmas: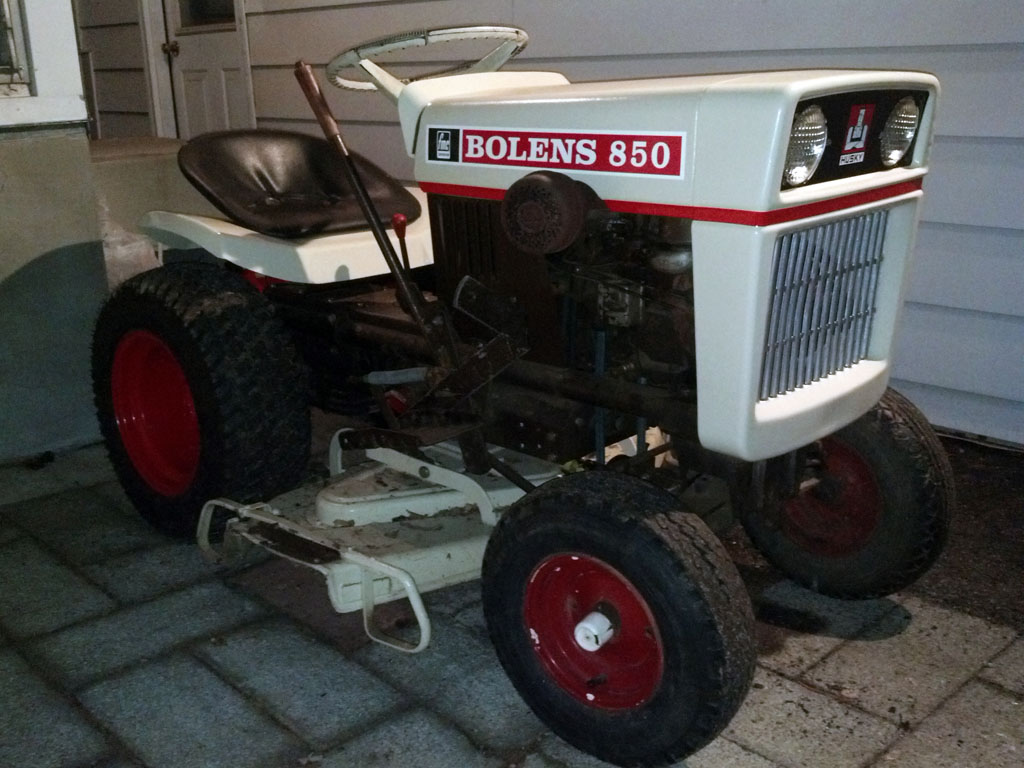 So, first things first, I had to swap out the "summer tires" on my tractor with the winter tires I bought for it, complete with wheel weights and chains! So, I got out the ratchet and sockets and the jack and got to work pulling the rear wheels: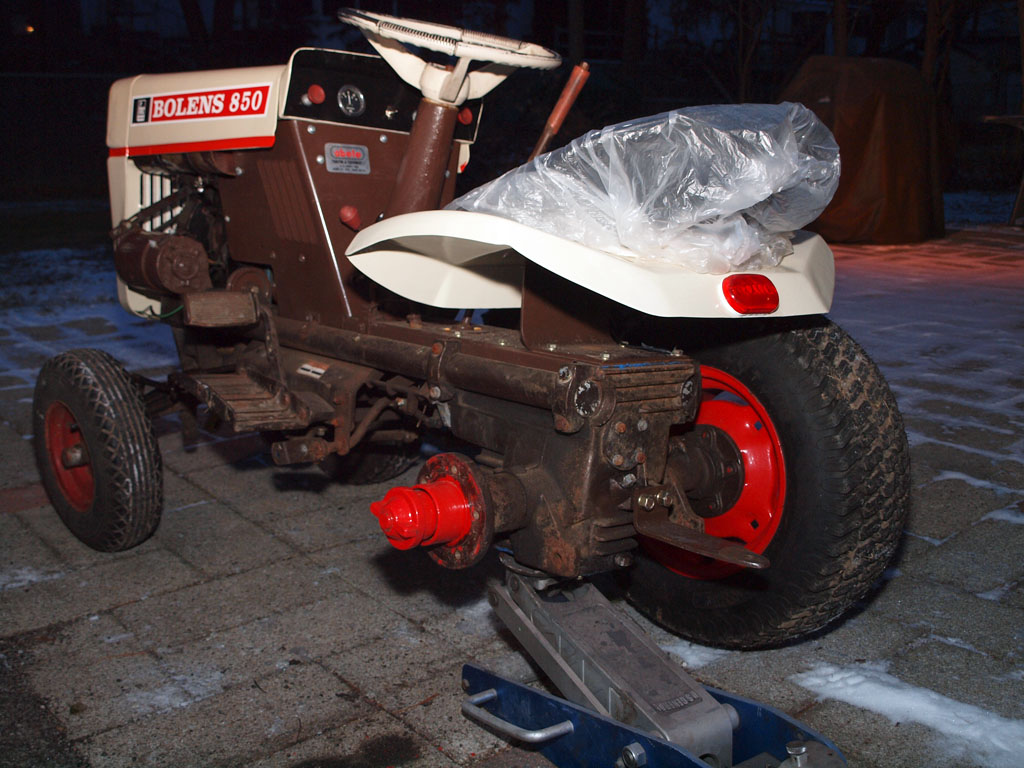 (Yeah, I know... Wonderful paint job on my axle locking hub, right?)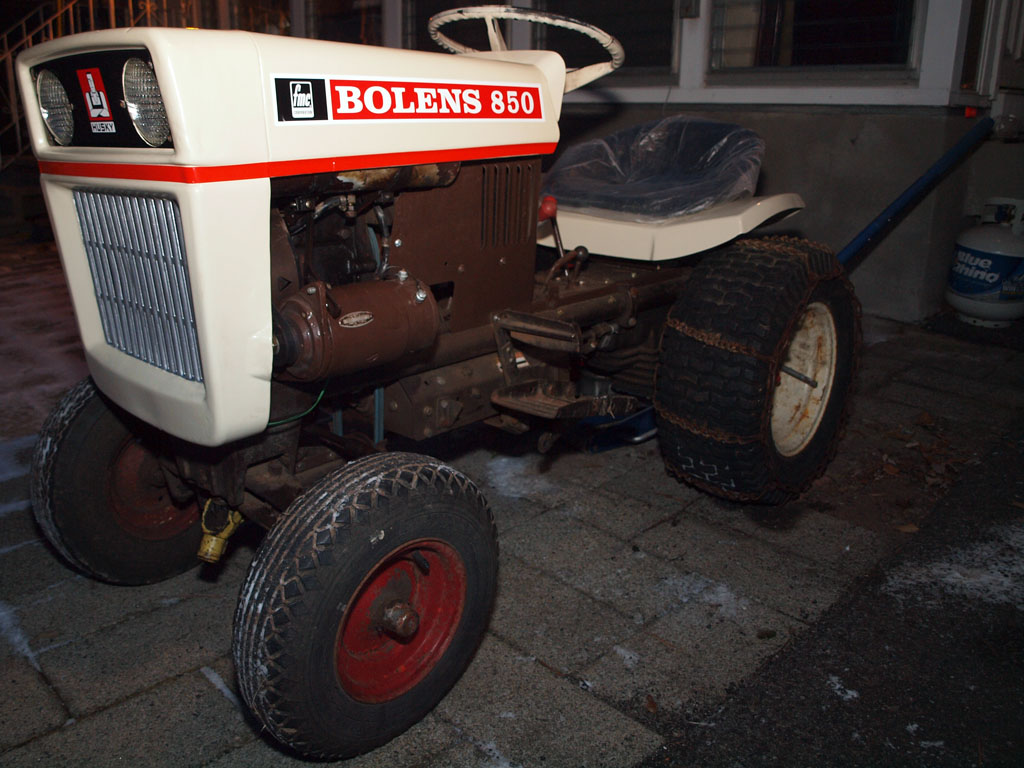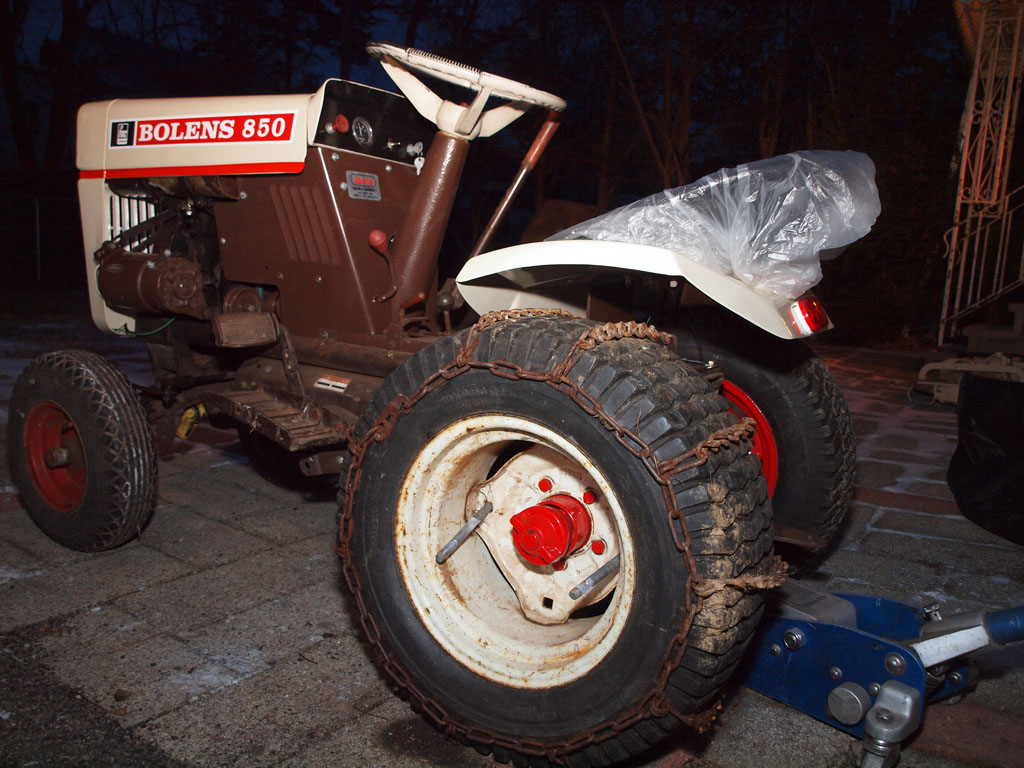 Yeah, it is sitting pretty low right now since the tires had almost no air in them when I put them on. I'm actually kinda surprised at how "not flat" the tires look for only having 1-2 PSI of air pressure in them. They must have a pretty sturdy sidewall to those tires.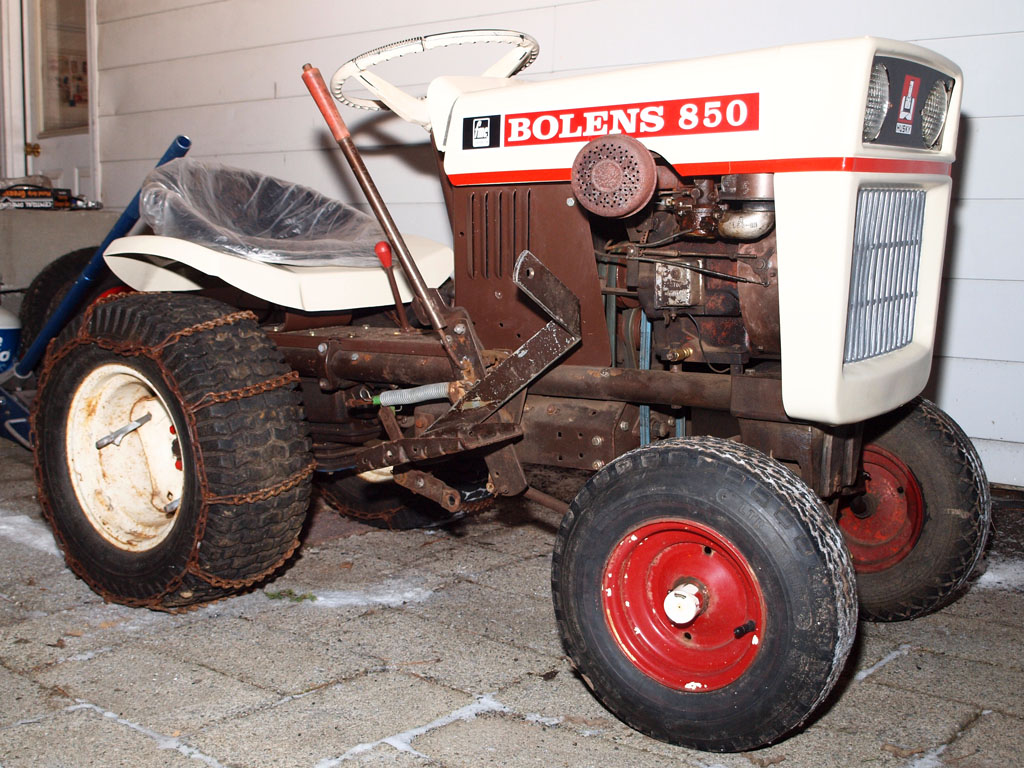 With about 20 PSI of air in them, they look a lot more inflated now! Of course, it took forever to put air in the tires with a hand pump! I wish I had an air compressor right about now! Now it's just time to put the wheel weights back on. I took them off of the wheels to make them easier to mount and now I think I'm glad I did! lol...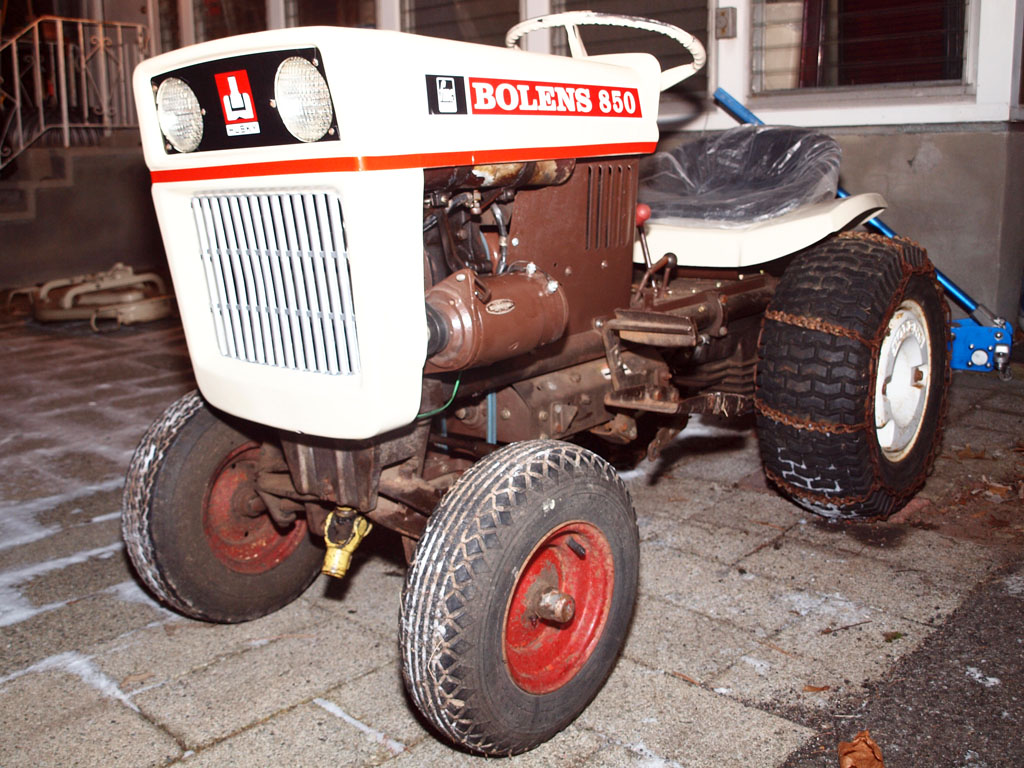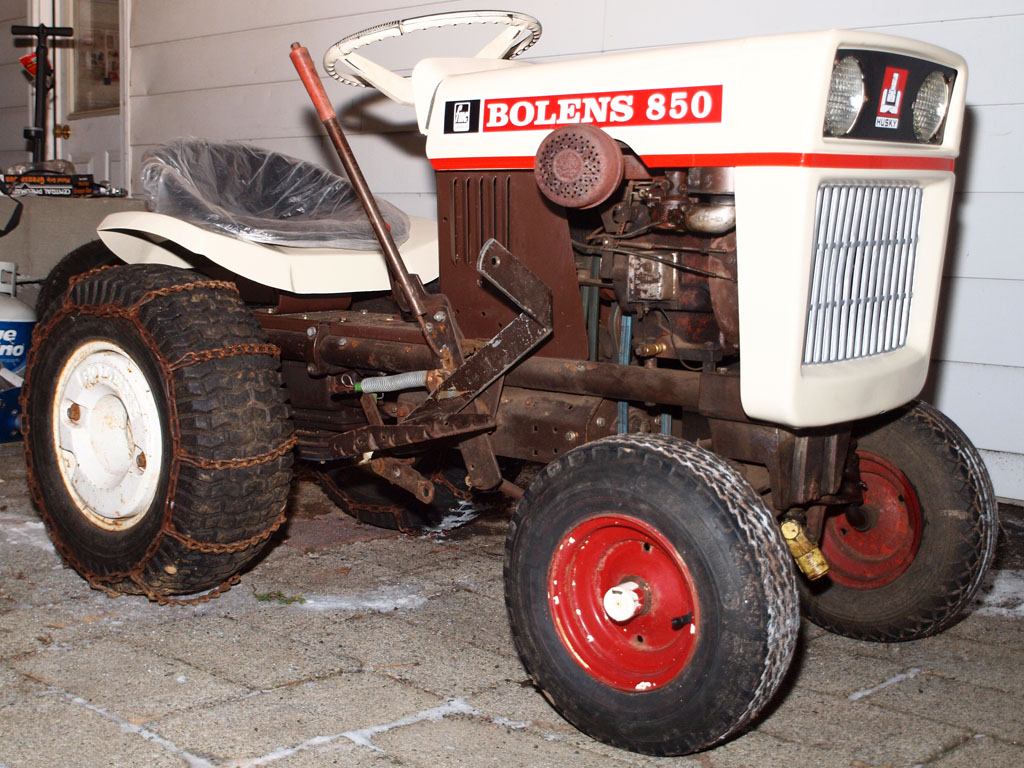 Now it's time to hook up the "new-to-me" snowcaster I bought back in early November. I wanted to grease it up before I used it, but I didn't really see anywhere to grease. Still, I threw some grease on the drive chain and sprockets and rolled it around by hand and sprayed strategic areas down with some PB Blaster to try and lube it up. It was also more of a pain to try and hook up the snowcaster than I thought. I had to disassemble the chute crank to get it through the hole in the support bracket. It was also hard to line up the lift arm with where it attaches to the lift lever while also trying to pull the unit close to the tractor to line up the mounting holes and also lining up the PTO shaft to slide into the universal joint. There is a lot going on all at once! I was also pissed because I didn't have any clevis pins long enough to mount the snowcaster! It didn't come with any and I tried using the pins from the snow blade I also bought, but they were too short! Evidently the snowcaster hitch bracket is a tad wider than the one on the plow blade. What a PITA!!! So, I had to buy temporary clevis pins at Home Depot to get me by until I can find the right ones. All they had were 3" long clevis pins though, which barely fit without hitting anything important (like the spinning PTO shaft!) Here is the snowcaster mounted to my 850: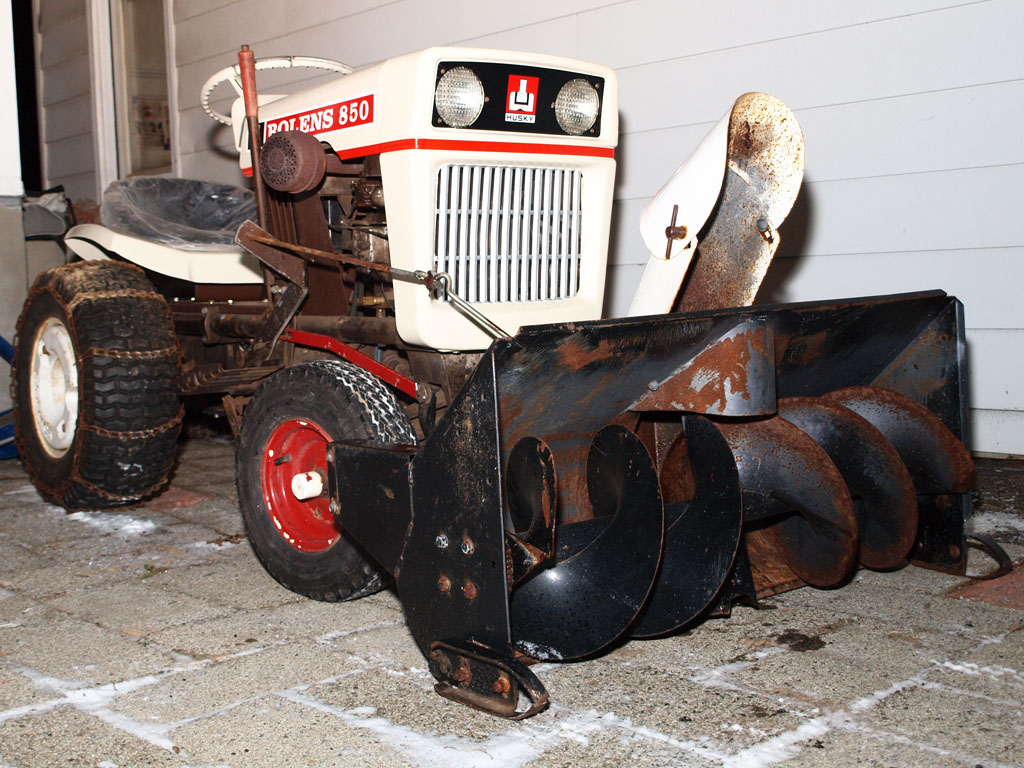 Here are some action shots of the snowcaster running. I was hoping for a better motion-blur effect, but hey... I guess it just doesn't go around fast enough! Can I swap out the gearing in it for something more "high-performance"? lol...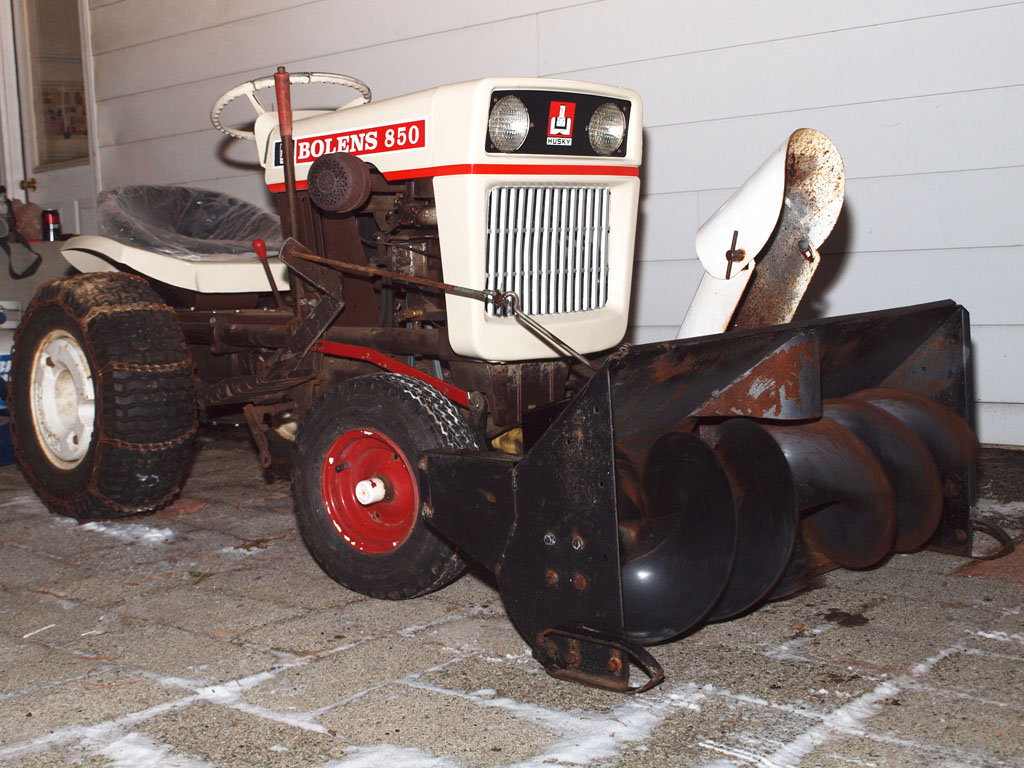 (Another attempt, but this time the picture really darkened a lot, even with the flash. I think I turned up the f-stop on it too high to try and compensate for the longer exposure so it wouldn't get over-developed...)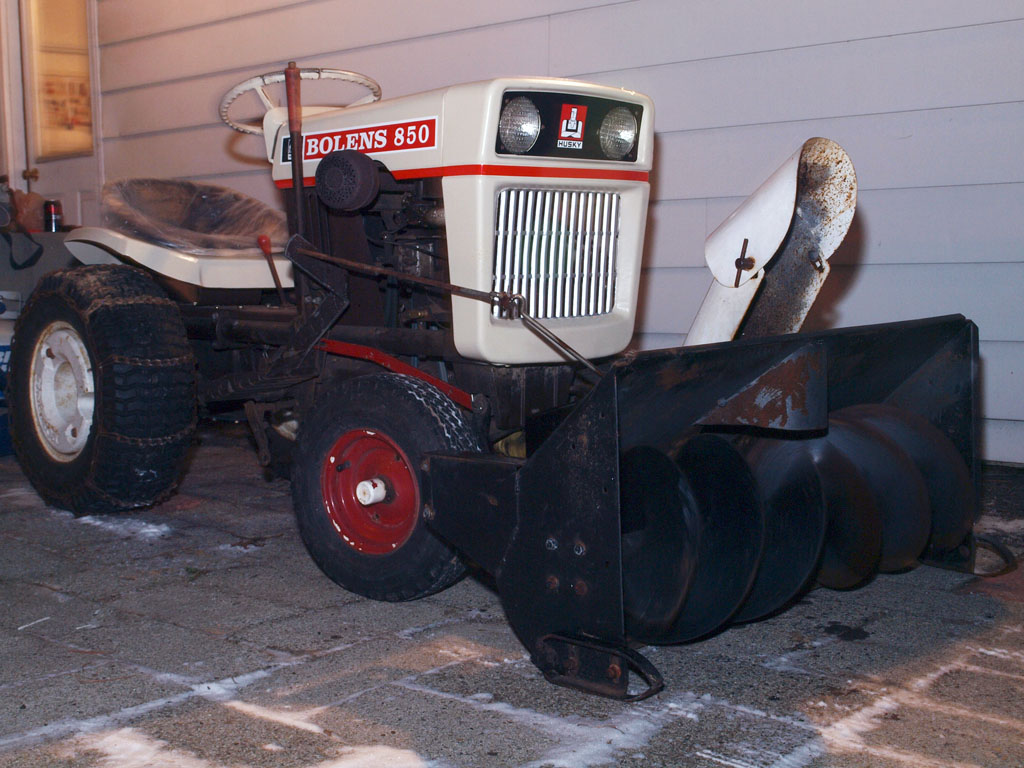 At first, I was kind of upset with this shot because the whole tractor isn't in focus and it only focused on the snowcaster when I took the picture. But the more I look at it, it is starting to grow on me and I think it actually looks kinda cool only emphasizing the snowcaster part and it makes it look mean!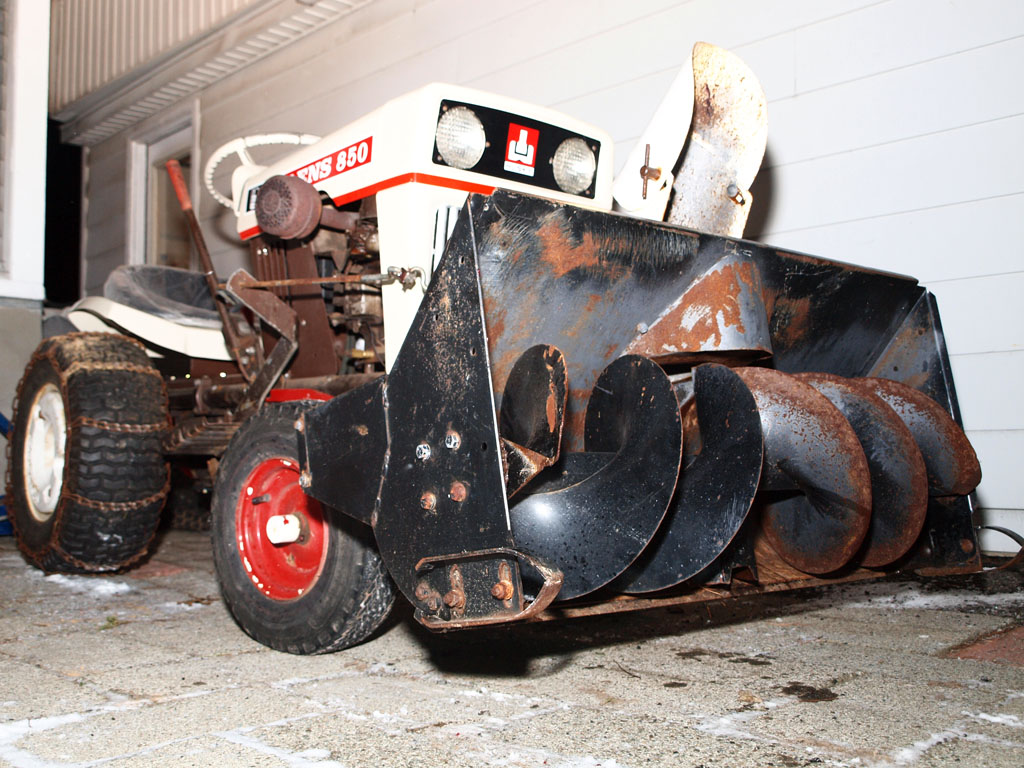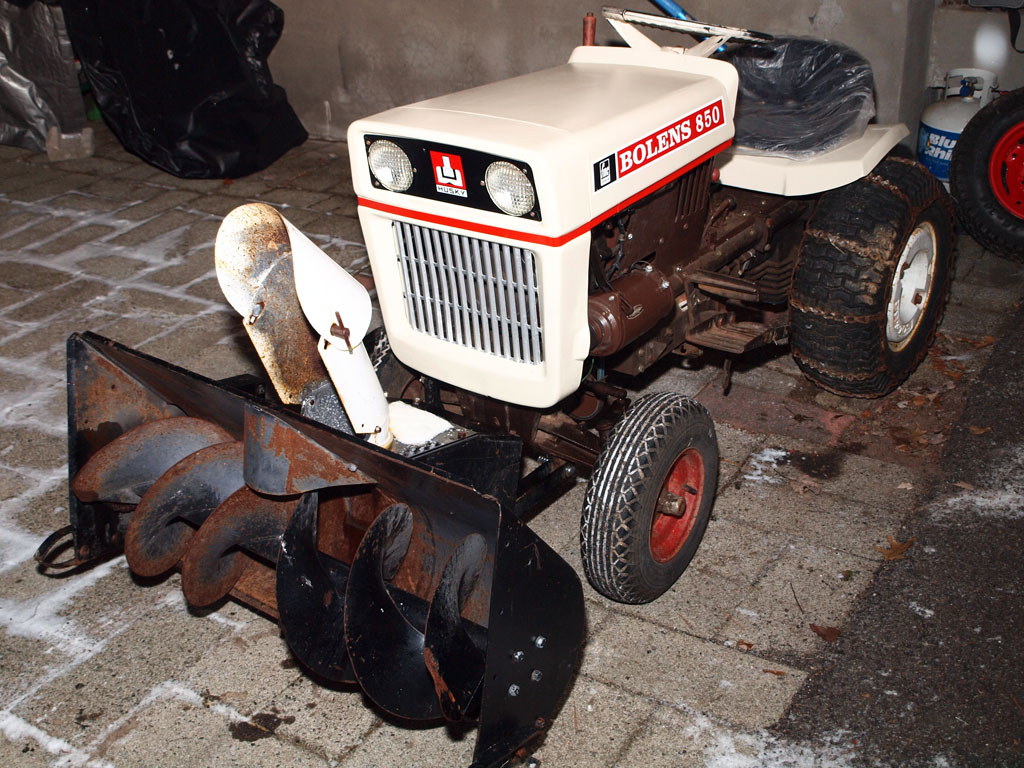 A few nice shots of the tractor with the newly installed headlights on!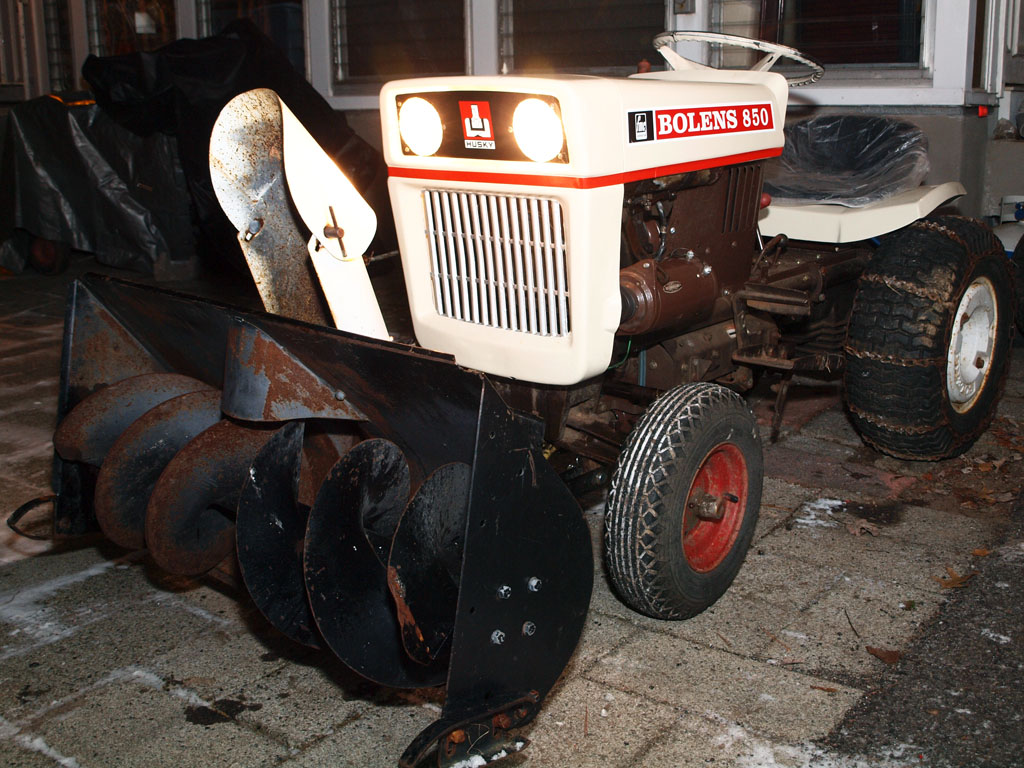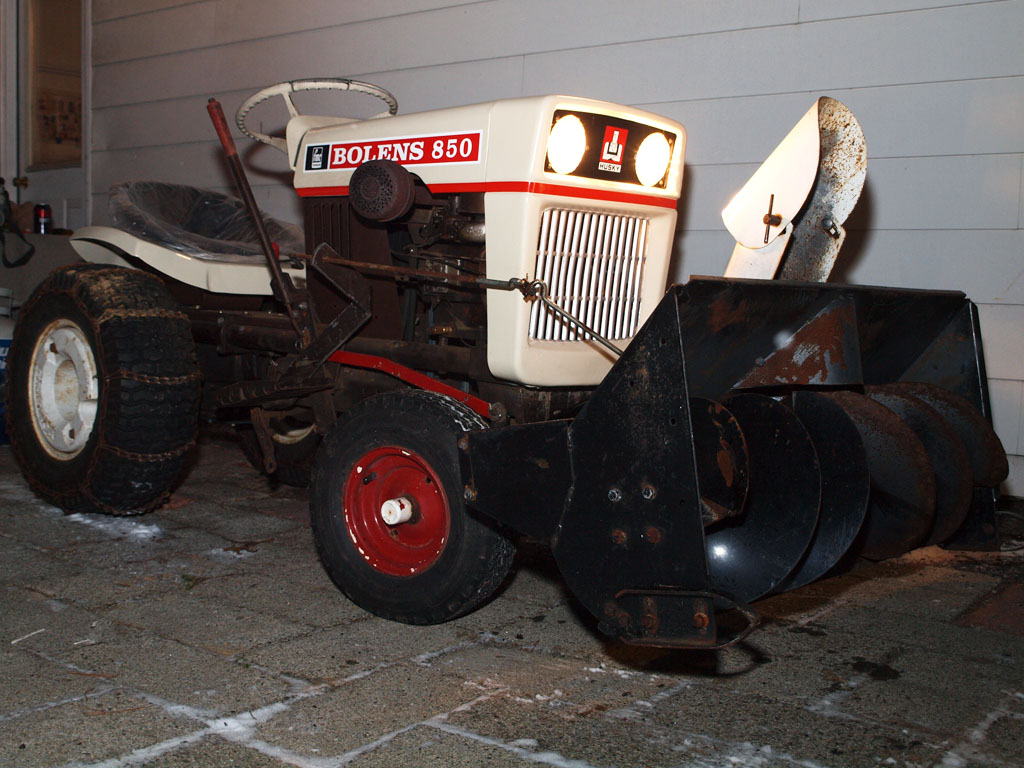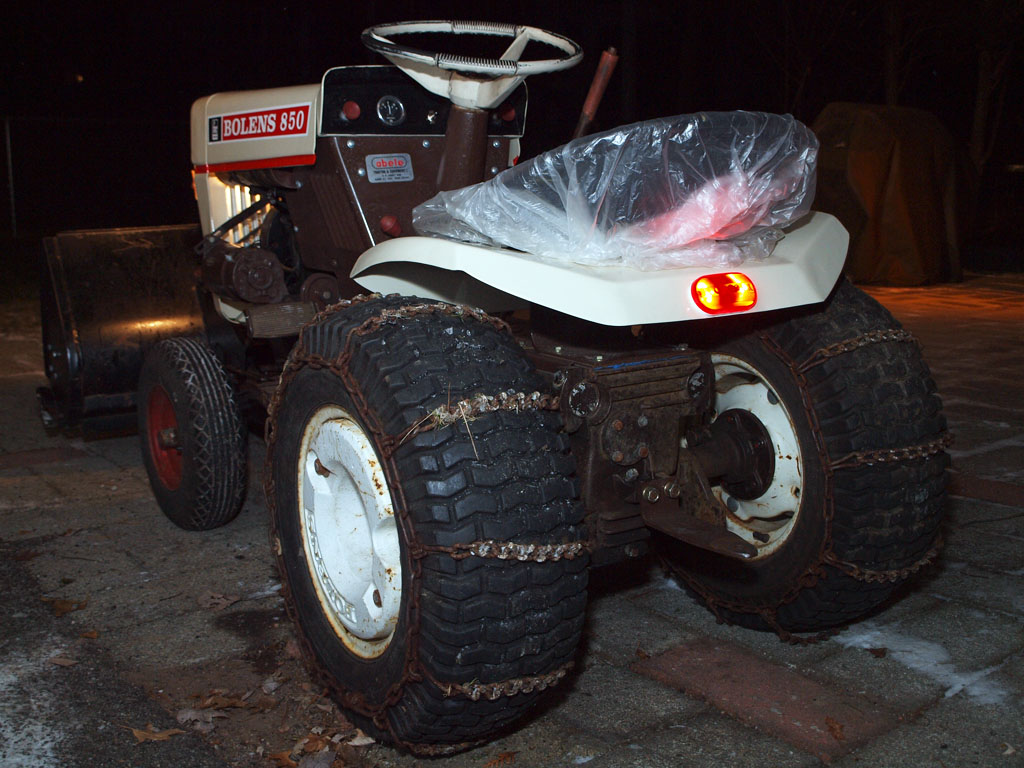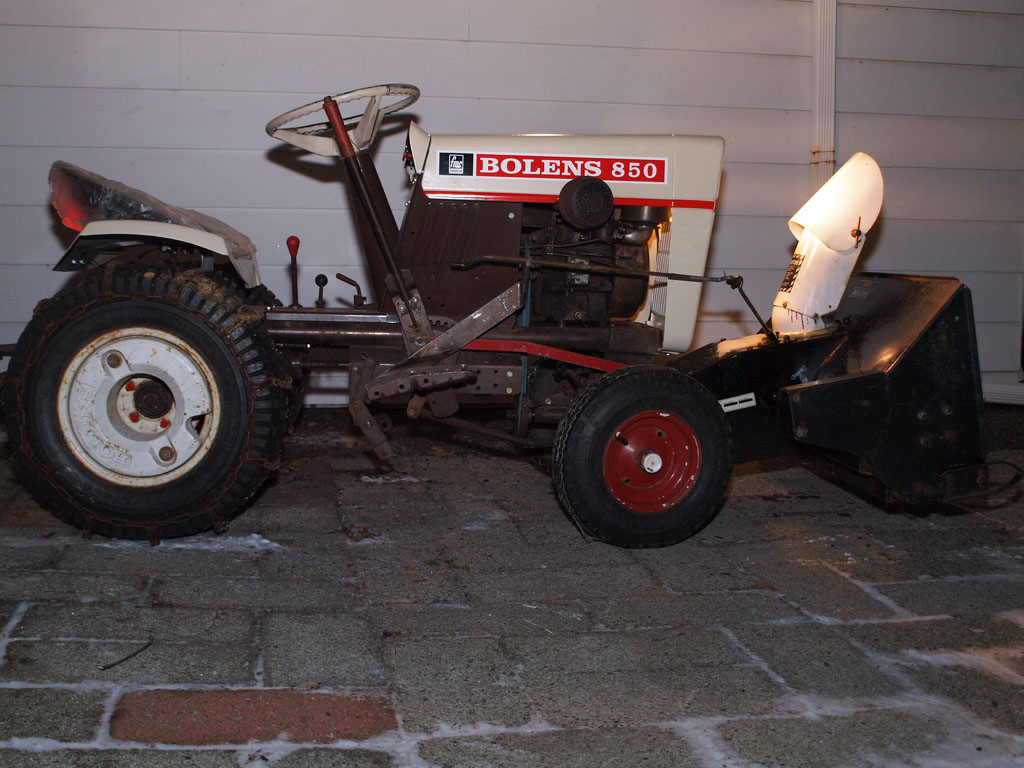 By 6-7pm Wednesday night, the Bolens was finally all ready for the white stuff to start falling! Which was just in time since it started snowing in Albany by about 7:30pm! I was up at 6:00am Thursday morning to clear off the driveway so the girlfriend could get to work and so I could get started snowblowing the front lawn (...wait for it, all will be revealed soon...). Why did I have to snowblow the front lawn, do you ask? So, I could get to my trailer and hook it up to the truck so I could take my show on the road to make a few bucks! Once I had our driveway snowblowed decently enough, I loaded it all up onto the trailer to head out...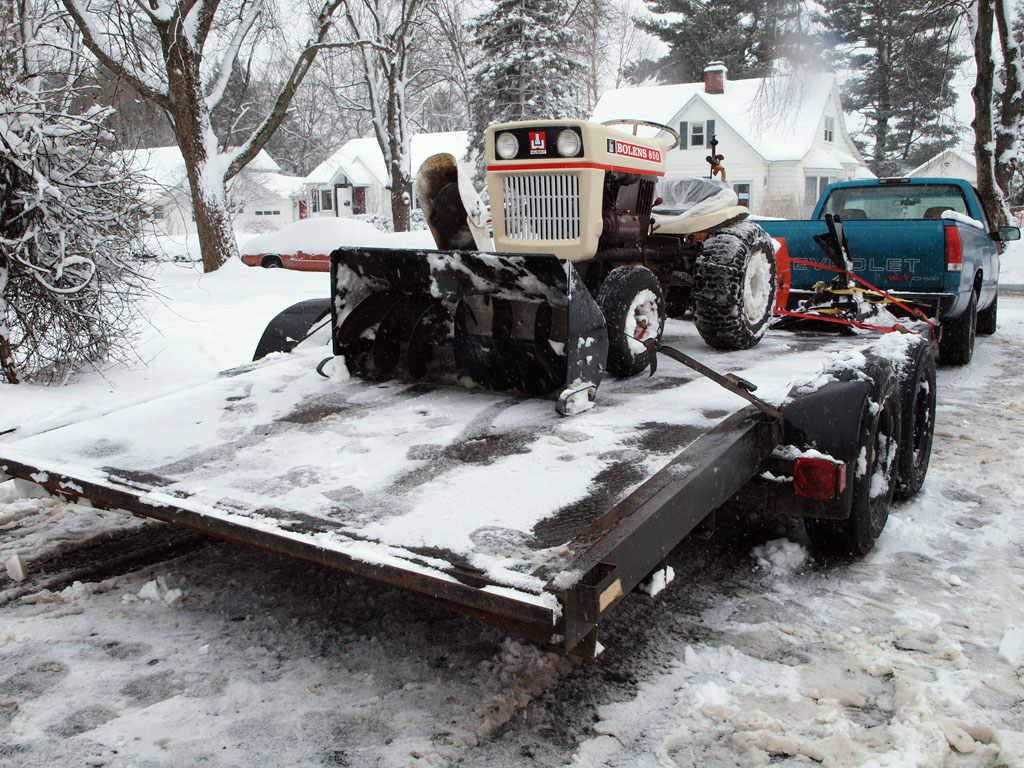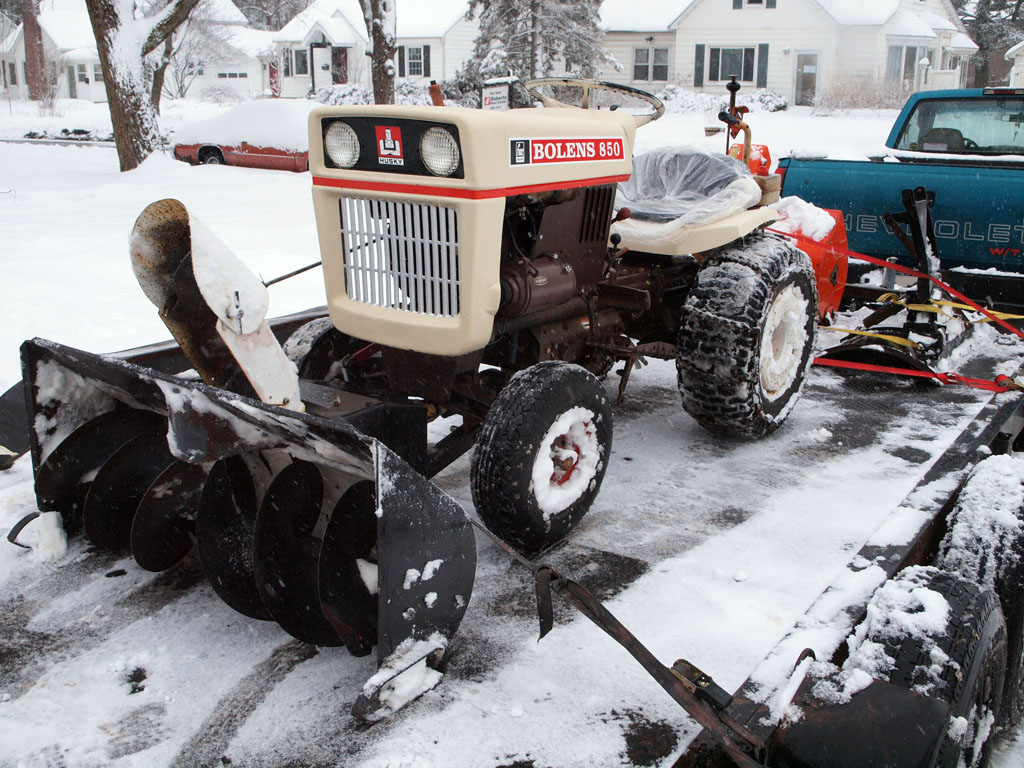 I also have the trusty late 1960's to early 1970's Ariens Sno-Thro on there as a back-up and for snowblowing walkways and sidewalks...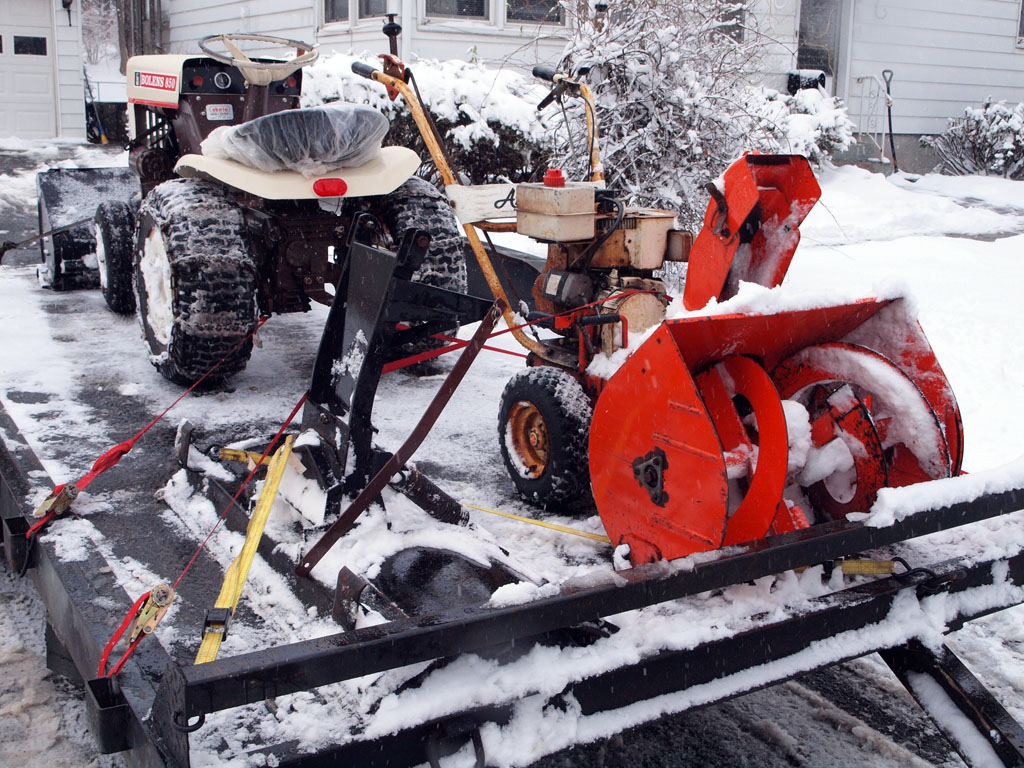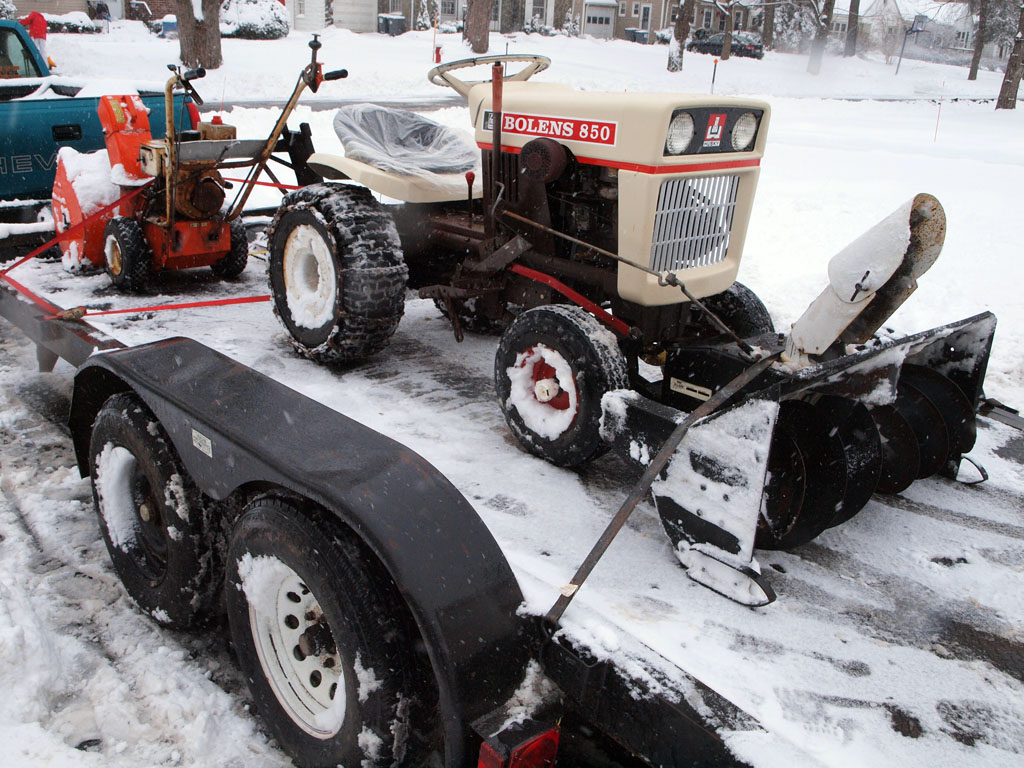 It was definitely a rough day as I was working from 6:30am until about 9:00pm snowblowing driveways. Thankfully I installed those headlights on my Bolens 850 as I was using them a lot while snowblowing! I made about $150 or so in one day thanks to the snow. So, I'm only about another $100 off from paying off the cost of buying all the snow-removal equipment for my tractor this year! Not too bad, I'd say... It still took a bit longer than I thought to clear driveways with my tractor, but it was also a pretty heavy, wet snow and my poor tractor was struggling to throw it at times. I could have done more in a day if the snow was light and fluffy. Maybe a few more snowfalls this year and I'll have it all paid off!
Edited by MailmAn, December 28, 2012 - 06:04 PM.