.
Well, as I had referenced in an earlier post (here:
http://gardentractor...s-past-weekend/
), I recently obtained an Estate Keeper to work on over the winter to hopefully get running by the time spring rolls around so I can mow some lawns with it. For the time being (as my girlfriend wants her garage back so she can park her car for the winter, go figure...) I had to park the EK-10 elsewhere, so it is stuffed in the corner of someone else's garage who was nice enough to let me keep it there for the winter, so long as it is kept out of the way enough. However, I have not had a lot of time to work on it as of yet and I have spent a lot of time recently trying to finish up my Bolens 850 project. But, with that project hopefully out of the way for now, maybe I can turn some attention towards the Estate Keeper.
I did get some preliminary things done on it since I dragged it off of the trailer and parked it. For one, I managed to wrestle the mower deck off of the front of the Estate Keeper. This was a bit of a project just because one of the previous owners bolted on the deck hanger frame instead of using clevis pins. I managed to get some of the bolts off, but one was being a real pain and it wouldn't budge. I'm not sure if it was just rusted good or if someone used lock-tite to put it together, but it wouldn't budge. Still, I manhandled the deck off and got it out of the way for now so I could get at some other parts of the Estate Keeper.
Another area that needed attention badly were the tires as the ones that were on it were pretty shot. 3 out of the 4 tires on it would not hold any air at all and all of the tread was pretty worn off on them all. The fronts were the original Firestone tires that Bolens put on at the factory, so they were very old. The rear tires were cheapie 2-ply Carlisle tires that were junk when they were new. So, I jacked up the Estate Keeper, thew some cinder-blocks under the frame, and pulled all 4 wheels off of it. I had been looking into buying new wheels for it to mount the new tires on, but I was worried about those front wheels most of all. The rear wheels look like just regular 4-bolt golf cart type wheels, so I thought those should be easier to find new. However, the front wheels looked much different and like they would be harder to find. So, I called around and got some prices on sandblasting and powdercoating the old wheels I had and decided to go that route. I found one that didn't sound too bad price-wise, so I took the wheels over to be blasted and coated.
Besides that, I also managed to get the seized ignition switch out as well as the light switch (which was a bit more of a pain as the lock ring didn't want to uncrew nicely). I haven't installed the new switch I bought on eBay yet though as there are a few other things that need attention first. A lot of the wiring looked pretty hacked together for some reason. Not sure if a lot of the OEM wiring on these were known for rotting out or corroding or if people just randomly cut out wiring and badly spliced in new wires for some reason, but I was thinking I should probably get the wiring sorted out a bit better than it is now. The battery is also in need of replacement. I was hoping maybe I could get away with just charging it, but it is in such bad shape that the battery charger won't even attempt to charge it as there is so little voltage left in it. So, a new battery is in order as well before I can even try turning it over to test the engine. I'm hoping that the starter solenoid and voltage regulator are good in it so I won't have to replace those.
Here is the rest of the short-list of things I desperately need to fix and/or check on this so that I can hopefully get it working:
Check and/or replace points.
Check and clean/rebuild carb (if needed).
Install throttle cable (it is missing).
Fix choke cable. (Choke cable is currently hooked up to throttle.)
Replace battery.
Properly install Starter/Generator. (See photos, lol!)
Replace missing Free-Wheel handle on left rear axle (so I can push EK around).
Possibly replace entire wiring harness?
Install new ignition switch.
Mount new tires on resurfaced wheels and install them on EK.
Install new seat on seat spring bracket.
Repair or replace PTO lever. (Not a necessity, but it would be nice.)
Hopefully I will get the wheels back sometime after Christmas when they are finished. I just hope they don't take too long or cost too much money in the end! The tires I ordered are already in, so that is a problem since the wheels aren't finished yet. I was hoping to have the wheels done so I can bring them over when I pick up the tires because they said they would mount the tires for me. I got a set of 4 Carlisle 4-ply Turf-Saver tires for the Estate Keeper for around $150. I honestly really liked the look of the Turf-Master tires better, which looked a bit more aggressive and had deeper tread, but they were a lot more money and I couldn't see spending twice the money on those tires for my EK.
Well, that is about it for now. I can update this as events unfold. I'll eventually start tearing the deck apart so I can get that sandblasted and ready to be painted. I'm taking a cue from "restoring" the 850's deck and I'm not short-cutting this deck just to end up with horrible results. I'm going to have this deck professionally sandblasted and either powdercoated or painted the right way and not with crappy TSC rattle-can paint. It may cost me a lot more, but I'll hopefully be a lot hapier with the end result and end up with a deck that will look good and last me a long time.
Here are the pictures of the Estate Keeper right now up on blocks. I also took some photos to highlight some areas that need attention. My good camera's battery died on me when I was over there trying to take photos, so most of these were taken with my cell phone's camera. You can tell the picture quality isn't as good, but hopefully you can still make them out.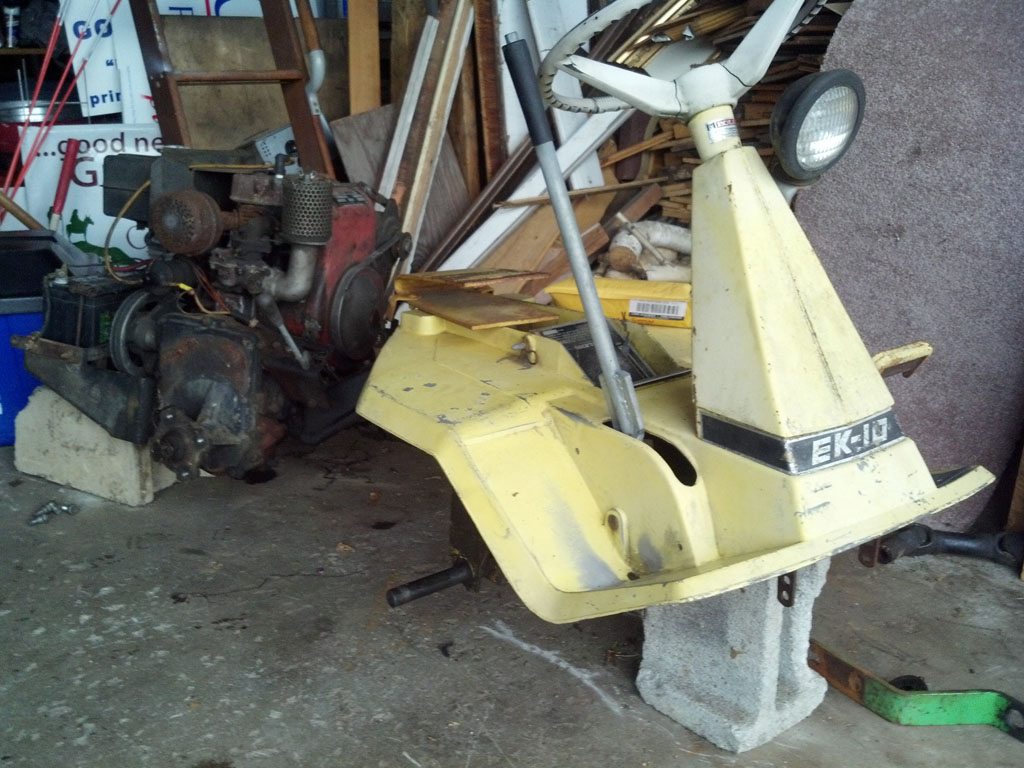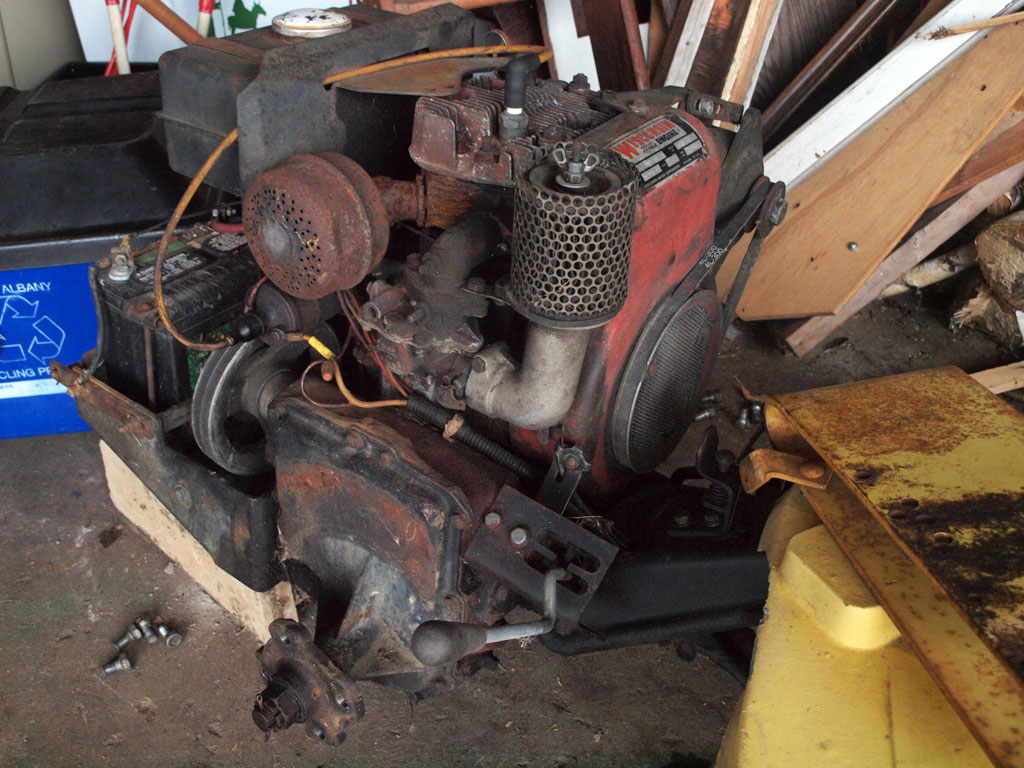 The crappy battery that is in it. Does anyone know what size battery is supposed to be in here? Maybe a part number for a good Interstate or Nationwide battery?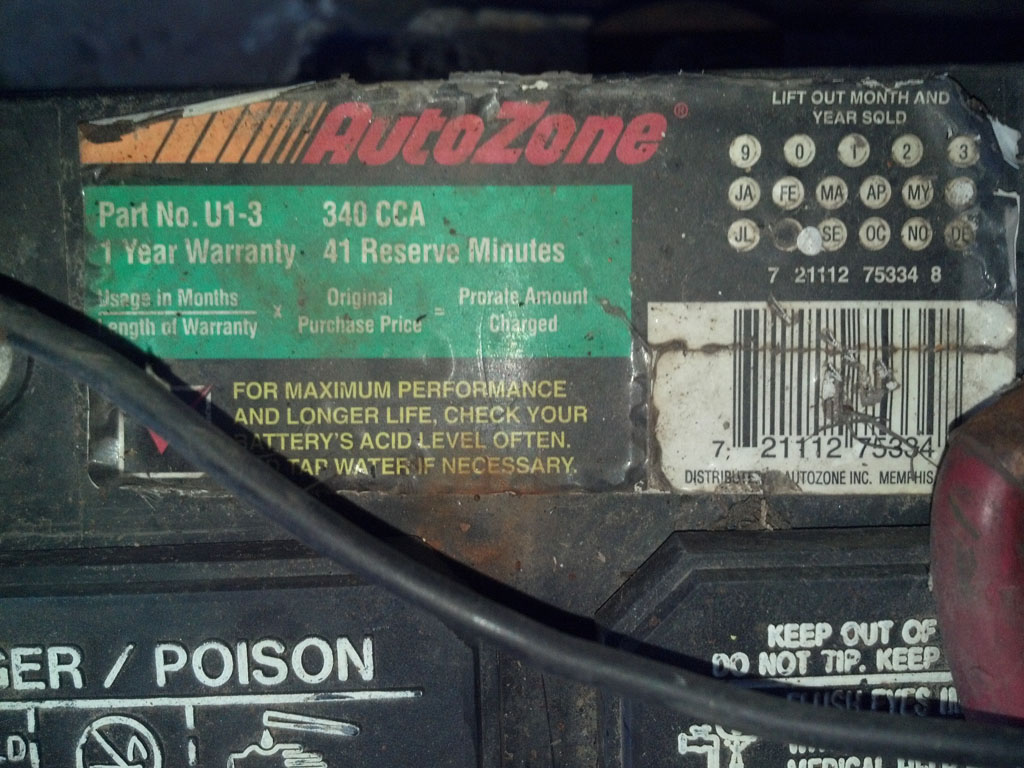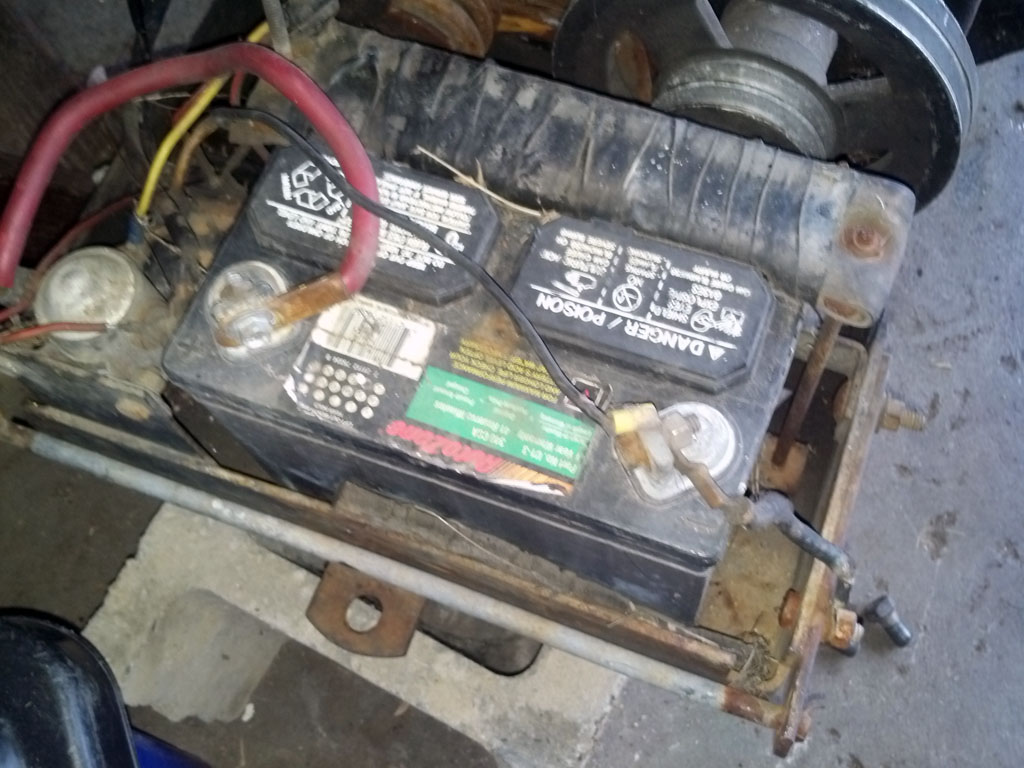 Starter solenoid and voltage regulator: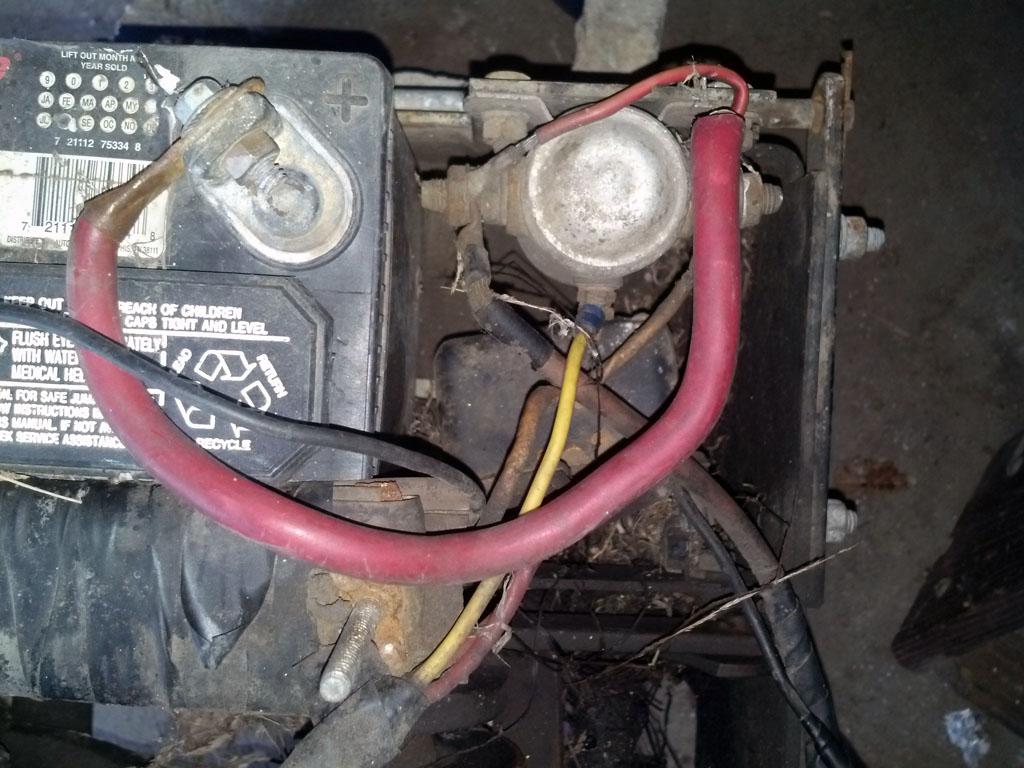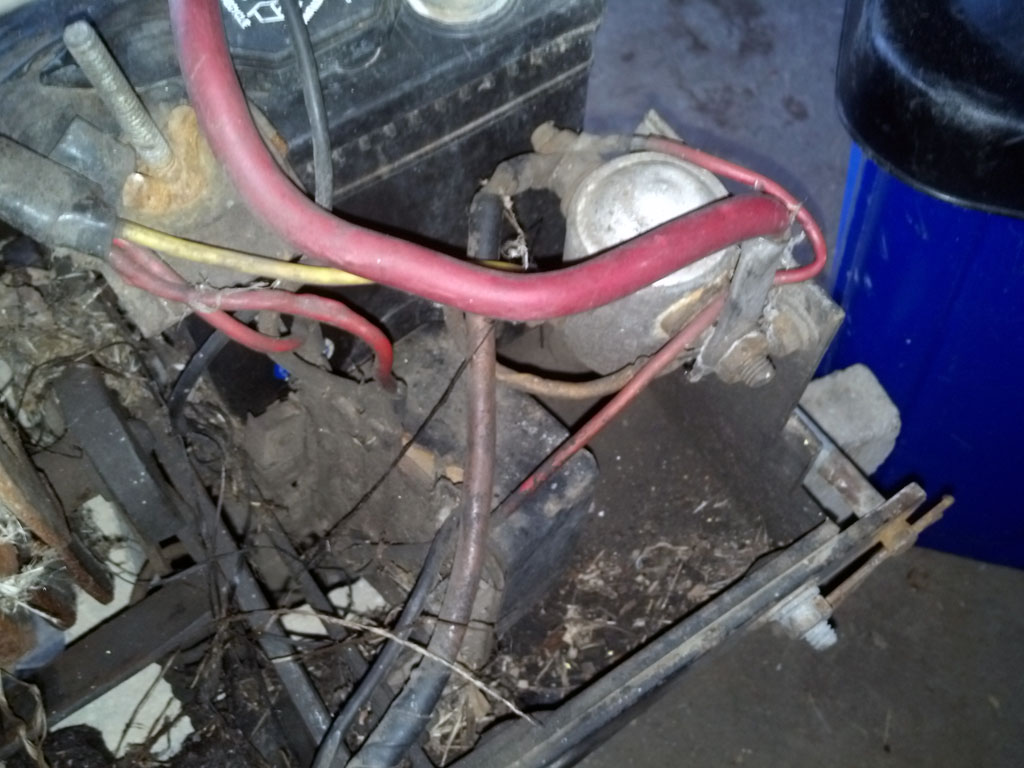 Left rear wheel hub assembly that is missing the Free-Wheel handle: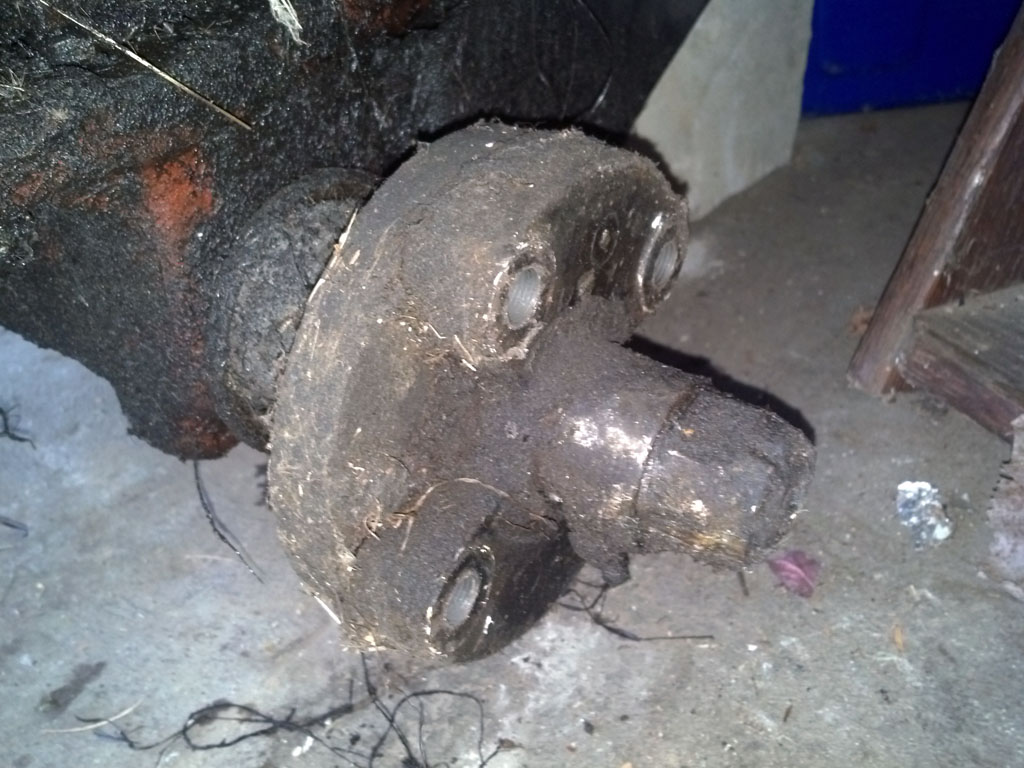 Pretty greasy, grimy, and nasty, eh?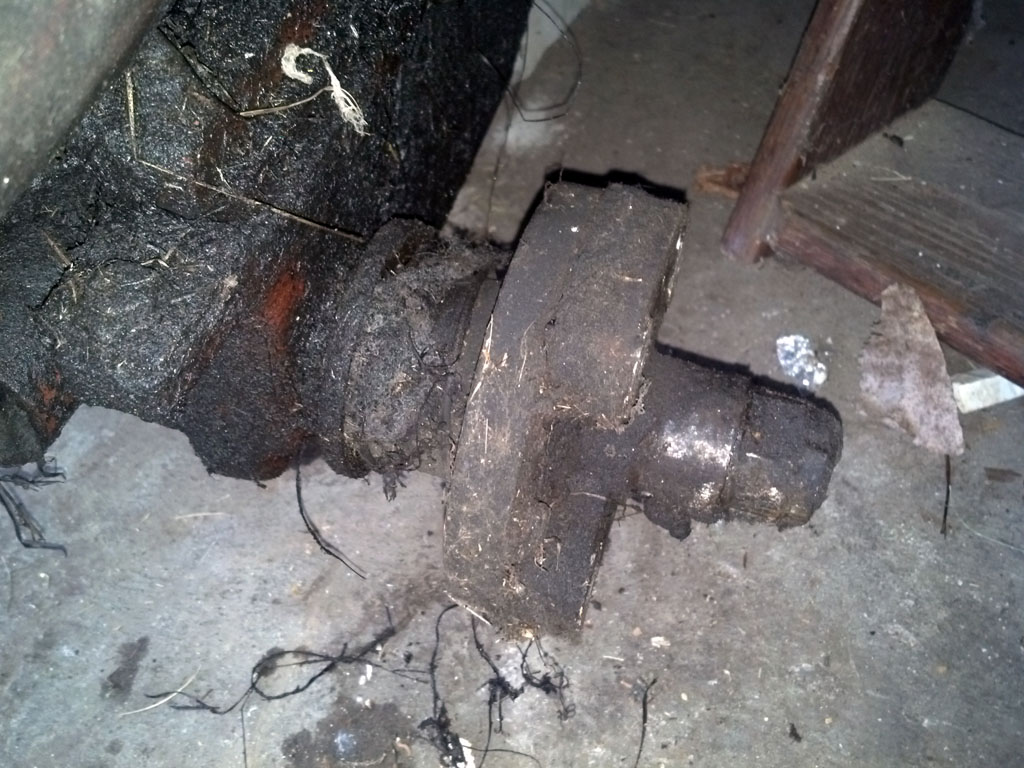 PTO lever that is missing the top handle part: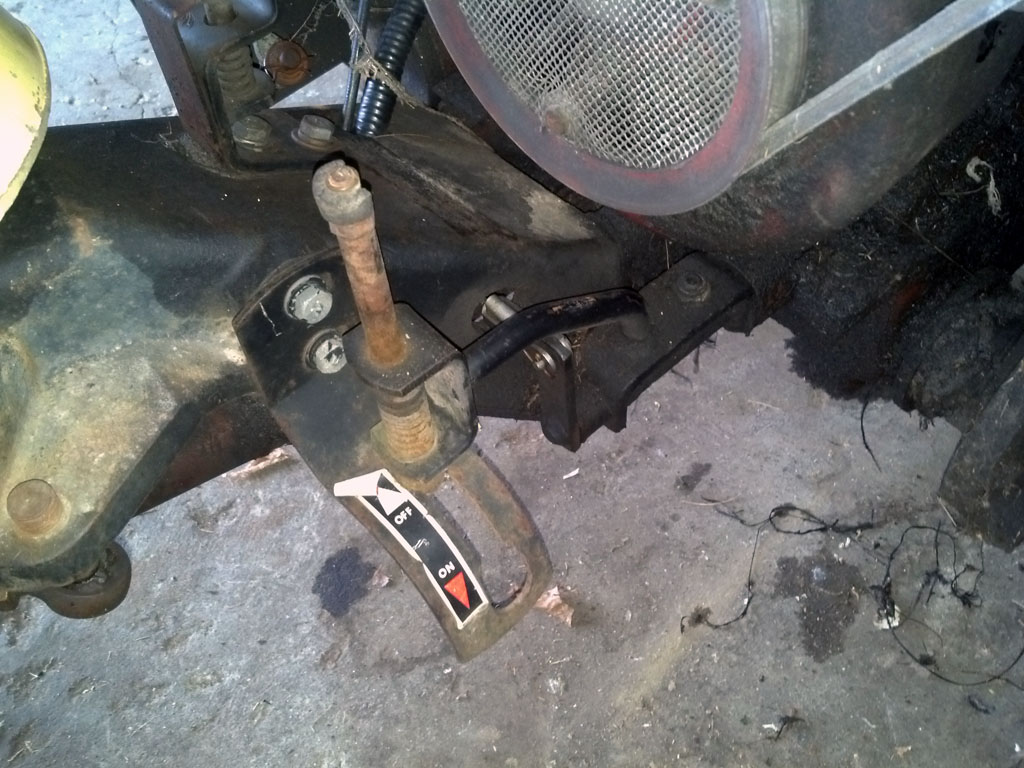 Gotta love how they "mounted" the Starter/Generator, right?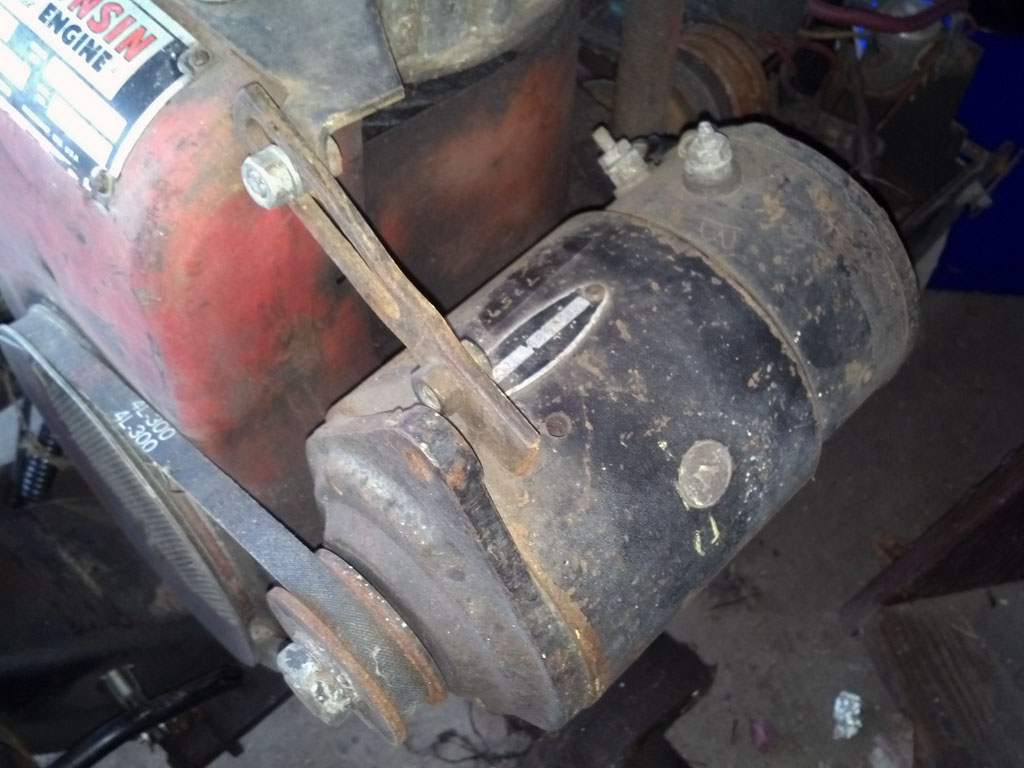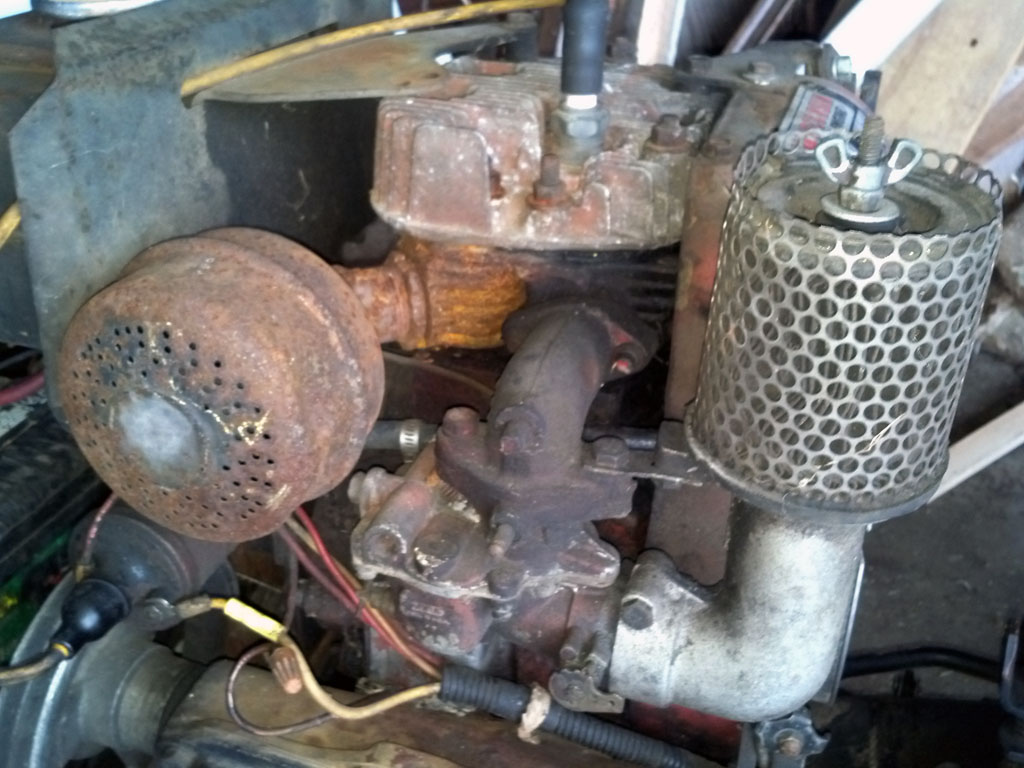 Close-up of some more hacked-together wiring, the points cover, and in the background the throttle/governor linkage which looks, umm... ???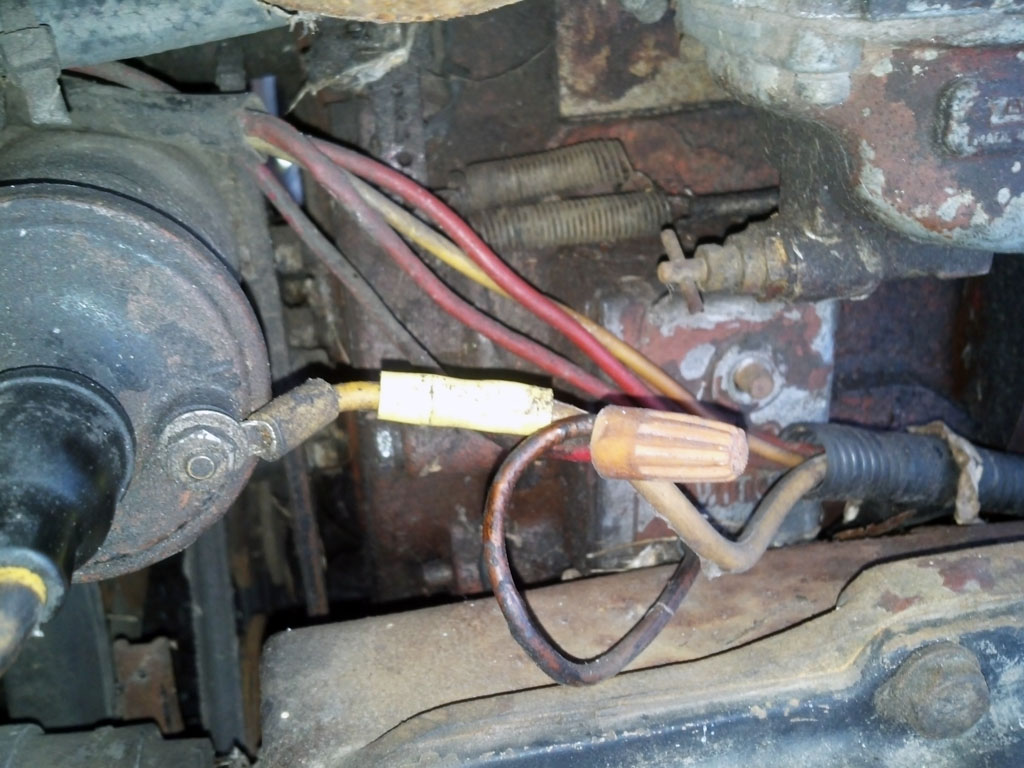 The choke cable hooked up to the throttle. Any ideas how this is supposed to look? Does this cable holder hold both the choke and throttle cables normally?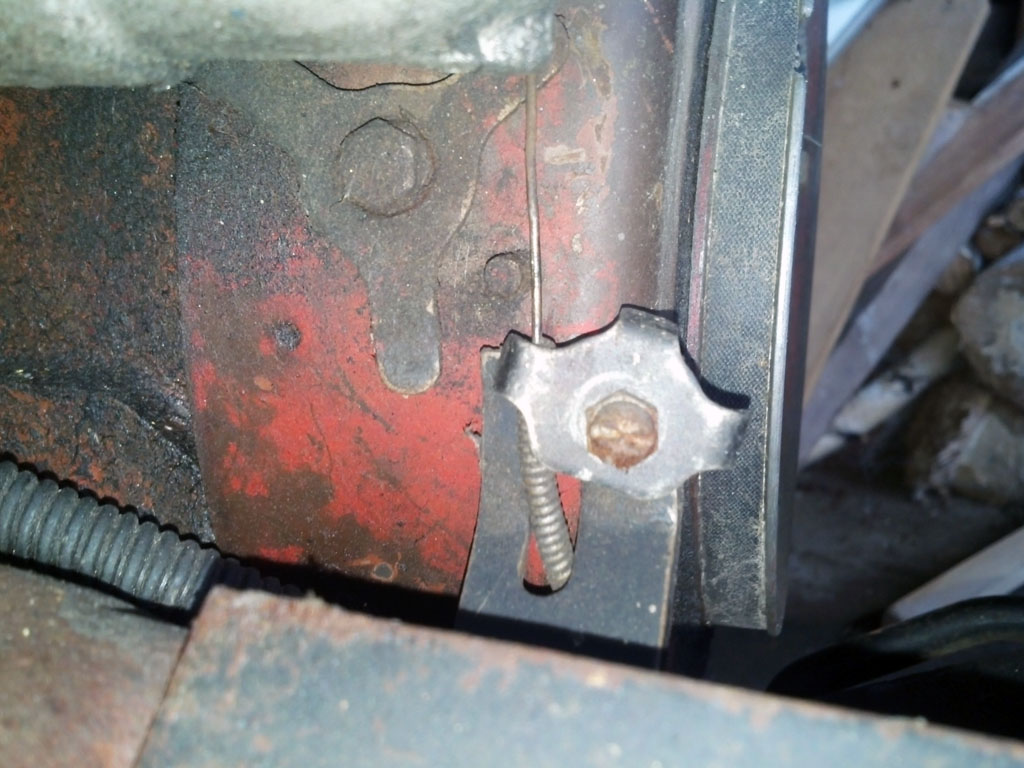 Is this the "brake" on the transaxle input shaft? I know it is hard to see and I can try to get some better pics soon, but it looks like there is no brake pad on this.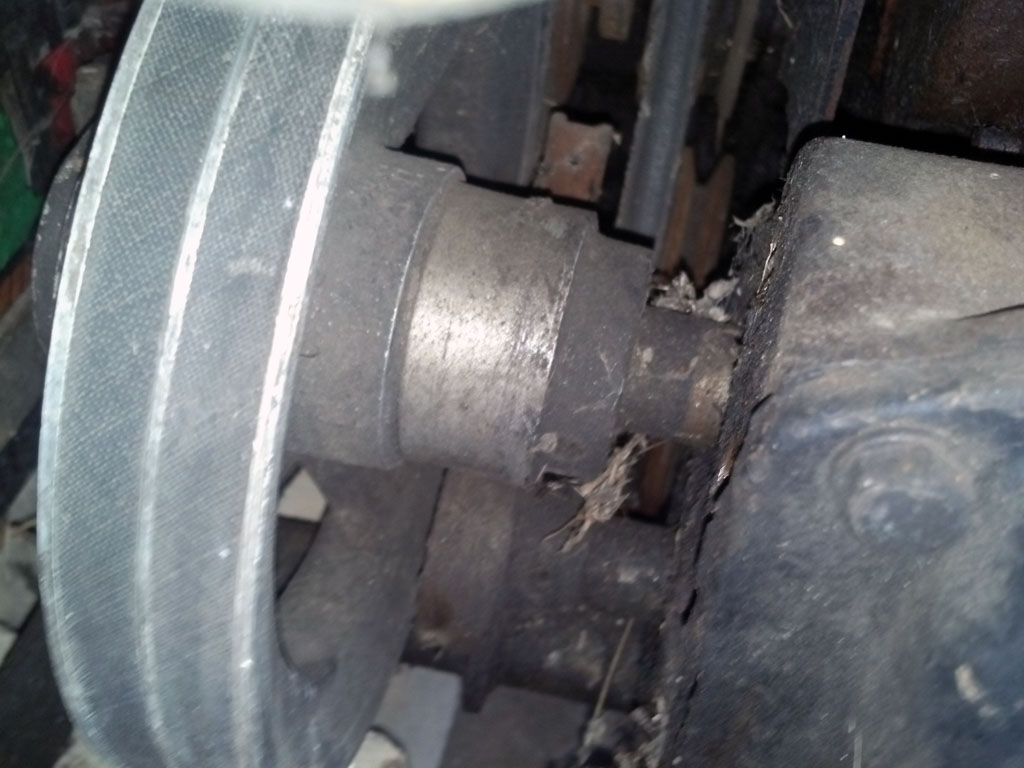 The engine cover definitely needs some work too: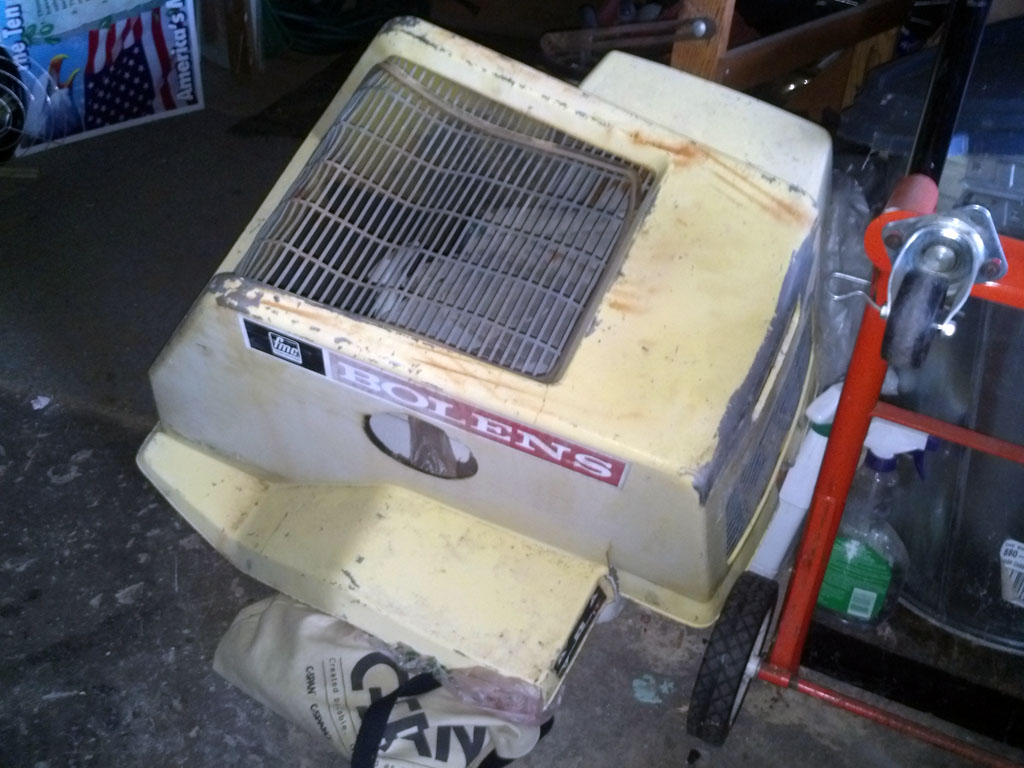 Can this crack in the cover be repaired? Does it have to be TIG welded or something? Someone said maybe I could JB Weld it or something, but IDK how well that would work and someone said it might need to be welded if it is "structural". Since this crack goes all the way to the edge (and not just a small hole in the center of the cover or something), does it have to be welded properly?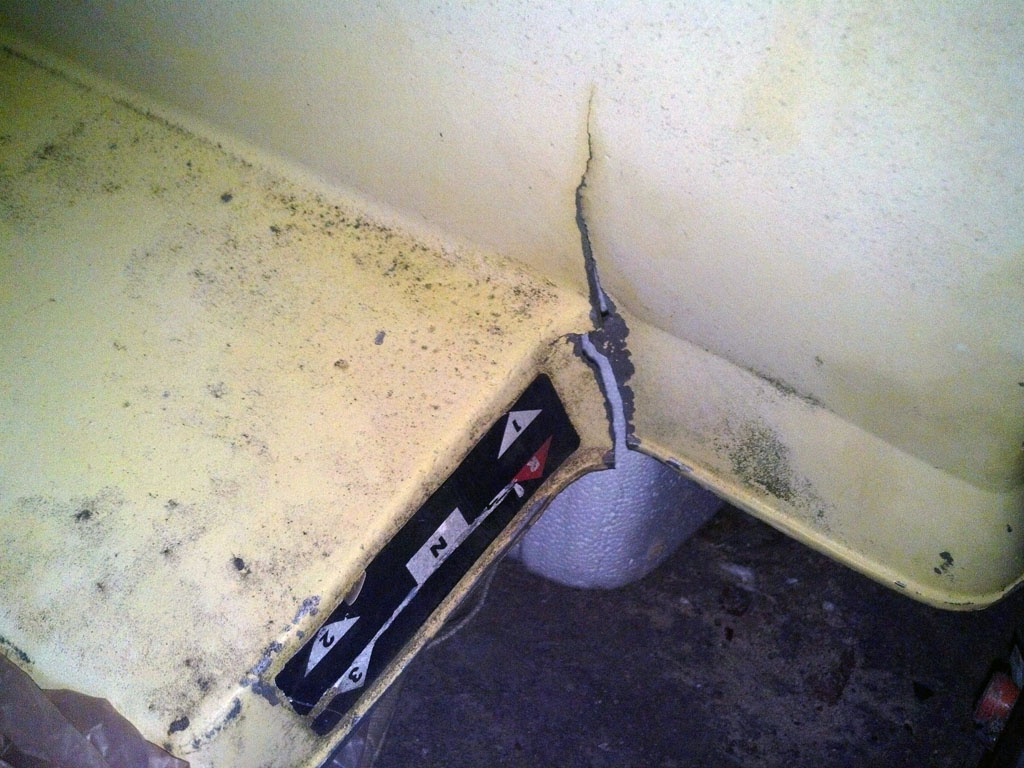 Edited by MailmAn, December 21, 2012 - 02:47 PM.