The Adventures Of My New Hat
Started by
UncleWillie
,
Dec 03, 2012 08:06 PM
5488 replies to this topic
#61
OFFLINE
Posted December 16, 2012 - 02:26 PM
it is a Chevy they run on hopes and dreams and brute force

motobreeder and carissawj69 have said thanks
---
#62
OFFLINE
Posted December 16, 2012 - 06:53 PM
Today was nice and slow and drizzly. I took my time over coffee and email about 12 plopped my hat on my head and moseyed out to the yard.
Yesterday the mailman brought me the knife I had bought and so I tried it out. IT is a Becker BK2 - basically a pry bar with an edge.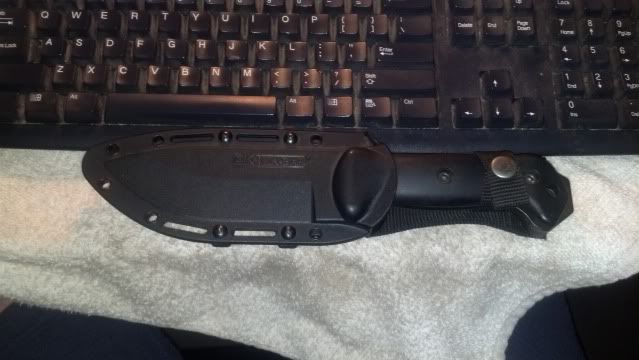 Blade is 1/4 inch thick.
I have broken a good many blades working so I am hoping this monster will hold up to the abuse.
I did find out quick that I did not like the sheath. First time I released the snap on the handle it almost turned upside down dangling on the nylon strap. No good at all.
SO after messing around with the knife for a bit I made a run up to Lowe's and snagged some re-bar to anchor the carport with.
Made my way home and grabbed some more coffee then Steph and I went out to put the anchors in.
When we had 8 of them in Heath woke up and started to throw a fit so I went in and changed him and brought him out. He didn't like the hammering so we took a break and just sat under the carport for a while and watched it rain.
When the rain slacked up we went down the hill and loaded some small scrap metal pieces up to go to the scrap yard tomorrow, then Steph and Heath went inside and I finished up the anchors.
All the time I was thinking about how I could make this sheath more usable. I got online and started looking at sheaths and people wanted $90 or more for them. That is more than I paid for the knife. SO I kept thinking it over and finally came up with a workable solution.
I took the belt loop off the sheath and turned it inside out and summoned my inner Betsy Ross and sewed it together below the clip. Once I put it back together it looks like it will work well enough.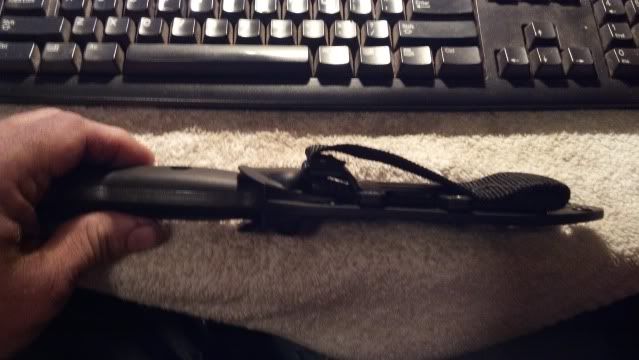 ---
#63
OFFLINE
Posted December 16, 2012 - 07:12 PM
If you mod doesn't work for the Knife you might want to check out these
folks
. I have been dealing with them for a while with my Bike accessory's. They have made me some custom stuff at very reasonable prices.
I've been thinking about putting one of those carports up for some time. How does the anchor system work? We have a gravel drive and parking area.
---
#64
OFFLINE
Posted December 16, 2012 - 07:19 PM
I just took 4 foot long pieces of 1/2 inch rebar and hammered it thru the holes in the frame into the hard red clay. Should take a F5 tornado to pull it up..

HDWildBill said thank you
---
#65
OFFLINE
Posted December 17, 2012 - 07:08 PM
Well this morning started with a wake up call from Ma Bell. A woman who called me Friday about a scrap car was calling to confirm that I was still coming.

Me: Hello
Caller: Mr. Right?
Me: This is Mr. White.
Caller: Mr. Right we talked about the car on Friday, are you still coming to get it?
Me: Yes I am.
Caller: Ok, Mr. Right.

Well she never did figure out what my name was. My ad and business card both say William White and White's Scrap Metal. My voice mail says William White. Oh well.


So after a pot of coffee and email, my hat found it's way to my head, we wandered out into the soggy rainy yard and got to loading up some more misc junk on the trailer. Loaded up in the truck and headed off to the scrap yard.

Once there we came across a wonderful family unloading aluminum cans. I think the cans were smarter. The guy wanted the bags his cans were in back. The woman kept yelling at him that he didn't need them. And everyone else was tied up waiting for the circus family to get finished.

Finally we got our mounds of cash and headed home for a 2 hour break between jobs.

Ring ring – I recognize the number
Me: William White (emphasis on the WH)
Caller: Mr Right I am just calling to make sure you are still on schedule.
Me: Yes, I am.
Caller: OK, Mr. Right I will see you.

So we made our way up to Mooresville, NC. Not a fun job anywhere near rush hour. It took 30 minutes to get to Mooresville and 30 minutes to make it 8 miles across town.

Just outside the apartment complex the gal lived at there was a sign at the peak of a hill that said road hump. What it should have said was cranium shattering, axle bending, spine snapping lump of one foot tall pavement in the middle of the road. Suddenly I understood "Mr. Right" the girl was brain damaged from driving home. I hit the bump at the posted 15 MPH (only because there wasn't enough notice to slow down more although I stabbed the brake pedal like a madman) and i know that it bounced the truck off the ground. Steph and I both hit the seat belts. Heath never woke up.

Finally got there loaded up, slowly crawled over the speed bump at 5 mph, and then had to head back thru town at the peak of rush hour. 2 ½ hours later we got thru town and on our way home.

No pictures. I was too busy fighting traffic and rain. Tomorrow I have a 94 Buick Century to gut and crush.

WNYTractorTinkerer said thank you
---
#66
OFFLINE
Posted December 17, 2012 - 08:56 PM
They recently installed a couple of those "forward motion deterrents" near us too. My poor little Honda scraped when we went over them. That's ridiculous! Glad that you made it home safely and I feel for you with the 2 1/2 hours in traffic!

---
#67
OFFLINE
Posted December 18, 2012 - 05:38 PM
Started out with a beautiful morning to tear a car apart. SO I got my morning routine out of the way – coffee extra strong – and told the wife to get ready to go out.
Around 10 AM, with my hat firmly on my head, we hit the ground running getting the 94 Buick Century gutted and ready to go to the scrap yard.
Steph hard at work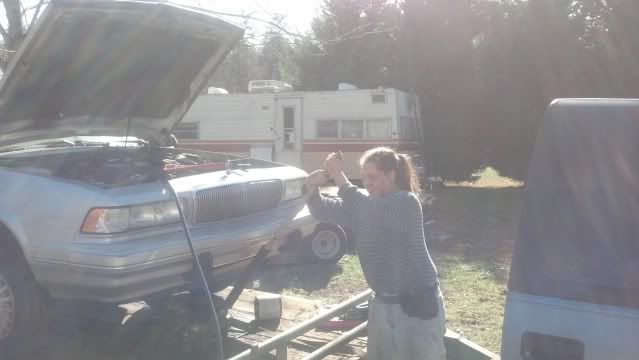 First the battery came out, then the radiator and AC condenser. Then it got jacked up so I could cut off the catalytic converter. Since my sawzall took a dump on me about a month ago I grabbed the Harbor Freight angle grinder I bought about 2 months ago and started cutting. Halfway through one side of the exhaust pipe and all the magic smoke came out of the grinder and it died.
I rounded up my collection of broken angle grinders in hopes of making one that ran and no luck. Every stinking of them is different. Oh well. So I got to looking for a hacksaw. No joy.
Found lots of blades but no frame. I thought I remembered that Steph put another broken grinder in the camper when stuff got shuffled around about a year back. So I looked and sure enough there was a grinder. Right next to it was a Black and Decker Firestorm recip saw. I have never seen ti before and I have no idea where it came from. She had no idea either. I called a friend of mine who I know had one like it to see if it was his, but I haven't heard back from him.
SO the mystery saw got put to use cutting off the cat and then we yanked off the front tires and put the front of the Buford on blocks and jacked up the rear. While Steph was getting the back of the car picked up I started rounding up little stuff that got missed in the last scrap run and tossed it into the trunk. Completely filled the truck up with junk.
Also filled up most of the interior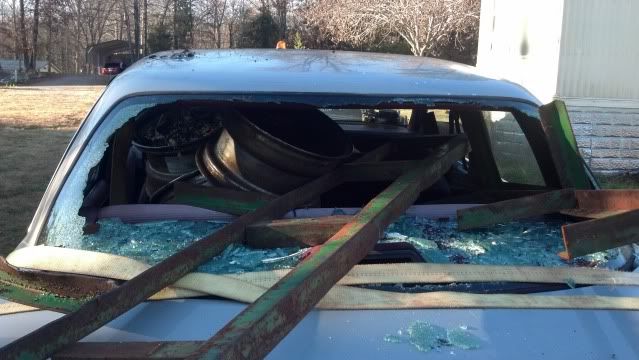 Once it was up in the air I knocked a hole in the tank and Steph monitored the "High Tech Redneck Tank Draining Rig"( patent pending, all rights reserved, trademark of my junk inc LLC ABC IOU BYOB, use at your own risk, keep away from open flame) and I went around behind the shed and installed a tractor fuel tank on the $50 generator.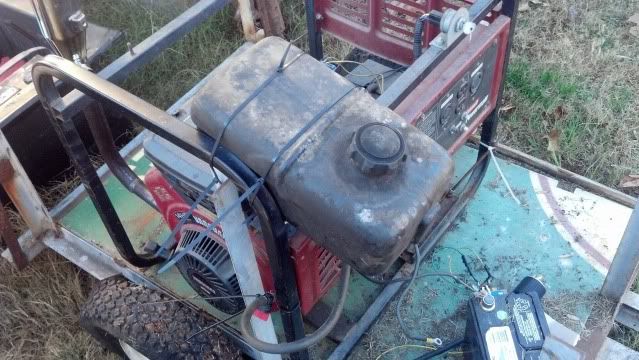 Then I fired it up and powered up my free antique BIRD 33 meat saw.
And proceeded to slice up radiators.
A side note: I don't let anyone but myself use the saw because it is not designed for metal cutting and occasionally you have to give the top pulley on the saw a spin to get it through a rough spot. It still has the meat cutting blade it came with and does a good job through aluminum and copper. It will not cut steel. So and steel cuts have to be done with a sawzall before using the bandsaw. IF you have ever spent a day cutting up radiators you will understand why I use the old Bird and not the sawzall to cut them. Even though the paperwork that was crammed in the saw said, "Warning do not cut metal with this saw or you will die a horrible death and all your houseplants will die" or something to that effect. I got it from a deer processing place that got a new saw because this one "didn't work" - works fine for me.
Once all the radiators were cut up they were loaded on the trailer and tied down along with a seized up Briggs
Buford got tied down
Then Carmel and I went for a ride to my buddy's tire place to get the tires off the aluminum rims and sell him the good tires.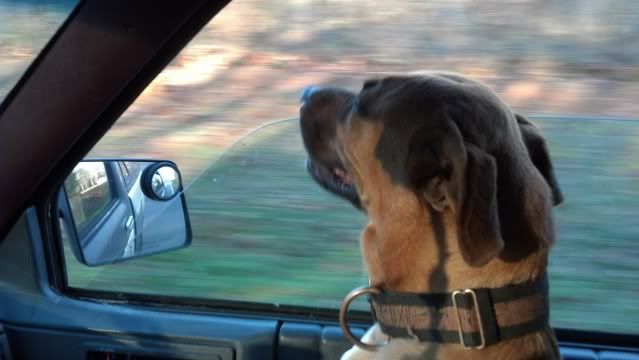 Then came home to find these guys waiting for us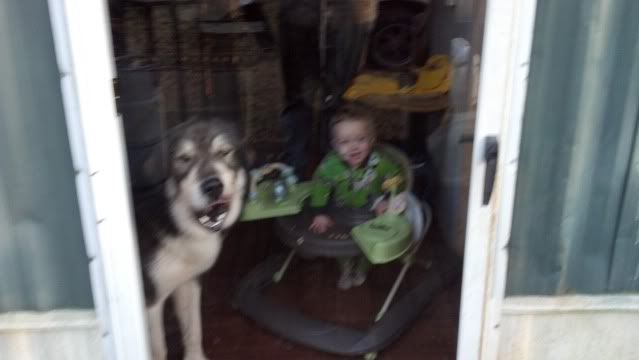 Somehow Diesel always manages to look retarded in every picture. Possible because he is.
KennyP, marlboro180 and WNYTractorTinkerer have said thanks
---
#68
OFFLINE
Posted December 18, 2012 - 05:49 PM
Looks like you had a long productive day today. How did you ever get all that done without your supervisor our there supervising???
---
#69
OFFLINE
Posted December 18, 2012 - 05:58 PM
Looks like you had a long productive day today. How did you ever get all that done without your supervisor our there supervising???

Now you know how I got away with running the saw.
Oh I forgot we also got a free George Strait CD out of the junk car.
---
#70
OFFLINE
Posted December 18, 2012 - 09:18 PM
Wow, looks like you had a real busy day
. How do you cut up a radiator? I usually just bend the tabs back that hold the plastic tanks on and slide them out. Or didn't those have plastic tanks?
---
#71
ONLINE
Posted December 19, 2012 - 07:06 AM
I'm just wondering WHY you cut up a radiator?

---
#72
OFFLINE
Posted December 19, 2012 - 07:35 AM
To answer both questions. I cut the radiator tanks off just inside the aluminum part. It leaves a bit of aluminum on the plastic tanks but not enough to worry about. I toss the tanks in whatever car happens to be headed to the crusher.

As to the why - MONEY. For scrap the complete radiator is worth $.30/lb a clean one is worth $.55/LB. IT took me maybe a half a gallon of gas (that came out of the car i scrapped) to run the generator for the maybe 30 minutes it took to cut up the 25 or so I had stacked up. Worth it.

KennyP, LTD and backwoods have said thanks
---
#73
ONLINE
Posted December 19, 2012 - 10:20 AM
GOT IT! I hadn't realized there was that much difference in the scrap prices, though I knew there was some. So if I'm going to scrap an electric motor, it would be worth it to rip it apart?

---
#74
OFFLINE
Posted December 19, 2012 - 10:29 AM
I have a friend who does scrap and that's what he does, one day week him and his son get out and clean all the metal to sell. I also didn't realize there was such a difference in price. I thought he did it because the scrap yard would not take it other wise.

---
#75
OFFLINE
Posted December 19, 2012 - 06:17 PM
Holy Carp
What a long day.
This morning at 3 my little eyes popped open and I said no nononononononono and they said yes yes yesyesyesyes and they won. So at 345 I staggered into the kitchen to start my first coffee IV of the day. I sat in my office and watched some stupid vampire/zombie movie that I don't remember anything about. And next thing I knew a whole pot of coffee had evaporated so I made another. And wouldn't you know it that one evaporated too so I made another one and poured it in my thermos.
At 8 Steph and Heath were up and the sun had taken care of most of the frost so I went outside and startled the Hemorhoid to life and went off to the weeds in search of more stuff to cram in the Buick before it got smashed.
I found a pile of old jumper cables that have been snagged out of scrap cars and a few other odds and ends.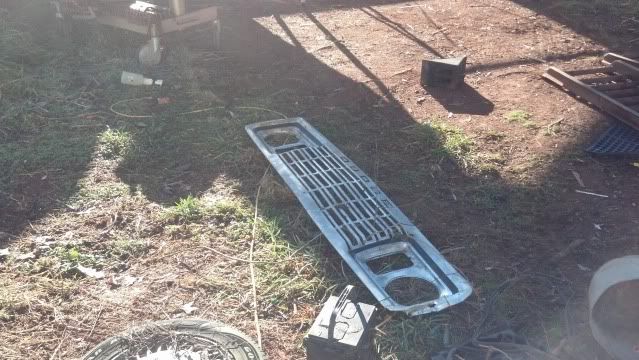 also found some old flexible conduit that had wiring in it that has been around forever.
It all got cut up stripped and added to the pile.
At 11 Heath went down for a nap ( or so we thought) and Steph came out to help me finish up the destruction.
At noon I got a call from a guy wanting us to meet him at 2 so Heath came out of his crib and we headed off to the scrap yard.
Had a quick lunch with the boss at our favorite diner. I don't think he is happy with my performance from the look on his face. I may not be getting a Christmas bonus.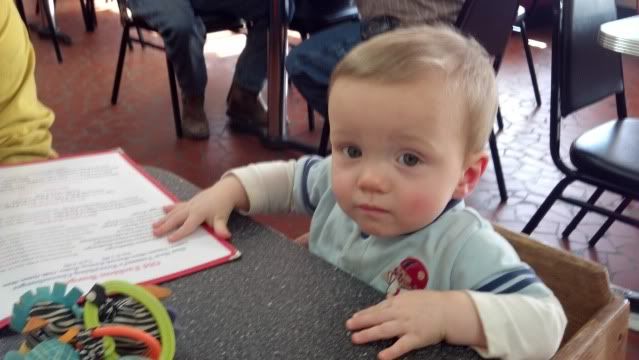 Then we hustled out to a golf course that went bankrupt and looked at the pile of junk he had there. After Christmas I am going to get a whole bunch of golf cart parts, trailers, electric motors and whatever else he finds. Should be interesting to sort through.
Then we made our way to Charlotte to sell the catalytic converters and came back just in time to barely be in front of rush hour traffic.
At one stop light there was a woman who was not paying attention to the light next to us. Every time I let off the brake she started to move. If it wouldn't have caused a wreck I would have gunned the engine then jumped back on the brake. I bet she would have run the light.
Any way, we are back home now. Steph had to make a quick run to the store because I was too tired to stop. Heath is here with me. I noticed he went into the living room then got very quiet. I crept around the corner and found this.
Pink Panther is on.
---
---