The Adventures Of My New Hat
Started by
UncleWillie
,
Dec 03, 2012 08:06 PM
5489 replies to this topic
Posted April 25, 2013 - 04:25 PM
Sounds like a hectic day! You don't often get to see a tractor standing on it's nose!
---
Posted April 25, 2013 - 08:27 PM
Not bad for a Monday.

I got a call from a preacher friend of mine that he needed a car moved today. So, once I was able to move around, we met up at a local Baptist college ( that I attended for a short time).

I always get dirty looks from the students now because I have a beard. It is verboten at the college to have a beard. At least I didn't show up smoking a cigar – they would have stoned me in the parking lot.

Didn't take up too long to get the car loaded. Since my back was hurting all I could really do was tell the preacher what to do. After nearly 25 years he still puts up with it.

As we were loading it the gal who owned it showed up. She tried to pay me and I told her to take it up with the preacher. All I was doing was driving.

Got the car back to the preacher house and pucked away in his garage. It needs a new timing belt. Glad I am not having to do it because I couldn't at the moment.

Got back home and Steph left for the store. She called me after she had been gone for about 15 minutes and told me she needed a lug wrench. So I waddled back out to the BlueOx to take her one. I really didn't know what to expect when I got there because I didn't ask.

Got there and the drivers front was loose. It is my fault because I got distracted talking to a neighbor yesterday and didn't double check her work. I take full responsibility for it.

I am very proud that when she realized something was wrong she stopped and got it off the road instead of driving it on. She has at least learned in the past 8 years to stop and find the problem rather than to tear it up worse.

SO with Christine all tightened up I am back home watchign a neat video on YouTube. It is long but pretty cool.
I got stuck watching these videos. Now my Grandson wants me to get some of these and build a mini construction site in the yard..... Actually, I think that is a good idea. Wish those were available here (at a resonable price). Looks fun!
---
Posted April 26, 2013 - 07:01 PM
Good day.
This morning my alarm didn't go off. So when Heath woke up I looked at the clock and realized I needed to run to get to court. SO I grabbed my thermos with yesterdays coffee in it and ran up the road to Newton. Stopped at my buddy's shop to get the receipt that he printed up for me to prove that the trailer lights had been fixed then dashed to the courthouse.
Got there at 9:15 and went in. It was an interesting experience. I have never been in a courtroom where people were so disrespectful. The guys were all wearing hats and everyone was talking. I got on chat and Gerald was on so we talked while I waited.
The clerk of court was gorgeous so at least I had something to look at while I waited. LOL
Gerald wanted a pic so I took one.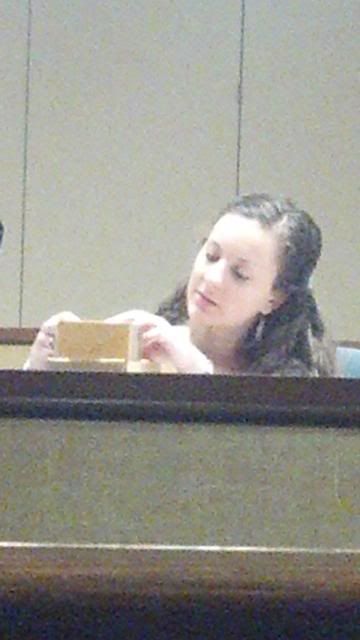 Got the ticket dismissed and then went back to the shop and talked with my buddy for a bit then came home.
I had no plans for the rest of the day so I made some coffee and enjoyed it while I checked online stuff.
Heath had just gone down for a nap so Steph took advantage and took a nap too.
When he woke up she loaded up the trash and then she and Heath left. She was taking him to the park after she went to the dump so I had the day to myself.
I wandered out in the yard looking for something to do and decided to sharpen the blades on the Hemorrhoid. It wasn't cutting grass so much as it was bludgeoning it into submission. Made a quick pass through the tall grass in the field at high speed and it cut beautifully. My back has just quit hurting so I didn't want to mow the yard just yet and hurt it again.
After that I looked around and saw my free Craftsman so I decided to see what was wrong with it. I pulled the tie rod off and found this. Might make a good boomerang.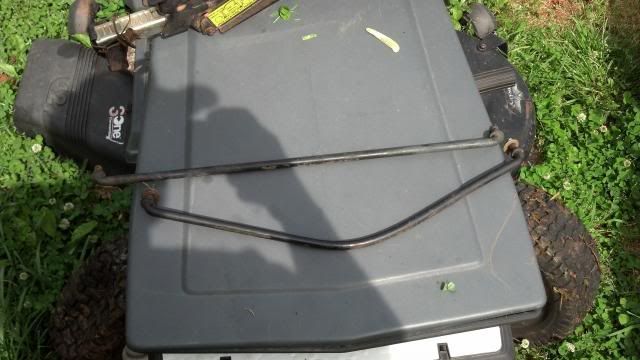 Since I had an identical mower with a locked up rear end I snagged the tie rod off it then pushed my free mower over to my work area.
After filling the carb up with SeaFoam I took a drive to the gas station and filled a gas can. Got home and poured some gas in it then hooked the jumper cables up to the BlueOx and it immediately roared to life.
For a couple of minutes it belched and bucked then finally settled down to a nice idle. I mowed a small area of the yard to determine that everything works and then pulled it over to sharpen the blades.
It will mow 4 inch tall grass wide open without missing a blade of grass. I think it was a good deal. I will buy a battery for it Monday and then list it on CL.
A friend talked me into selling him the SS12 I have had for a while so I got it started and pulled it up on the trailer. It needs the carb cleaned out after sitting so long but it still runs beautifully.
About 6pm Steph and Heath got home and I had her back Christine up to the trailer then we carried the groceries she bought in. Heath was asleep in his car seat the whole time.
Steph hopped in the bed of Christine and we went down the road to Tim's house.
His son was there with the WheelHorse he just bought. I tried to steal it. He threatened to shoot me. LOL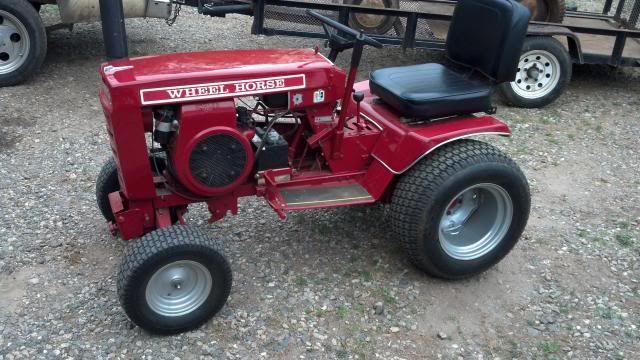 Heath liked it too
After a BS session with everyone there we came home. And now it is supper time. I have no idea what she is cooking.
Heath had a ball at the park
Edited by mybigwarwagon, April 26, 2013 - 07:11 PM.
olcowhand, daytime dave, KennyP and 3 others have said thanks
---
Posted April 26, 2013 - 08:12 PM
Sounds like a good day! That's a nice WH your friend got!
---
Posted April 26, 2013 - 09:11 PM
Sounds like a very good day.
---
Posted April 26, 2013 - 09:44 PM
That Craftsmam will bring a pretty penny if it mows like mine.
---
Posted April 26, 2013 - 09:51 PM
It cut pretty good with dull blades. I am going to cut a bigger section with it tomorrow if it doesn't rain.
---
Posted April 26, 2013 - 10:08 PM
Sure makes Court a lot better when there is some nice eye candy. Thanks for the photo of that one.
backwoods and Team_Green have said thanks
---
Posted April 27, 2013 - 07:37 PM
Nice day.
Heath decided to sleep in so Steph and I laid in the bed and canoodled for a while. When he finally woke up I made coffee and started the day.
I went out and got the free Craftsman started and then got busy mowing. Little thing cut beautifully in 6th gear even though the grass was 4 inches tall.
After cutting the front both sides and part of the back it ran out of gas. That wasz about twice as far as I thought I would get since it has less than half a tank in it. Fortunately it ran out right behind the little trailer so I pulled it up with the winch. Steph brought me some Purple Power and I hosed it down. I had her grab a drain pan and a crescent wrench and drain the oil.
I noticed that when she turned the plug the pipe that had been installed to keep it from draining on the frame was completely loose. I turned it three times by hand before I needed a wrench. Oil leak problem is solved.
After that was tightened up I grabbed the garden hose and sprayed it off. Tomorrow I will take it down to the car wash to give it a good cleaning then I may wax it before I list it for sale. It will make someone with a smaller yard a terrific machine.
When I got back in the house Heath was ready for a nap so Steph put him down. I guess he got all tuckered out running from window to window to watch me.
We decided to have a night out on the town so we got all gussied up and headed to where a friend told me her father in law was opening a fish camp. We couldn't find it.
There is a new restaurant in Lincolnton called the Homesteads Grill and Taphouse so we decided to go there.
It was a mistake.
They had a special for steak and crab cakes so I ordered it. The steak was cooked wrong – I ordered it medium well and got it near burnt – and it was tiny. Steph could have covered it with the palm of her hand. We were not impressed. Won't be going back. I did enjoy the company though. The three of us had a ball eating and playing with Heaths cars on the table.
After that we went on a shopping spree to WallyWorld. Heath got shoes and two Hotwheels trucks. I got some new undies and Steph got some Whoppers.
All in all it was a big night out on the town.
Now we are home waiting for the cat to give birth. I think we are going to have kitties very soon.
olcowhand, HDWildBill, backwoods and 2 others have said thanks
---
Posted April 28, 2013 - 07:09 AM
Glad the little mower worked well for you. Hope you find it a good home! I've about gave up on going out to eat. Prices are higher and portions are smaller. Aaron fired up the smoker last night and we had some great burgers for supper! Great meal after all we got accomplished there yesterday.
---
Posted April 28, 2013 - 11:15 AM
Kenny the wife wanted to go somewhere. Next time I will go to the Chinese buffet. Hard to cheat me at a buffet.
Texas Deere and Horse, KennyP and oldedeeres have said thanks
---
Posted April 28, 2013 - 01:09 PM
... Next time I will go to the Chinese buffet. Hard to cheat me at a buffet.
Chinese eh? Hope you don't end up like this fella
---
Posted April 28, 2013 - 05:09 PM
Chinese eh? Hope you don't end up like this fella
LOL. I am not quite that bad.
Spent this rainy day In the shop cleaning up the little Craftsman. Now it is all ready for sale.
http://gardentractor...p-lawn-tractor/
Edited by mybigwarwagon, April 28, 2013 - 05:10 PM.
---
Posted April 28, 2013 - 07:51 PM
Sold the tractor already. Yeehaw
---
Posted April 28, 2013 - 08:40 PM
Working my way through the thread. Love the writing man, I could read it all day except it's night and I've got to get up at 5:30.
Slow day today. Slept in then took my time over coffee and internet.

At about 11 I took my thermos, slapped my hat on my head and hobbled out to the shop. After getting it all cleaned up I came in and made more coffee, snagged the laptop and a couple of beers and then sat in my comfy shop seat - Honda Accord reclining bucket bolted to 2 6x5s, and settled in with a cigar to watch a movie.

It was a good day.
We call these "Thinking Chairs" and ours are the bench seats from a 1984 Ranger and 1979 GMC. We have them sitting in the shop we fabricate in occasionally and use them when a break or meal is needed. Even a few naps have been taken on them when getting ready for a weekend trip into no-mans-land.
Today was nice and slow and drizzly. I took my time over coffee and email about 12 plopped my hat on my head and moseyed out to the yard.

Yesterday the mailman brought me the knife I had bought and so I tried it out. IT is a Becker BK2 - basically a pry bar with an edge.


Blade is 1/4 inch thick.

I have broken a good many blades working so I am hoping this monster will hold up to the abuse.

I did find out quick that I did not like the sheath. First time I released the snap on the handle it almost turned upside down dangling on the nylon strap. No good at all.

SO after messing around with the knife for a bit I made a run up to Lowe's and snagged some re-bar to anchor the carport with.

Made my way home and grabbed some more coffee then Steph and I went out to put the anchors in.

When we had 8 of them in Heath woke up and started to throw a fit so I went in and changed him and brought him out. He didn't like the hammering so we took a break and just sat under the carport for a while and watched it rain.

When the rain slacked up we went down the hill and loaded some small scrap metal pieces up to go to the scrap yard tomorrow, then Steph and Heath went inside and I finished up the anchors.

All the time I was thinking about how I could make this sheath more usable. I got online and started looking at sheaths and people wanted $90 or more for them. That is more than I paid for the knife. SO I kept thinking it over and finally came up with a workable solution.

I took the belt loop off the sheath and turned it inside out and summoned my inner Betsy Ross and sewed it together below the clip. Once I put it back together it looks like it will work well enough.


I went back and forth between the Becker and original KABAR. I finally chose the KABAR but have consdered getting the Becker for a 2nd in the pack.
---
---