The Adventures Of My New Hat
Started by
UncleWillie
,
Dec 03, 2012 08:06 PM
5525 replies to this topic
Posted April 11, 2013 - 04:11 PM
Hows the pulled muscle today, I hope better.
---
Posted April 11, 2013 - 05:49 PM
... Half the engine was under the hood, the other half was in the trunk. ...
I'll be that "It ran when parked" too didn't it?
UncleWillie said thank you
---
Posted April 11, 2013 - 05:51 PM
It was pretty sore this morning. After5 a couple of hours it loosened up and was usable.Slightly sore not but manageable.
---
Posted April 11, 2013 - 06:02 PM
I'll be that "It ran when parked" too didn't it?
He kept telling me over and over what a great car it was and how good it ran. I finally just interrupted him and told him how much I would give him. He hung up.
---
Posted April 11, 2013 - 08:10 PM
Dang, Computer fried and I had to break out the backup, Inbetween that I missed what happened between the pulled mussel and half the engine in the trunk.... Gotta go back and catch up
Ps. My temp setup.
---
Posted April 12, 2013 - 06:55 PM
This morning I rolled over in my bed and was awakeded by the searing white pain that accompanies a muscle spasm in my back. After a little time and some stretching I finally got up and made my way to the coffee pot.
We have quite a good load of aluminum built up
Lots more of these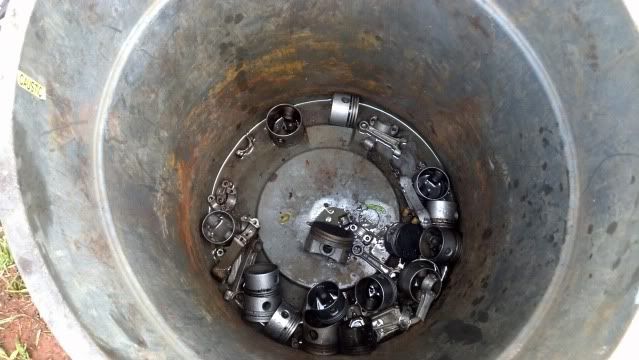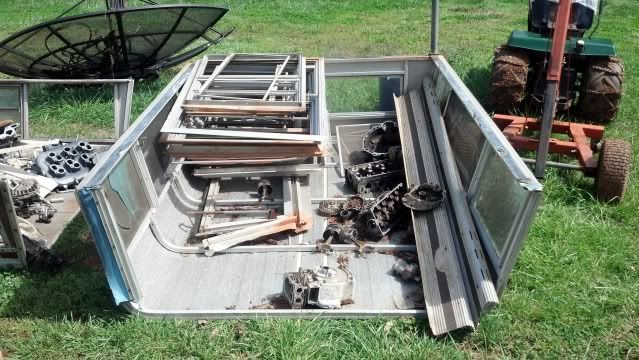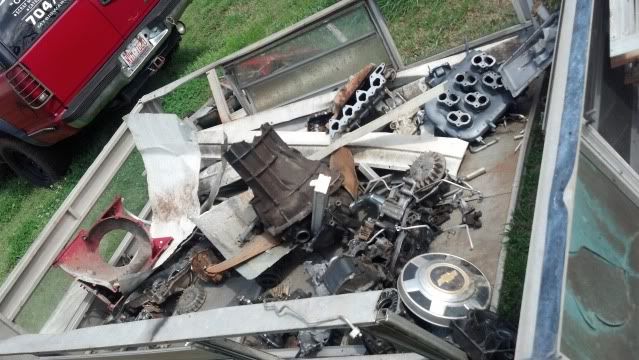 I spent a couple hours on the massaging cushion and then called my aluminum guy to see if I could take the load to him. His yard was too muddy so he said he would give me a deposit on the load and asked what I would charge to haul the Honda his daughter wrecked to the scrap yard. He liked my price so we loaded up and headed out.
I was in the BlueOx and Steph was in Christine so she could pull the Honda up on the trailer. When we got there we found that the front brakes were hung and the little truck just couldn't get enough traction to pull the Honda up. So Mel pulled it with his big Dodge.
Steph and Heath went home. Mel followed me to the scrap yard.
After the Honda was unloaded I came home and spent some more quality time on my mistress the massaging cushion. Heath took a nap. Steph went to the store.
When she got back I went out and got Christine loaded up for an early morning run to the scrap yard before heading off to the spokes and Cleats show tomorrow in Statesville. Gotta have some spending money.
Made her squat a bit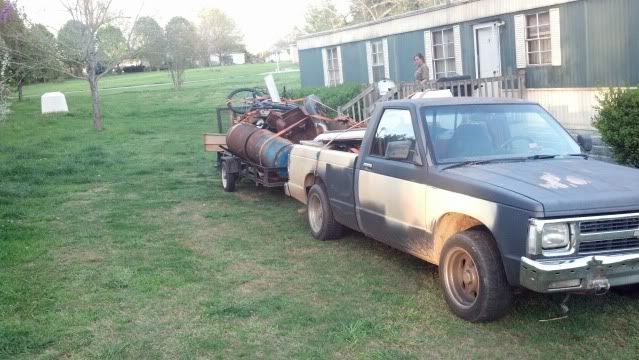 HDWildBill and oldedeeres have said thanks
---
Posted April 12, 2013 - 07:04 PM
Fer shame.. trashing a Chevy hubcap that looks mint and is for a 16 inch rim....
---
Posted April 12, 2013 - 07:23 PM
You want it PM me an address
---
Posted April 12, 2013 - 11:42 PM
Put that sucker on ebay or craigs list.. probably get 20 bucks for it.. up here they go for 100 for a set of four if the fronts are for a 4wd..
---
Posted April 13, 2013 - 04:24 PM
Bright and early this morning the smooth baritone of Don Williams announced the beginning of my day while he sang about what to do with old country boys. As tempted as I was to lay and listed to him sing, Steph was still sleeping, so my feet hit the floor and I started my day.
While the coffee brewed I dressed. Then filled a travel mug with hot black elixir and headed out to my waiting steed.
Clutch in, turn the key. 2.8L of fury sprang to life. 1st gear. Clutch out. And we were on our way to the scrap yard.
A short 20 minutes drive in the Carolina sunshine and the tall chain link fence appeared. Inside, men, still wiping the sleep from their eyes, walked around with coffee in their hands and hardhats on their heads. Piles of discarded broken machinery lay with the morning sun wiping the dew away. Sleepy equipment idled, warming up for the work ahead.
5500 pounds across the scales then a short drive to the scrap pile.
I backed Christine up to the mountain of rusting steel ,and after a brief conversation with the operator, the grappler awakened from its slumber and roared to full throttle. In just minutes the load that had taken me an hour was the latest addition to the growing mound.
3200 pounds back across the scales. Money in hand. And back home.
A quick change of clothes and kissed the now awake wife and son, grabbed my thermos, dropped the trailer in the yard and we were gone again.
Miles slipped beneath the tires as one small town after another fell into the rear view. High Shoals, Lincolnton, Newton, Hickory. A right turn onto I40 and the right foot went down hard.
With the odometer happily clicking away the miles I made my way to Statesville, where I pulled into the parking lot at JR Cigar.
I had told Steve (searsyellow) I was there and then went into the store.
A walk in humidor is one of life's little pleasures. The smell of aged tobacco. People quietly talking, laughing, and enjoying each others company. I made my selections and then returned to the bright outdoors, where a short stocky man called my name. It was Steve, his lovely wife, and beautiful daughter. After a brief conversation, cash changed hands, Steve had his wheels, and Christine and I wer on the road again.
On the winding highway to Turnersburg a line of vehicles made its way through the country. In the oncoming lane I saw a quickly approaching vehicle and a wicked little grin settled across my face. Three cars back from me was a patrol car. Immediately blue lights came on and the patrol man executed a three point turn then vanished around a curve in the opposite direction.
Shortly, the sign for the Spokes and Cleats tractor show appeared and I turned right into the driveway.
Upon exiting the truck I was greeted with the sounds of Hit and Miss engines happily chugging away. In the show, calloused hands shook other calloused hands as old friends were met, and new friends were introduced. Old men, with stories to tell, and young men, eager to listen, stood around and surveyed at the wares for sale.
In the background stood old machinery. In thier day they were technological wonders. Today they are amazing relics of time gone by: sawmills, steam engines, drills, and other behemoths took their rest under shady trees and shelters.
Everywhere the question, "how much do you want?" was answered a price, followed by instant haggling. Deals were struck, cash was exchanged, and both buyer and seller walked away happy.
Hunger set in so I found the food stand, and purchased a cheeseburger, then sat with others at a picnic table and ate, with pleasant conversation all around.
One more look at a tractor that had caught my eye and an agreed on price and my new find was loaded up on Christine. Then the back on the road.
More miles rolled beneath the tires and Christine carried the old Bolens tractor and the push blade south on I77 to Charlotte.
Begrudgingly, the trees and wildlife gave way to buildings and businesses. Skyscrapers poked their heads above the distant trees then suddenly loomed out of the horizon as Charlotte approached.
The smells of honeysuckle gave way to the smells of the busy city. Even on a lazy Saturday afternoon the streets teemed with traffic. Horns and engines filled the air.
Finally, on Independence Blvd a friends cigar shop came into view. I pulled in and climbed out of the cab. In the shop the wonderful aroma of the humidor again filled my nostrils as we talked about the tractor that was on my truck.
He gave me a gift he had been holding for me. Two hats that were too big for him since he had cut off his dreadlocks.
Too soon we had to part ways again and Christine carried me into the city streets and back to the interstate.
More miles. More towns and finally the back roads.
I take great pleasure in back roads. Little traffic, scenic views, and the solitude of listening to the little engine pulling the truck.
The air was once again filled with honeysuckle and fresh cut grass.
The last turn into my street and I was home. Somewhat wearily I climbed from Christine and went inside. There was absolute stillness in the house.
Steph and Heath were across the street at a birthday party. I decided to walk over.
Pizza and chocolate cake with friends is a great meal.
Heath wandered around playing with the kids while Maw-maw Wanda fussed over all of them.
All in all a great Saturday.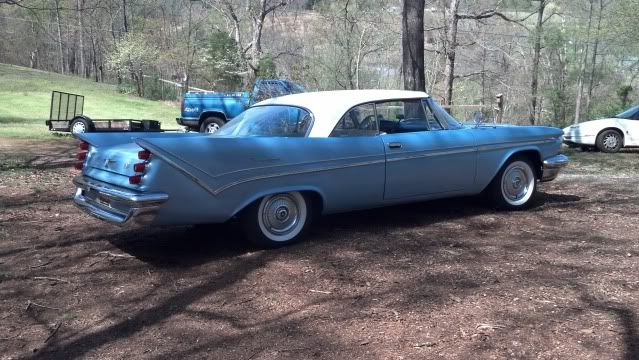 [/url]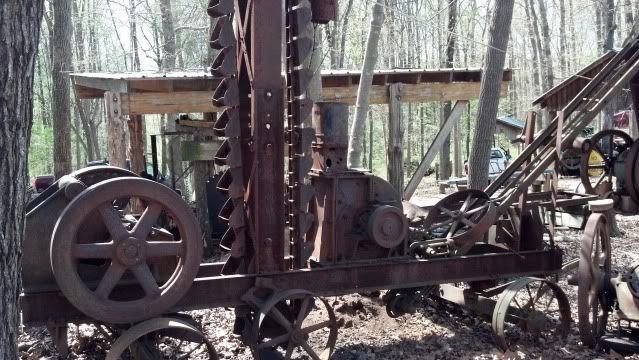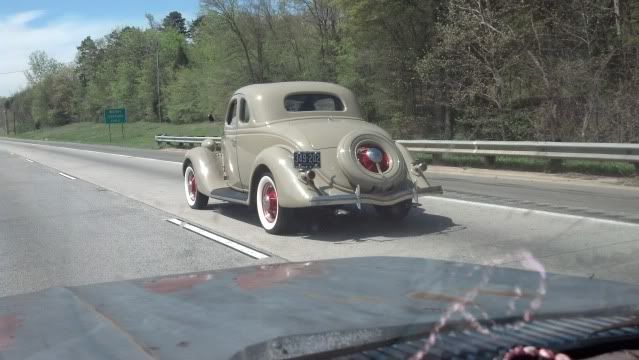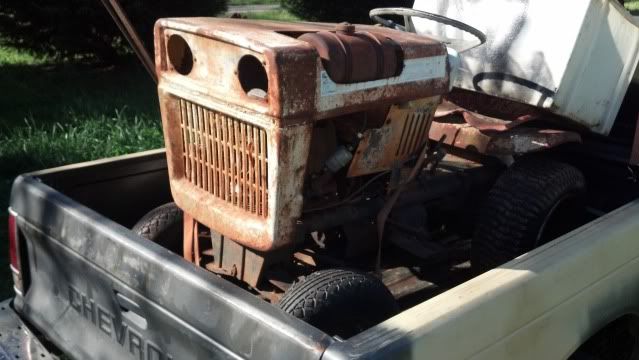 [url=http://s244.photobucket.com/user/mybigwarwagon/media/IMG_20130413_165518_043_zps8f7e2880.jpg.html][img]http://i244.photobucket.com/albums/gg14/mybigwarwagon/IMG_20130413_165518_043_zps8f7e2880.jpg
http://i244.photobuc...zpsd862d296.jpg
HDWildBill and oldedeeres have said thanks
---
Posted April 13, 2013 - 06:02 PM
Im 6' is that short? I think your just tall. All of the tires but one held air. I am going to the tire shop on Monday and get a tube. 12" wheel and tires look so much better than 8". Im happy with the purchase!
Thanks again!
---
Posted April 13, 2013 - 06:04 PM
I thought that was you loading the tractor and push blade but was not sure I was down at the end of that row you got the stuff from.No pictures from me from this one.went to take some and the memory card out of my camera was at home.I was wondering how you were going to get the plastic crate on there with the other stuff
Edited by new restorer, April 13, 2013 - 06:47 PM.
---
Posted April 13, 2013 - 06:09 PM
Sounds and looks like you had a great day.. PLEASE keep the snowless pics coming.. my yard is at 19 inches of snow now...
---
Posted April 13, 2013 - 06:11 PM
Im 6' is that short? I think your just tall. All of the tires but one held air. I am going to the tire shop on Monday and get a tube. 12" wheel and tires look so much better than 8". Im happy with the purchase!

Thanks again!
6 foot is short..
---
Posted April 13, 2013 - 06:17 PM
I can tell you had a great day by the eloquent writing of your post! But just one question....per the title, where are the pics of the "2 new hats" ?
---
---