The Adventures Of My New Hat
Started by
UncleWillie
,
Dec 03, 2012 08:06 PM
5440 replies to this topic
#46
OFFLINE
Posted December 13, 2012 - 07:33 PM
So you got the reward with out having to g through the pain. Go deal!

UncleWillie and patriceat11 have said thanks
---
#47
OFFLINE
Posted December 14, 2012 - 05:41 PM
This morning started full of promise and expectations. I had plans but as you will see fate conspired against me to hinder my progress.
After the morning routine I slapped my hat on my head and went out the door to the back yard where Steph and I started to work to get my carport up . Since yesterday I got the extended pieces for the legs and sleeves for the joints cut,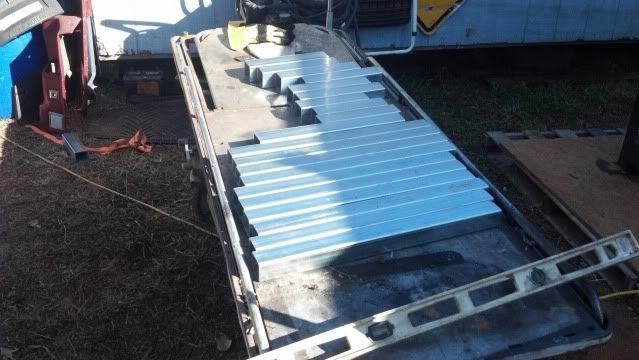 today I had to clean up the sharp edges and burrs so they would slide together. I started with a file on the internal surfaces while Steph got to work hauling the pieces around to where they needed to be.
After everything was filed I got out the redneck bench grinder.
And cleaned up all the outer edges.
I had a large box of self tapping screws that I thought we could use, but it turned out that they were for aluminum and would not work in the steel. So I ran up to Fastenal to grab some different bolts.
Fastenal didn't have any.
One of their employees told me that he had a friend at a metal roofing place that would have them. He called and verified that he did indeed have them and then told me how to get there.
He told me that the place was on Old Plank Rd at highway 73. It was on Old Plank Rd at highway 16. Only a long drive between places.
I got to the roofing place and went into the office and no one was there. I poked my head in several offices and there were ladies purses laying on desks, laptop computers all over the place, and no one in sight.
I found the phone number on some literature on the receptionists desk and called it. It turns out that they were having a Christmas party and everyone was in the warehouse. If I was a thief I would have had a big time.
Left with a $15 bag of self tapping screws for steel and Then stopped by the ABC store for some weekend elixir ( Makers Mark). Ran to the grocery store for baby formula and beer. Then hit Lowe's for a couple of blocks to level the carport.
And just like that 4 hours was gone.
Back at home we got started assembling the pieces. Every time I tried to put a self tapping screw through both pieces it broke. So I would up having to drill holes through all the outer pieces them putting the screw through the inner piece. Broke 2 drill bits.
Finally the pieces started to go up.
The mailman came by and delivers something that I won that I had no idea I even entered to win.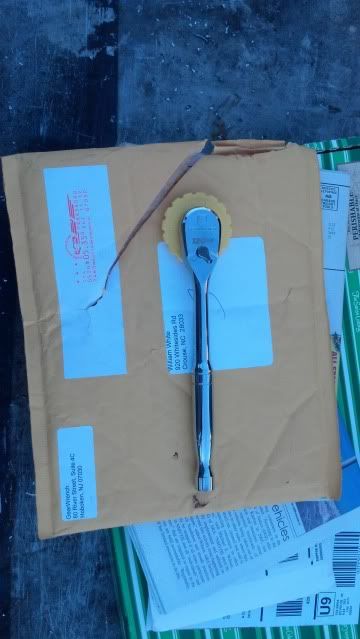 A GearWrench ratchet. I will find out if it is any good.
Finally at 430 all the arches were up
It is 13 feet tall at the peak.
We were tired and so we quit.
Then I came in and saw the news....
Edited by mybigwarwagon, December 14, 2012 - 05:42 PM.
KennyP and WNYTractorTinkerer have said thanks
---
#48
ONLINE
Posted December 14, 2012 - 06:24 PM
At least you got a start on it. Looks good!

---
#49
OFFLINE
Posted December 14, 2012 - 07:32 PM
The carport is really coming together! I think that I got directions from the same guy as you the other day too...
...Only a long drive between places...
I'm loving the blog style post BTW. Thanks for sharing.
---
#50
OFFLINE
Posted December 15, 2012 - 07:48 AM
Nice read through Willie, you seem to have a busy, interesting life, well most days anayway
---
#51
OFFLINE
Posted December 15, 2012 - 08:15 AM
It was all over the place all day yesterday.. Terrible it was.. Bless everyone involved with that horrific tragedy.. That dude is certainly in hell as I speak..
I love your redneck bench grinder BTW..
Edited by WNYTractorTinkerer, December 15, 2012 - 08:15 AM.
---
#52
ONLINE
Posted December 15, 2012 - 11:38 AM
Car port looks nice and tall. Baby formula and beer, I remember those shopping trips. lol

---
#53
OFFLINE
Posted December 15, 2012 - 05:18 PM
Whew. What a day. We slept in a bit to recover from yesterdays brutal workout then about 11 or so my hat crawled over on my head and we went out to finish the building.
I started up the DragonFly to move a couple of engine blocks and the gantry crane out of my way. 10 seconds later it died. Out of gas. No gas in the can. So I swapped the battery into the Hemorrhoid and put her to use moving that stuff. Then I got to the building.
First I got my Chevy Scaffolding in place
Then we got to putting the sheeting on.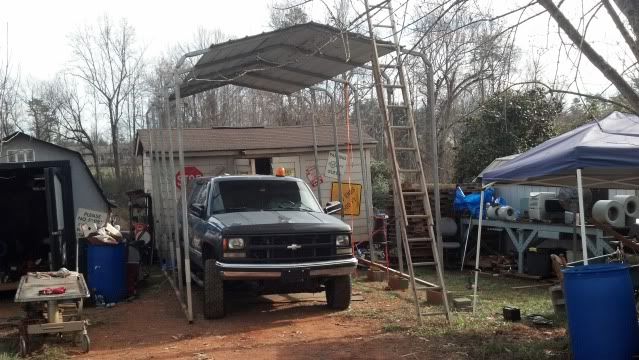 Supervisor kept a close eye on us.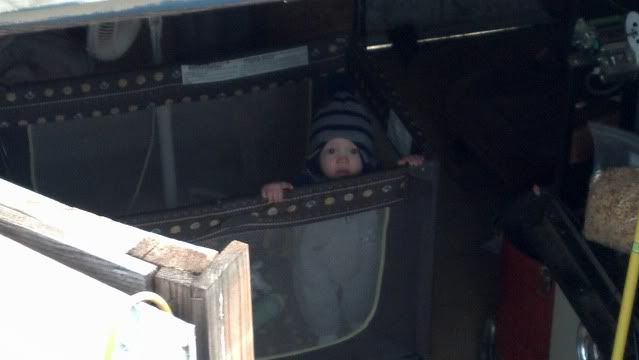 Steph did a great job on her end.
Let me tell you I know one thing I do not want to be when I grow up – a carport installer. After putting in 444894758759567595667494 self tappping screws and climbing the ladder 4billion times
All finished.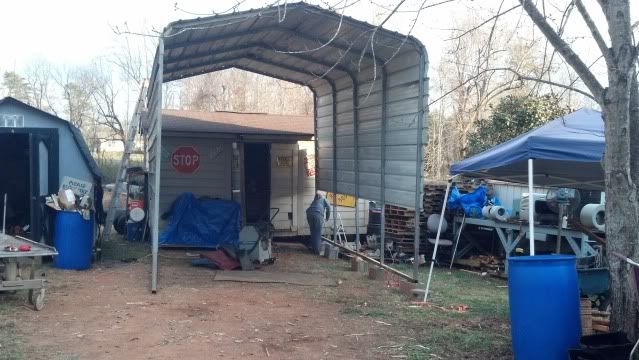 Now I am sitting in the shop eating pizza drinking beer and waiting for Steph to finish up with the chickens to take Heath back inside so I can smoke a cigar.
WNYTractorTinkerer said thank you
---
#54
OFFLINE
Posted December 15, 2012 - 10:12 PM
Well then William, you do sure don't wanna put up a grain bin either. A kajillion bolts, and the one on the inside has to run an electric impact. Talk about deafening!

---
#55
OFFLINE
Posted December 15, 2012 - 10:49 PM
Sure looking great . Keep up the fantastic work you guys.

I sure liked the pic of Heath looking on from below... LOL

And Kudos to to Steph, for sitting up on that roof, and helping 'Git er done.


---
#56
OFFLINE
Posted December 16, 2012 - 11:51 AM
Heath thought my standing up on the truck was funny. He kept looking and laughing.

This morning all of me hurts. My aches and pains have aches and pains. If I ever have to do that again I will get some help. Two of us just wasn't enough.

---
#57
OFFLINE
Posted December 16, 2012 - 12:32 PM
If you did it for a living you would know all the little tricks and have all the tools to make it easier. That being said I'm sure you are feeling it today, I know I would!

Did you ever get the BlueOx working?

---
#58
OFFLINE
Posted December 16, 2012 - 12:36 PM
BlueOx works perfect. She is a monster. Especially after sinking $1600 into the engine back in August when it decided to turn all the lifter rods into spaghetti and try its hand at origami on the valves. Nothing runs like a perfectly tuned 454. Although nothing drinks gas like it either.

KennyP and WNYTractorTinkerer have said thanks
---
#59
OFFLINE
Posted December 16, 2012 - 01:28 PM
it just dawned on me what you were talking about with the Blue Ox not running right. it was some kind of strange electrical problem that has not happened since.

---
#60
OFFLINE
Posted December 16, 2012 - 02:04 PM
I just remembered you having problems that one day but didn't remember reading anything else about it. So I thought I would ask. Maybe some moisture got in where it didn't belong. Anyway glad it is back to running.

---
---