The Adventures Of My New Hat
Started by
UncleWillie
,
Dec 03, 2012 08:06 PM
5487 replies to this topic
Posted April 03, 2013 - 08:28 AM
---
Posted April 03, 2013 - 04:03 PM
Edited to add more pictures
Well, we did it.
At the crack of early this morning my slave's mom dropped him off(too many DUI's to have a license) and we got to work. The home owner had told me Monday that they wanted the job done by this morning. After we had been there for 2 hours today he told em that they were all leaving to go back to the coast and we should lock the gate when we left. Seems we worked till dark last night for no reason. Oh well.
We loaded the last two tractors, 2 aluminum campers shells, lots of trash, a garage door, an old satellite dish that was full of leaves, and some other stuff on the big trailer behind the BlueOx. Filled Christine's bed with aluminum storm windows and the little trailer with a bunch of other steel and headed home to unload.
About halfway home the satellite dish flipped up in the mirror I saw Steph and Christine disappear into a cloud of ancient foliage. It was pretty funny. She was on the two-way radio yelling that everything had fallen off the trailer. Justin and I were dying laughing.
Once we got unloaded Steph and Heath stayed at the house while Justin and I went back to get my tractors, mobile crane, and wagon. After a little tractor tetris we were on the way home.
(Not sure how it happened, but when I got there yesterday morning the DragonFly's eyeball was hanging by a wire.)
It was a bit tight between the trailer fender with the crane and the Hemorrhoid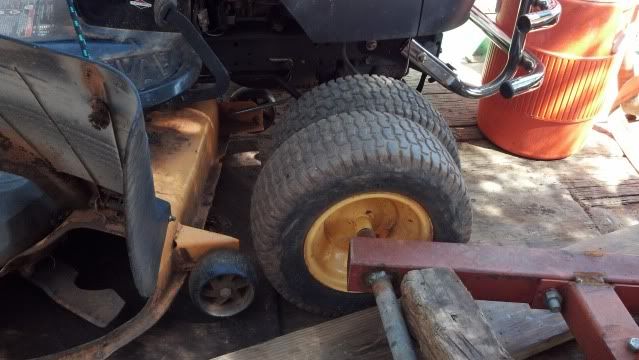 By noon we were back at the house, got some stuff organized, and got to work. Steph started knocking glass out of the window frames into a big sheet metal box that came in the load of junk while Justin and I got to tearing down the mowers.
After doing 3 tractors I was done. My back gave up. I took Justin home and Steph picked up tools.
Finally got home. Snapped a couple of pictures of the tractors and did a quick count. 18 tractors. Didn't count the other stuff. I am done. I plan to drink beer and do nothing till tomorrow.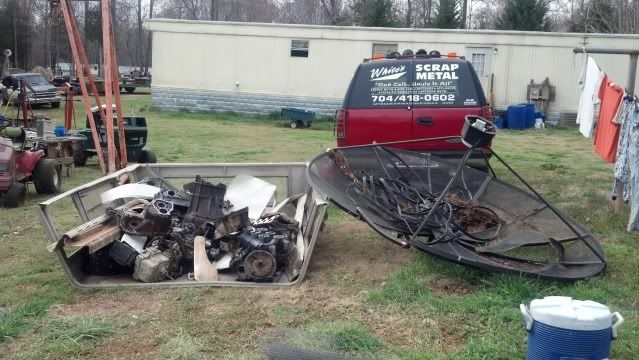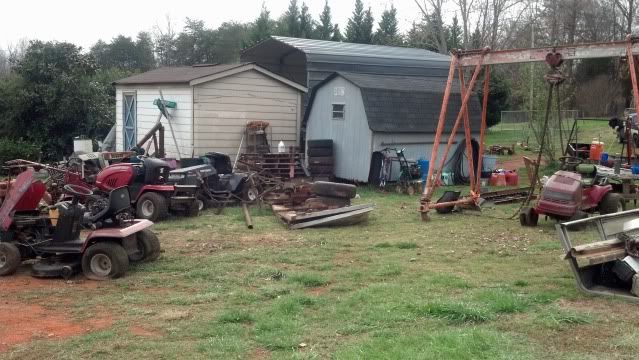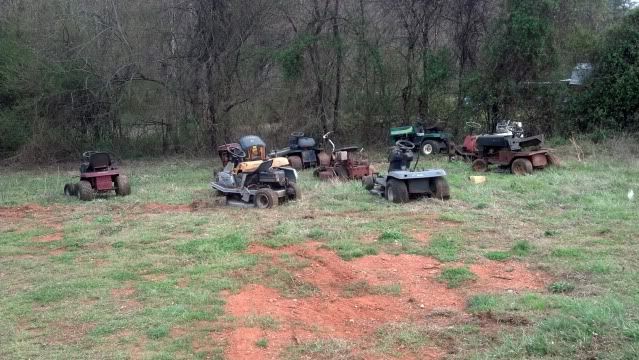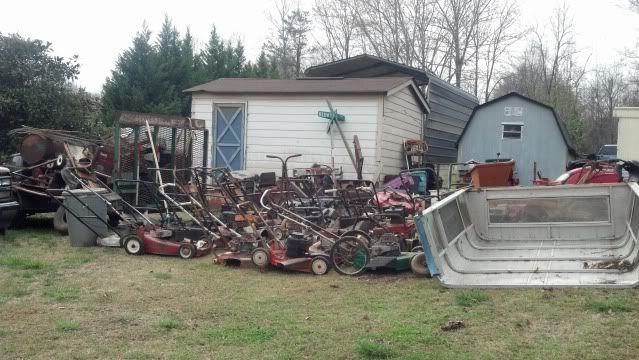 The 4 candidates for keeping.
A 4 wheel steer Wizard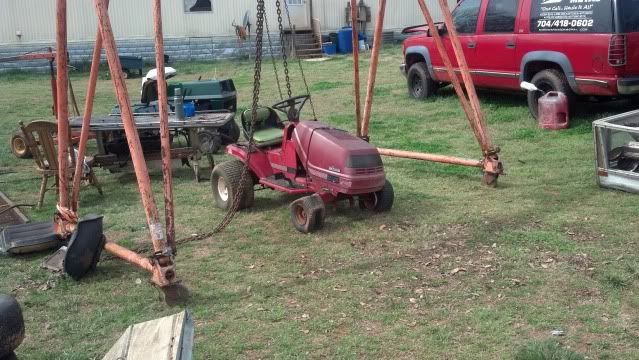 An old Gravley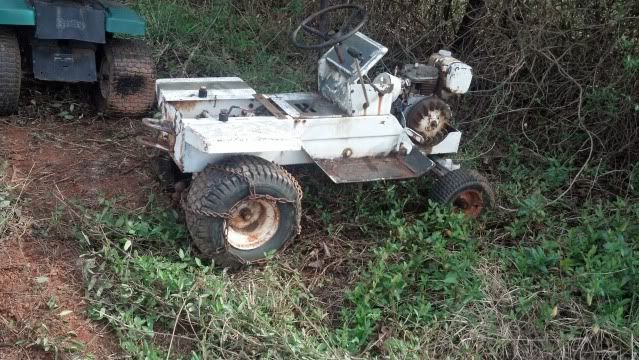 A WheelHorse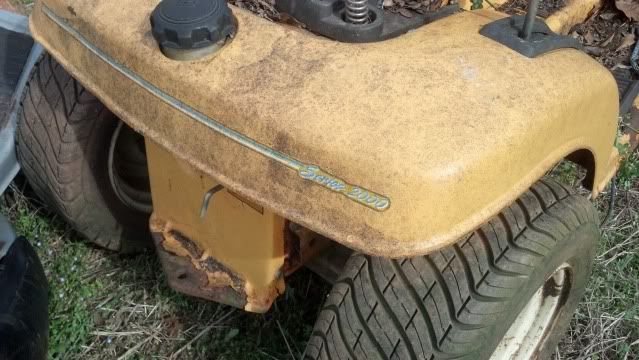 And a Cub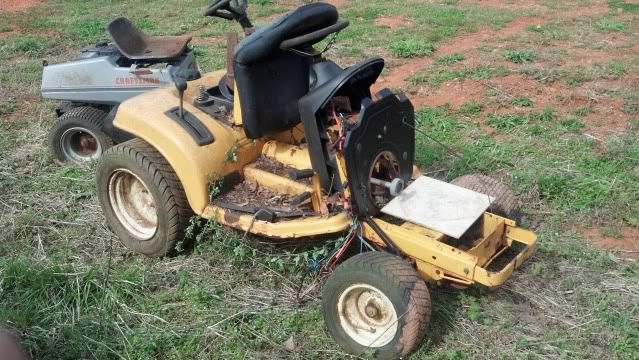 Anyone know how to tell if the Cubby's Hydro works with no engine?
Edited by mybigwarwagon, April 03, 2013 - 04:19 PM.
oldedeeres said thank you
---
Posted April 03, 2013 - 04:14 PM
No FF? Dang! I was hoping for ya!
---
Posted April 03, 2013 - 04:27 PM
NO Kenny. He told me he had a tractor that looked "just like the DragonFly" that someone took the day before. I was kinda bummed. Especially since I told him on the phone I would buy all the tractors.
---
Posted April 03, 2013 - 05:32 PM
nice haul ya got there so when ya gonna start selling lawnmowers/parts??
---
Posted April 03, 2013 - 05:41 PM
Not much worth selling. Most have been sitting in the open uncovered for many years. The four that I may keep are the only ones worth keeping.
---
Posted April 03, 2013 - 06:10 PM
Sorry to hear that! Another 'like' the Dragonfly could have been an FF!
---
Posted April 03, 2013 - 06:31 PM
That Cubby looks to be either a 2160 or 2180 as it has the 'gear selector' on the right rear fender. If it says #1 through #6 it is an AGS tranny or wet clutch.. Not a Hydro. Folks tried to drive them like hydro's and wore the clutch plates down.. You have to always mash the pedal down and engage the clutch or you burn it out. The reason I know it is one of those is because of the large rear tires.. The AGS tranny is very stout if the clutches are good but can be 'shimmed' if they are worn down.. I have one in my 2160 and another AGS tranny under the bench along with $200 worth of new clutches I had planned on installing in that tractor when a $300 CC 2165 or true hydro tractor became available.. The clutch tranny is just too scary on my hilly lawn as if you lift your foot you are in neutral baby! WAY Scary on a hill!!
I plan on selling the 2160 this spring BTW.. It's a great GT for any level lawn but you have to be an experienced operator if there are any hills or valleys..
HDWildBill and UncleWillie have said thanks
---
Posted April 03, 2013 - 07:05 PM
Very good to know. I will look into it further. Since half of it is missing I don't know what model it is. It just says Series 2000 on the back. IF it has to go to scrap it just has to go. Or I may part it out. Or I may plant flowers on it.
backwoods and WNYTractorTinkerer have said thanks
---
Posted April 03, 2013 - 07:09 PM
The Gravely may be a 408.
---
Posted April 03, 2013 - 07:14 PM
A four wheel Gravely with the engine up front just about has to be a 408.
---
Posted April 04, 2013 - 12:59 AM
Planting the flowers sounds like a good idea---- you need something to do in your spare time L.O.L.
HDWildBill said thank you
---
Posted April 04, 2013 - 10:06 AM
I didn't catch that one being a Gravely. Never seen one with an up front engine.
---
Posted April 04, 2013 - 11:42 AM
---
Posted April 04, 2013 - 12:46 PM
My day so far
Ditto!
---
---