The Adventures Of My New Hat
Started by
UncleWillie
,
Dec 03, 2012 08:06 PM
5528 replies to this topic
Posted June 07, 2017 - 10:45 AM
I tried four shots but after that I was having trouble seeing my toes
And there were 10 per foot.
Craig. and KennyP have said thanks
---
Posted June 07, 2017 - 11:47 AM
And there were 10 per foot.
common core math
MH81, Craig. and KennyP have said thanks
---
Posted June 07, 2017 - 09:14 PM
Hello, my name is William, and I can stop any time I want to....
This morning I put Heath on the bus, told the driver that the neighbor would be getting him off this afternoon, and hopped in Christine and left.
I had to stop at the bank. I got there about 10 minutes before they opened. A sheriff's deputy was waiting for them to open too. We got to talking and he kept looking at the truck and shaking his head. I finally said, "It has 788k miles on it." He looked it over from end to end and said, "I guess it has a right to look like that then."
Then I hustled on over to Charlotte and sold my catalytic converters.
ONce I had more money I headed to the coast.
Last night a post popped up on my Facebook page for a 1996 C2500 Suburban that was ready to work. I talked to him and he was selling it cheap. I went to look at it.
Well by 2pm....
My first stop after buying it was Piggly Wiggly where I bought a bottle of super strength Febreeze. It stunk like a dead elephant. I hosed about half the bottle in there and headed out.
He told me that the AC compressor was bad. It was freewheeling and making no noise so I doubted it. I took a gamble and stopped at Autozone and bought one of the cans of Freon that has a hose on it. I rode home with AC!
At 6 I was in Gastonia meeting Steph at a store. We were going to go to another store, but after I took 5 steps I remembered my toe. I decided not to shop.
Heath had to crawl all over the Suburban in the parking lot. He approved.
At 645 I was home.
There are four trucks that are not in that picture - I don't have a problem....much.
There is, however, a plan. It goes like this. Christine is getting retired ( the u joints went out as I got to the guys house this afternoon) Steph is going to drive BettyBlue, The C2500 (2wd) is going to be my work truck for a while. As soon as I get Emily's Subaru fixed ( we are going to meet the guy to get the title notarized tomorrow morning) I am going to tear the K2500 (4wd) down and fix the head gaskets. Once the K is fixed the C will go up for sale. If CherryBerry ever comes home (shop says it is almost ready...) I will tear BettyBlue down and have the valves repaired - it smokes like a freight train. THEN IF the JollyGreenGiant ever comes home ( shop says it is almost ready....) I will decide if we are keeping it for a family car, or selling it. And IF I can get the title on the K1500 ex cab pickup in the back of that picture, I will do head gaskets on it and try to sell it, or keep it, or live in it when Steph kicks me out. When those are done I will try to finish up Spooky. And if a miracle happens, and I am cloned into an army of wrench slinging minions LittleSister ( the truck I got from Buddy that you have never seen pictures of) will get body swapped with the parts truck I bought a couple of years ago that has a perfect body. And when I am all done with that Heath will graduate from high school or possibly college or maybe even have a doctorate. AND when all of that is done - I am going to restore Christine.
Or that is the plan.
Gtractor, MH81, Craig. and 2 others have said thanks
---
Posted June 07, 2017 - 09:55 PM
Plans (even the unrealistic ones) are good.
Looks like a good vehicle. Sorry to hear about the perished, pungent, pachyderm.
Craig., UncleWillie and oldedeeres have said thanks
---
Posted June 08, 2017 - 10:36 AM
Yup, it's nice to have plans with a variable time frame....... it's how I live my life, lol.

---
Posted June 08, 2017 - 04:45 PM
I'm tired.
This morning Emily put Heath on the bus for his last day of school.
I slept till 8 then got up and Emily and I headed up to Denver to get the title on her Subaru notarized. We got almost there and I realized I had the wrong title. I had the title to the Suburban. So I had to call them and tell them we had to reschedule. They said 1pm was good.
We came home and I propped myself up in my recliner.
Emily got Heath off the bus at 12 and shortly after we left for Denver again.
Once the title was notarized we went by Arby's for Jamoca shakes. Then I went through a car wash to get the underside the the Suburban blasted off. Eastern NC is sandy and it was all over. Good news is there are no leaks in the truck.
We came home and I sat for a while longer.
At 4 I took Emily to work and then waited there till Steph showed up with BettyBlue. Emily doesn't want to attempt to drive the Burb. BB is bigger then she is comfortable with.
I will be in bed early tonight. I hope.
olcowhand, Gtractor, MH81 and 2 others have said thanks
---
Posted June 09, 2017 - 06:41 PM
Today I did little of nothing.
I slept in. Heath got up at around 8 so I guess he slept in too. He came in the room then went back to his to play. I think he was confused as to why he didn't have school.
I got up at some time. I have no real clue when.
Shortly after I got up Emily came in and asked if she could drive the Suburban to get her paycheck. I told her to park where she didn't have to back up. It is so big it takes some training to pilot it in reverse.
It took her a bit to get it out of park. She has never driven anything but a 5 speed. When she got to Walmart she sent me a text asking how to get the keys out of it. I told her to put it in park. HAHA.
She got home and a little bit later she said work wanted her to come in for a gal who got sick and work 45 minutes. So she left.
She called an hour later and said they wanted her to just stay the rest of the day. She was supposed to work anyhow so she got an extra 3 hours. I just addded her to my insurance so I want her to make as much money as she can. Insurance doubled.
Then I sat in my recliner. Heath played.
Steph got home and I got dressed and we went down to Tim's to get my trailer ramps.
Back home we unloaded the medium sized trailer that has had a JD LT sitting on it for about 4 weeks now along with some other stuff.
Tim said the LT only needed the belt put back on. I picked the rear up with Gertrude and a j-jook and took a look under it. Once I dropped the deck off I saw how to get the belt back on pretty easy. However, I also found the transaxle cooling fan in pieces. So I just pulled it off with Gertie and pushed it aside for now.
The Craftsman junker just got the j hook thru the steering wheel and got carted off to the pile.
We opened the hood on BettyBlue to jumpstart Christine (the battery died from using the hazard lights all the way back from the coast) and found that the negative battery terminal was melted. I have never seen one do it.
We hunted around for a new terminal and installed it. The battery case has melted lead embedded in it. I will keep an eye on it to see if I can find a cause.
Time came over to ask a couple of questions. He also took his spare tire for his PT Cruiser home.
Then we had to come up with a way to get a 3 wheeled mower up on a two ramp trailer. (The little trailer isn't wide enough for the 60 inch deck) I have a set of wooden tractor ramps somewhere, but we could not find them. My aluminum ladder style ramps are too long. Finally we found a 2x6 and whittled it down till it worked.
Now the trailer is all loaded up for me to go mowing tomorrow. I have 4 yards to mow. I really need to get some peoples mowers fixed.
I came in and showered. I was sweaty from being out there for a hour.
Steph fixed some inch thick pork chops.They were good.
olcowhand, Gtractor, MH81 and 2 others have said thanks
---
Posted June 09, 2017 - 10:54 PM
You accomplished something, don't knock it.

As for insurance... it was cheaper for us to go another route... once Ryan had his car and turned 18, he got his own insurance. Different company even. He isn't on ours at all. If he drives one of ours, it's just like you loaning your car to MawMaw, or the neighbor, or anyone.

Once the car is in her name, (in PA, 18 has something to do with it too) you might check it out.

Craig., KennyP and oldedeeres have said thanks
---
Posted June 09, 2017 - 10:58 PM
Once i get the Subaru done it goes on her name and she pays for her own insurance.

MH81, Craig. and KennyP have said thanks
---
Posted June 10, 2017 - 12:29 PM
I tilled some ground for the new deer food plot.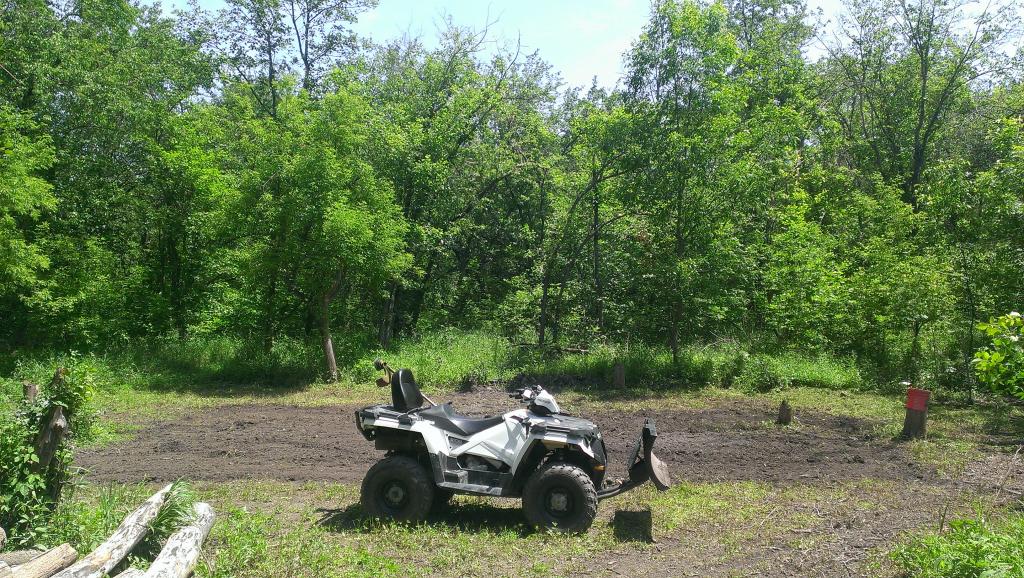 Craig. and UncleWillie have said thanks
---
Posted June 10, 2017 - 10:22 PM
Today was long.
I got up and got going early.
I stopped at Ace to get some bolts for the blade covers on Delilah and wound up standing there talking to two cops and the rest of the employees for about an hour.
On the way down to my first stop, one of the trailer tires decided to self destruct. It still held air the tread just flew apart.
I got to the first yard at 9. IT still had a I mowed about a hour and had my first problem. The blades stopped working. I thought I had broken a belt so I pulled the cover of. The belt was still in tact.
I messed around and finally it reengaged. I have no idea what I did.
Steph showed up and put the tire on the trailer. Delilah stopped working again. Steph helped me work on it and it again started to work. She left. I continued.
A short while later it did it again. I messed with it a while and finally figured there was not enough power going to the clutch. I didn't have time to follow every wire on it because they were going to have a graduation party. I had to get done.
I looked in the truck for wire and found a pigtail from a set of the HF magnetic tow lights I bought last week. It worked perfect. The two wire plug on the clutch plugged right in to the connector. Once it was started I just had to plug it in and go.
I got Michelle's yard done and went on to Buddy's. His was a jungle. It took a bit of time to mow it, but I got it done.
Then I stopped by the house to get a sandwich. I had told Steph to meet me on the road. She made a egg sammich. I grabbed it and ate it on the way to Grady's shop.
The shop was a jungle too. It got knocked down and I headed to Grady's house.
I got there and the yard was mowed. An alcoholic neighbor wanted some money and mowed it for them. I was relieved because I really didn't want to bounce around a fourth yard.
I talked to them a bit then headed home.
I called Pam (Buddy's wife) to see if her truck was back home yet. It was. I stopped at home and dropped the trailer and picked up Steph and Heath.
Pam's exterior door handle on the drivers door was not working. It took me longer to get the door panel off than to fix it. Well to rig it up anyhow. I zip tied the metal rod back to the handle because the plastic clip was broken. It should work till I can find a new one.
We stayed there a bit and finally left at 10 and headed off. We stopped by Hardee's for dinner and brought it back home.
I am tired. Tomorrow I have more stuff to do.
olcowhand, Craig. and KennyP have said thanks
---
Posted June 10, 2017 - 10:32 PM
I tilled some ground for the new deer food plot.
Nice little plot.
Craig. and Z71 Sierra have said thanks
---
Posted June 11, 2017 - 07:08 AM
Thanks. The deer will appreciate it. I don't hunt. I just like to sit on my back patio and watch them.
Craig. and UncleWillie have said thanks
---
Posted June 11, 2017 - 07:58 PM
Didn't do a whole lot today.
We laid in bed for a good while watching TV. Emily left for work at 11. Shortly after that the rest of us went outside.
Steph pulled the driveshaft out of Christine while I was mowing yards yesterday. It turns out the play is in the rearend. So it will get driven till it breaks. I have another rearend for it - somewhere. I greased the U joints and Steph put it back in.
I had to get things ready to work on all the cars and trucks that need repairing. We started out by getting the shop cleaned up. Lots of stuff had gotten put out there from shuffling the house around. With that done we cleaned up the car port so I can get cars in it.
Then we de-work trucked BettyBlue. All the tools are going to go in the Suburban soon. And there were some I will need to pull the Subaru down tomorrow so they can't be at school with Steph.
As I crawled out from under BB the last time my back took offence to my movements and spasmed. I staggered to my chair in the shop. It is a bucket seat out of a Honda Accord on a heavy base and I surprisingly comfortable, and I don't have to worry about getting it dirty.
BB got finished and Steph took Christine for a drive.
Once I could stand I hobbled around front. Emily was back from work because the Suburban was home.
She and Steph both to Burb had been making a noise when you stepped on the brakes. So I started it up and drove tit about 10 feet. I knew what it was. The brakes are a hydroboost unit and the power steering has a leak and was low. A half a bottle of fluid and the noise went away.
Just to be sure I drove down to Tim's house. He was out cutting up a tree. He drooled all over the Suburban then I headed home.
My back was still unhappy so I got in a hot bath. After some steaming it loosened up.
Emily went out to eat with her cousin Sara. I just got a text that the check engine light is on in her car and she wants me to look at it.
olcowhand, MH81, Craig. and 1 other said thanks
---
Posted June 11, 2017 - 08:54 PM
Sheldon to Penny...."Your check engine light is on"
Craig. and KennyP have said thanks
---
---