The Adventures Of My New Hat
Started by
UncleWillie
,
Dec 03, 2012 08:06 PM
5525 replies to this topic
Posted February 27, 2013 - 10:38 PM
Just like your love for green tractors
Someone wanna stick a fork in Daniel? I think he's done!
Craig., HDWildBill and WNYTractorTinkerer have said thanks
---
Posted February 27, 2013 - 11:06 PM
Chevies and green tractors----- yummee!
---
Posted February 28, 2013 - 09:05 AM
im not brand loyal i love my ranger and i love my s10 blazer.
---
Posted February 28, 2013 - 09:08 AM
Someone wanna stick a fork in Daniel? I think he's done!
Yep, Uncle Willie got me but good! I'm done!
---
Posted February 28, 2013 - 10:20 PM
Some days are just odd, or at least what I bring home is.
When I wandered out into the sunlight today Steph and I made quick work of the last of the scrap metal on the big trailer and got it put on the little trailer and Christine. With that done I grabbed my thermos and Christine and I headed off to the scrap yard.
First question I was asked was, "where is Stephanie?" If I don't show up no one cares, but if I come without her everyone is asking. One guy asked me what she and Heath did while I was gone. I told him I had no idea. Whatever it was that they did while I was gone appears to have been fun. My office is full of toys.

After I got unloaded and had my check in hand I headed to the bank. I rolled in and turned down the one way street – the wrong way. There was a cop in the parking lot of the bank and I was sure I was in for it. Once I got in the lot I could see what he was doing behind the bushes. He had a garbage truck stopped. SO I got away with it.
With my check cashed I st of for Matthews to get some junk. Almost to the house I found a hot dog cart in a parking lot so I had to stop for a dog. Man it was good.
Got to the ladies house and she had a sink that she told me was cast iron. I grabbed it like it was cast iron and nearly threw it over the truck. It weighs about 40 pounds. Also got an 90's boombox, a space saver kitchen radio, a dorm fridge, a home stereo amplifier, a bunch of sell phone chargers, a tricycle for Heath, and some other misc junk.
I got home and Steph said she wanted the sink so I guess I have a new project. The kitchen stereo and amplifier will be sold on CL. The boom box is in my shop. Heaths tricycle will wait til he is big enough. And the rest will go to the scrapper.
We went out to see why the tire on the big trailer had deflated itself and found a strange shaped piece of aluminum stuck through the tread. Since I didn't have a spare $100 to buy a equipment trailer tire we broke out the plug box. I put 3 plugs in the slot and it sealed up and re-inflated and we left.
All the way to Statesville.
We got to the house picked up another strange load. A working electric wheel chair, a working microwave, a working dishwasher, an ironing board, a bed frame, and a windmill. Yes, I said windmill.
It is a little decorative one that is about 8 feet tall. I took it out of the trailer already and set it up at the end of my driveway to make the neighbors scratch their heads.
While we were loading the home owner told me I had a flat on the trailer. Guess which tire. Yep that one. SO we drove down to Sheetz. The tire didn't seem to be hurt any by being off the rim so I pulled it.
Got to Sheets and found their air pump. It was some stupid kind of pump that is computerized. You set the pressure and it delivers air in small bursts. It was useless, but it was free. Still useless.
Steph had gone inside to get some food. Along with the girls Lacrosse team from Erie PA. It took foreeeeeeeeeeeeeever. By the time I realized that there were a lot of people in there and called her on the phone she had already paid for the food and was waiting for the order.
Finally got the food and she came out to the truck where Heath and I had been playing with the steering wheel. He thought it was pretty fun. And we went across the street to a different station that had a better air pump.
After I got the trailer up in the air I saw that the plugs were gone. So I put three new - as in fresh in a new package – plugs in it. They seemed to hold. We got home anyway/
So now I think I am going to open an thrift store with all my new treasures. They are worthless as scrap but if I check them all out and they work they will be worth a good bit for resale.
OH and good news. I pulled the little Rally tiller off the trailer and started it up. It runs. For some reason the tines wont stay engaged. I think it is either the belt or a pulley needs to be adjusted. I will look into that tomorrow.
olcowhand, HDWildBill and oldedeeres have said thanks
---
Posted March 01, 2013 - 07:52 PM
Short update today.
Took some time to check out the tiller. IT runs great, it needs new belts. Also found out that the reverse lever was riding on the drive belt. So I put a couple of mower valve springs on it and it is perfect now.
Found out that the electric wheelchair, microwave, and dishwasher work. Listed them all for sale along with a couple of sets of truck rims.
And about 20 minutes later I got an email. The phone number was wrong. I copied and pasted about 20 ads so I got to go back and edit them all.
Other than that not much happened today.
Edit: Just put a thimble end in a synthetic cable that has had a bowline knit tied in it for a while. This will be much easier to work with now.
Edited by mybigwarwagon, March 01, 2013 - 08:49 PM.
KennyP, HDWildBill and oldedeeres have said thanks
---
Posted March 04, 2013 - 06:11 PM
Well it has NOT been a quiet couple of days.
Saturday my only project was selling some stuff on Cl and engraving my initials on tools. So that is how I spent my day. A guy and his brother came to buy a set of aluminum wheels I had for slae and his brother asked me if I had another set for the same truck. I did so he bought them too. Then I got down to engraving. I guess I did elebentythousand tools before I called it a day.
Sunday I had a guy coming to look at an electric wheelchair I had picked up. While I waited for him I continued with the engraving. I worked my way through my big toolbox when Steph came in the shop with Carmel on a leash. Poor dog had a huge gash on her leg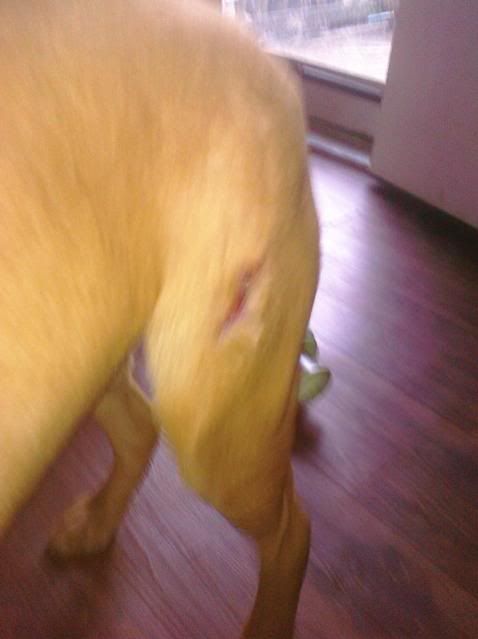 About 3 years ago one of the dogs chewed up the dog house and Steph fixed it with some corrogated steel we got in a load of junk. I never once thought to go look at what she did. Not knowing any better she grabbed whatever nails she could find and used them. Turns out that several were 16 penny nails. They were sticking out into the doghouse. Steph said she heard Diesel and Red start to fight then she heard a dog yelp. I guess Carmel jumped up to get out of the way and got hung.
As sooon ans she brought Carmel in the shop my guy called and said he was almost there so I told her I would wait until he left to take her since she wasn't bleeding even though she was ripped open down to the muscle.
The guy didn't have change so I told Steph to go get my wallet. It was nowhere to be found so he got a discount on the wheelchair and I loaded Carmel up in Christine to head to the emergency vet. I had Stephs bank card to pay for it.
When we got to the vet he had a m emergency C section to do and since Carmel wasn't bleeding much she had to wait.
So after we got the cone of shame on Carmel and had her in kennel I left. I wasn't about to sit in those little chairs all night. It was a 45 minutes drive home so it didn't make any sense to drive back.
Turns out that everythign in town was close except Wal-mart and Walgreens. So I went to Walgreens and bought some cigars and then drove aroudn a shopping center until I found on that had free Wi-fi.
Finally found a spot at Pep-boys and sat there drinking coffee, smoking cigars, and watching movies on my phone.
After I left a dog who was hit by a car came in and needed emergency surgery.
Finally after 5 hours I got a call to come pick her up. After I got there the vet told me that she nearly attacked them when they tried to work on her without me there. Since she was a rescue and had been abused and was injured she was a bundle of nerves without me.
After forking over $364.72 I went back to see my baby. She was still a bit dazed from the anesthesia but she jumped up the second she saw me. Driving home with her in that silly collar was a treat. If I took my hand off of her to shift gears and wasn't talking ot her she went into panic mode and tried to crawl in my lap. I am surprised I didn't get pulled on suspicion of a DUI.
We finally made it home and she wondered around the house crashing into stuff with the cone. It was a long night.
She finally got comfortable and went to sleep between Steph and I.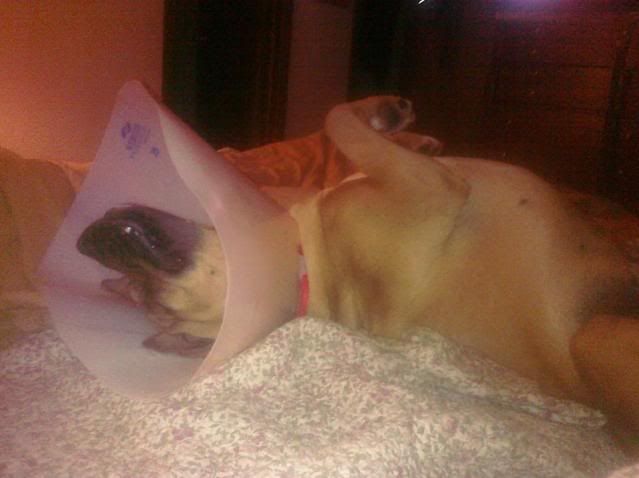 Today we tore the house apart looking for my wallet. Went through every vehicle. Checked the shop. And finally I went to the parts house to get some things for this truck I am working on and looked for my wallet all the way back to TSC which is the last place I know I had it.
ON the way home Steph texted me that she had found it. IT was in a bucket in the back of the shop that I didn't go anywhere near. No idea how it got there.
Truck repairs are put off until to morrow because my knees are killing me after spending most of the night in the little truck.
Tomorrow is another day.
oldedeeres said thank you
---
Posted March 04, 2013 - 06:28 PM
You had quite a day Willie, how long will Carmel have to wear the collar? Hopefully tomorrow will be a better day.
---
Posted March 04, 2013 - 06:32 PM
Today has been pretty good. She doesn't like it but will being the collar for about 2 weeks to make sure she doesn't get the stitches out. SHe wants to run so bad she can't stand herself.
---
Posted March 04, 2013 - 06:34 PM
Willie, my little man-dog "Sammy" is jealous after seeing the fancy headwear Carmel got. Sammy had a growth removed from his back 2 weeks ago, and he didn't get any fancy head wear! Maybe because he didn't reach a high enough stitch count at just 5.
---
Posted March 04, 2013 - 06:39 PM
Carmel is stitched up in two layers. IF she tears it open it will require a graft because of how big the wound is.
I am wondering if I can get some pain medicine for my wallet.
---
Posted March 04, 2013 - 06:44 PM
Carmel is stitched up in two layers. IF she tears it open it will require a graft because of how big the wound is.

I am wondering if I can get some pain medicine for my wallet.
Ouch on the wallet! The growth removal just cost me $136.10. I'd say yours was a tad higher!
---
Posted March 05, 2013 - 07:50 AM
vet bills are the worse my one cat cost us almost $600 because he got into something and needed meds an because he only saw the vet once when he was a baby he had to get all his shots or they wouldnt treat him.
the day i took him to the vet he wouldnt run around at all he just layed around or followed me till i sat then was on my lap.
2 week later he was up to his old tricks wnet on a fishing trip then on the comp chatting with Team_Green one nite
oldedeeres said thank you
---
Posted March 05, 2013 - 09:59 AM
Your cat tells good lies.. every entertaining..
Willie.. Hope your dog heals well and fine. As for the wallet.. With my six dogs.. the wallet never seems to recover...
---
Posted March 05, 2013 - 01:55 PM
This is our second time having ot go to the emergency vet. When Abbi broke her leg we had to go and it was bout $500. They put a splint on her and we had to go to our vet to get a cast and that was another $200. The emergency vet wanted us to sent her to a surgeon in Charlotta for about $3500.
Fortunately when Diesel got hit by the car it only hurt the car. He had some minor bruising.Vet was amazed. Only cost us $50. Since the driver never stopped or slowed down I hope ti totaled his car. Haven't seen it come back down the road again.
---
---