The Adventures Of My New Hat
Started by
UncleWillie
,
Dec 03, 2012 08:06 PM
5525 replies to this topic
Posted January 15, 2013 - 08:54 AM
So how's your hat hangin today Willie?
---
Posted January 15, 2013 - 10:46 AM
In the dry so far. Didn't sleep at all last night. and it is pouring rain now.
---
Posted January 15, 2013 - 04:58 PM
Avast ye maties it is I the dread pirate William.
After a soggy start I grabbed my flask of coffee and my hat and I sloshed out the door at about 1130 and loaded up some barrels in the back of the small scouting ship (the S10), that my wife affectionately calls Christine, and headed set sail south to drop the barrels off at a customers house.
We sailed ( almost literslly) through the wet roads to South Carolina and dropped the barrels off then I called my friend who own the Bonneville to get the other key for the car so I can check the resistor in it. Of course he wasn't home. His wife said he left to go to the store 3 hours earlier and wasn't back. Since he wasn't answering his cell phone, and I had to go to Shelby anyway, I set course down backroads (streams?) and made my way to town.
After navigating my way to Sears to pick up the grill guard I ordered for the Hemorrhoid ($26.99 thanks LarryBL) that was delivered there this morning. Of course they couldn't find it so I had to wait while they searched the stock room for it.
While I waited two employees enlisted my help in moving some old Christmas displays.
Finally a large box emerged from hiding and I had this beauty.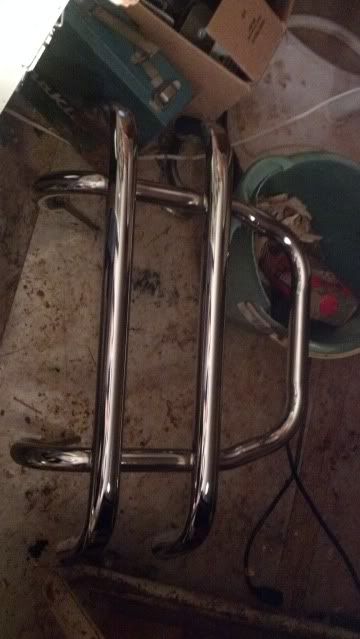 So I swam back out to the USS Christine and stowed it safely away in the cargo hold and called Buddys house again. He still wasn't home, but Pam told me where he went.
So we sat sail for the Habitat for Humanity store, and he wasn't there.
He was looking for electrical outlets so I figured his next port of call would be Lowe's.
SO the Christine and I set course for the far side of town to Lowe's. He wasn't there either.
I figured his next berthing would be at the salvage store so we sailed on to it. He wasn't there either. Since I had never been in I tied up out front and waded into the building.
The whole place looked like someone had offloaded a garbage scow in it. Nothing but a bunch of junk. I felt right at home. After looking around and being temped by the sirens song of a couple of items, but not succumbing to them, I put on my water wings and floated back out to my vessel.
I called Pam once more and told her I was going to get something to eat and to call me if he came home. Then I set sail for Waffle House.
After chatting with the handsome wench and eating, plate of hash browns all the way and two biscuits and gravy and lots of coffee,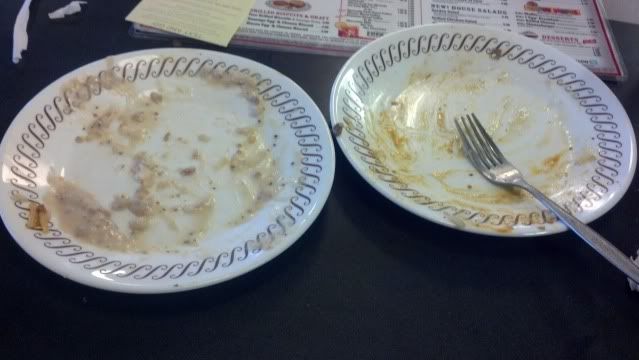 I called Pam again and Buddy had just come home.
So I plotted a course for their house and retireved the key.
After a bull session with Buddy I once more took the helm of my ship and headed for my home port.
Finally home, Christine tied up to the dock, I am out in the shed finishing my cigar before I go in.
Not a bad day. 128 nautical miles of sailing and not a single skirmish to report.
olcowhand, Craig., KennyP and 2 others have said thanks
---
Posted January 15, 2013 - 05:21 PM
You could have at least showed us the plates with food in them! Is that a Rum soaked stogie?
---
Posted January 15, 2013 - 05:25 PM
Unfortunately no rum in this one. Just a plain old Montectisto #1
---
Posted January 15, 2013 - 07:12 PM
That is a pretty nice grill guard for $26.99, chrome plated too?
What are the dimensions on it? Stock number? Could see something like that finding way on the GT.
---
Posted January 15, 2013 - 08:44 PM
---
Posted January 15, 2013 - 09:47 PM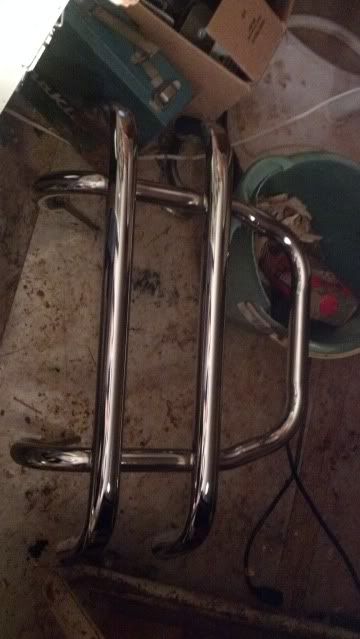 Isn't that awfully fancy for a scrapper guy like you? I didn't know you liked bling on your tractors!
Nice guard, and looks like you got it just in time. You may have gotten the very last one!
---
Posted January 15, 2013 - 09:52 PM
It will probably get painted black. I have pushed a lot of stuff with the Hemorrhoid and I have just been lucky to not damage the hood so far.
---
Posted January 15, 2013 - 09:53 PM
It will probably get painted black. I have pushed a lot of stuff with the Hemorrhoid and I have just been lucky to not damage the hood so far.
At least leave it all shiny till you beat it up & it starts rusting!
---
Posted January 15, 2013 - 10:48 PM
Maybe i should just soak it in salt water for a while.
---
Posted January 17, 2013 - 03:35 PM
Insert sea shanty here
Arrrgh me maties tis I the notorious Capt'n Uncle Willie. The Scourge of the back yard pond.
Yarrrrrrr Hat has been docked for the past two days fer th' most part. The tempest on the horizon has stayed and I have no stars to guide me.
Yesterday me matie Tim sailed in ta port in his tiny ship the SS SuzukiSamurai. The scurvy dog needed to borro' me torque wrench. Me wench checked and I had no wrench that went down in inch pounds far enough. So with me hat on me head keeping me beard dry, we set course in the wee tiny ship to yon warehouse called Sears where I changed my hard won gold far the right tool. Then back home again for a wee dram of hot black liquid.
The rest of me time was spent playing with the wee Pirate Heath as he rampaged and pillaged all around.
Today me restless crew is safe in the inn listening to the raging tempest.
The pond be growin' out back
Ye WarBeast is in danger of being scuttled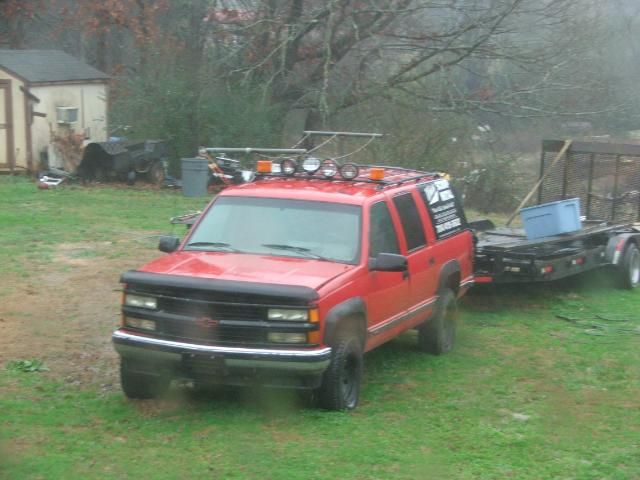 The wee pirates vessel may float yet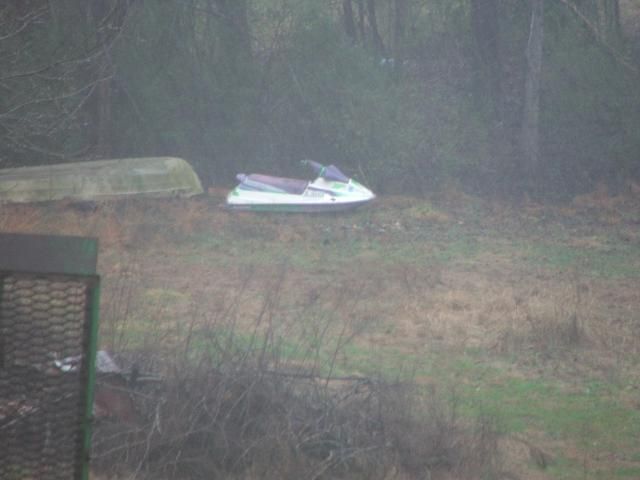 The SS BlueOx (still loaded with precious cargo) and SS Christine berthed in front.
KennyP and WNYTractorTinkerer have said thanks
---
Posted January 19, 2013 - 02:08 PM
This show is soon to be filmed in Gaston Co. N.C.!!
UncleWillie said thank you
---
Posted January 21, 2013 - 09:10 AM
One would assume you floated away.. but you are on spacebook... so.entertain us. Sent from my 416-8

---
Posted January 21, 2013 - 07:06 PM
1-20-12 Sunday
Awakened by a strange glowing orb levitating in and unusually colored sky. Unsure as to what this blue color over head means and why this orb seems to be warm. I have also noted that the atmosphere seems unusually dry.
As I ventured into the out doors my clothes did not immediately become drenched. I am don't know what this new outdoor condition means, but it fills me with dread. For now I will hide under the bed until the wetness reappears.
OK back to the real stuff.
Since an update was demanded I shall give one.
Friday. Stayed in the house and worked on growing webbed toes. Finally at around 330 I was so bored I actually went – insert dramatic music here – to Wal-mart. Oddly enough they were almost empty – which made my day. So I picked up some hotdog fixings, wandered through the clearance section, and finally, picked up Steph's birthday present. Her birthday is the 28th. SO to surprise her I snagged a internet box for the TV. I forget what brand it was and I am too sore to go look – more on that in a minute.
Since she saw it before I had a chance to really get in the door good I went ahead and hooked it up. She spent the rest of the evening and most of Saturday watching Star Trek: Voyager while she cleaned and did other household things.
Friday evening she decided to try her hand at cooking rabbit. It was a bit tough. So tough in fact the dogs had some trouble with it. Next time she is going to try a stew.
Saturday I got up and tinkered around the house, ran a couple of errands, and basically did not much. We had company coming over for dinner so I stayed close to the house.
At around 430 I was in my office while Steph cooked and Heath ran about causing commotion. Then I heard a yell, "NO HOT NO TOUCH" followed by an incredibly painful scream. When Steph took the ham out of the oven Heath stood up and grabbed the open stove door. Burned his hand . Steph's hands were full with 10 pounds of hot ham so she couldn't do much to stop him without hurting him worse. After administering some first aid he seemed to be OK. He would not open his left hand though.
At 530 company arrived. Heath was not happy. He wanted to play but couldn't. Finally Steph went to change his diaper and noticed a large blister on the side of his left hand. I relieved the pressure and he calmed down and was happier and finally went to sleep a 930. About the same time company went home.
Sunday morning he finally opened his hand up all the way and he had a blister on his palm. I relieved the pressure on it and he has done good since.
Sunday afternoon we went out to get my friends Bonneville off the trailer, while we were out there I noticed a power company truck in my neighbors driveway and her well cover was off so I wondered over after we got unloaded. Her underground wire broke and her best friends boyfriend came over to look at it. He was saying he needed a ditch run from the well house to the corner of her house and a trencher would not be cheap. I told her that I could run my plow over and knock it out.
The rest of the day I did nothing worth mentioning.
This morning I woke up bright and early, poured coffee in my thermos, clamped my hat on my head, and went into the wide outdoors. I have had a trailer full of scrap sinking in the yard for over a week now I went out and sorted some aluminum and brass out of the load then hooked it up to Christine and promptly got stuck in the still saturated yard.
Since Steph and Heath were still asleep I was on my own. Finally turned up enough earth for a small garden and managed to get on the dry pavement and on my way to the scrap yard. One of the things on the trailer was a 55 gallon drum full of old nails. I saved it for last and finally managed to wrestle it off the trailer and get it emptied (now you know why I am sore).
I made my way home and took a look at my friends car. It started right up. I drive it for probably 40 miles and I cannot make it duplicate the problem. I did have someone in a 50 something Ford Fairlane driving in the wrong lane almost take care of the problem for me. I swerved so hard I now have 2 eardrums in my left ear.
Finally gave up on it for the day. Got the mower deck off the DragonFly and the plow attached. Tomorrow I will put the chains on it and then go plow a furrow in the neighbors yard. I would have gotten the chains on but a neighbor come over needing a timing chain cover for his Ford. No one that I talked to had one and he couldn't afford a new one so I called my welder to come take a look at it. I am waiting for him to come by now.
Supper just arrived so I am going to stuff a pork chop in my face. This catchup has been more than long enough for one night.
Condensed version - I did some stuff, then I did some more stuff, then I ate dinner.
---
---