Thursday, Harry put in a dry-well for neighbor Herby; the two of them have been friends for many years. This summer, Harry bought a mini-excavator. When he got it I told him if it goes missing, look at my house first! He laughed and said he would drop it off when he had some down time. Well, he was using it over at Herby's and he told me after he was finished with the job I could take it! And take it I did!
I did not get to use it until Friday, and that was only for about an hour. Friday he filled it up with fuel for me. Before he left, he told me that using it in the woods... I will probably knock off the tracks a few times. Well, I drove into the woods and after 50 feet what do you think happened? I ran over a rock the wrong way and off it went! I called and told him, he was back at my house in 10 minutes. It was back on in a half hour. Then, I was off!
After the track was back on, I did not have much light left. Some of my paths go through rock walls that are knocked over. All I had time to do was clear two of them a little better so I could get through with the machine without loosing a track again.
Yesterday, got the '75 with my trailer and filled it up with dirt. Then, I dug out ALL of the rocks in one of the paths that I had tried to fix the night before. I just finished getting it all dug out when one of the pins that hold a tooth on broke! I saw the tooth laying on the ground, luckily it did not get buried! I told Harry and he said he would get a replacement pin.
Today, he called me and asked which tooth it was. I told him an inside one; he then said to just use it, and that I would not wear out the shank before he gets a pin.
So, I went out and started digging! I was going to use my trailer to bring in dirt for the path that I dug out. Then it o cured to me... why not just dig a hole off the the side? So I did! After I was done, I pushed all of the rock I took out into the hole. The reason I had to dig it out and put dirt in was that the rocks gave me no traction to get over the little slope. I had trouble getting over it with just a tractor... add a trailer full of dirt or firewood and it was a lost cause! Now it is smooth, and not as steep! Getting over it now is a breeze!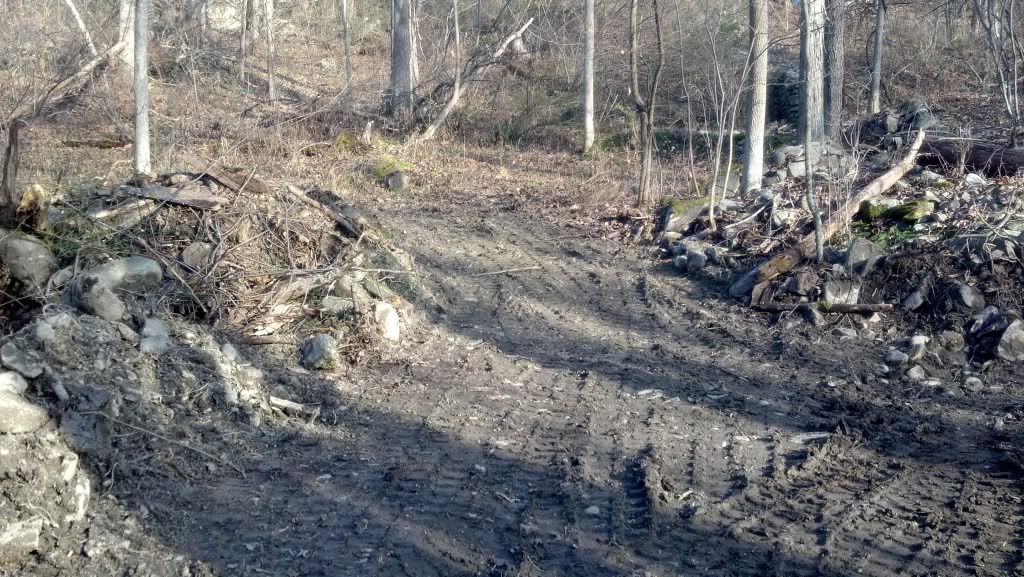 After I finished that I went over to Herby's to clean up the mess Harry left. LOL! I had to do some other work for him too though. When I was done... back into the woods I went! I decided to do the same thing that I did with the other wall, to the wall that is on the wood line. It was not bad, just very bumpy and a uneven. After I was done, I started to regret it... because now it is a low spot and I think it is going to become muddy there.
Here is one of the rocks I took out there.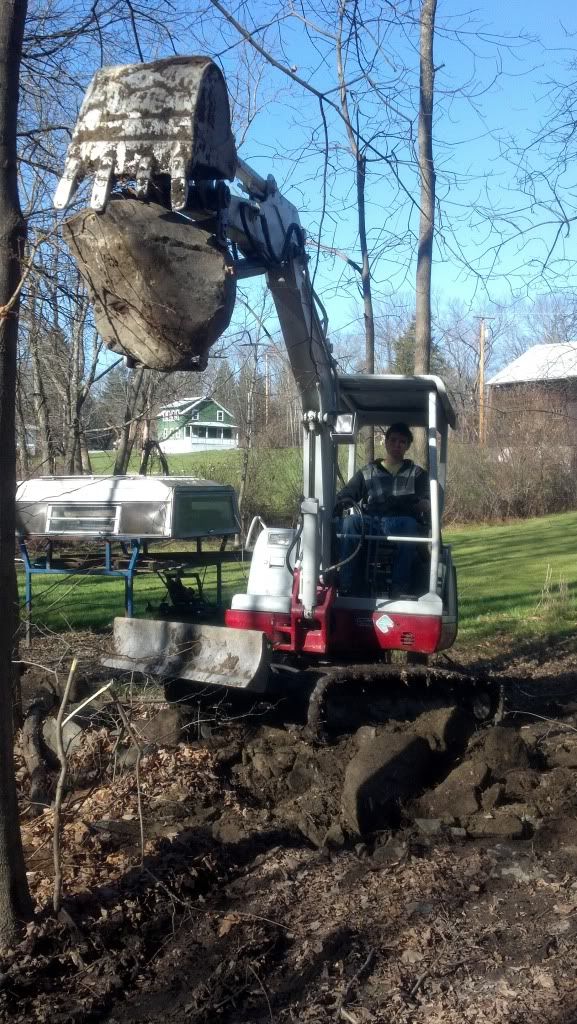 Tomorrow I am going back over to Herby's with it to do some more work for him.
Harry is going to pick up the machine on Tuesday, I don't know what time.