What Was Your First Garden Tractor?
Started by
mtoney
,
Oct 28, 2012 09:04 AM
#16
OFFLINE
Posted October 28, 2012 - 03:18 PM
I believe my first one was a '68 Cub Cadet.Long gone now,but I;d like to have it back now.

---
#17
OFFLINE
Posted October 28, 2012 - 05:14 PM
First one I owned was a 1969? John Deere 110 w/ a mower deck. I was working to restore it but that never worked out so I sold it.

---
#18
OFFLINE
Posted October 28, 2012 - 06:46 PM
an old 6hp Springfield that I got from my father-in-law

wvbuzzmaster said thank you
---
#19
ONLINE
Posted October 28, 2012 - 07:37 PM
10 years old in 1962...My dad had a National Mower.....I got paid 50 cents/hr to cut his bosses grass, he had 14 acres of grass.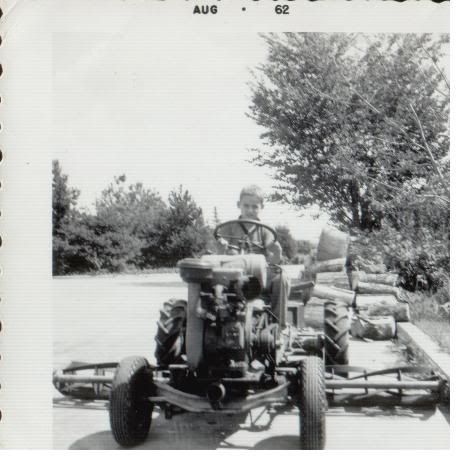 ---
#20
OFFLINE
Posted October 28, 2012 - 07:47 PM
When I was growing up dad bought a new mid to late 60's Sears Custom 7, complete with single bottom plow, push blade, and mower deck. When I was in high school I rebuilt the engine. My nephew still has it. I spent many summers mowing on that thing. It had the magnesium deck too. I guess that started it for me.

I bought an old toro rer probably 15 years ago, and a JD316 last year.


---
#21
OFFLINE
Posted October 28, 2012 - 08:24 PM
In 1960 my Dad and future FIL (and nextdoor neighbor) both decided that their mowing time could be better spent doing other things like fishing together. They saw that I could probably make time to do both lawns, about 1 3/4 acre and pitched the idea that they would go 1/3rds on a tractor with me. I bought a '56 Gravely L that had been totally rebuilt by a dealer and a 30" hog mower. Worked out great, I got some other side jobs with real estate people to maintain lawns for pay.
I bought a blade and a "dog eater" blower to keep the machine useful in winter and hauled it around in a '58 VW Microbus to different mowing and plowing jobs. After we got married in '67 I aquired a tired '52 Gravely and rebuilt it and used it while I rebuilt the '56. I named the mowers "Gee" and "Haw" after the positions where they lived on my truck. Sometime in the early '90's I "experimented" with a "lightweight" riding mower/tractor from Sears. It cut OK but was pretty much useless for anything else but that, so the Gravelys got most of my home jobs as well as the service mowing.
Sold everything in '93 when I left "Life #1" for "Life #2" and sold my house to go West... Now in "Life #3", I have a 2004 JD GX335 that can do everything both Gravelys did plus I can sit right there on the seat attached to the tractor! I do miss the Gravelys... but not enought to want to get back into them again as a "hobby". All I can see now is green and yellow!
---
#22
OFFLINE
Posted October 28, 2012 - 08:34 PM
First tractor was a Toro Wheelhorse 212-5 with mower deck, bagger and snowblower. I couldn't believe how much work it saved me! My first GT would be my JD 316 Kohler.

---
#23
OFFLINE
Posted October 29, 2012 - 05:00 AM
Wow. First ever GT was a Craftsman. That's all I remember , other than I was 13, and got pulled over for doing 20 mph on it down my grandmothers street in the snow! Lol
Wow, 27 years and 109 tractors later....lol!

---
#24
OFFLINE
Posted October 29, 2012 - 07:37 AM
sears lt11/36 was first tractor. murray gt11/36 was first gt

---
#25
OFFLINE
Posted October 29, 2012 - 09:16 AM
First one I owned is my Kubota B5100. The first one I ran was my dad's Craftsman from about 1980.

---
#26
OFFLINE
Posted October 29, 2012 - 09:43 AM
First one I bought and owned was a MF 7 in 1973 .I bought it from the MF dealer and the motor was in a box in pieces.Have had a different variety and brands since then.Still have a MF scut and a Kubota scut now.

---
#27
ONLINE
Posted October 29, 2012 - 04:15 PM
I started out driving my dad's Ariens s14. Then I bought a 16 horse Ariens which ended up being a bit of a basket case, but I still have it. I have a mower, tiller and 3 point for it. Lots of good memories with those old kohlers that are older than me.

---
#28
OFFLINE
Posted October 29, 2012 - 08:09 PM
My first garden tractor didn't come along until I was about 40 since I grew up on a farm with farm tractors and then spent 20+ years moving around with the US Army where a push mower was all the lawn mower I needed..
The first GT was a 1954 or so Copar Panzer T102 three wheeler that I found sitting under a tree with no engine or drive system. I put an eight hp B&S with the 6 to 1 reduction gear with a BW T92 transmission. I built it for the kids to use in tractor pulls and all six of them got to use it that way. I later changed the engine to a B&S Cast iron single with a jackshaft for the gear reduction.
The weight of the engine was too much for the single front wheel yoke and the tractor has been sitting in the middle of the shop for about six years. I am picking up a wide front end kit for it down state in a couple of weeks and going to install an 18 hp B&S flat head twin with a second T92 three speed transmission for the gear reduction
.
Edited by GTTinkerer, October 29, 2012 - 08:26 PM.
---
#29
OFFLINE
Posted October 29, 2012 - 08:44 PM
My first was a 212 John Deere that my mother stills uses to cut the grass

---
#30
OFFLINE
Posted October 30, 2012 - 03:28 PM
One of these. Still have it but never really knew what it was / is.
Mine doesn't have the light kit and I repainted the hood red, 25+ years ago but appears to be the same model.
If anyone has any more information on it, let me know.
---
---