Added A Bolens To The Herd.
Started by
Cat385B
,
Oct 14, 2012 10:50 AM
g152
#16
OFFLINE
Posted October 24, 2012 - 04:24 AM
Congrats on the new Bolens
---
#17
OFFLINE
Posted October 24, 2012 - 08:46 AM
Getting into it now, and have a list started.

Swapped out four bad tines on the tiller. I got 10 new ones with the deal, so 6 replacements left.

The only reason the starter/glow plug switch was disconnected was poor/corroded connections I think. Seems to work fine putting power through it and checking with the voltmeter. I did verify that the glow plugs both work, its just that the switch was disconnected due to bad connections on the starter terminal.

This tractor doesn't have the factory steering stop collar to limit turns so you don't rub the snowblower extension frame. Need to look into what that needs to correct that.

I have everything needed for the deck. But the deck patch is ugly, and is going to have to be re-done.


Did the G152 have a larger (60") deck available? I'm thinking of making a deck if I get laid off this winter. Something wider than the tractor, maybe 54-56"? Offset to the left to trim better.....more on that later.

Picked up 1/4 metal for replacing the center of the snowblower auger tonight after work, try to get that done this week yet. (darn thing is 11/16" away from the housing, that won't work well)


And, for the life of me, I can't find anything wrong with the turf tires on this Bolens. Not a gouge, a rip, a leak; nothing. I'm officially stuck with the turf tires.

I think you just ran over a board with three nails in it and it cut the sidewall with one of the nails.......
What ever shall you do...
---
#18
ONLINE
Posted October 24, 2012 - 08:55 AM
It sure was a good deal. That tiller looks like it works great.

---
#19
ONLINE
Posted October 25, 2012 - 08:36 AM
Picked up 1/4 metal for replacing the center of the snowblower auger tonight after work, try to get that done this week yet. (darn thing is 11/16" away from the housing, that won't work well)
I remember seeing a thread about adding some heavy rubber to that part of the single stage blowers.
It was just large enough to actually touch the blower housing, and makes the single stage blower a lot more efficient.
With yours already worn down, it might be a good candidate for that mod.
I'll search around to see if I can find it, as I don't remember what forum it was on.
---
#20
ONLINE
Posted October 25, 2012 - 10:29 AM
Thanks OB, I have done that to two other blowers I own. With the gap as large as it is, I'm going to weld in a new piece. On my other blowers, I used conveyor belt sandwiched between the paddle and a small chunk of 1/4", and secured them with a couple of 1/4" Grade 8 bolts. But they both had gaps less than 3/8".
Edited by Cat385B, October 25, 2012 - 10:29 AM.
---
#21
ONLINE
Posted December 08, 2012 - 05:37 PM
I cleaned up the contacts on the starter/glow plug switch, and put the wiring back to the original set up. Works fine now.
After getting intermittent no-starts, I re-checked that switch. It worked once, put it back together. Didn't work after that. So I gave that one up as a bad job, and got to looking out for a replacement. Nothing on the used market. Kubota has a similar switch they used on the early B7100's, not available in the US anymore. I ended up using a Kubota keyed switch that does the same thing.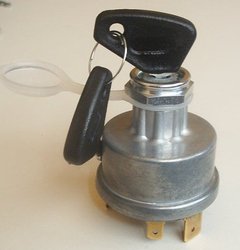 ---
#22
OFFLINE
Posted December 09, 2012 - 11:22 AM
Good luck with that blower I had the exact same thing on my diesel powered Ford LGT and it is a wicked power hog especially if the snow gets wet ! Doesnt blow as far as a 2 stage but it did work good! Dont I REPEAT DONT let the chain get loose for the auger!! Or it will ruin the auger sprocket fast! this is what happened to mine. I was able to limp a few more storms out of it but it finally stripped out and that was the end of it. Now its in the scrap pile waiting to be recycled into something else ;)

---
#23
ONLINE
Posted December 10, 2012 - 07:21 PM
Switch is back in. Starts good now. Using up some Seafoam in the fuel and the crankcase before I do fluids this next weekend.
Took it out to test out the snowblower. It needs some work. Kinda noisy, and it throws snow about 10' at best. The paddles being so far from the housing is the main issue. The chute being possibly the worst design I have ever had the displeasure of using being the second issue. Third problem is the blower is narrower than the rear wheel track. All things that can be fixed with some metal, (that I have) some fabricating, (which I'm poor at) and some welding. (which I am the opposite of 'certified' at)
Nothing done on the tiller the last few days. It seems the wife has noticed that I'm laid off for the winter, and has better ideas on how to occupy my time.
---
#24
OFFLINE
Posted December 11, 2012 - 07:28 AM
Check the bearings and chain and sprockets !!! Mine was in rough shape when I got it, I was able to get bearings and replaced the chain and drive sprocket to quiet it down a bunch.
It is a poor design but not the poorest by any means. Its rugged and will do the job. Heck mine would blow water even! I tried tightening up the clearance to the housing and it didn't make much of a difference. But Turing the auger faster........ who doggy!! If you have the power it will do the job!!!! And as fast as you can drive too. :)

---
#25
ONLINE
Posted December 14, 2012 - 10:36 AM
Wa-hooooo! Found a Sweepster for it. Not factory, kinda narrow, (36") but for a $125 I have a little room to do some fabricating. Here's a pic or two, I go to look at it at 1:00.
---
#26
ONLINE
Posted December 14, 2012 - 03:30 PM
Brought it home with me. Good shape, and it shouldn't take too much fabricating to get it mounted to the Bolens. Probably use the same mounting arms as the snowblower, or fab a replica if it's easier to swap out that way. Or maybe rear mount?
What I should do is fab it up to fit a JD and sell it for a profit.......but you can't have too many Sweepsters!!!!
The side shield is homemade, and well done. There is also 3/4" square tube around the perimeter of the hood to reinforce it. It came off from a sweet early 90's Kubota AWS diesel, that's why the frame is upside down, to get the rotation the right way for the Kubota. I'll just be putting it back to factory.
---
#27
ONLINE
Posted December 14, 2012 - 07:25 PM
So you're going into the street sweeping business? Cool looking rotary broom you have there. Maybe Momma will let you do the floors with it!

---
#28
ONLINE
Posted December 14, 2012 - 07:32 PM
---
#29
OFFLINE
Posted December 15, 2012 - 11:14 AM
You got me to thinking about the space between the blower reel and the discharge chute so I checked on my Simplicity. I can stick my fingers between the snow caster and the flange on the chute and it still throws the snow a long way. Do you think closing this gap would make that much difference for me?

---
#30
ONLINE
Posted December 15, 2012 - 12:00 PM
Just doing a paddle flap or replacing the paddle cups altogether so they are back to within an 1/8" usually adds another 5-10 feet without doing any other improvements. That snow stuck behind the paddle is just friction slowing down the snow going up the chute. I still think a two stage blower is far superior.

When you say 'a long way', how far are we talking? 20'?

---
---
Also tagged with one or more of these keywords: g152
Barn

→

Compact Utility and Farm Tractor Forum

→


Started by Cat385B ,

Dec 14, 2013

bolens

,

iseki

,

g152

,

model 1330

and 2 more...

Barn

→

Compact Utility and Farm Tractor Forum

→


Started by Cat385B ,

Apr 17, 2013

bolens

,

iseki

,

g152

,

model 1349

and 1 more...

Hot

24 replies
5,113 views