I thought I would start a thread on my 116H as what started out to be a simple hydro fan replacement, turned into a partial restoration. I have been posting in the "what did you do TO your tractor" thread however, I thought I should move things to a seperate thread, in case other 116 owners wanted to investigate a little further. Not sure how many others are on here, but here goes:
Working on the 116 Hydro to repair a leaking fuel line from the tank petcock to the fuel pump. No problem... had the line on hand. Thought it might be a good idea to replace the cooling fan for the trans as I had the replacement on hand. "Can't get to it from here, from this angle, or not even from HERE", was the story of the day. Ended up removing the seat, fender pan, steering wheel, mower deck, and raising the dash tower a good 6" or more before the fender pan would come off. That is where it sits as of this morning, with the old fan removed and waiting for a good pressure wash and reinstall. Pics tomorrow. The thought of doing a quick repaint of the tins, has crossed my mind, we'll see...
Need to clean it up first.
This is where the old fan WAS located. The hard part is going to be getting the new one back in there. I may have to unbolt the rear of the frame to gain enough access to get "new" fan in. Tight spaces, on these little 116s.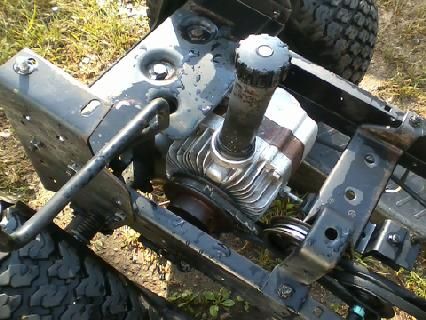 Much better. Hate working on dirty greasy things. Can't see what I'm doing. Additionally, a clean hydro is a happy hydro. I'll also be replacing the hydro fluid and the main drive belt as I'm not planning on going back into this tractor, any time soon.
Took a little time to paint the frame rails in Satin Black and did the control levers and hydro fill tube, in a High Gloss Black.
Also picked up a few cans of Valspar Enamel John Deere Green and will do a "quicky job" on the fender pan and dash tower. Will be heading out to the JD dealership tomorrow, to pick up a new drive belt and a few bits to put it back together.
Here is what it looks like now, under the fender pan.
Did a fluid change on the hydro pump yesterday (still need to run the tractor to make sure that it is full) and went to look at the axle a bit closer. Hmmm... drain plug on the bottom. I like to at least make sure that all the fluids are changed out and full on anything "new" that I buy and this was no exception. The axle is, if I understand correctly,
"filled for life"
and not serviceable. But what about this little drain plug? Couldn't find ANY fill plug on the axle housing, no matter how hard I searched. But what about the drain plug ?
Thought I should at least loosen it and make sure that there was fluid in it. Loosened the plug but did not remove it. NOTHING... not a drip to be found.
At this point, I had to pull the plug as it appeared that the axle was empty.
IT WAS !
Now I'm faced with the task of filling an axle that is supposed to be filled for life (nothing ever is) and I have a few thoughts.
1. Find a petcock that will thread into the housing in place of the drain plug and back feed the fluid through the petcock.
2. Drill a hole in the axle case (using an exploded diagram to verify that I'm not going to hit something) and tap it, flush out the axle with diesel fuel to rinse out any metal shards that are sure to get in, and refill with 80W 90 gear oil.
Any thoughts or suggestions would be GREATLY appreciated...
New belt and fan are in (JD sure made it a pain in the rear on the 116 models) and I'm still thinking on the rear diff fluid-fill options.
Previous owners or a shop that they took it to, sure can add a bit of complexity, to any old project. I'll get it sorted...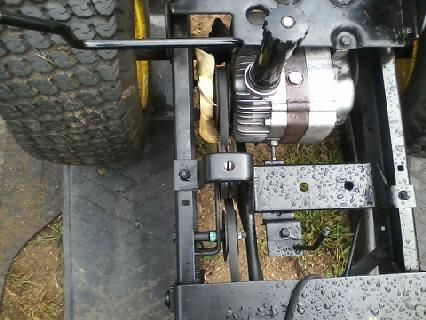 All buttoned back up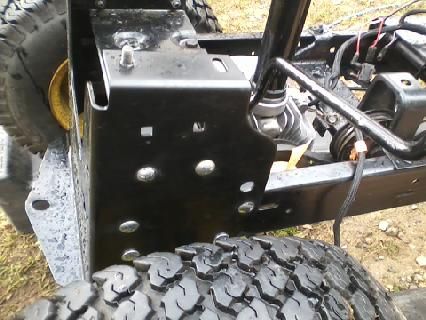 Just a FEW of the bolts that had to come out. Brake linkage, steering gear, and at least a dozen fasteners, need to be removed to change the main drive belts on the 116s.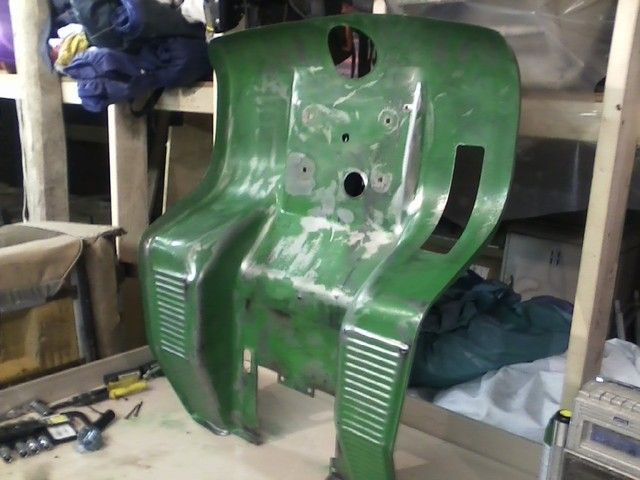 Prep for paint...
Going green.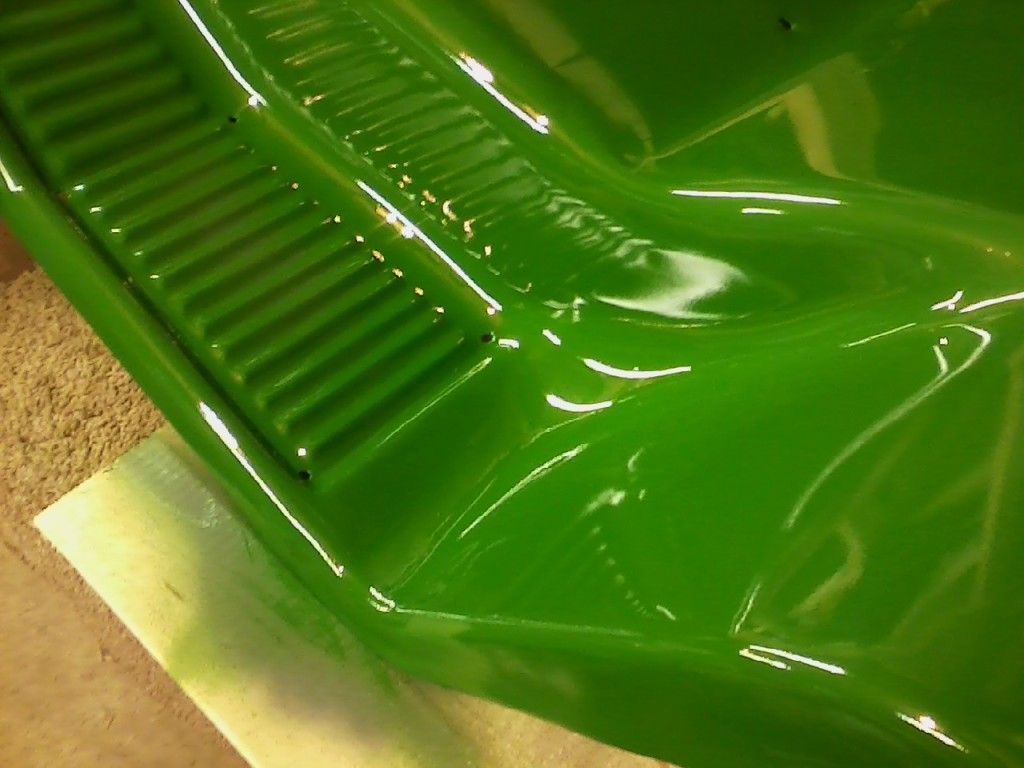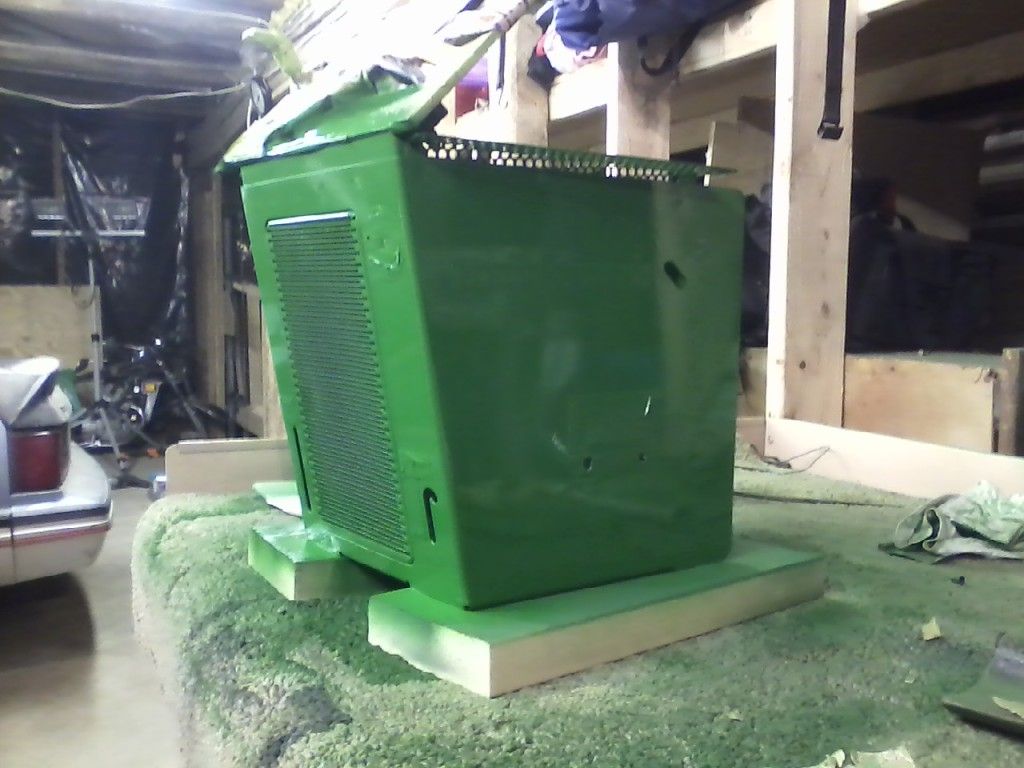 I decided to just mask off the Hydrostatic decals and once everything has cured, go back and shoot the clear coat over the decals. Just didn't want to wait as I need this little machine up and running ASAP.
Finished up the fender pan last night and may have figured out a "reasonable" way of adding gear lube to the trans. Will report back, if it works.
Edited by dave8338, October 06, 2012 - 12:41 AM.