I Am Taking A Welding Class!
Started by
Ryan313
,
Sep 10, 2012 03:18 PM
104 replies to this topic
#46
OFFLINE
Posted October 05, 2012 - 05:45 AM
Looking forward to seeing some vertical welds Ryan. SOunds like you sure are enjoying the class :-)
---
#47
OFFLINE
Posted October 05, 2012 - 06:37 PM
After a day of vertical and horizontal welds I moved onto making some joint welds. I made one lap, one tee and one butt joint. After that I went and asked the teacher Mr Shnitzer how they were looking. He said they were very good and asked if I wanted to do some MIG welding for him.

There is one of those foldable trailers from TSC in the shop and it is being made into a BBQ grill. It is almost done and just needs some finishing really. He wanted me to make the rack to go inside, and also weld in some angle to hold it up. A student yesterday already cut all of the steel for it so all I had to do was weld it together. Everything went smooth and the only thing Shnitzer had to say about my welds was that they where a little thick and to go a bit faster. I went that little bit faster and he said I am going to have a good head start on the other juniors when we get to MIG welding.

---
#48
OFFLINE
Posted October 05, 2012 - 06:39 PM
...No worries on those welds. That's solid...

Thanks Dean. But what is solid for what we do, may not be solid when building a large structure. This reminds me of Shnitzers favorite thing to say "What works on the farm, might not work on the jobsite."
Edited by Ryan313, October 05, 2012 - 06:39 PM.
---
#49
ONLINE
Posted October 07, 2012 - 04:06 AM
I'm glad to hear things are going well in the class, Ryan. It takes a bit of a relearning curve to jump from stick to MIG and back again. Takes me a few to remember to push the stick in there, to used to the wire feeding out.

---
#50
OFFLINE
Posted October 14, 2012 - 07:06 PM
Kenny, That is my biggest problem! I sometimes have trouble remembering to keep the arc length the same. When I forget I adjust it, and stop thinking about being steady and it messes me all up, resulting in a bad weld.
Yesterday I went to TSC and there was a rack full of welding supplies on sale. I got a pack of welding gloves; it was only $10 for 3 pairs! They are not great gloves by any means, but better and I am sure cleaner then the ones at Boces.
Tomorrow I am going to bring in a pair of gloves, my auto-darkening helmet and half of a saw blade I welded to a metal rod.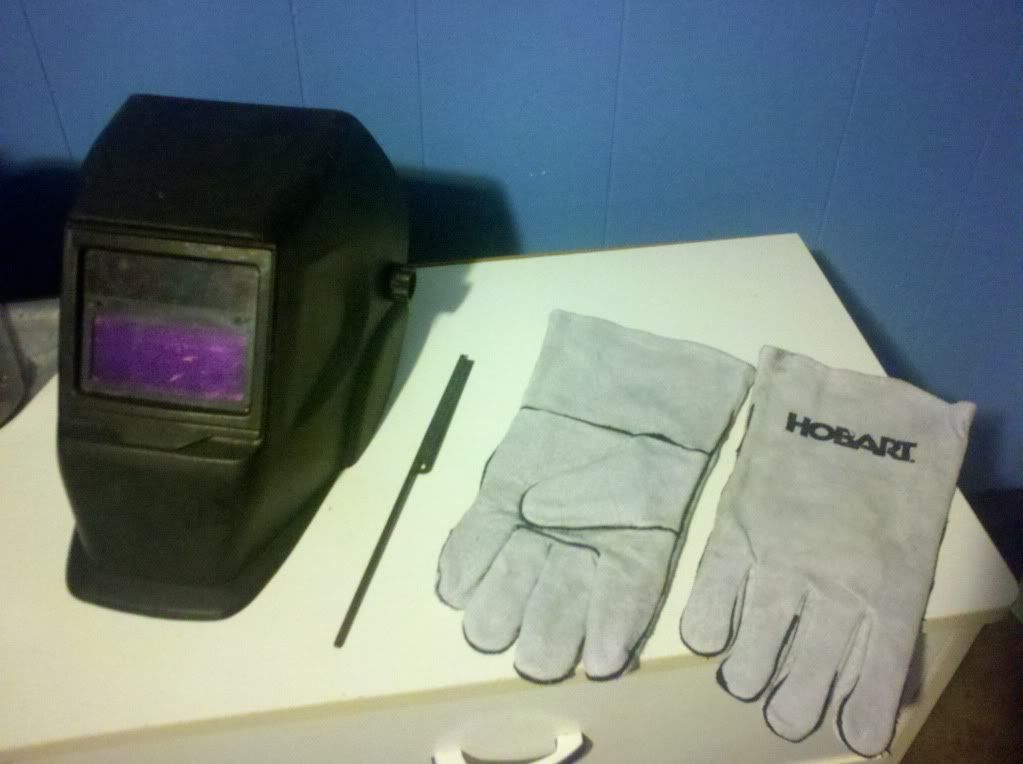 The saw blade is for cleaning out slag. Mr. Shnitzer cut a blade in half, he gave one piece to me and another piece to somebody else. It works great; except, it is difficult to hold and a little flimsy. So today I cut an old blade I had in the garage in half, and welded a rod to it. It is much easier to hold and it does not bend. The only thing is that the welds are terrible... not sure I want to bring it into welding class.
---
#51
ONLINE
Posted October 15, 2012 - 08:18 AM
You'll get it going, Ryan! Just have to keep your mind on the stick welding during the week and the mig on weekends!

---
#52
ONLINE
Posted October 15, 2012 - 01:02 PM
Keeping the rod the right distance from the metal will come to be second nature. When it does you will be able to spend more time watching the puddle and listening to the arc. You're coming along nicely and it sounds like you have a keen interest in getting the welds right which is very important.
Keep up the good work and have fun
---
#53
OFFLINE
Posted October 15, 2012 - 09:40 PM
Today was much better with my auto helmet and a 'good' pair of gloves. It made everything much easier; especially, striking an arc in the correct spot!

Last week I did the questions for the oxy-acetylene chapter in the text book. Today, we got a demonstration on how to properly and safely do this, that, and the other thing. After the demonstration only the people who did the questions where able to go and make a few cuts on some steel. Being the only one who actually did the questions, I was the only one who got to use them!

The senior who helped me was impressed. He jokingly told me to teach one of the seniors who was watching me. He did point out that I had the perfect cutting speed, normally the hardest part for students to learn. The only problem I had was that I kept hitting my hand on the torch valves and messing up the flame. The cutting head was on so that the valves where on the bottom of the torch body, I have my torch with the valves on the left side. Once I moved them I was fine and did not hit them again. It was when at this time that I told the senior who was helping me, and the one watching that I have a set of torches. The "spectator" replied with "Now I see why you have the cutting speed down!"

---
#54
OFFLINE
Posted October 16, 2012 - 07:00 PM
Sounds like you are coming along nicely Ryan and having a good time with it as well.

---
#55
OFFLINE
Posted November 02, 2012 - 05:50 PM
Today, I moved a ton of electrodes! Literally! An order of 40 boxes at 50 pounds each came in, today. Do the math and it adds up to 2000 pounds of electrodes. The teacher at first asked me to help him to organize the electrode room, it is about 5 feet by 6 feet. As soon as we where done cleaning in there, somebody brought in a cart full of boxes. The teacher looked at me, and asked if I felt up to moveing them all. Luckily, he had another student help. I started out lifting the boxes from the cart, and giving them to the other student, Chris. He then put them into the room on the shelves. Mr Shnitzer said it looked like I had a hard time lifting the boxes after we got about 15 put away, he said he could tell my back was starting to hurt. Then, I switched places with Chris and I was fine after that.

While putting some of the loose electrodes back into their boxes, Mr Shnitzer handed me a 5/32 E7024 rod, and four 5/32 E7018 rods. He told me to go ahead and burn them down on some scrap metal. He did not want me to actually weld anything together, he just wanted me to see what they felt like and see what kind of a bead they left. I must say, the E7024 rod is the easiest rod I have used yet! I showed him, and he took the flashlight and magnifying glass out of his desk, he then said they where all perfect welds! It was this point that he told me to stay on the track I am on now, for he has a "plan" for me. I asked what it was, and he did not want to tell me, so I am not sure what he wants to do.

---
#56
ONLINE
Posted November 02, 2012 - 06:01 PM
Sounds like you are showing your stuff, Ryan! He'll let you know what he has in mind.

---
#57
ONLINE
Posted November 02, 2012 - 06:44 PM
Whatever plan he has for you, it's good for you! Sounds like your well on your way to becoming a certified welder! Who knows, you may be doing underwater welding some day! BIG BUCKS!

---
#58
ONLINE
Posted November 02, 2012 - 10:46 PM
Sounds like your welding is very impressive. Who knows, you just might end up as the instructors assistant.

---
#59
OFFLINE
Posted November 02, 2012 - 11:19 PM
Keep it up Ryan,one never knows.

---
#60
OFFLINE
Posted November 07, 2012 - 04:40 PM
Today I was getting ready to do some stick welding, and Mr Shnitzer called me away from what I was doing. He asked if I wanted to take a break from the stick for a couple days and do some brazing! Of course I said, yes! He showed me how to use the pneumatic sheer safely, and we cut some sheet metal to learn on. We then went back to one of the oxy-acetylene booths and got set up. At this point another student came over and asked what we where doing. Shnitzer told him "Teaching
Ryan
to braze." We got a little farther and another student came up! He asked what we were doing and the first student who interrupted said "Mr. Shnitzer is teaching
me and Ryan
to braze." We got a little farther and yet another came up! What do you think he asked? The second student who came said "
We are all
learning to braze." Then, something unexpected happened! Mr. Shnitzer told the other three "GO AWAY! This is supposed to be
Ryan's
lesson! I thought that was kinda funny, and after they left I realized that there was now going to be a target on my back! I asked Shnitzer if he had noticed what he had done, and said it is ok, because I am bigger then them anyway.
We where just about done with the lesson by now. After we finished I got to try it! I burned through twice, once in the bead and once at the end of the steel. Right now, I am not using filler. After I get good with using no filler, then I will get a few filler rods to "play" with. I say play because... I think we all know this is nothing but fun for me!
So, as of today I am the only first year welding student who is starting to braze, and is allowed to use the sheer.
---
---