So back in 1946, Stew Beckley bought a brand new Case VAC. Sometime in the 60s he found a need for a bigger tractor and sold it to Dean Wayman, one of his farm hands. In the mid 70s Dean went to work with my grandfather as his body shop and sold the Case to him to use for his garden.
The year before I was born, 1982, was the last year my grandfather put in a garden. He left it sitting beside his garden and besides changing out the soup can over the exhaust manifold and squirting some oil down the cylinders it has sat, unused, for thirty years.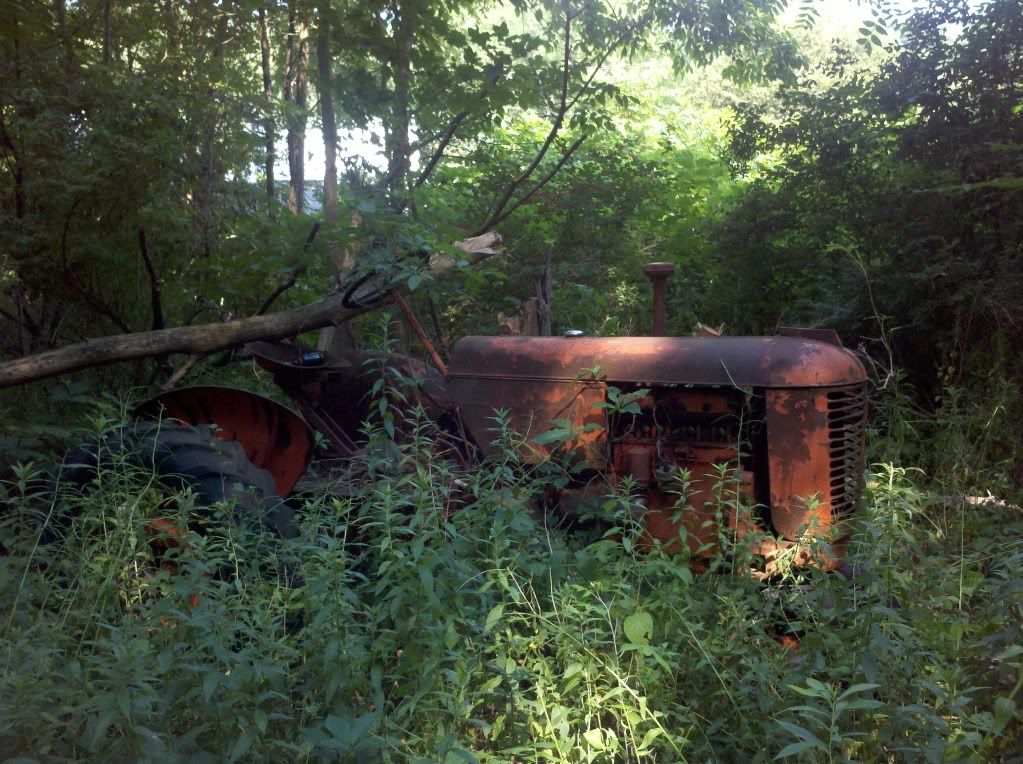 I didn't know anything about it until I was talking about my DB two-wheeler with my grandfather. So my dad and I went up to give it a crank and found the engine is free. There was a grapevine growing up through the dipstick. One more year and it would have pulled it out, rain would have ran in, and that would have been the end of the old Case.
The tires are shot, every switch and gauge is rotted away, and the insulation is a distant memory on all of the wiring. I'm guessing the switches, wires, and gauges are easy enough to find and replace. The rear tires are loaded and original equipment, and of course completely shot. The front tires will be easy enough to replace with whatever 15" automotive tires I have laying around. Once I have it rolling I'll get to work fabbing up a three point for it and of course getting all that rust covered up with some shiny new orange.
So how do I deal with a set of ancient tires loaded with CaCl? There is a pair of diamond tread tires on craigslist for $325 within driving distance. Would I have any real traction issues dropping a one bottom plow or a 5' disc for my garden? I'll get my hands on a 5' brush hog for it for the lawn mowing duties, too.