I posted a wanted ad on craigslist for a loader, I left it very open ended on what I wanted. I only posted for hahas to see what I would get. I got a few emails but this one stuck out at me.
"I have a sears garden tractor with the three point hitch. I have a loader I was going to put on it. $800 for both. If interested give me a call -phone number- I also have a economy power king it would fit .Also and one other garden tractor that is a hydro. Will sell any of the separate."
We went back and forth a few emails and then I called him, the PK turned into a Jim Dandy. He said he had power king parts all over and that he had owned a bunch of them before! I was interested in the Jim and the loader which he could did not know the brand of. He said it was a 34 inch bucket and the arms were 23 inches apart, I hoped he measured wrong and it was bigger...
I went out and looked at it this morning, brought some cash and was hoping to at least take home the loader. From a mile away I could tell it was a Danco loader. I knew it was to small for the '71, which is what I want to make into a fel tractor. I thought it might be big enough for the Jim so I looked at that, one word... BASKET CASE!
The Jim was apart, he said it needed to be converted over to breaker points in order to run. It did not have a spark plug in it, so I asked him for one. I put it in finger tight and spun the flywheel backwards... no compression. Probably a stuck valve but it could be something worse, who knows? I don't! It really was not in bad shape. The spindle bushings and thrust bearings where good, one side wheel bearing was good and the other was terrible. The tires where good and so was the the steering box. The part that scared me away was the engine, the rest was not that bad.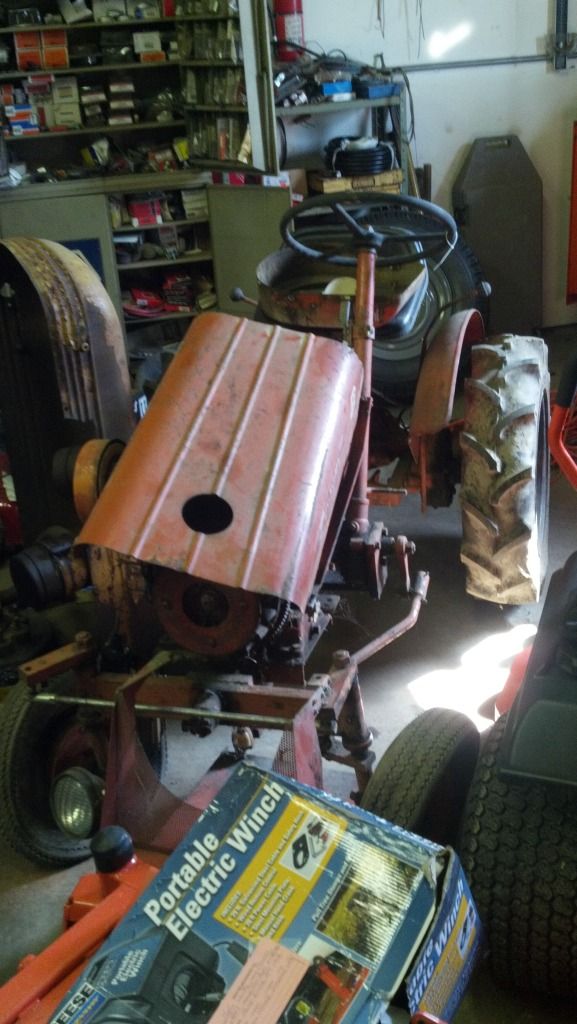 I know the kohlers are plentiful and not hard to fix or even rebuild but I didn't want the unknown, he has never had it running and never did anything but take it apart.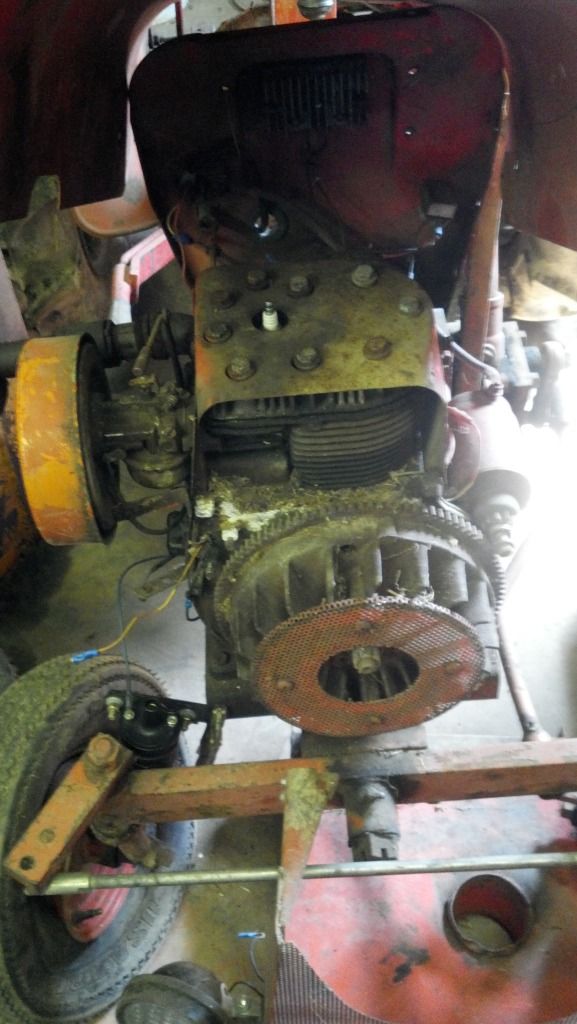 I did not look at the loader much, I was not very interested in it. He had it on a John Deere and he had it welded to the frame, then he got rid of the JD and torched off the loader, leaving a mess of welds and steel and holes in it.
After looking at that stuff, I asked about the PK parts, turned out to be about half PK parts, and half of it was stuff that came from any orange tractor that might be for a PK.
The other hydro he had was another variation of an MTD 990, I don't know how this one was branded but it was red.
He wanted 500 for the loader and 900 for the loader and the Jim, I told him I would call back in a day or two. But, I don't think I will. I will wait a week and see if he calls me, if not I will call him and hit him with a low price, sell the loader and see what I can do with the Jim, because it would be a nice tractor all fixed up to pull my Economy trailer at shows if I ever get to finish it.
I had Harry take me out there to look at it, after we got in his truck to leave the first thing he said was that the guy was, well he said a few things that I will not repeat on open forum. But I knew Harry could tell the guy talked everything up because he did not say a thing from the minute he got out of the truck to the minute we got back in. And that is not him at all. It was not a wasted trip, as we stopped and got a few things for a job on the way back.
Edited by Ryan313, August 26, 2012 - 08:58 PM.