Gtv18
Started by
UncleWillie
,
Jul 09, 2012 04:09 PM
107 replies to this topic
#61
OFFLINE
Posted August 08, 2012 - 09:11 AM
If nothing else I will be able to see what is in front of me.

---
#62
OFFLINE
Posted August 11, 2012 - 11:40 AM
Back got to feeling better so I went out yesterday and did a little bit. Sanded the hood some and shot it with black primer. With the black I can really see the areas that need to be worked.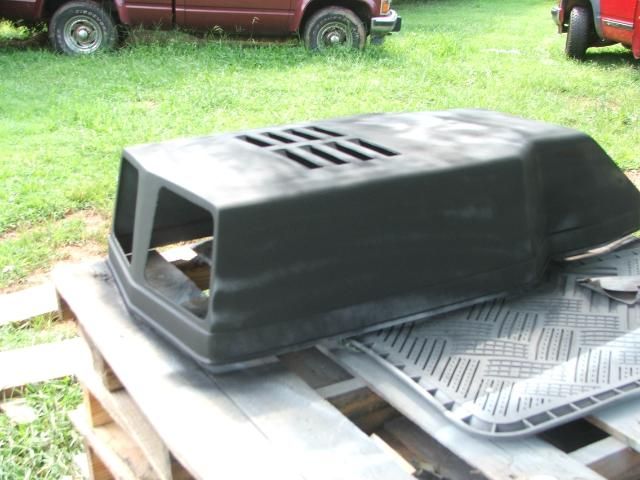 Took some 1000 grit sandpaper to the frill and then shot another coat on it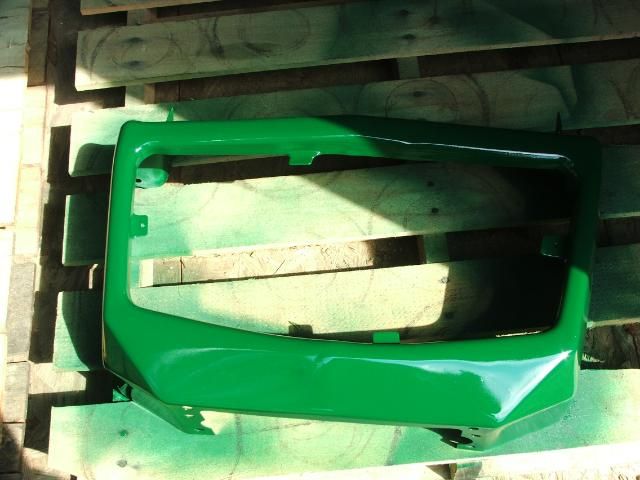 Thinking of putting a maroon stripe on the hood
And picked up my birthday present to myself. $55. It is from a fish food plant so the stuff that was in it is non toxic. I am getting ready to go out and cut the top off and wash it out as soon as I get some more coffee in me. Last night was the first good nights sleep I have had all week so I slept in .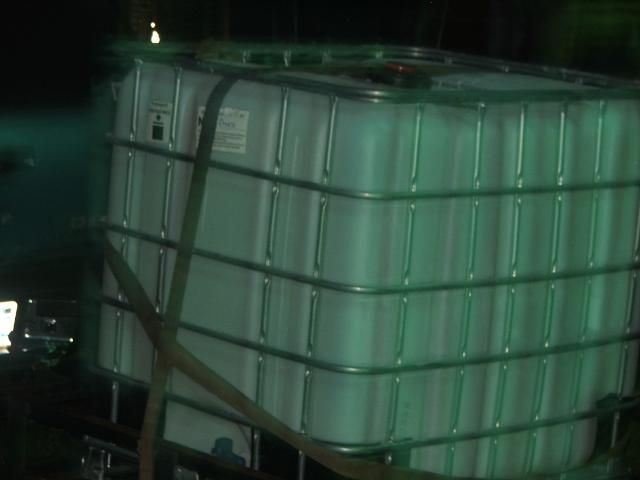 Edited by mybigwarwagon, August 11, 2012 - 11:43 AM.
---
#63
OFFLINE
Posted August 12, 2012 - 02:26 PM
No work on the GTV much this week. My back is getting better but bending and lifting are still iffy. So since they yard has to be mowed and The GTV wont be reassembled for a while. I put the Poulan with the blown headgaskets up on the redneck lift.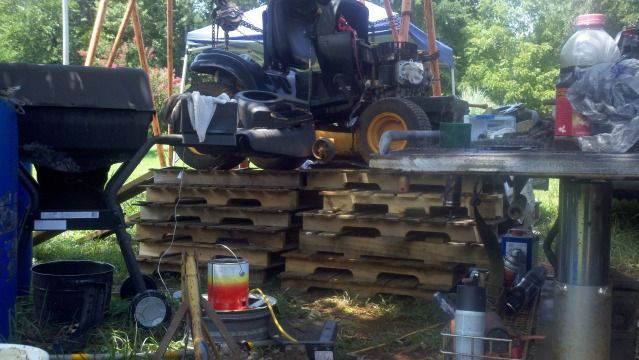 Got it torn down tomorrow I will go get the parts to fix it.
Played with the go-kart a bit but can't seem to get it running right. NO pictures though. I am hoping to get it fixed and sold soon.
Brought the GTV hood in to work on it in comfort. did some sanding and working of the bad spots then I couldn't resist sticking the headlights in it to see how they look.
Going to do a bit of work on the bezels in a bit. I am letting my back relax right now.
---
#64
ONLINE
Posted August 12, 2012 - 02:51 PM
How many amps do those lights pull? I thought about something like that, but I don't see the need to run after dark.

---
#65
OFFLINE
Posted August 12, 2012 - 02:57 PM
Not sure but I have run bigger lights on GTs before. I put a big battery in mine so it has a good bit to pull from. Several years ago I got a Honda Civic for scrap that had a good battery. Since the battery isn't all that much bigger than a tractor batt it is easy enough to modify the battery tray to hold it. The extra juice is nice.

---
#66
ONLINE
Posted August 12, 2012 - 03:38 PM
I have a full sized battery in mine, also. I do like your lights, just don't get out on a GT after dark.

---
#67
OFFLINE
Posted August 12, 2012 - 03:44 PM
This one will be going on jobs with me where we are pulling things out of the woods. In the winter it quite often gets dark while we are still working so the lights will be nice to find our way back out without falling in any bottomless pits.

---
#68
ONLINE
Posted August 12, 2012 - 04:12 PM
Gotcha! Bottomless pits are an obstacle you need to steer clear of.

---
#69
OFFLINE
Posted August 28, 2012 - 09:12 PM
Took some time Sunday to get the tractor put back together so I could move it out of my way without loosing any parts. I am not satisfied at all with how the hood came out. I am going to sand it back down and skim coat it then repaint. I went with the grey stripe because I didn't want people calling her a JD and I didn't want to make it looks like a Christmas themed build with a red stripe. Headlights aren't in yet. I still have to paint the side plates and steps. Steps will get bedlined.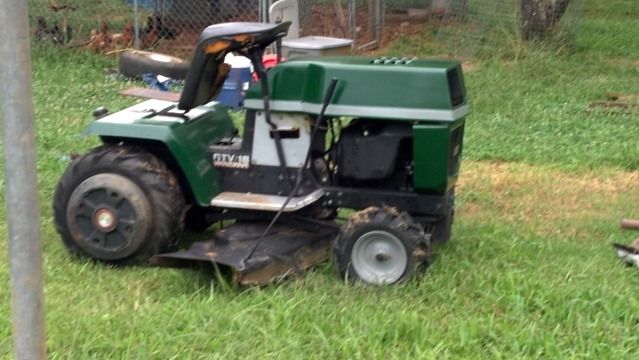 MH81 and KennyP have said thanks
---
#70
OFFLINE
Posted August 28, 2012 - 09:26 PM
Oh and she has been officially renamed TheDragonFly - so ugly she is beautiful

---
#71
ONLINE
Posted August 28, 2012 - 09:42 PM
Looking good! At some point, I got to start painting my Gt's. The green and grey are a good combination.

---
#72
ONLINE
Posted August 29, 2012 - 05:01 AM
Looking good! Think I would have went for a black stripe, but that's me.

---
#73
OFFLINE
Posted August 29, 2012 - 08:39 AM
Stripe will probably wind up a different color right now it was a can I already had. And it makes the unpainted posts kinda blend.

---
#74
OFFLINE
Posted September 17, 2012 - 04:13 PM
Since the crap from the fuel tank plugged up the carb and it was pouring rain all day today and I couldn't work on my friends Pontiac Bonneville - the wife and I got the Dragonfly manhandled into the shop. Pulled the carb off and it was terrible. Have to order a rebuild kit and a new fuel pump cause this one broke in half.
I did have expert help though.
---
#75
ONLINE
Posted September 17, 2012 - 04:20 PM
Looks like you were watched all the way through the process. Now, if you can get him/her to put it back together for you! Probably thought you were cleaning out mouse nests again!

---
---