Thought you guys/gals might enjoy Bills little project. Bill is a service tech where I work and loves to putter in his shop at home. Total cost was less than $100.00 and I think the "cool factor" is worth ten time that much !
Pics are a litle small but sure looks like fun, to me. Started out as a Simplicity, with a 12hp briggs. Tracks are a snowmobile track that he ran through his table saw. He had the drive wheels cut on a plasma table and drilled for the round stock, to keep the tracks flat over the top and welded it all together.
It is a hydro and is brake steered. He is in the process of making hand levers for the steering.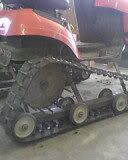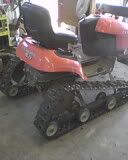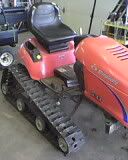 Reminds me of one of these: